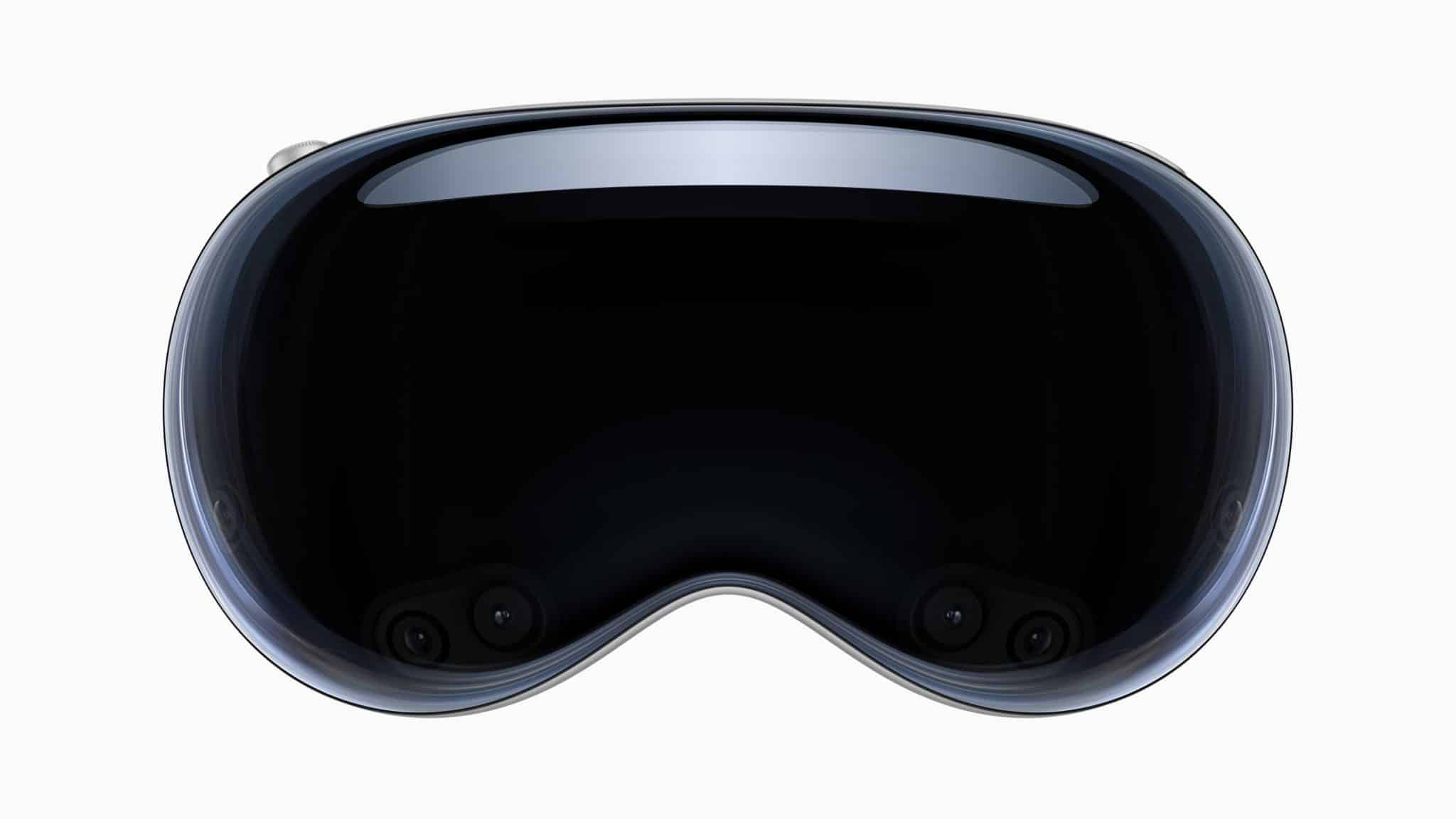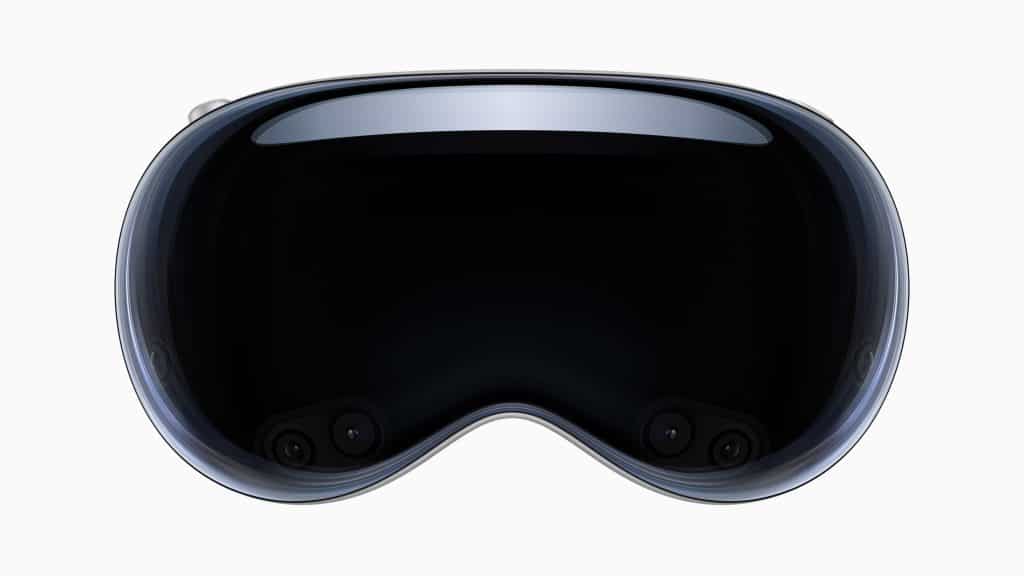 Apple has announced its groundbreaking innovation in the form of Apple Vision Pro, a spatial computer that seamlessly merges digital content with the physical world.
This revolutionary device introduces a fully three-dimensional user interface, controlled by natural and intuitive inputs such as the user's eyes, hands, and voice. With visionOS, the world's first spatial operating system, users can interact with digital content as if it were physically present in their surroundings. Let's explore the extraordinary capabilities and experiences offered by Apple Vision Pro.
An Infinite Canvas for Enhanced Productivity and Entertainment
With visionOS, Apple Vision Pro provides an infinite canvas for apps, liberating them from the constraints of traditional displays. Users can enjoy expanded screen real estate, multitasking capabilities, and access to their favorite apps side by side, allowing for increased productivity. The device also supports Magic Keyboard and Magic Trackpad, enabling users to create a versatile workspace or extend their Mac's capabilities wirelessly to Vision Pro.
In terms of entertainment, Apple Vision Pro offers an immersive cinematic experience with its ultra-high-resolution displays and advanced Spatial Audio system. Users can transform any space into a personal movie theater, enjoying movies and TV shows with a screen that feels 100 feet wide. Additionally, Apple Immersive Video provides 180-degree high-resolution recordings with Spatial Audio, transporting users to new and captivating virtual environments.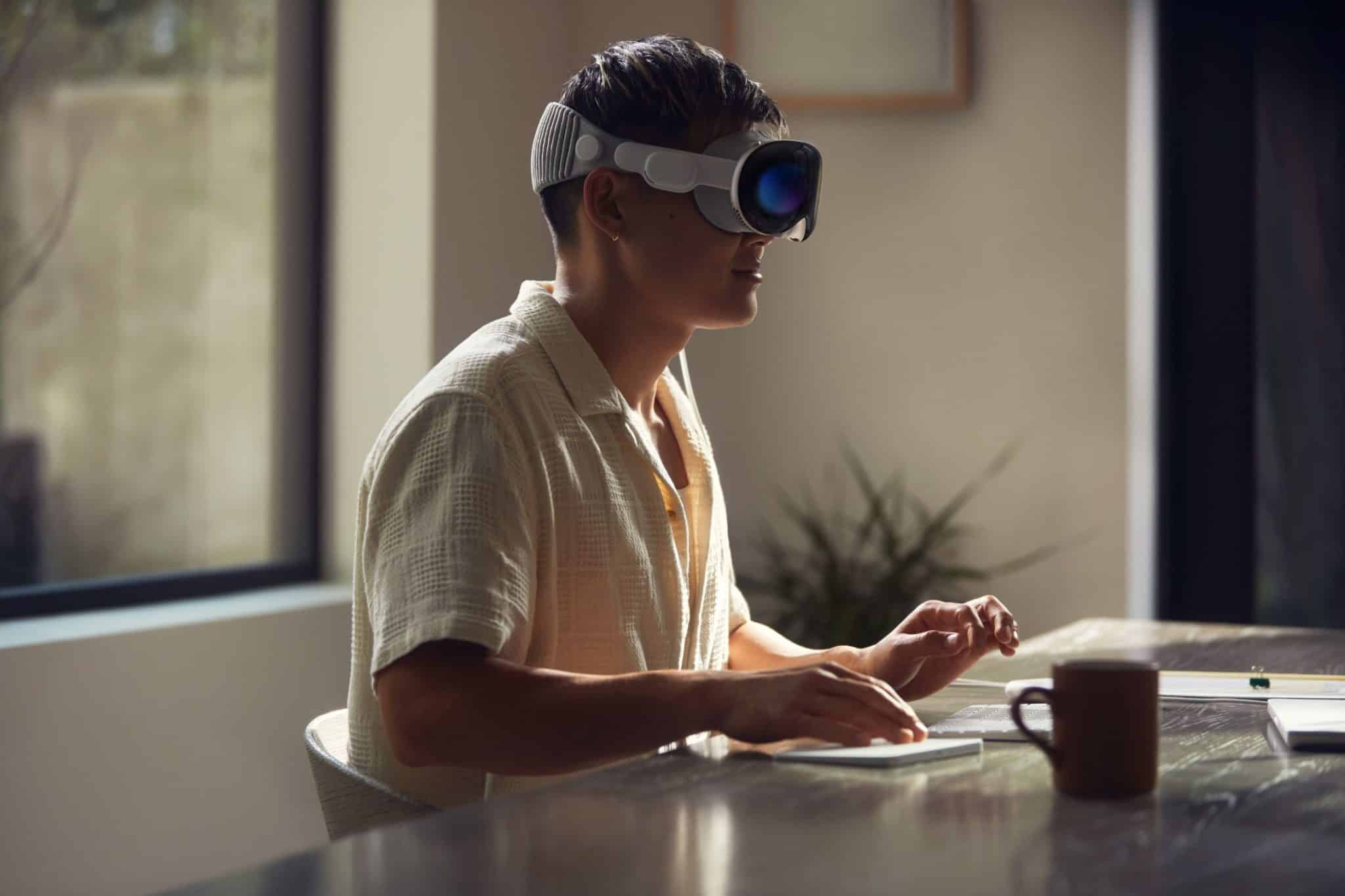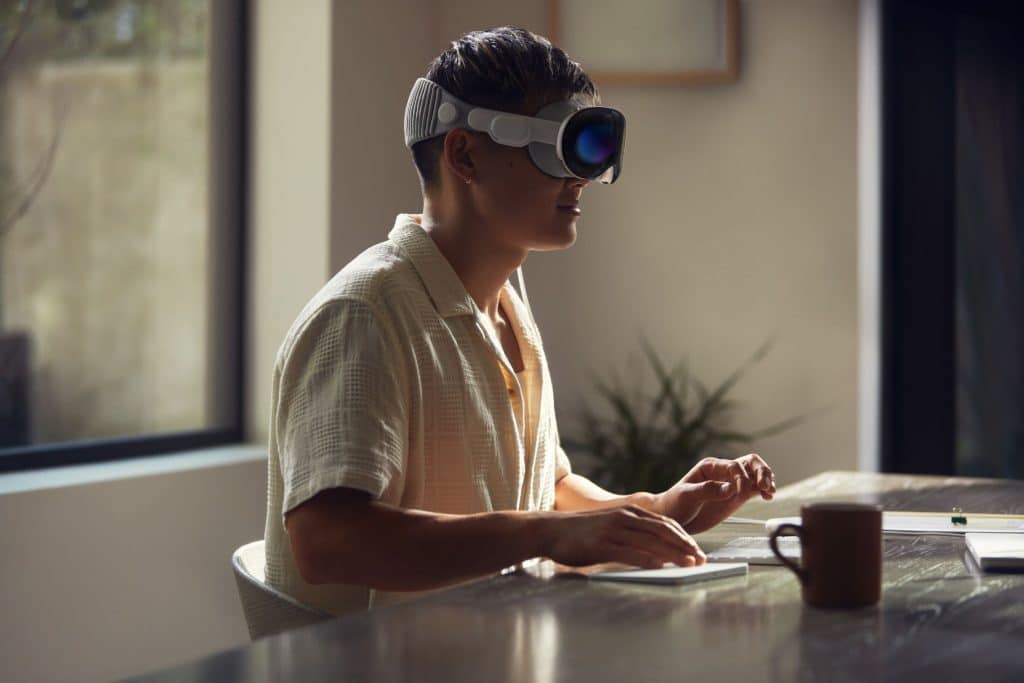 Engaging Environments and Immersive Memories
Vision Pro introduces Environments, which allows users to expand beyond the physical dimensions of their rooms. These dynamic landscapes can help users focus or reduce clutter in busy spaces, providing a customizable and immersive environment tailored to individual preferences. Moreover, Apple's first three-dimensional camera captures spatial photos and videos that bring memories to life. Users can relive special moments with Spatial Audio, experiencing a true sense of presence and depth.
Revolutionizing Communication with FaceTime
Apple Vision Pro enhances FaceTime calls by utilizing the spatial capabilities of the device. Participants in a call are reflected in life-size tiles, and Spatial Audio makes it feel as though they are speaking from their respective positions. Users wearing Vision Pro during a FaceTime call are represented as a Persona, a digital avatar created using advanced machine learning techniques. Personas accurately reflect users' face and hand movements in real time, enabling shared experiences like movie-watching or collaborative presentations.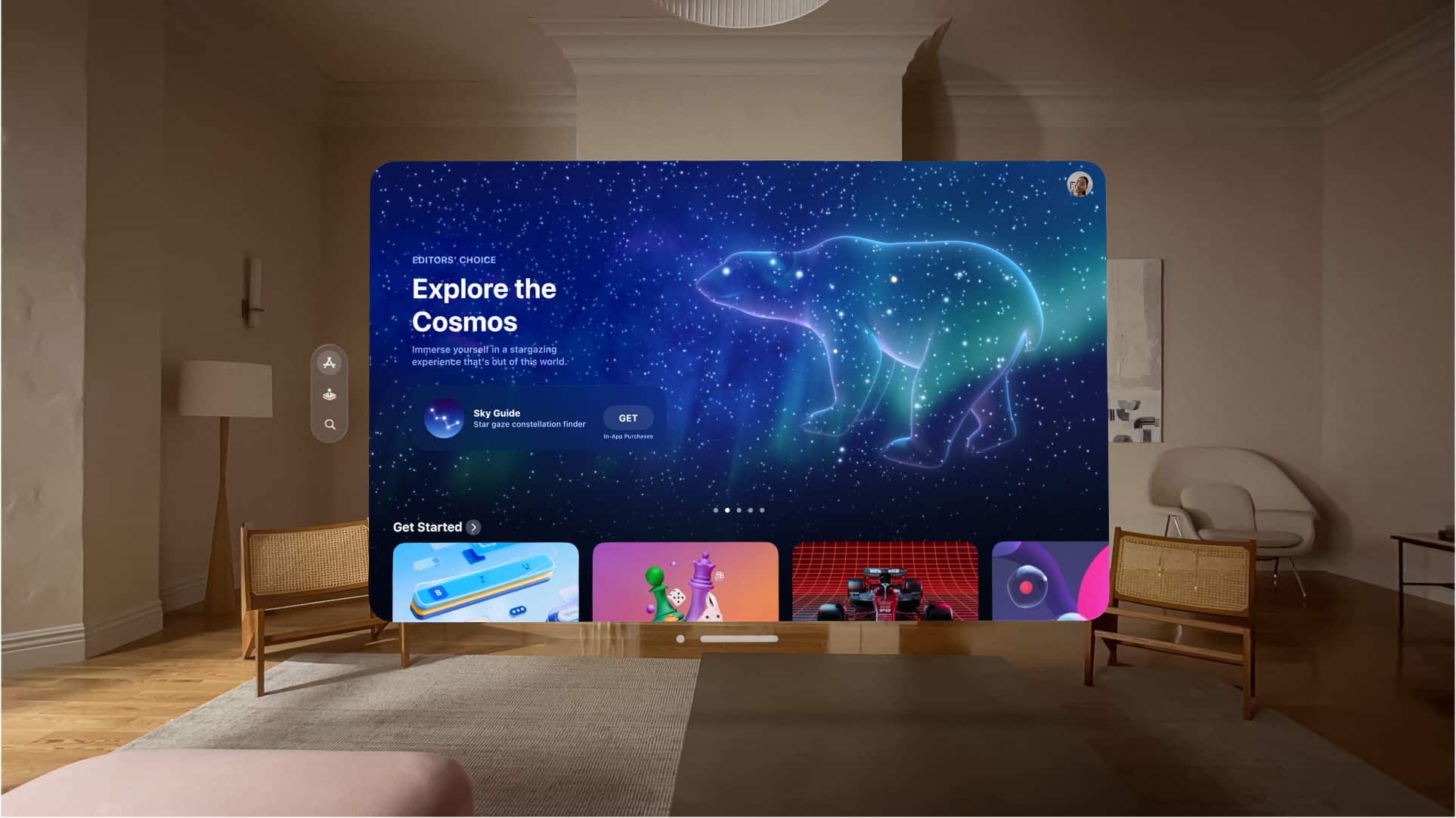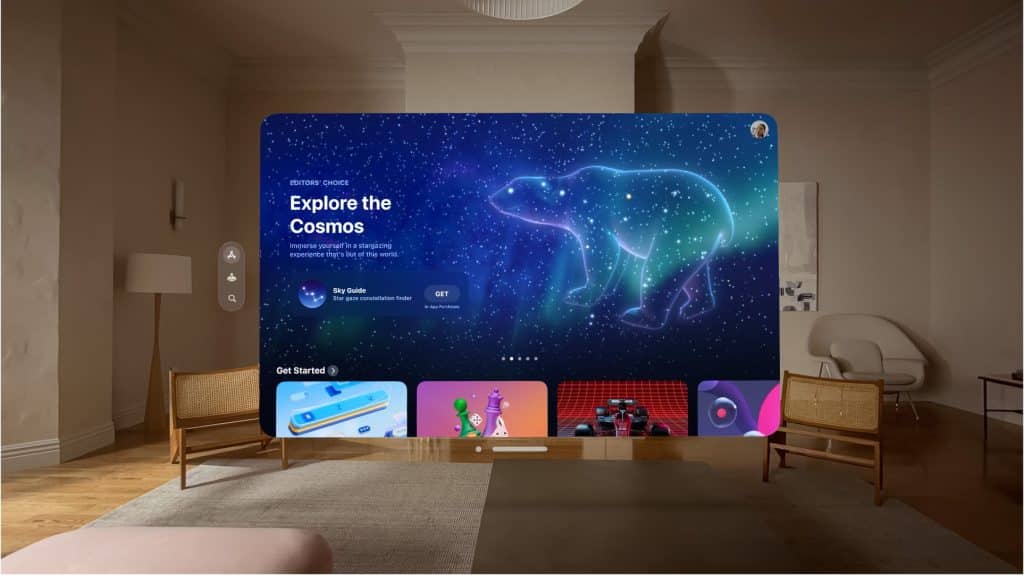 New App Experiences and Developer Opportunities
Apple Vision Pro includes an all-new App Store, allowing users to discover a wide range of apps and content. With hundreds of thousands of familiar iPhone and iPad apps automatically compatible with Vision Pro's unique input system, users have access to an extensive app library. Additionally, developers can leverage the power of Vision Pro and visionOS to design innovative app experiences specifically tailored for spatial computing.
Revolutionary Design and Unmatched Performance
Apple Vision Pro showcases a breakthrough design, incorporating advanced materials and expertise gained from previous successful products. The compact wearable device features a custom-formed, laminated glass lens that acts as an optical surface for the multitude of cameras and sensors required for blending physical and digital content seamlessly. The device's modular system ensures a tailored fit for a wide range of users, while the use of high-performance materials ensures comfort and durability.
Powered by Apple silicon, including the M2 chip and the new R1 chip, Vision Pro delivers exceptional computational performance. Its ultra-high-resolution display system, combined with custom catadioptric lenses, provides stunning visuals with incredible clarity. The advanced Spatial Audio system further enhances the immersive experience, offering personalized sound tailored to each user's head and ear geometry.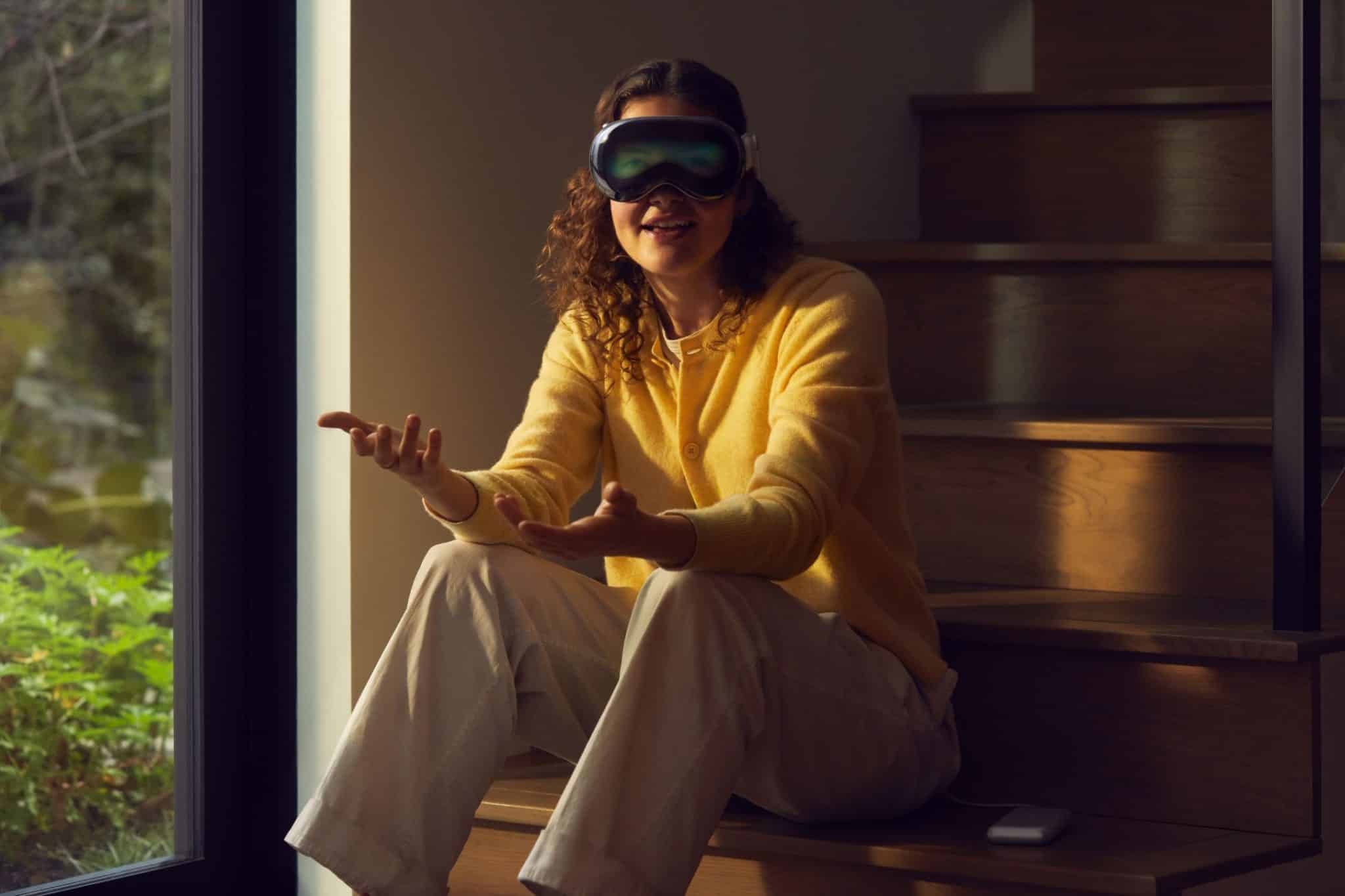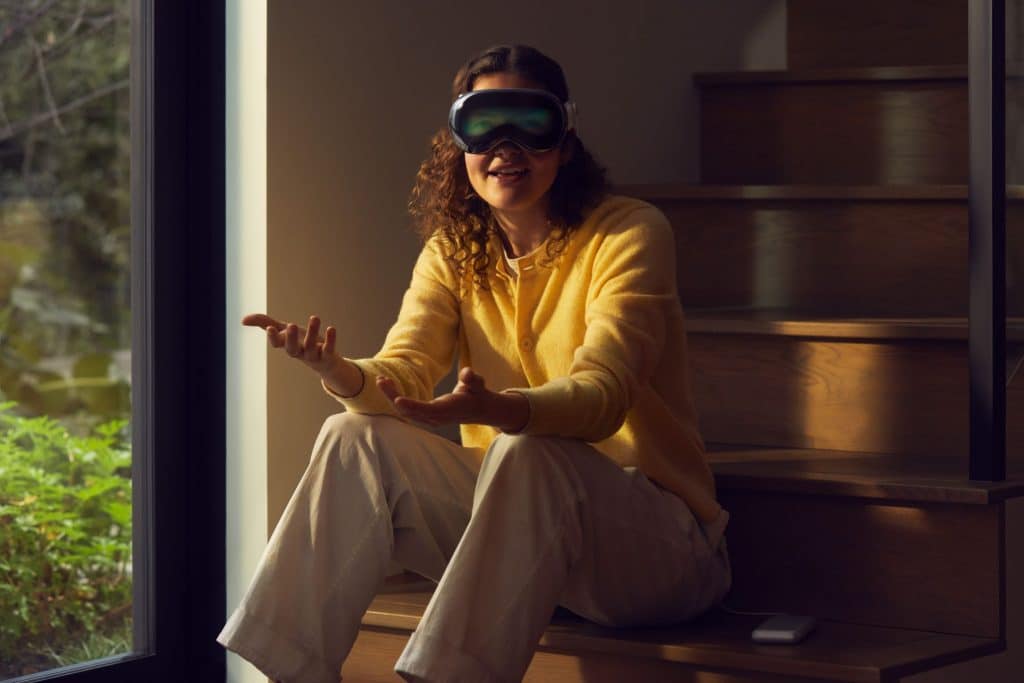 Privacy and Security
Privacy and security are paramount in Apple Vision Pro. The device features Optic ID, a secure authentication system that analyzes a user's iris under various invisible LED light exposures. The Optic ID data is stored securely in the device's Secure Enclave and is fully encrypted, ensuring it remains inaccessible to apps and never leaves the device. Eye tracking information and user surroundings are processed at the system level, protecting the user's privacy.
Availability and Pricing
Apple Vision Pro will be available for purchase on apple.com and select Apple Store locations in the U.S. starting early next year, with availability in other countries to follow. The starting price for Vision Pro is $3,499 (U.S.). Customers will have the opportunity to learn about, experience, and personalize their Vision Pro fit at Apple Store locations.
Apple Vision Pro introduces a new era of personal computing with its spatial technology and innovative features. By seamlessly blending the physical and digital worlds, Vision Pro opens up a multitude of possibilities for enhanced productivity, entertainment, and communication. With its revolutionary design, unparalleled performance, and commitment to privacy and security, Apple Vision Pro sets a new standard for personal electronics devices.