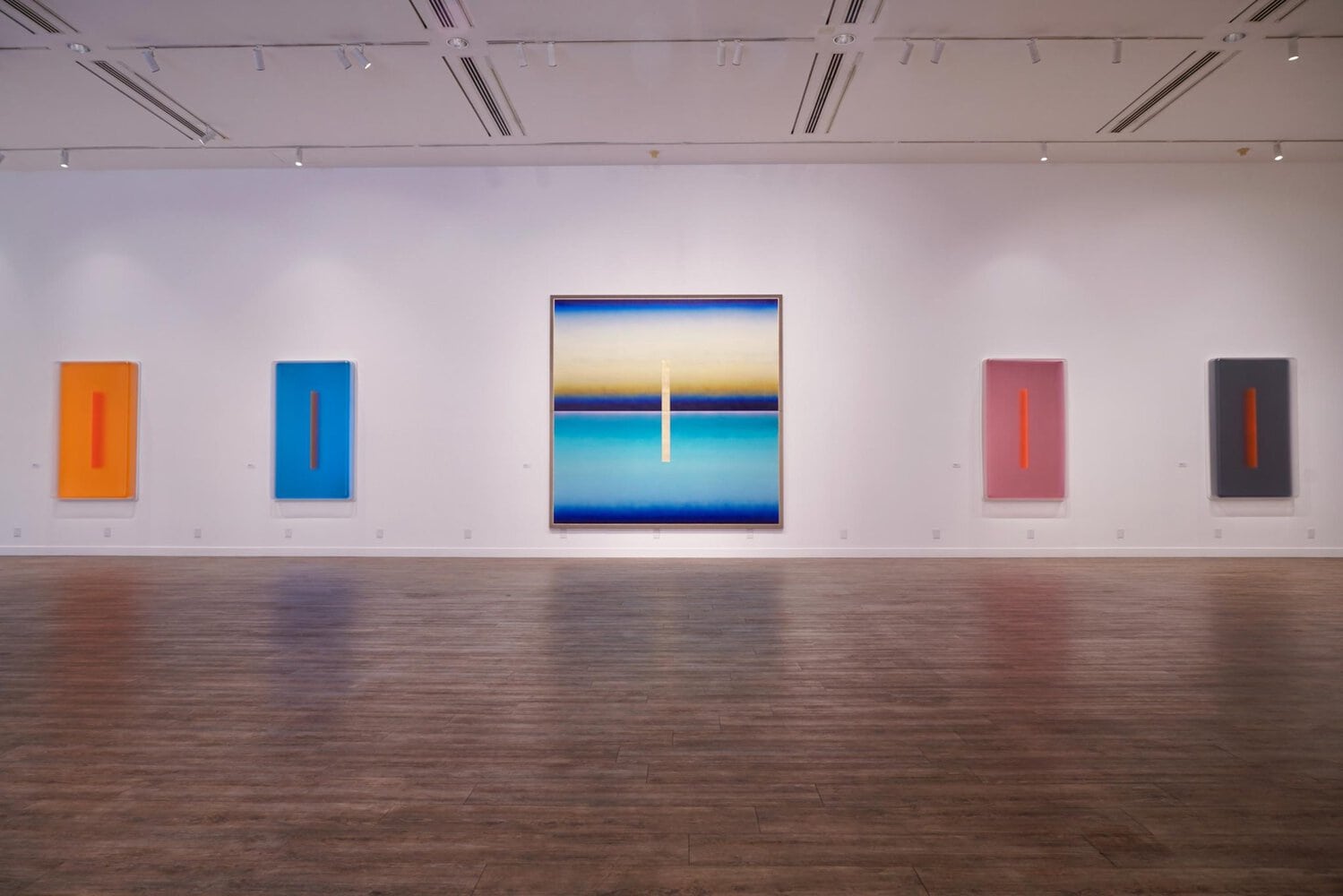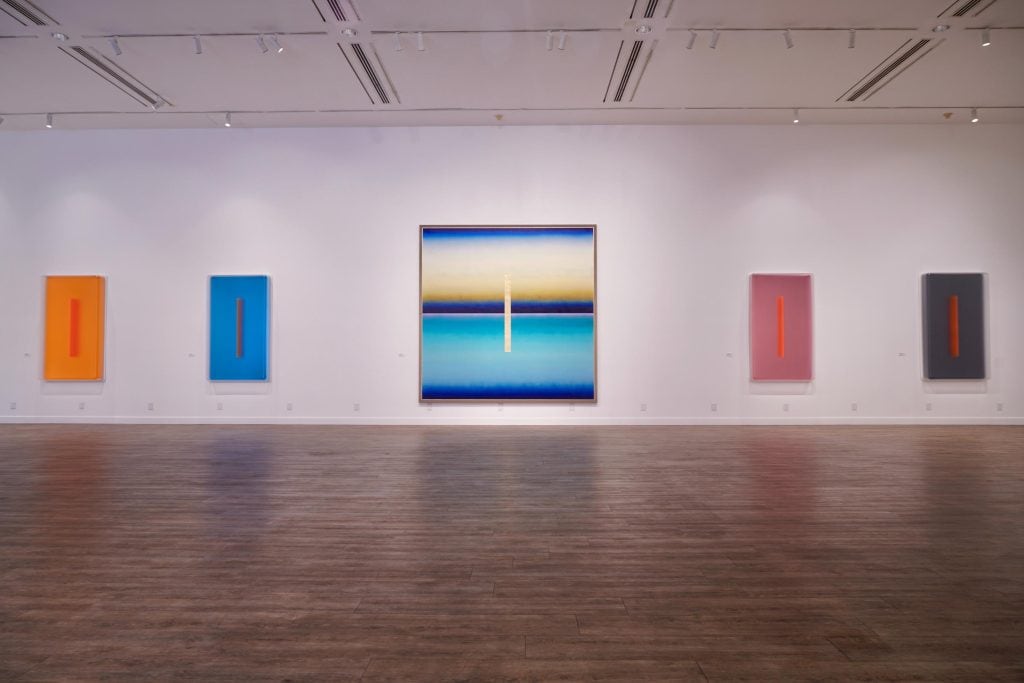 Exploring the enchanting world of Casper Brindle
Casper Brindle, a contemporary artist rooted in the 1960s & 70s Light and Space movement, explores the expressive possibilities of color, light, and form in his paintings. From vibrant technicolor to subtle monochromatic hues, Casper Brindle's work consistently features a central focus, drawing viewers into enigmatic spaces of perception. Influenced by the Finish Fetish and Light and Space movements, he masterfully employs color reminiscent of Mark Rothko and Jules Olitski, creating immersive fields that evoke deep emotional responses.
Casper Brindle's paintings, influenced by Southern California's car culture, utilize airbrushed sprays for atmospheric depth, demonstrating a synthesis of diverse artistic sensibilities. Born in Toronto in 1968, Brindle, now based in Los Angeles, has exhibited internationally and is held in prestigious collections like the Frederick R. Weisman Art Foundation.
It is an incredible occasion to be able to chat with Casper Brindle about his awe-inspiring and sensory artwork! We would love to know what you think your child-self would think of you now as such an accomplished artist? What do you think little Casper would say to you? And what would he think about your expansive body of work? Is he glowing with pride?
Thank you for the kind words. I think Little Casper would be happy with my accomplishments so far. There is something innately childish about being a professional artist. Experimenting and "playing" with the materials in front of you. I could compare it to the feeling of playing with toys in the preschool sandbox. I am forever grateful to have had such a supportive mother, a terrific illustrator and designer in her own right. I'm deeply fortunate that I am able to make a living doing what I'm very passionate about.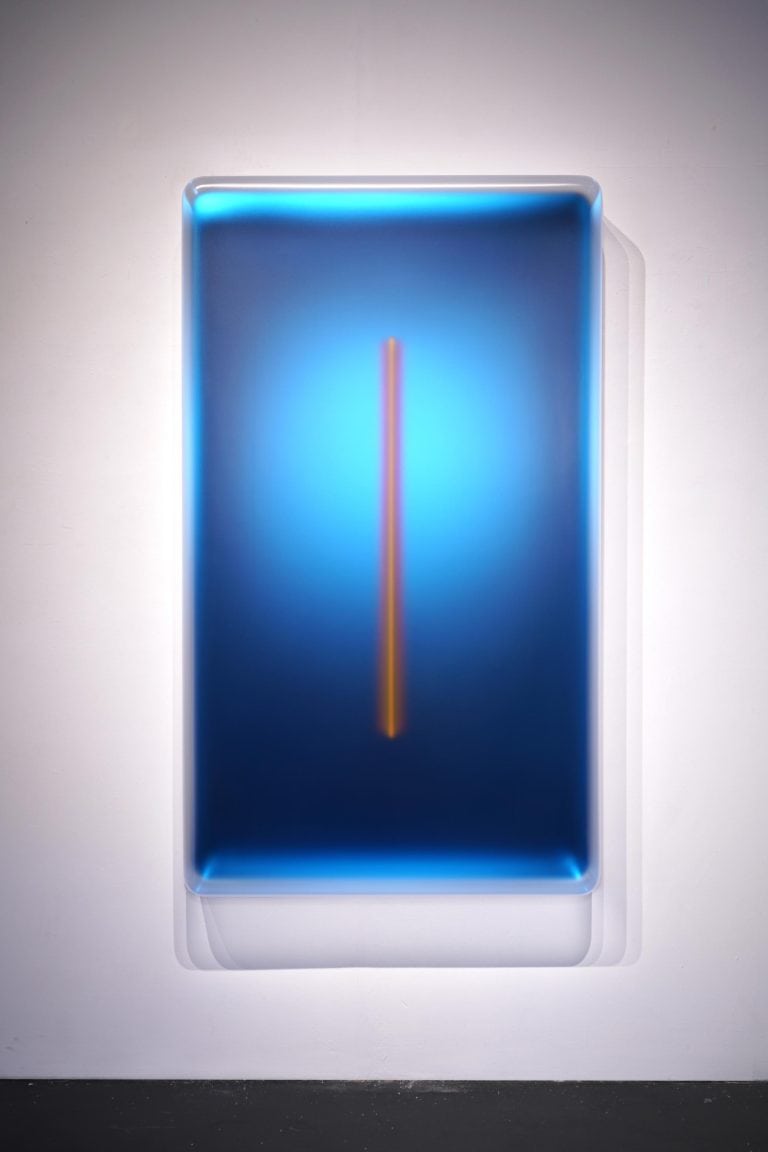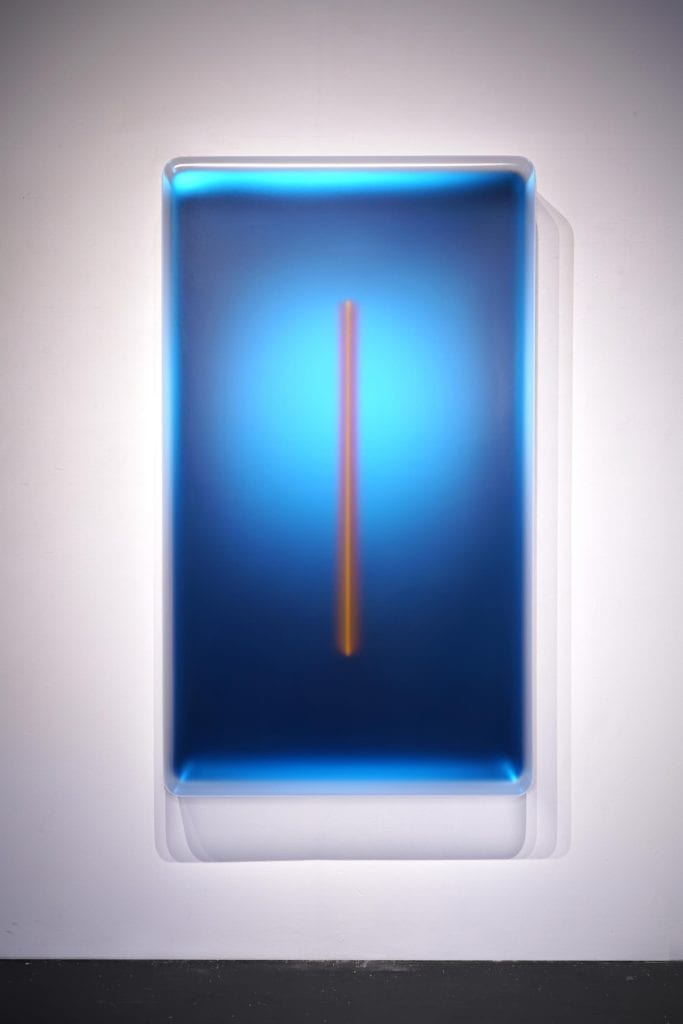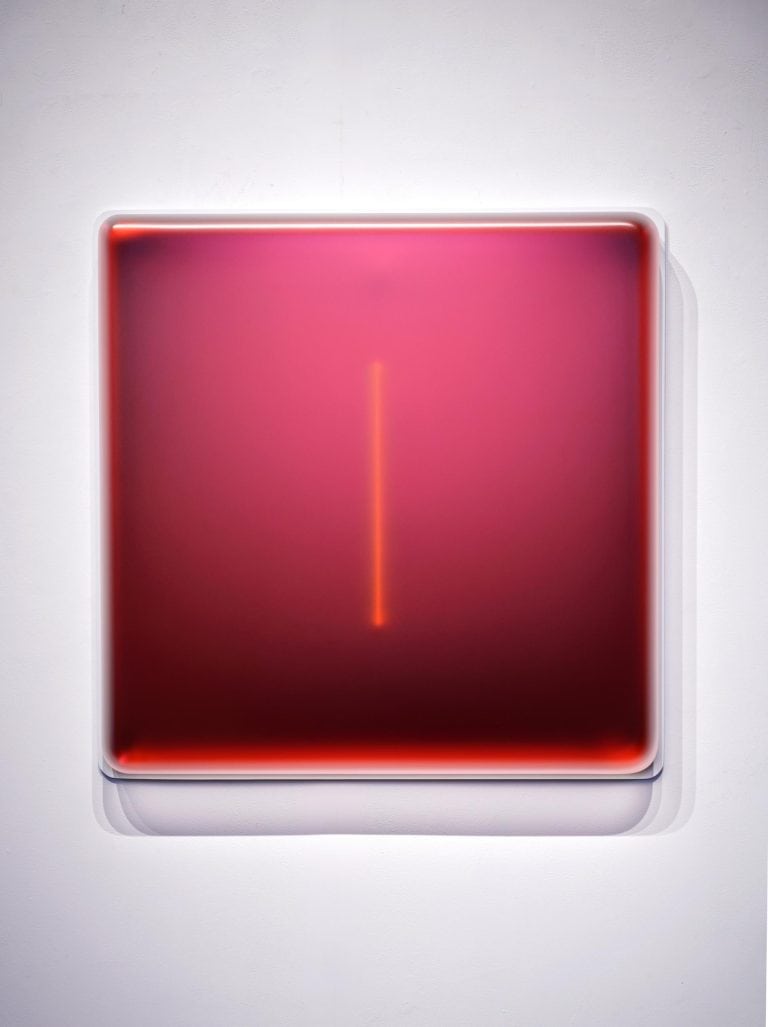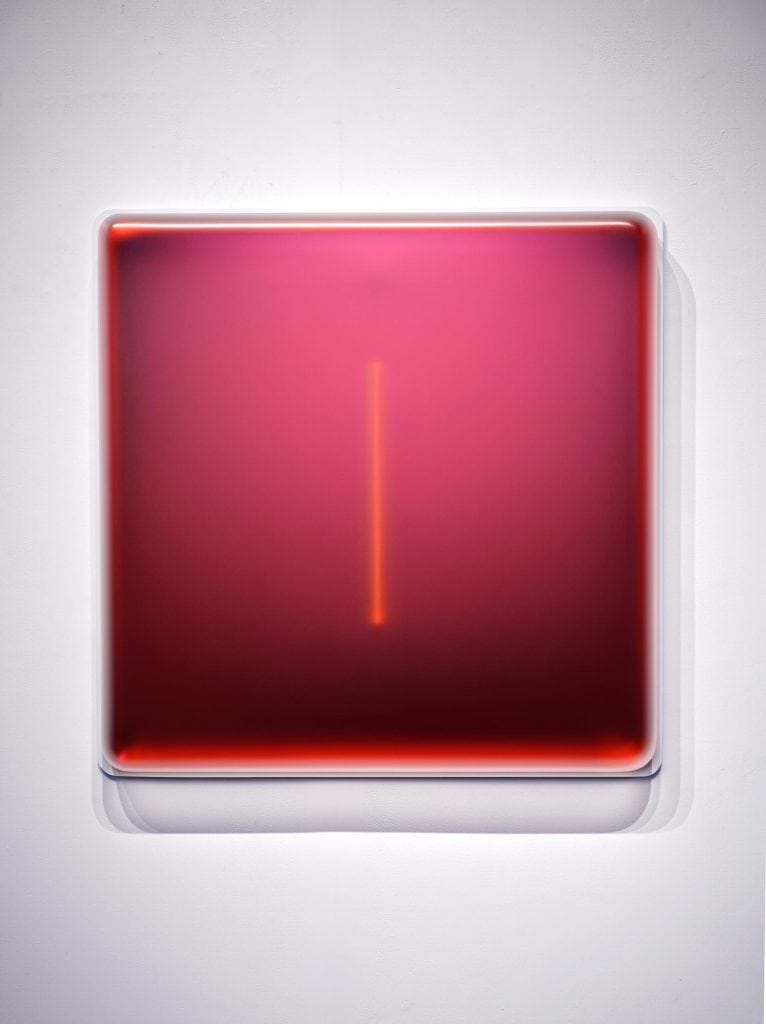 What a wild trip it is to take in your illuminating works that seem to unfold more of themselves, the more you spend time with them and interact with the space them. We would love to know more about how you went from utilizing LED tubes for lighting up a painting to now being able to skillfully achieve an effect of illumination by using only color. What was the process like for you personally?
Yes, for years I was incorporating and embedding LED lights into my paintings and never really found what I was looking for. I was yearning for a certain magic, a more organic quality which the artificial light provided by the LEDs could never achieve. What most interests me is the manipulation of light, whether it be with refraction in an encapsulated form, such as the light glyphs, or using paints that intentionally transform as you walk around the works. Materiality is a primary principle of my practice as I have spent years experimenting with the applications of different materials.
Your work speaks to the auras felt when perceiving colors, light, a core, and atmospheric spaces. Contemplation about perception and connecting with the presence are a couple things that come from immersing oneself in your body of work. Do you think your work reflects these experiences from the living world or is it its own concentration of sensory conjuration?
Both. I think the materials are a grounding force for the pieces, whereas the treatment and color perception of the materials allow for the pieces to become almost otherworldly. However, the orchestrated fabrication of the pieces reflects the organized chaos of both the natural and the built environment that surrounds us.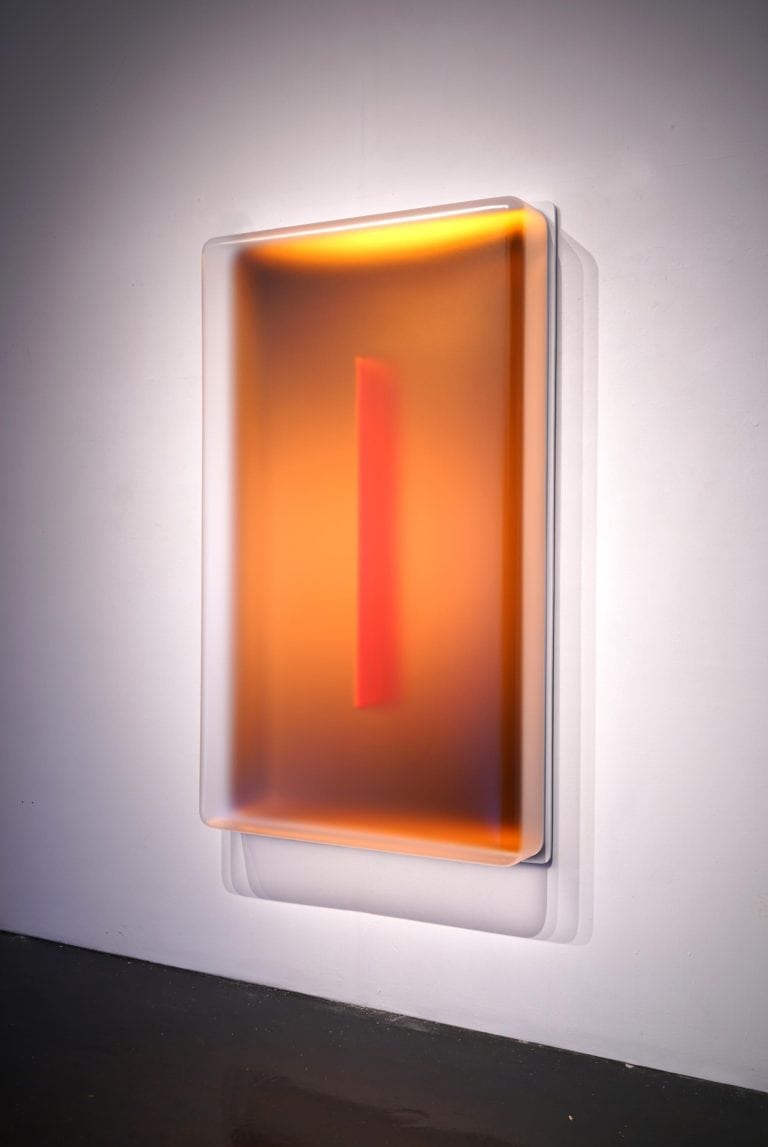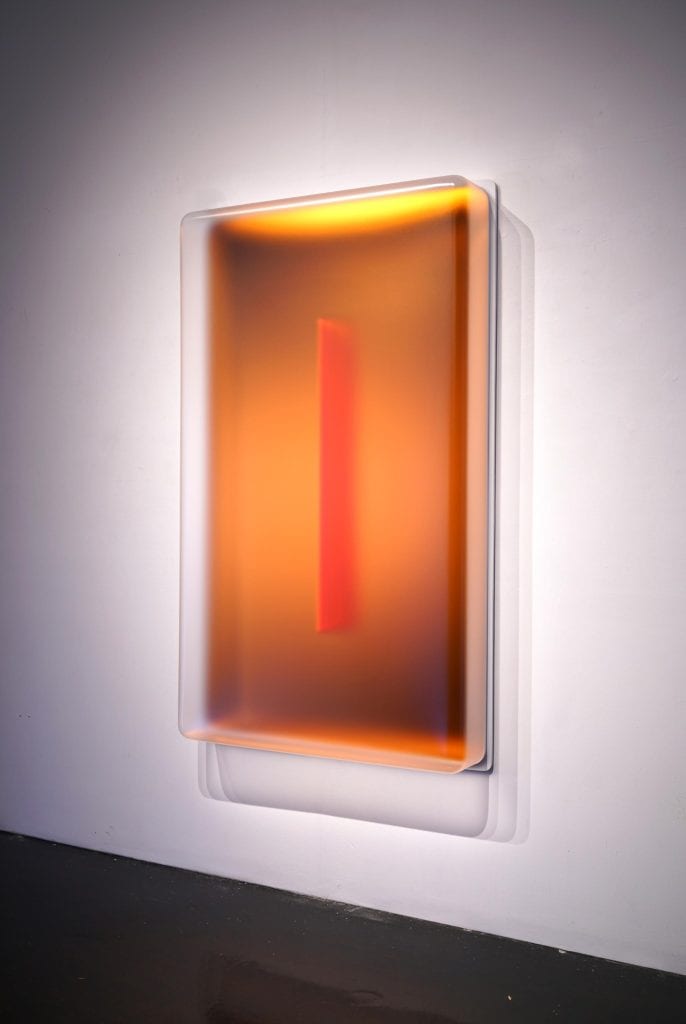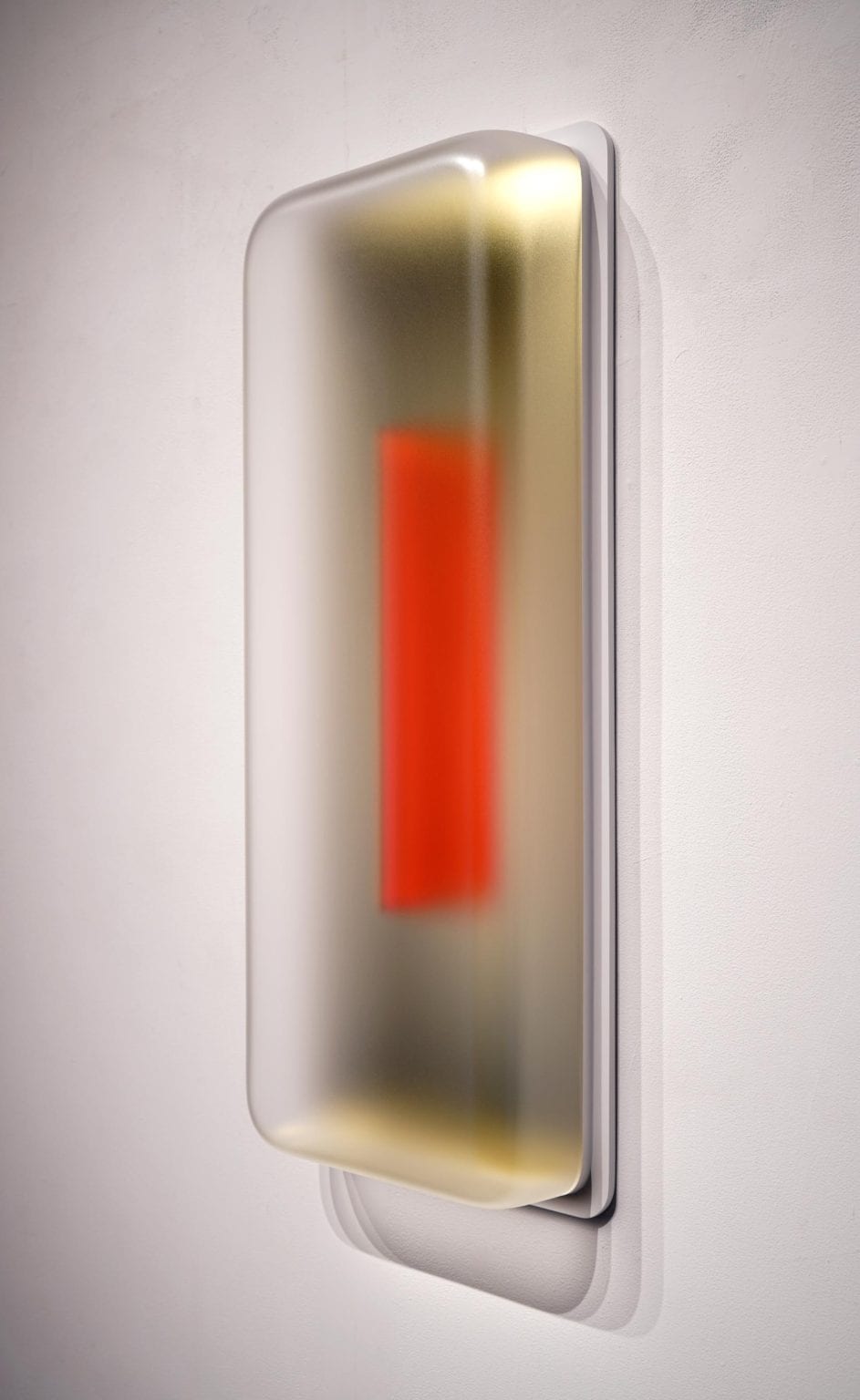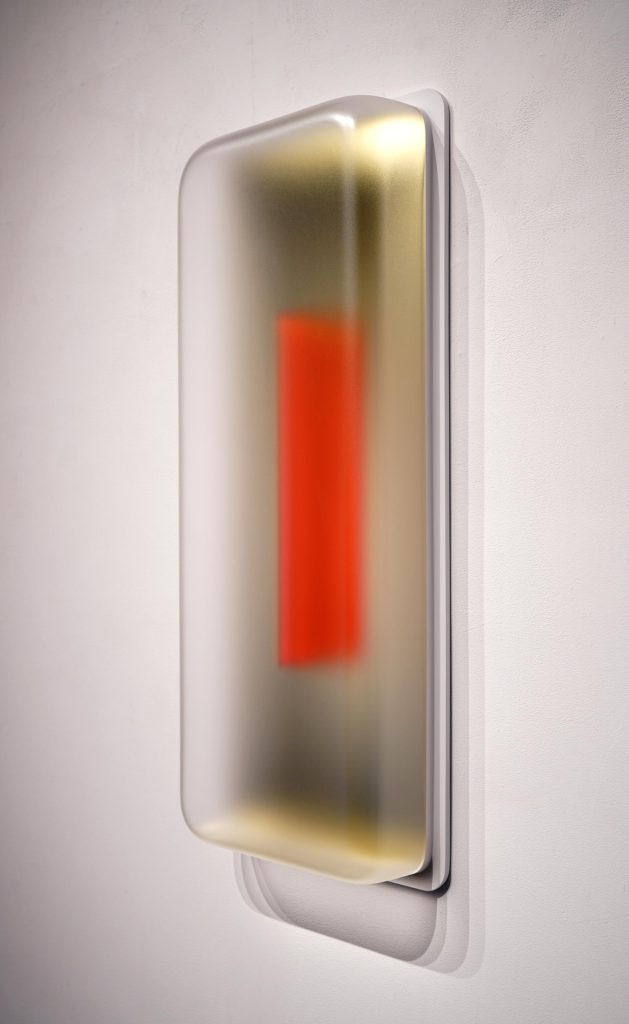 What dream settings do you envision your colorful works in? Are there particular places in the world that you hope to bring your art to?
Of course, artists are always fantasizing about ideal settings for our work – Museums, major collections, within prominent public and architectural venues. I am no different and have been thrilled to have my work acquired and shown by museums, like the Weisman Museum, The Luckman, Lancaster Museum of Art, the new Frank Gehry hotel in LA and by a number prominent collectors. Looking ahead, I have an exhibition planned in Brussels at Gallery La Patinoire Royale, Valerie Bach, in April of 2024 and will be showing new paintings and sculpture that I am presently working on and excited about.
Soon following, I will be focused on my Los Angeles exhibition in September at the William Turner Gallery. Possibly less traditionally, I'd love to explore placing my work in "atypical" settings: a foggy forrest, a beach, a desert. Changing the context changes the piece. A glowing object in the middle of nowhere tells a much different story than a painting hung on a white wall of a gallery. Hmm, could this be a short film? You've got the wheels turning!
We also know that you are also a sculptor. Can you divulge a bit about how this way of creating your art differs in from how you approach making your paintings? Taking something that you typically form on a 2D surface to a 3D realm?
The three dimensional work is more of an elaborate, organized process, compared to the typical trance I'm in while I'm painting. With my paintings, I'm just going on rapid fire instincts in a meditative state. With the sculptural work it's about logical problem solving. Like a puzzle. The Light Glyph sculptural works are expanded iterations of the Portal Glyph paintings -They just extend into three dimensions. Both explore the same theory, but within different mediums and materialities.
Maybe a comparable example is the painter as an actor and the sculptor as the director in theater or film. The actor is always reacting to a situation in front of them instinctively, but the director (sculptor) is planning the entire vision out before the production has begun. Two different processes for me, neither better than the other. Although, I enjoy the visceral process of painting more, both outcomes are equally fulfilling.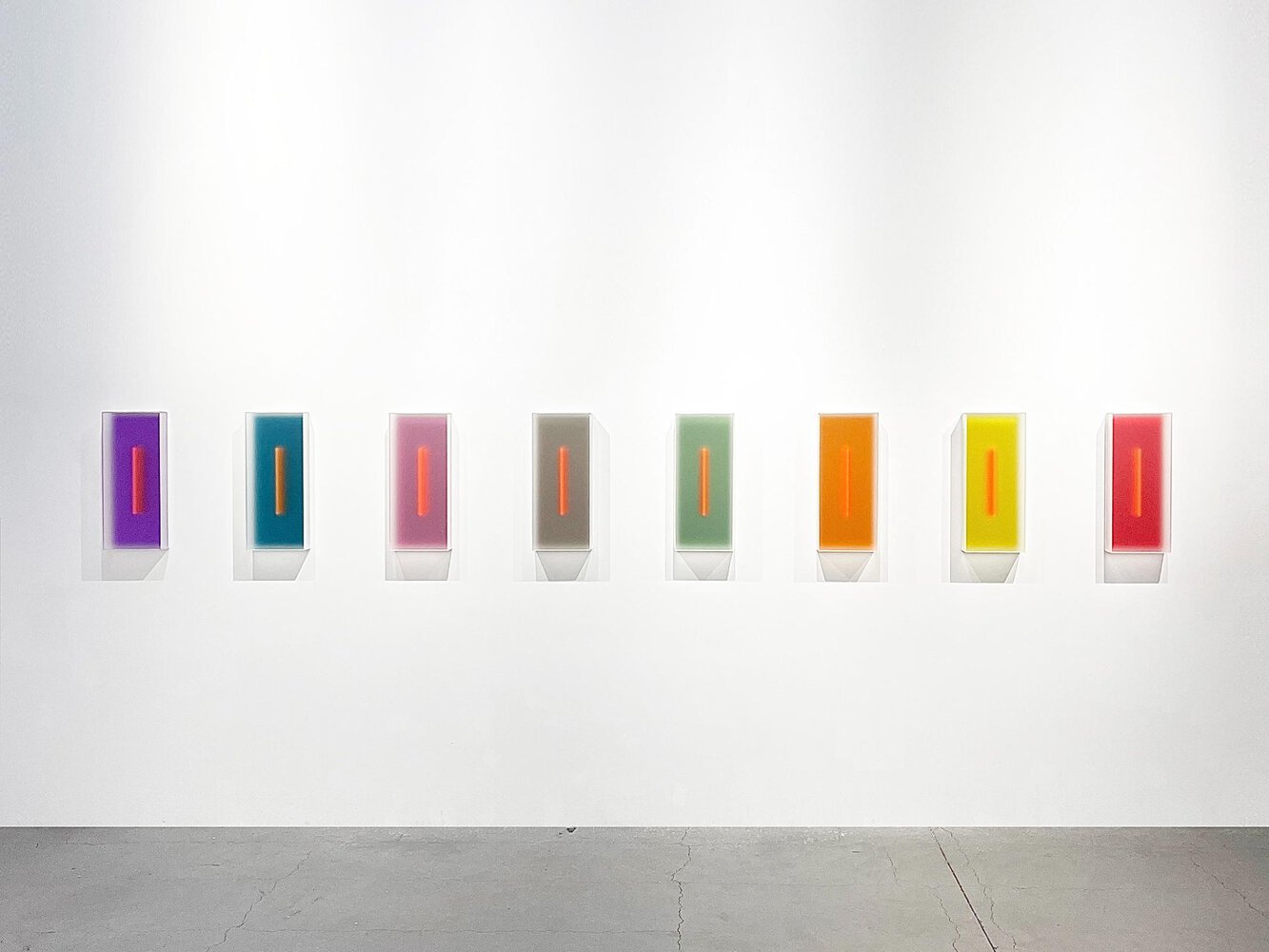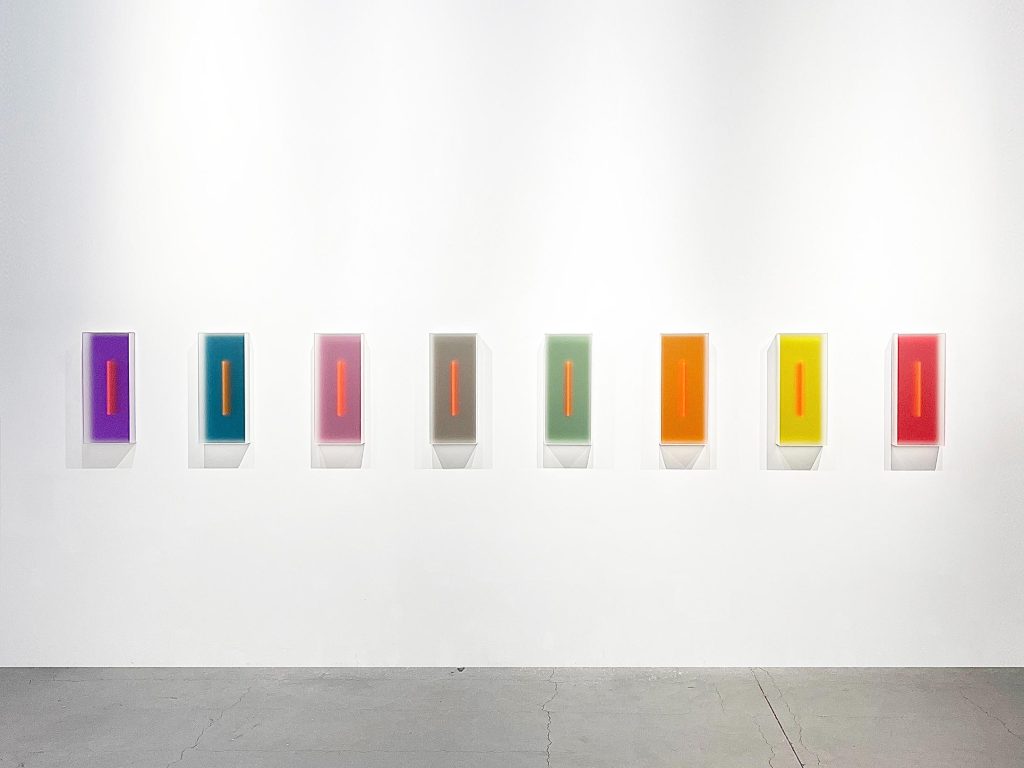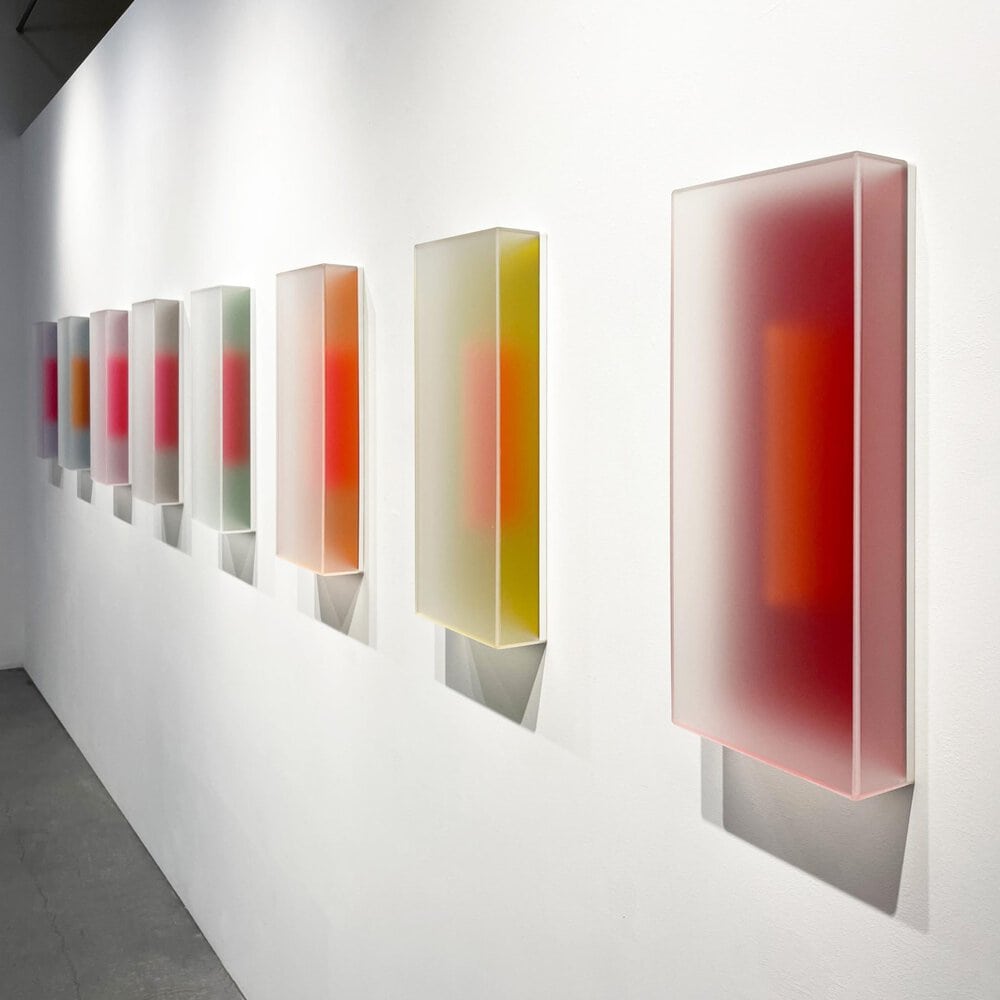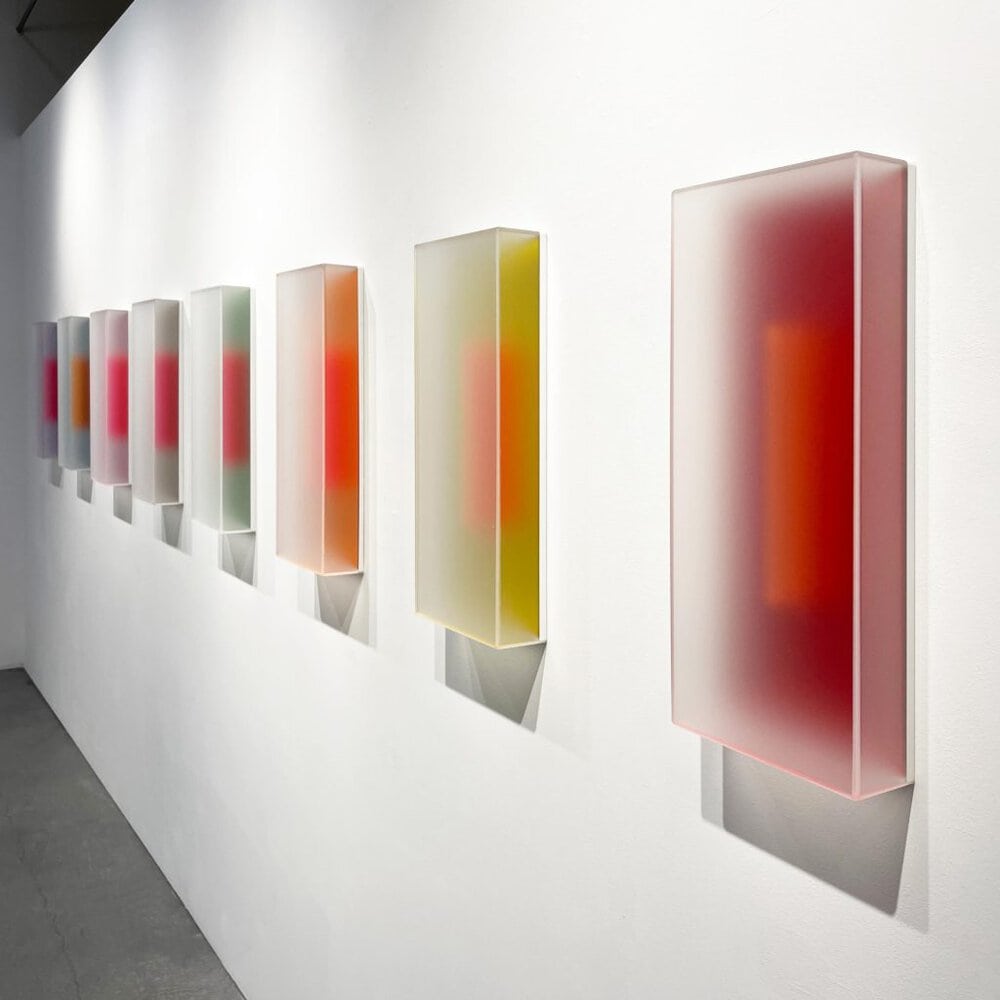 What does abstraction mean to you? Describe to us the way you philosophize the human senses in response to abstract visualizations that imbue a particular experience.
I'm in search of something beyond, something that can be truly simple and complex. Making my work is a selfish act, as I'm making the painting or sculpture solely for myself, to release it from my mind, without thinking about how they will be seen or felt. It's a place where I can be hyper focused yet, in a meditative state. The artwork may be used as a conduit for the viewers own experiences, but I would never force a narrative onto them. Abstraction to me is being free of story telling or narration. To create a work based on raw emotions or even lack of emotions. Free of rules. The freedom to dance any way you like.
What does the process of dreaming up a painting or sculpture look like for you? Is it the case that the end result always matches the first drop of inspiration?
My paintings or sculptural works come to me usually in solitude, whether that be just before bed or alone in my studio. With my paintings, I may have an idea to explore, but rarely do they end up visually resembling my initial thoughts. I find in painting the decisions are made quickly and based on instinct. Sculpture for me is a much more thought out concept as you are dealing with construction and fabricating a well explored object with prototyping all while aiming to achieve the concept that was originally in my head.
What has been a major highlight for you as an artist so far? What sort of new things are you seeking to further your creative endeavors? Any personal revelations that you wish to share over the years?
My highlights constantly change as I grow, but a recent noteworthy highlight was working with Mika Cho who curated my Museum exhibition at The Luckman space at California State University Los Angeles. It was a phenomenal show and experience. Cho's execution
and presentation were terrific. Constantly thinking of new ideas, projects, materials and collaborations, I know there is always something inspiring around the corner. It's important to do the work you enjoy as opposed to chasing trends. I believe that if you do your own thing, a thing you are truly passionate about, everything will eventually fall into place.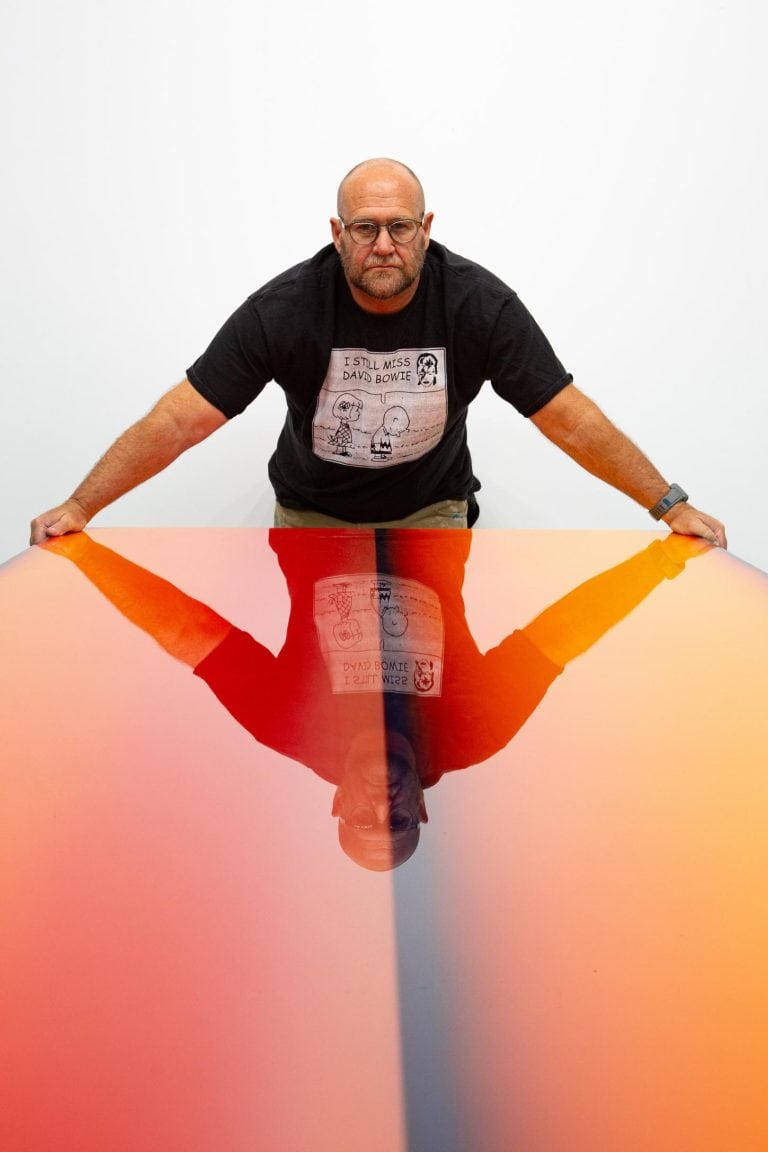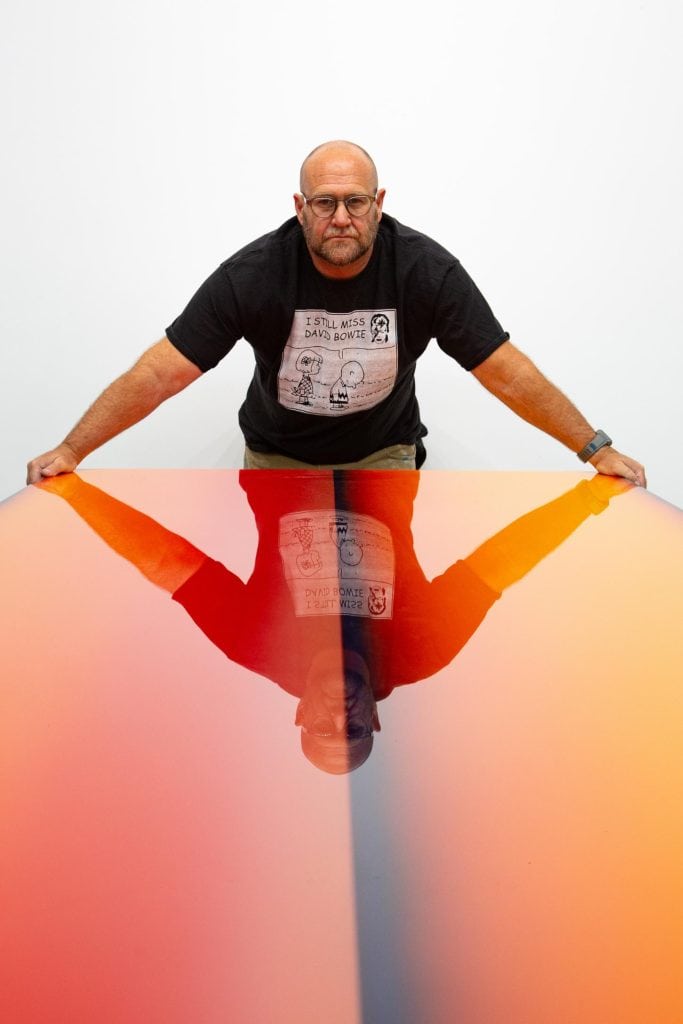 Photo credits: Rob Brander, William Turner Gallery, courtesy of Casper Brindle
Casper Brindle website: https://casperbrindle.com