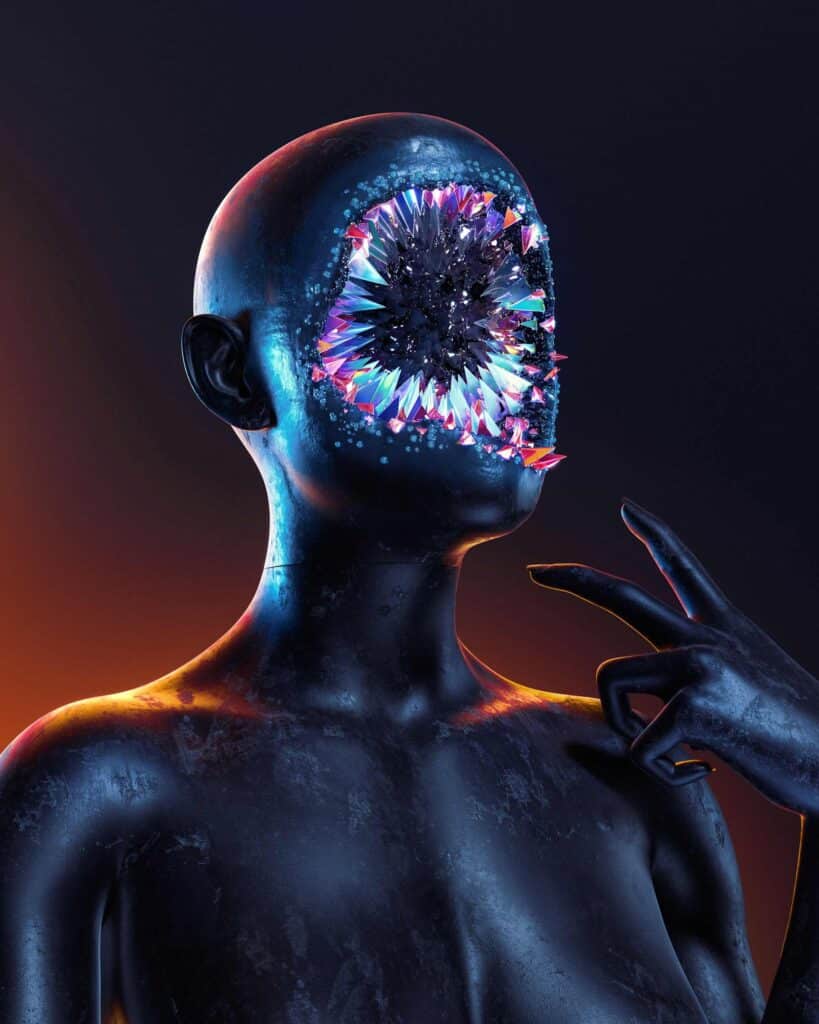 PLEASE INTRODUCE YOURSELF
I'm Javad Sadeghi. I'm a multidisciplinary designer. I have been working and experimenting in various artistic fields for almost 18 years. My academic education is a bachelor of fine arts. Evokedform is the result of my 7 years of experience in 3D art.
HOW WOULD YOU BEST DESCRIBE YOUR STYLE?
When I started Evokedform, I never thought of a specific style. I always wanted to experience anything that was possible. I did not like to limit myself to one style and context. I was primarily looking to learn and experience, until after a while I subconsciously came up with a style that I am still not sure if it's an original style or not, and you may see a completely different style of evokedform in the future. Right now the main focus of evokedform is on creating abstract materials with a touch of contemporary style and appearance that seeks to evoke extraordinary and satisfying feelings. My other main goal in evokedform is to combine different artistic mediums such as sculpture, installation with digital 3D art so that I can show that the language of art is the same in all the artistic mediums.
HOW DID YOU GET INTO ART?
My first association with art was as a child, around the age of 6-7. I used to design fictional characters or my favorite cartoons. Thanks to one of my older brothers, I learned to read and write before entering school, and because he was a calligrapher, I learned a little calligraphy as well. For many years, my main field of art was calligraphy and pencil sketches which won me my first place in provincial and national competitions at school. After entering art school, my path to deviated to graphic design, until I got to know 3D art around the same years and tried to learn it. Although it was hard and kinda impossible for me at first, I was so passionate about it that I spent y entire time reading 3D books in those days. There were not many video tutorials back in those days. Gradually, after years, I was able to gain a mediocre understanding of 3D. In the meantime, I was a rolling stone. I worked on UI / UX design for a while, I also spent some time on photography and filming videos, but after a few years away, I came back to 3D ART.
View this post on Instagram
View this post on Instagram
WHO OR WHAT ARE SOME OF YOUR MAJOR INFLUENCES?
Every time I think about this question, the first person that comes to my mind is my middle school teacher. He had a huge impact on my basic understanding of art, he was a genius in every sense of the word. And secondly, all the artists whose works I see here and there every hour of every day. The artists whose works motivate me to create.
CAN YOU TELL US ABOUT YOUR WORKING PROCESS?
Unfortunately, I'm not a very organized person. The work process sometimes doesn't take long, but on the other hand, it might take me days to finish a project. I tend to insist a lot on an initial idea to the point where I am convinced it is worth turning into a final work. Most of the time this does not happen and most of my projects remain unfinished. It can be said that my unfinished projects are twice the amount of the ones that I've finished. The first step of almost all of my projects that might be worth mentioning is sketching. I spend a great deal of the project time on sketching, starting with simple doodles, and at the same time, fantasize about the work until I find it worthwhile to execute and find something interesting in it, or if I already have a story about the project in my mind it makes the brainstorming a lot easier and faster. Of course, this is a process of personal projects, for client projects, of course, the process can be completely different.
WHAT MOTIVATES YOU TO CREATE?
To be honest, sometimes I'm not motivated to create, I need to create. I use creating as a therapy. I tend to look for satisfaction after creating something, that is why I start creating in the first place, which makes me feel a lot better after the work is finished. Although this is not always the case, sometimes the initial idea that I was inspired by or came to my mind imaginatively seems so powerful and complete that pushes me to create with a thrill of excitement. That day, I feel truly happy. This gift comes to me in different ways, maybe by watching a movie or listening to music, maybe by seeing nature photos or classic paintings. But if I am very lucky, it comes to my sick imagination before going to sleep. I think an artist is alive to create, and in order to create, he clings to every string to satisfy himself, no matter what motivates him to create, the important thing is that if he does not create, he will die.
View this post on Instagram
View this post on Instagram
WHAT IS YOUR STUDIO LIKE?
Nothing fancy, a jumbled room full of pencils and papers. There's also a computer and piano.
WHAT ARE YOU CURRENTLY WORKING ON?
I'm currently working on a 2-3 minute short film in which I'm focusing more on space making, but rest assured there is still a dynamic element to surprise you. 🙂
View this post on Instagram
View this post on Instagram
INFORMATION
Images with courtesy of evokedform
https://www.instagram.com/evokedform