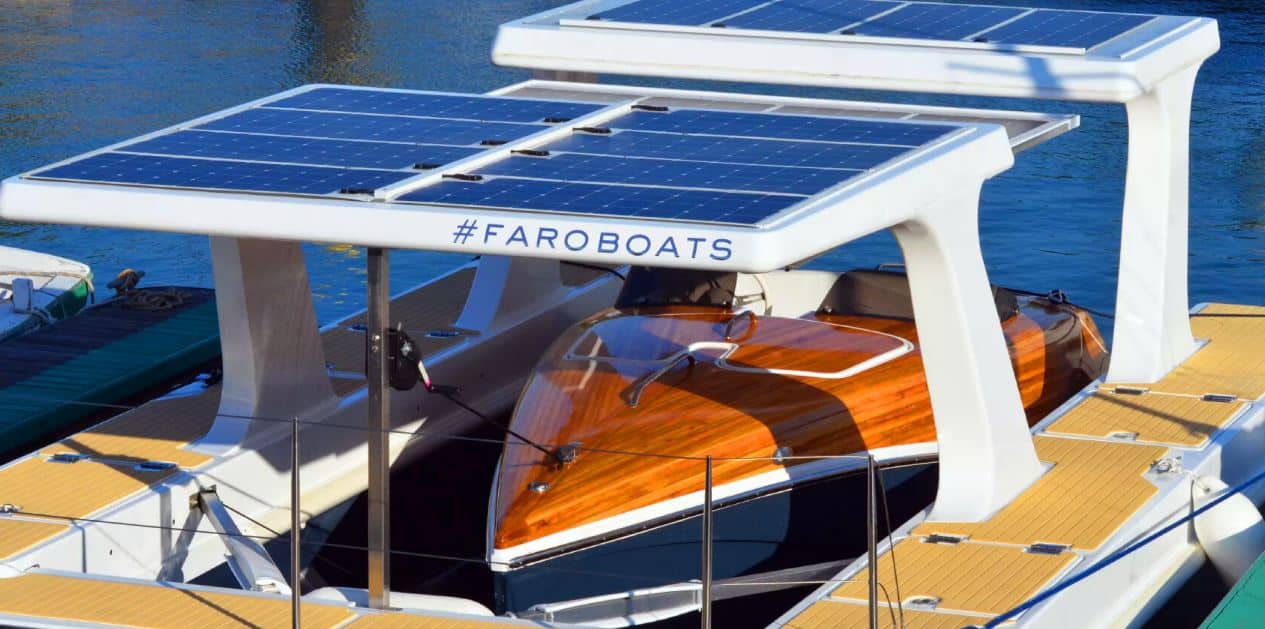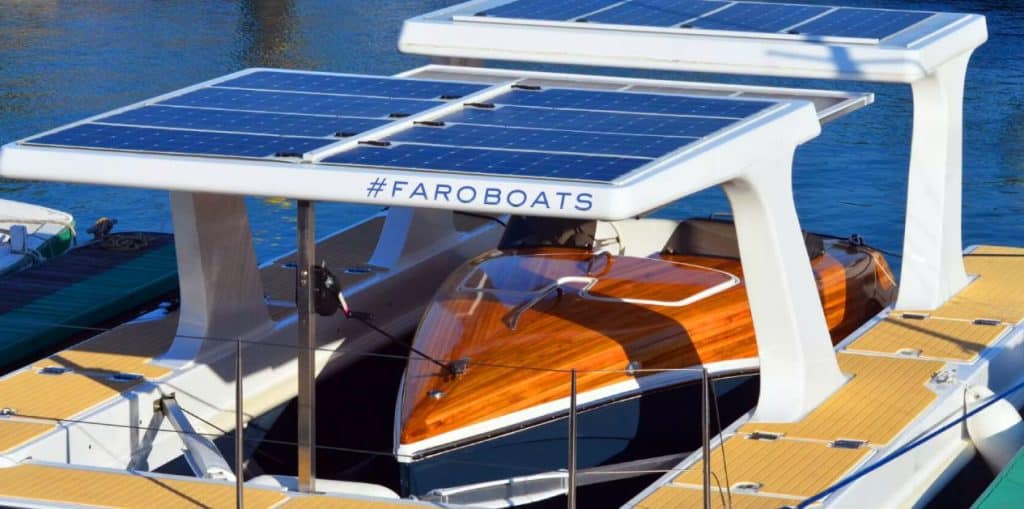 Faro Powerdock, an innovative creation by Faroboats, is a floating and towable electric docking and charging station that offers a sustainable and efficient solution for electric water vehicles, including yachts. Designed in collaboration with naval designer Tomás Costa Lima, the Faro Powerdock integrates solar panels on its buoyant structure, providing rapid charging for electric boats while also lifting them out of the water to protect their hulls from fouling.
The solar panels on the Faro Powerdock's roof consist of around 36 mini solar panels per grid, harnessing solar energy to charge electric boats' batteries in just a few hours at any harbor. Additionally, the docking station is equipped with high-capacity batteries, allowing it to recharge its own power supply for approximately 12 to 14 hours when sunlight is scarce.
The Faro Powerdock is tailor-made to fit any single berth at docks or marinas worldwide, making it a practical choice for boat owners seeking an off-grid power source. Whether it's moored next to a lake house or tied to a finger at a local harbor, the seamless integration of Faro Powerdock with the available space ensures convenient charging and parking for the Faro5 and potentially other electric boats.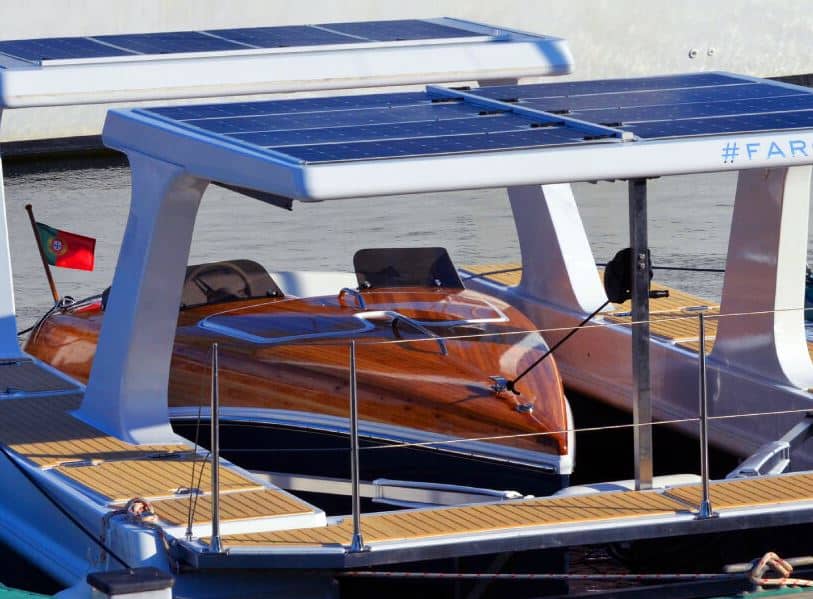 One of the key benefits of the Faro Powerdock is its ability to lift the Faro5, and other electric boats, entirely out of the water when not in use. By keeping the boat's hull dry and free from fouling, it eliminates the need for expensive anti-fouling treatments and repairs caused by sun bleaching.
With a charging capacity of 6kW, the solar docking station is suitable for various boating adventures, from leisurely trips to extended excursions. Its lowest-end Powerdock model, the S10, boasts a powerful 10kW charging capacity, enabling it to charge any of its boats in under 3 hours.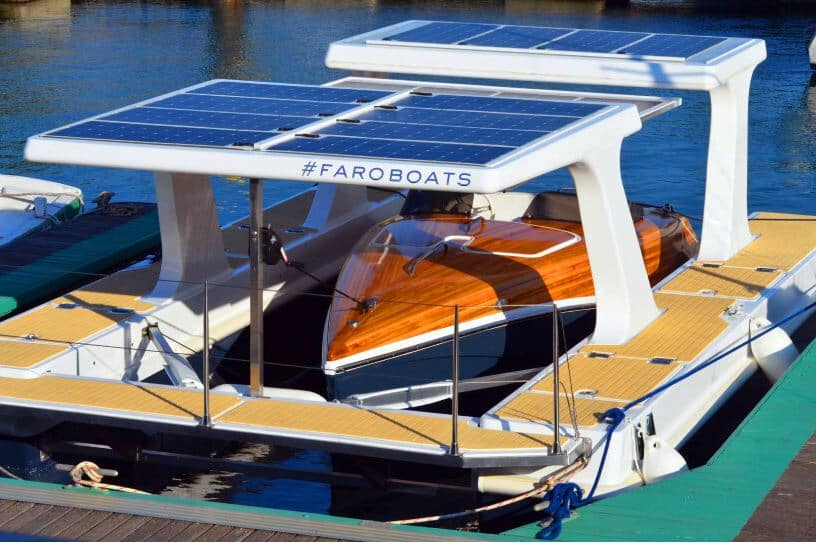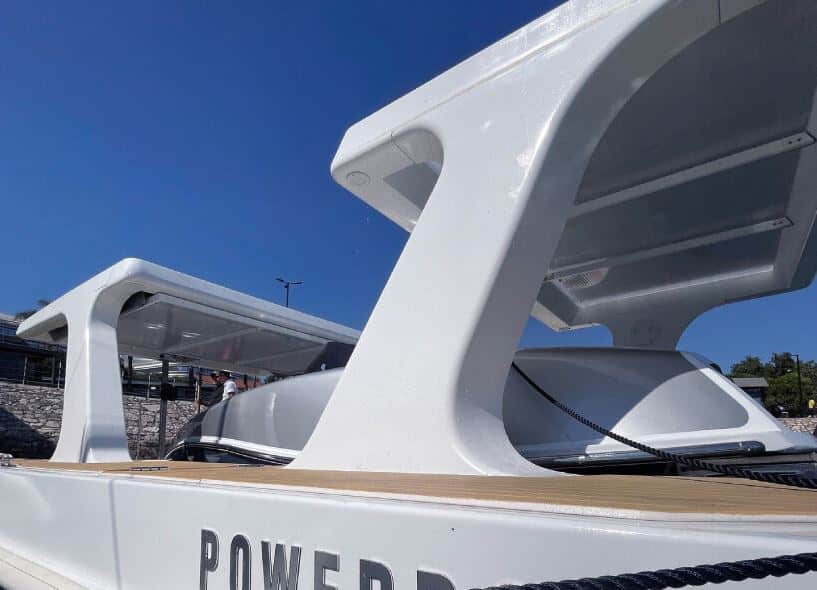 The collaboration between Faroboats and Tomás Costa Lima has resulted in a harmonious and sleek design for both the boat, Faro5, and the power dock, Faro Powerdock. Besides its charging capabilities, the Faro Powerdock offers a viable carbon-emission-free solution for docking and charging electric boats, significantly reducing the carbon footprint associated with traditional boating practices.
Faro Powerdock by Faroboats stands as a testament to the successful integration of cutting-edge technologies, delivering an eco-friendly and efficient power solution for the Faro5 and other electric boats. Boaters can now spend less time waiting for power and more time enjoying their boating experience, all while contributing to a cleaner and greener future for our waterways.