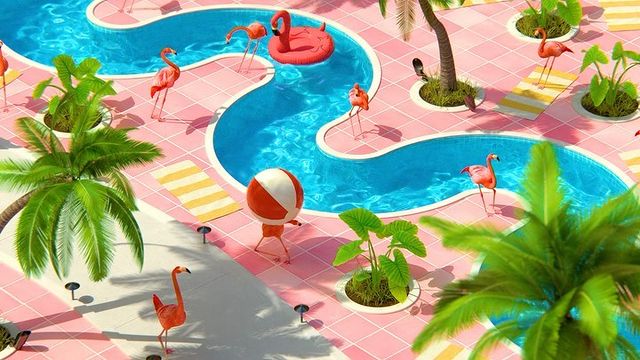 PLEASE INTRODUCE YOURSELF
Hi! I'm Gavin Shapiro, I'm a digital artist based in New York City, and have spent the majority of my career working as a motion graphics designer primarily focusing on 3D design and animation. I started in 2009 doing motion graphics and visual effects for The Onion, and since then have had a vibrant career working at various studios and agencies, even spending a few years working abroad in Paris and Osaka. In mid 2020 I was brought into the world of NFTs and for the last year and a half I've been focused pretty much full time on creating personal work.
HOW DID YOU GET INTO ART AND WHAT MOTIVATES YOU TO CREATE?
I was surrounded by art from an early age; my parents used to be artist representatives in New York City, so art was their world and they shared it with me. As a kid I remember looking through big coffee table books full of art, design, and typography, and my toys were building blocks and legos and other kinds of arts and crafts. They got me this program called Kid Pix and I started making art on the computer, and eventually they got me Bryce 3D and I took my first dip into the world of 3D art.
As for my creation motivation, my goal is always to make work that makes people smile. I also want to make work that makes people step back and go, "Wait, how does that even work? How did he do that? WHY did he do that?" I love math and optical illusions and I love the problem solving that it takes to successfully build a visual puzzle. And I love the feeling of finally getting it to work and seeing the end result, and seeing people react to it.
Visualizza questo post su Instagram
Visualizza questo post su Instagram
WHAT MEMORY DO YOU RECALL MOST VIVIDLY FROM CHILDHOOD ABOUT YOUR CREATIVE TALENT?
When I was a kid there was one summer where I got bored and figured out how to make a flash game. It was called Squares 2 and it ended up getting pretty well-known on the internet, spreading through popular sites at the time like Ebaumsworld and Albinoblacksheep. Seeing the internet respond like this to something I made for fun was very encouraging and memorable, and every now and then I'll still run into people who played it back in the day.
HOW WOULD YOU BEST DESCRIBE YOUR STYLE AND WHO/WHAT ARE SOME OF YOUR MAJOR INFLUENCES?
I think my style, at its core, explores the humor that arises from the juxtaposition of something lighthearted and cute with something very extreme or serious. So of course, you have these ridiculous birds all over the place, but they're always stuck in some kind of neverending scenario which is either very complicated mathematically, or very overly conceptual and serious. I also build all of my work as seamless looping videos, because I love the idea of looking at a video in the same way you would look at a painting, in the sense that there is no start or end, and it doesn't matter when you start watching it – you just pick up new details the longer you look at it.
Some influences that come to mind: Dali, Magritte, Escher, Dan Flavin, Walter De Maria, Olafur Eliasson, Michel Gondry, Chris Cunningham, John Edmark, Andreas Wannerstedt, Oscar Pettersson, Arben Vllasaliu, Oliver Latta, Six 'n Five
Visualizza questo post su Instagram
Visualizza questo post su Instagram
WHAT IS PART OF THE CREATIVE PROCESS THAT YOU WOULD RATHER AVOID, AND PART THAT YOU CAN'T GET ENOUGHT OF?
I tend to be a perfectionist, so when I'm away from the computer I often end up going over my current project in my head over and over, thinking about all the things I could be doing to make it better, or things about it that aren't working, or won't work, etc etc… A lot of the time my creative process is all-encompassing and if I'm in the middle of a long project, I find it hard to mentally pull away even in times when I am not working on the piece. This is especially the case when I haven't yet found a creative solution for something I'm trying to articulate, or am not yet sure which direction I want to take something in. There are a lot of nights spent staring at the ceiling. So, I wish I could avoid this part of the creative process where my inability to separate from my work bleeds into my personal life and leaves me frustrated and distracted.
My favorite part of the process, though, is when I realize exactly what I need to do, and the idea is completely clarified in my mind, and then the creation is just a matter of putting the pieces together. It's the "flow state" that I hear athletes and programmers talk about when they become completely focused on what they're doing right now; the rest of the world melts away, and it becomes effortless and fun, almost like a meditation, like speaking a language fluently, but at the same time without language at all.
HOW DOES COMMERCIAL PRESSURE AND THE BUSINESS OF ART EFFECT, SHAPE, OR GUIDE YOUR CREATIVE DECISIONS?
I would say that it has made me much more thoughtful about the work that I create and release. Before selling my work as NFTs, I earned a living as a motion designer making work for clients, so personal work was just a fun hobby where I would try out a lot of rough ideas very quickly. But now, by earning a living from my personal work, it feels like there is so much more at stake, as well as pressure to represent myself in a way that I'll be proud of years from now. So really, it has been a sort of confrontation that has forced me to ask myself why I am making what I make, and has been an opportunity to be more thoughtful and intentional with my artwork and creativity as a whole.
YOUR FAVORITE BOOK, SONG, FILM.
Favorite book is probably Homo Deus or 1Q84. Favorite song is too hard to pick these days but I go back and forth between deep house, jazz, and Meshuggah. To be honest I embarrassingly can't remember what my favorite movie is anymore but my favorite TV show is probably Black Mirror.
SEND A MESSAGE TO YOUR FUTURE SELF
You just lost the game.
Visualizza questo post su Instagram
Visualizza questo post su Instagram
Visualizza questo post su Instagram
INFORMATION
Images with courtesy of Gavin Shapiro