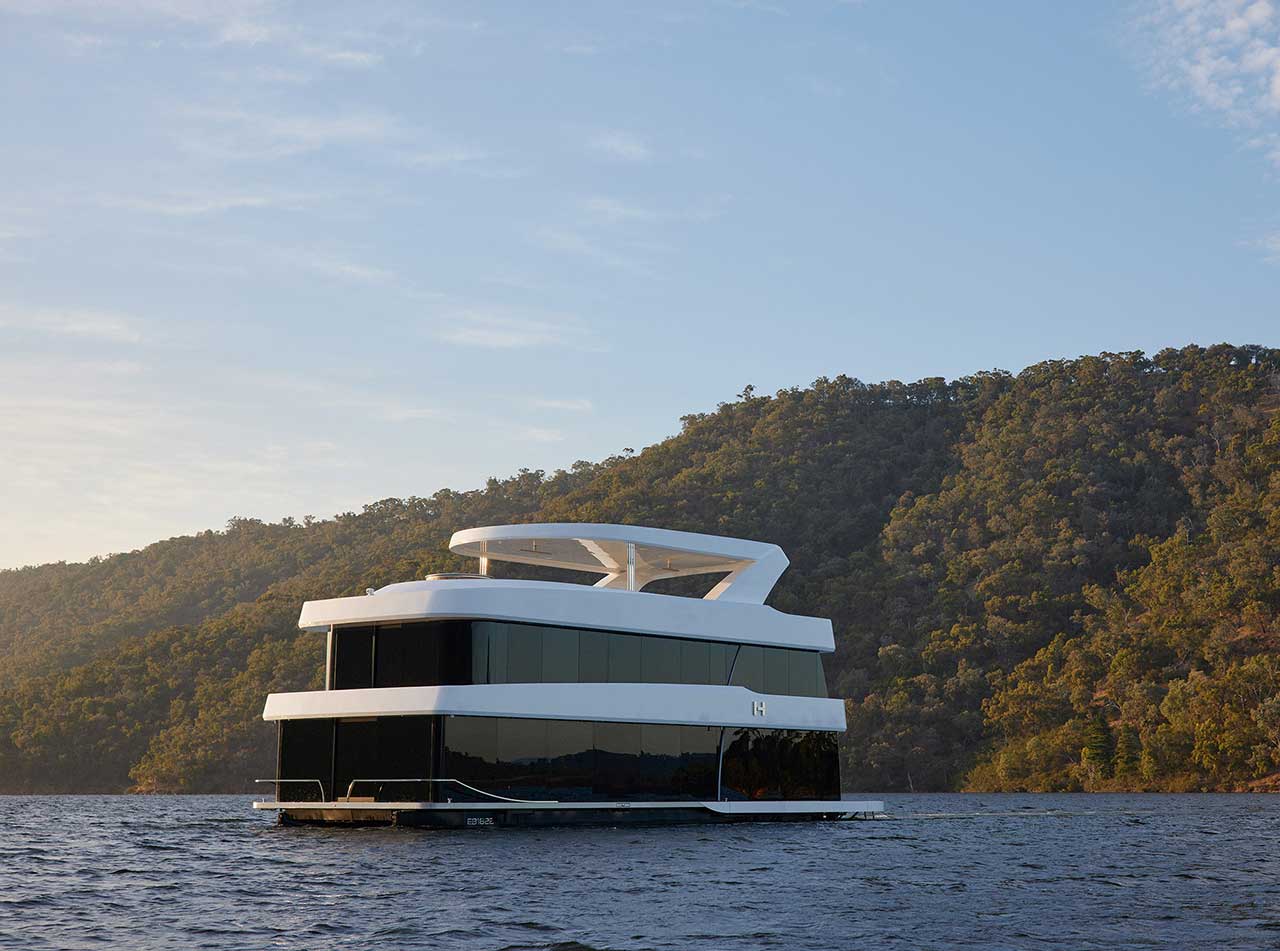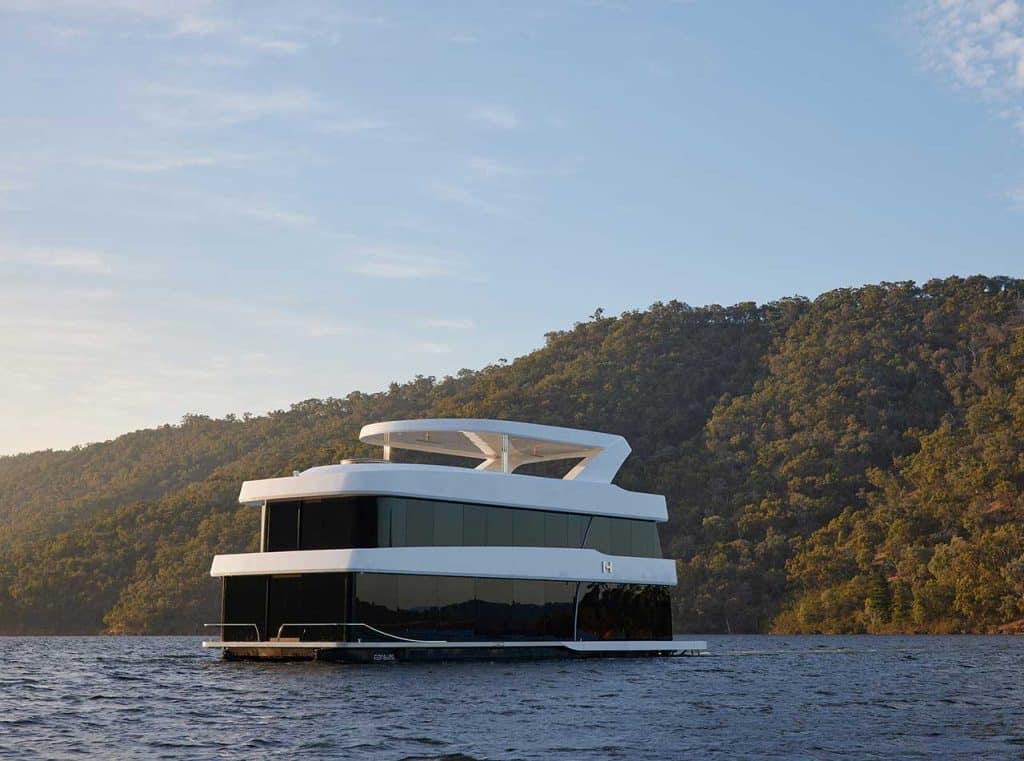 Nestled on the tranquil waters of Lake Eildon, just a leisurely two-hour drive from the bustling metropolis of Melbourne, lies an architectural masterpiece that defies convention by seamlessly merging form and function. Conceived by the visionary minds at Jolson, the Halcyon is not merely a contemporary houseboat; it is an extraordinary floating abode that exudes boundless freedom. Leveraging Jolson's wealth of architectural expertise and intimate knowledge of the locale, the Halcyon draws inspiration from dynamic watercraft such as ships and speedboats, infusing a sense of perpetual motion into its very structure.
The name "Halcyon" carries a dual meaning—it symbolizes both a joyous and tranquil era of the past, and the mythical bird of ancient legend believed to calm turbulent winds and waves. Just like its namesake, the Halcyon houseboat offers an idyllic and peaceful respite from the relentless pace of daily life.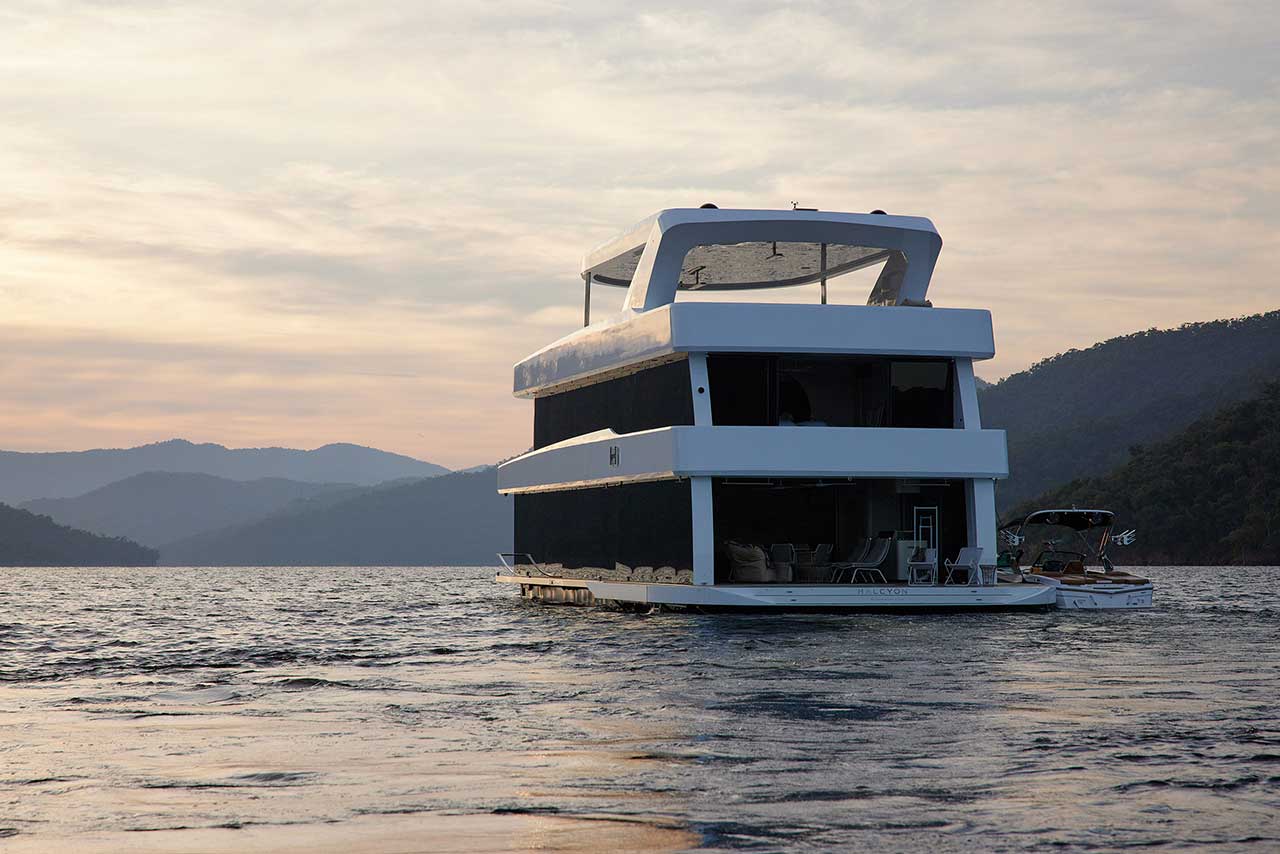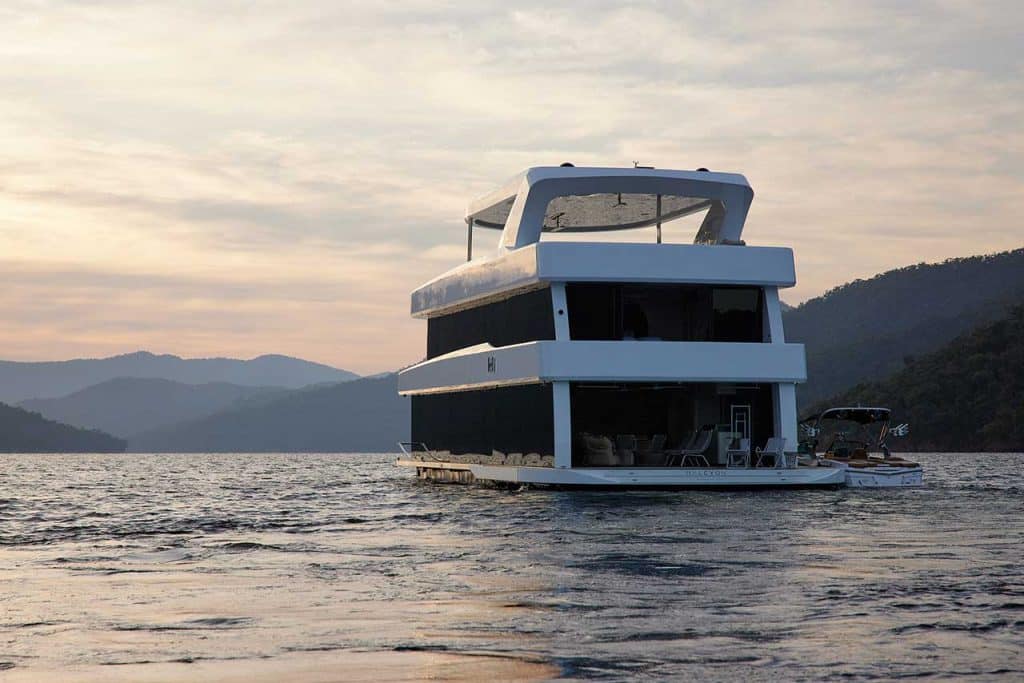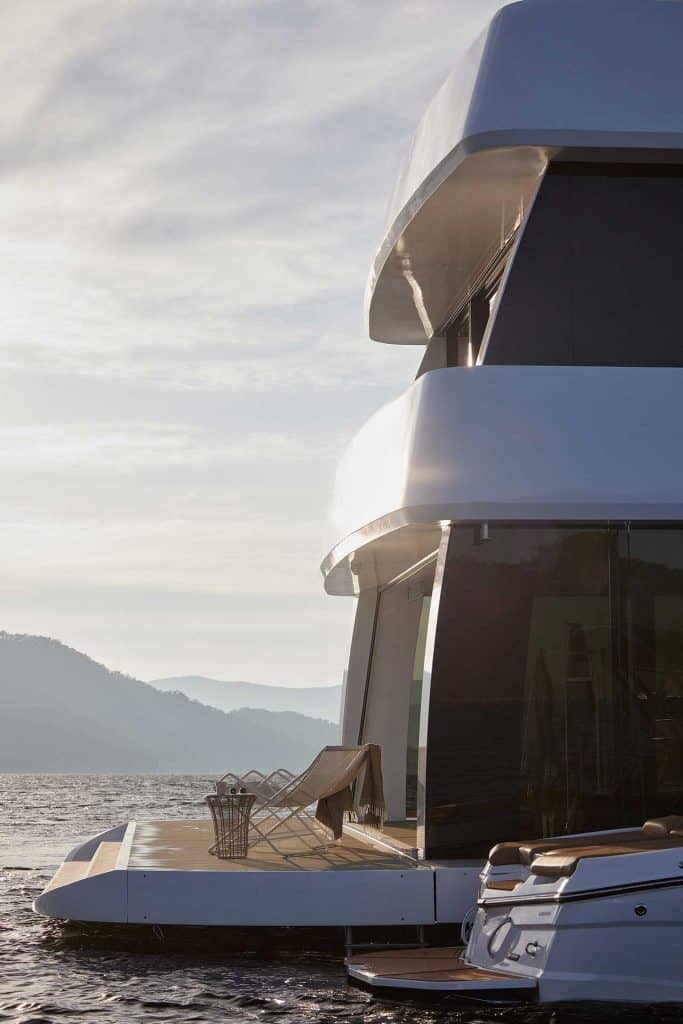 One of Halcyon's fundamental design objectives was to establish a harmonious connection between its interior and the awe-inspiring natural surroundings. The communal living areas on the ground floor provide unobstructed vistas of the water and the landscape through expansive perimeter windows. The living room seamlessly extends to a sheltered outdoor space, offering additional seating and dining options.
What truly sets this design apart is the innovative window configuration that allows the sides of the houseboat to glide open, creating an alfresco living room enveloped by the serene waters. Beneath the staircase, a discreetly integrated cabinet cleverly conceals a television, doubling as a well-stocked bar for entertainment. A centrally positioned open staircase, bathed in natural light streaming through the windows, connects Halcyon's three levels.
The raw, textured allure of sawn-cut timber floorboards flows effortlessly into the furnishings, forging a seamless union between indoor and outdoor decor. The meticulously chosen color palette pays homage to the natural environment, with a particular nod to the gradient tones of the shoreline as the water gently recedes down the embankment.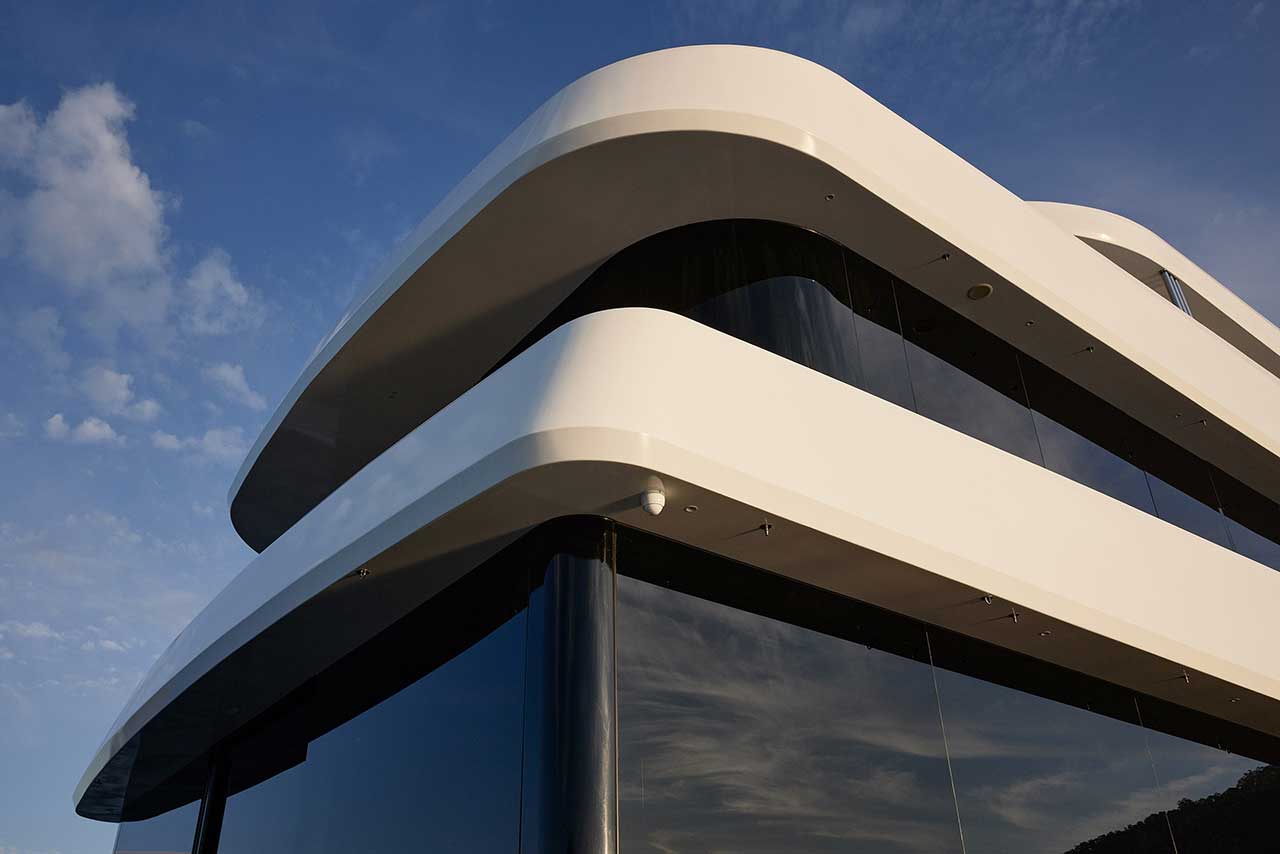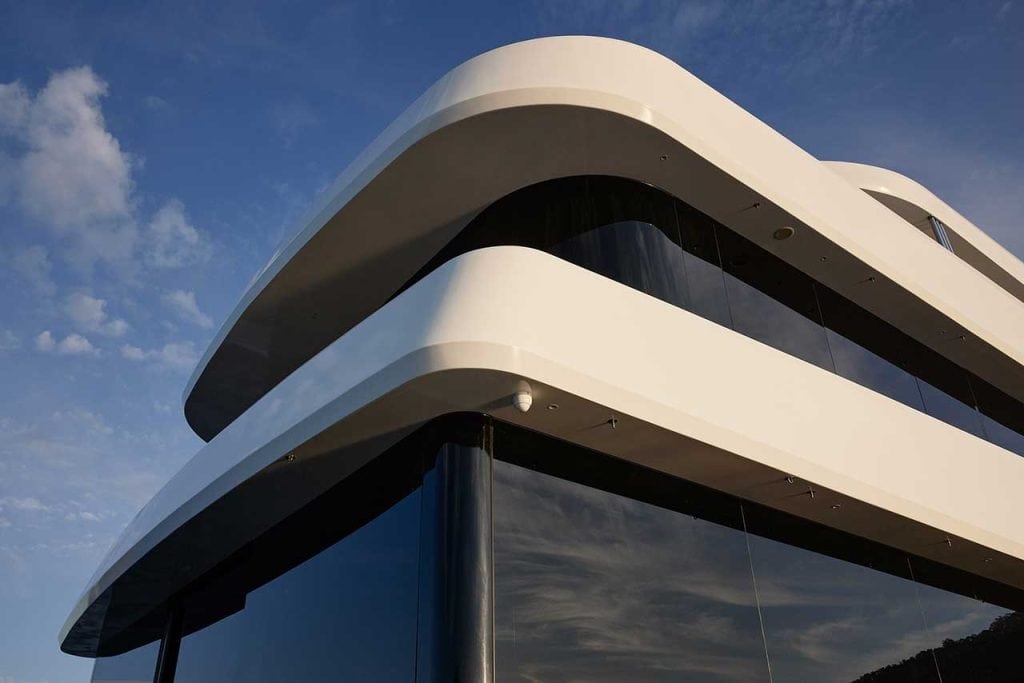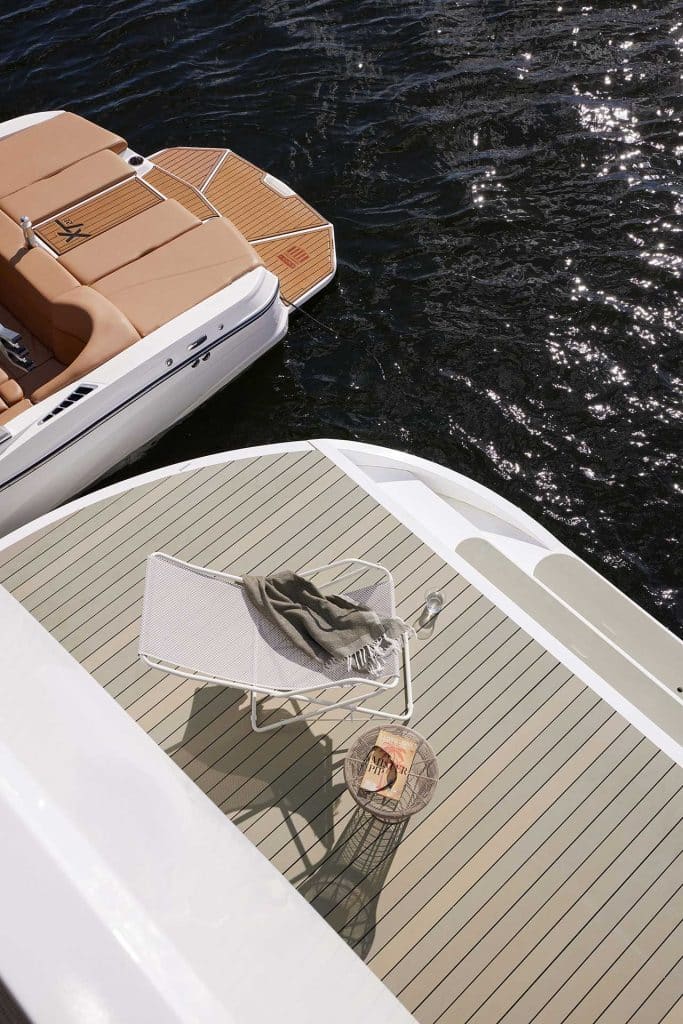 The partially covered top floor is a capacious, multifunctional living space devoid of walls, offering breathtaking 360-degree panoramas. This rooftop sanctuary beckons with sun lounges, sumptuous daybeds, and a wood-fired hot tub, all set against a backdrop of magnificent views. It also provides ample room for dining and entertaining, featuring a linear bar replete with kitchen and bar amenities, as well as a circular banquette designed for leisurely meals and conversations.
In the heart of Lake Eildon, Halcyon emerges as a testament to visionary design, blending the tranquility of its namesake with the dynamic spirit of the watercraft it draws inspiration from. It stands as a testament to the power of architecture to create spaces that transcend the ordinary, offering an escape where one can truly find solace amid the gentle lull of the waves.