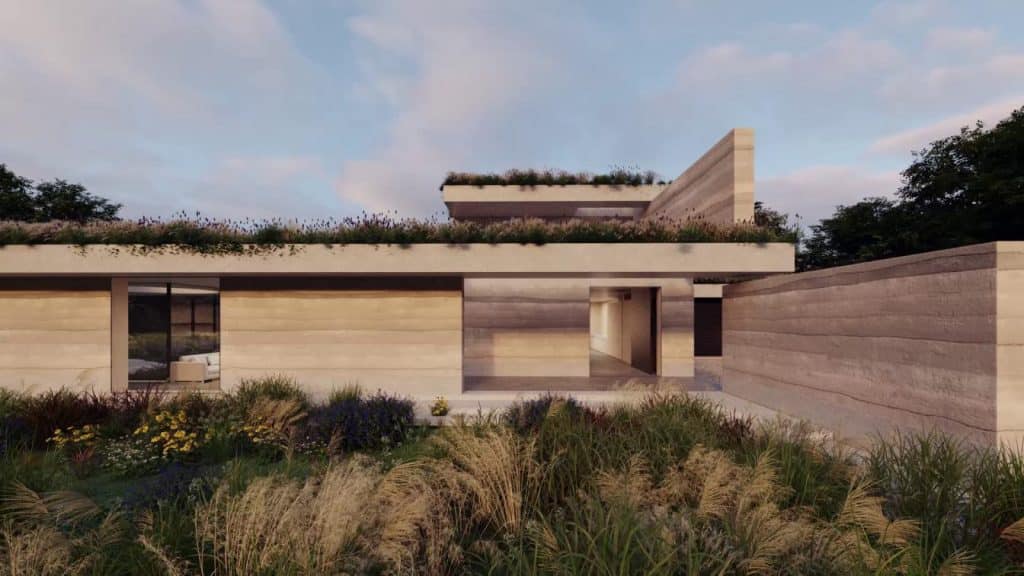 La Terre is an ongoing architectural project by The DHaus Company, a renowned architecture firm based in Surrey, United Kingdom. Led by principal architects Daniel Woolfson and David Ben-Grunberg, along with design team member Nikki Mrkic-Smith, the firm aims to create a unique residential experience inspired by the concept of raised living. The project is being developed for a private client in an Area of Outstanding Natural Beauty (AONB) in Surrey, Southern England.
The design of La Terre draws inspiration from iconic architectural marvels like the Farnsworth House and the case study homes of the 1940s and 1950s. The main idea behind the project is to create a sense of weightlessness and an illusion of floating by elevating the ground floor approximately 0.5 meters above the grass. This effect is achieved through sculptural elements, where accessible steps raise the structure and meander in and out of the living areas, resembling a river of program.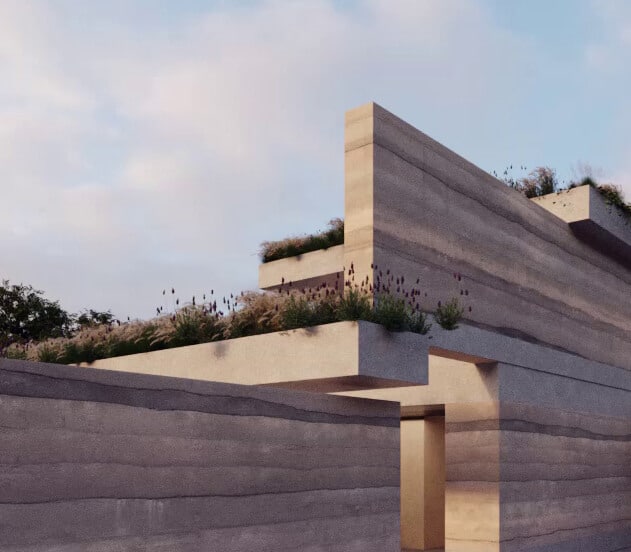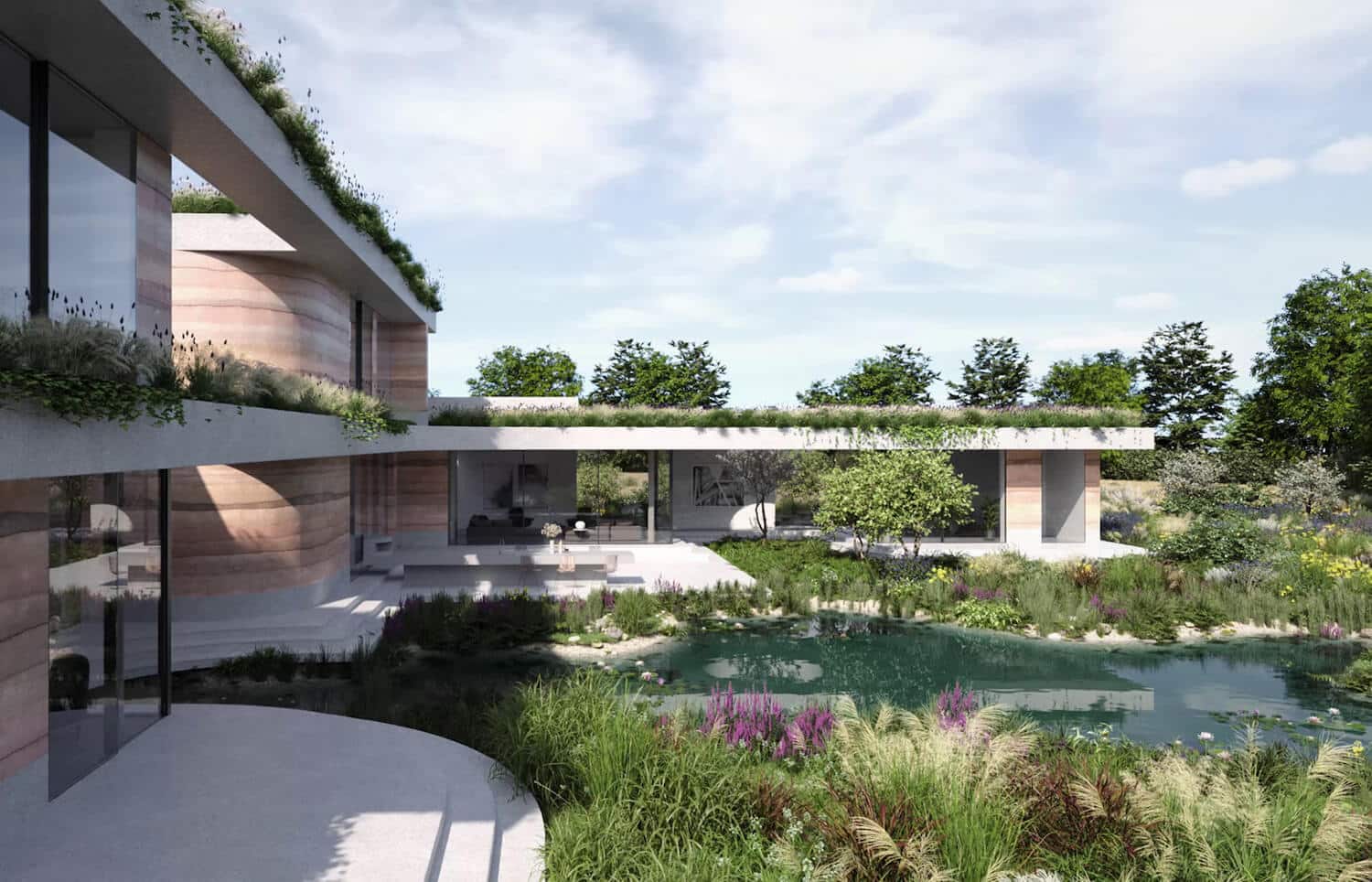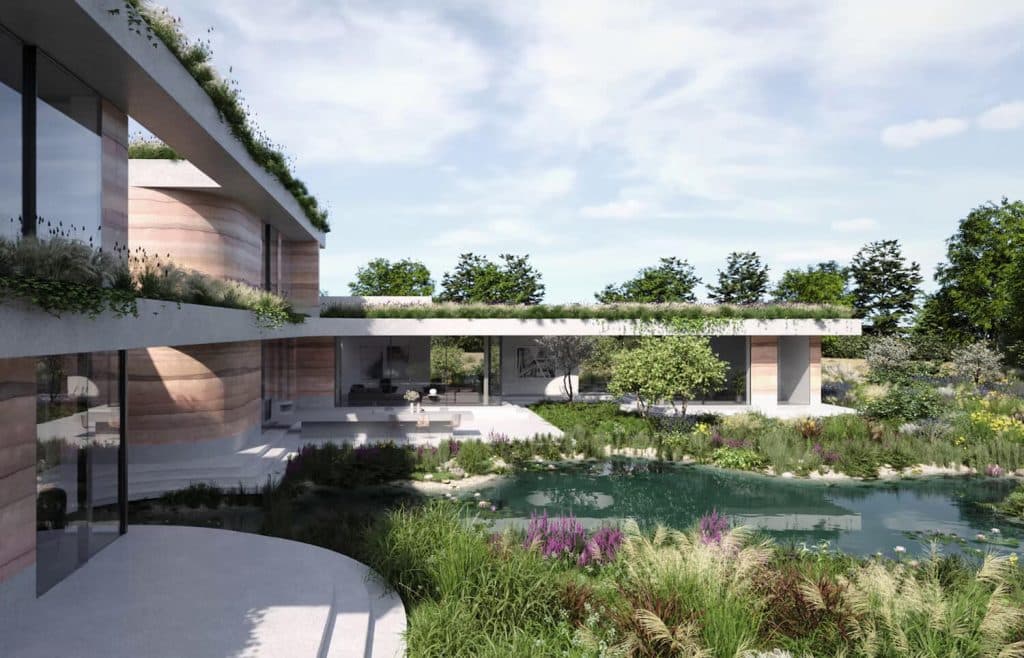 To ensure stability and erosion prevention, the building features cast concrete plinths as the base for stabilised earth walls. These walls not only provide structural support but also create a visually striking perimeter around the building. Additionally, La Terre incorporates two large atriums that allow Japanese gardens to blend seamlessly with the circulation spaces.
As one moves throughout the house, the presence of these gardens gives the feeling of walking in the surrounding landscape, blurring the boundaries between indoors and outdoors. The choice of materials for La Terre is rooted in the rich history of earth as a building material. Earth has been used for construction purposes since ancient times due to its availability, affordability, strength, and simplicity.
Many ancient civilizations, including Egypt, China, Iran, India, Nepal, and Yemen, have utilized various forms of earthen construction in their architectural heritage. However, the project employs a modern approach called Stabilized Rammed Earth, which combines traditional techniques with modern technology and machinery.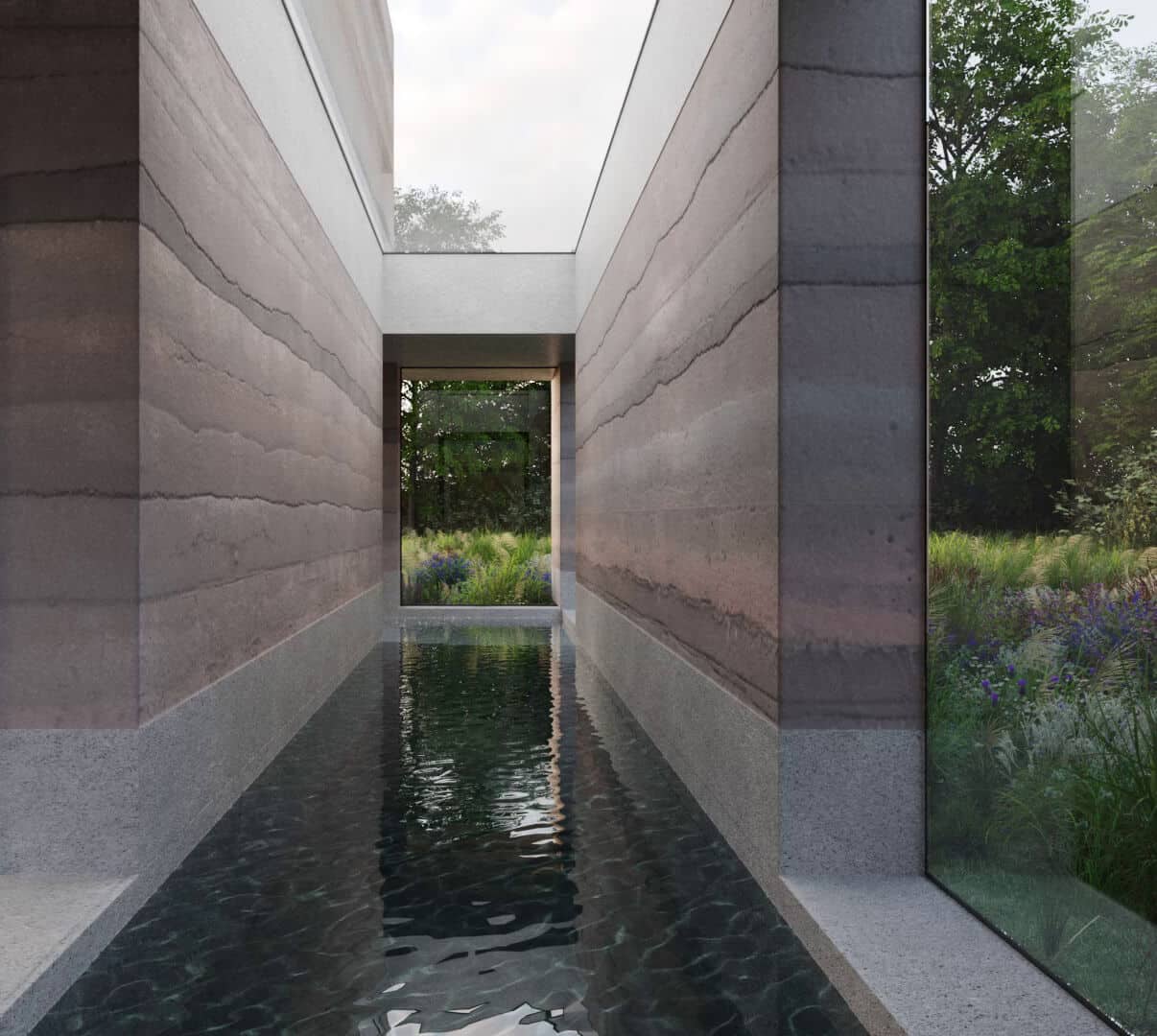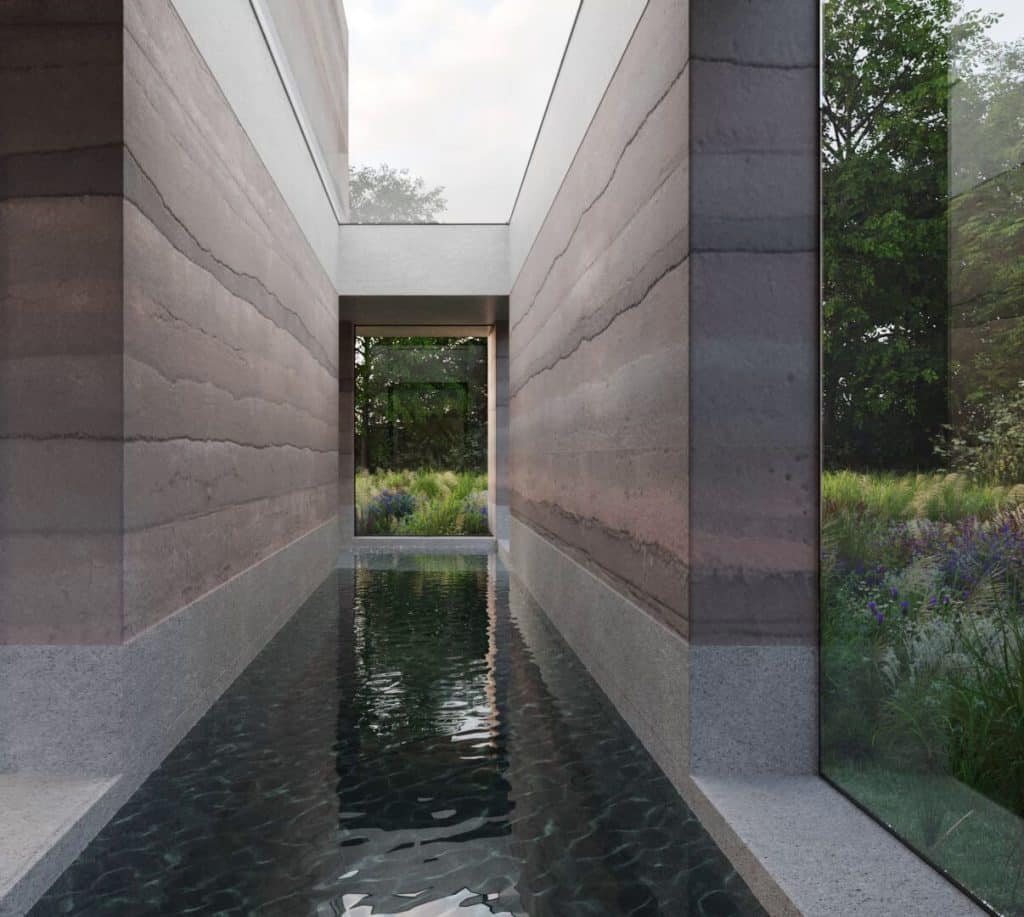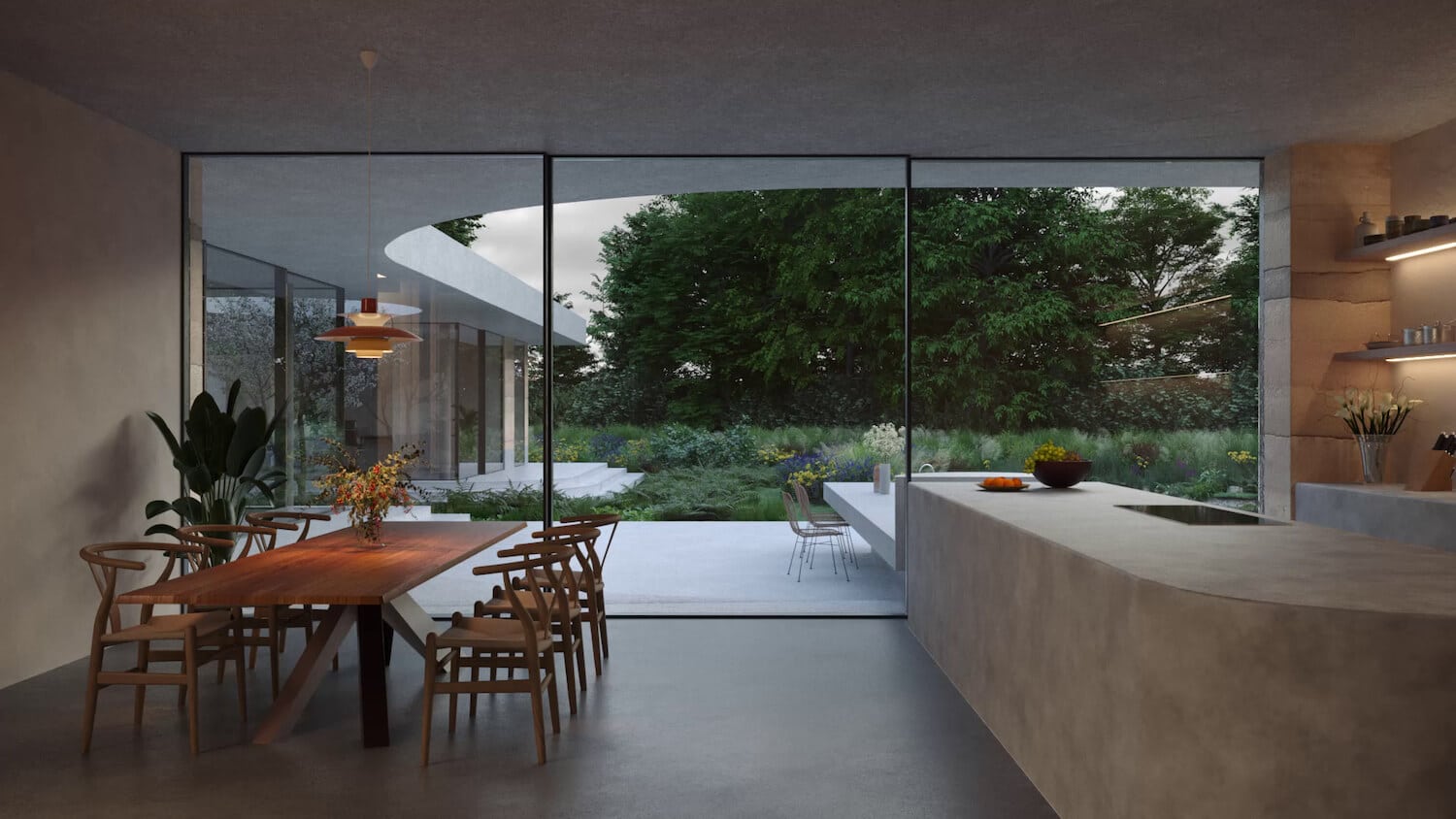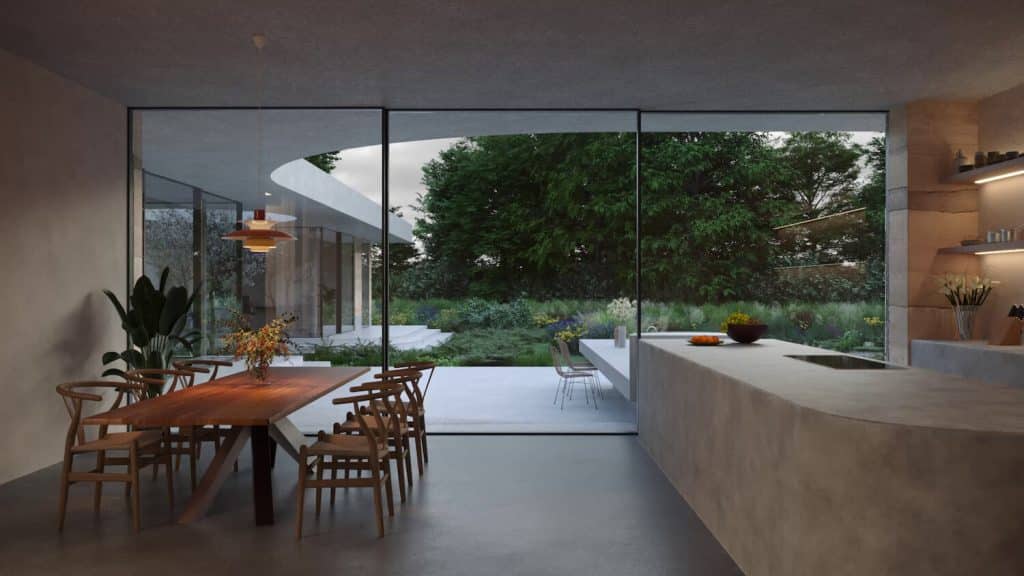 Stabilised Rammed Earth is a contemporary adaptation of one of the oldest building materials known to humankind. It offers the appearance of cut stone, the strength of concrete, and the weather resistance of brick, while outperforming these materials in terms of environmental sustainability. This technology has gained popularity among governmental bodies seeking eco-friendly building methods, architects looking for attractive materials, and clients prioritizing overall energy efficiency.
Although earth has been used as a building material in England throughout history, it has often been regarded as less durable compared to stone or fired clay bricks. As a result, it has predominantly been used for workers' cottages, barns, and perimeter walls where cost took precedence over longevity. However, the modern application of stabilised earth has emerged through international connections and developments.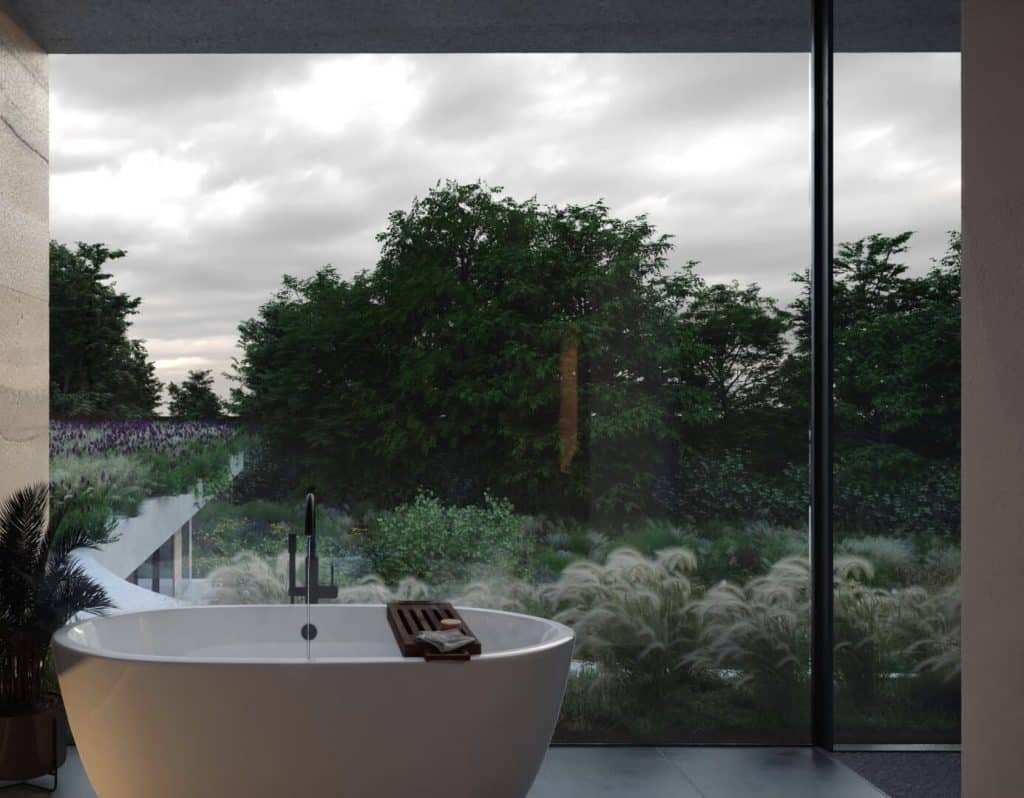 The use of stabilised earth gained traction through the work of George Middleton, an English-trained architect and engineer, who experimented with earth construction techniques in Sydney during the late 1940s. Middleton's research resulted in publications that served as references for earth building, including the term "Stabilised Rammed Earth."
These publications caught the attention of architects and artists in Western Australia, leading to further advancements in earth-wall construction. La Terre represents a contemporary manifestation of the earth-building tradition, combining the beauty and sustainability of Stabilised Rammed Earth with innovative design principles.
With planning approval already secured, construction on this exceptional residence is scheduled to commence in the summer of 2023. Once completed, La Terre will serve as a testament to the timeless appeal and environmental benefits of earth as a building material, demonstrating the potential for harmonious coexistence between modern architecture and nature.