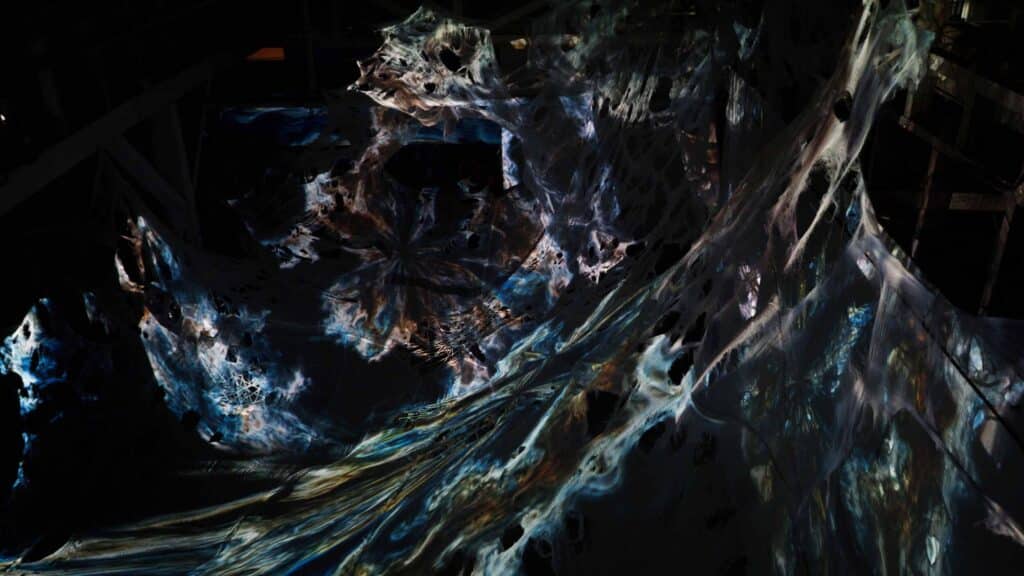 PLEASE INTRODUCE YOURSELF
Hey, My name is Nate Mohler, I'm 24 and living in Los Angeles.
HOW WOULD YOU BEST DESCRIBE YOUR STYLE?
Honestly, I'm closer to avoiding a visual style at this point in my life, I don't want to be restricted or boxed while I'm learning and developing. However, someone once told me your style doesn't have to be visual, rather a consistent trend between your work/method. So I'd say my style is a combination of rapid quick experimentation and post-conceptualization, which I understand why some people might hate, but it's out of a desire to not stress so much and prioritize originality and learning. Currently, I'm very interested in AI Neural Style Transfer and experimental non-narrative film/video art. I'm also very interested in complex systems, cities, and natural occurring motion such as waves, wind, traffic, herds of cattle moving, or dance. But what I'm most interested in creating is tangible work from digital origins, work intended for viewing in physical space rather than on your tiny phone screen.
Visualizza questo post su Instagram
HOW DID YOU GET INTO ART?
My middle school art teacher, who would later sadly get fired for her abnormal teaching methods, always pushed me to continue doing art. After an older neighbor torrented a bunch of adobe software when I was 12, I started dabbling in computer-related arts and editing film. But I didn't take it seriously until high school and college.
WHO OR WHAT ARE SOME OF YOUR MAJOR INFLUENCES?
A lot of my influences come from books, films, and music. I am obsessed with playlists and collecting obscure videos/music. Music is probably the largest influencer and motivator for me, as director Andre Trovosky would say, "Music, just by a sheer sound, void of any associations, can get through to the heart." Personally, I'm not sure if the video is the catalyst for my aspirations, but it's certainly one of the best tools of expression. Major influences include my professors and mentors Casey Reas, Rebecca Mendez, Jennifer Steinkamp, Refik Anadol, Theo Triantafyllidis, and others including Bradley Munkowitz, Andrew Thomas Wang, David OReilly, The Grateful Dead, Flume, David Fincher, Andre Trovosky, Jonas Lund, and probably others including my close friends..
Visualizza questo post su Instagram
CAN YOU TELL US ABOUT YOUR WORKING PROCESS?
For my recent series "Painted Cities" and this upcoming series revolving around the Venice skate park, I have been focusing on a process using Ai Neural Style Transfer to treat film and re-imagine painted video. The process is not complex but requires a series of steps and lots of patience. I source a base video input and look for something with two forms of motion; the main camera movement and smaller secondary motion such as cars or people. I then source a series of highly textural photographs, drawings, or paintings to use as "style" inputs. I then process the input video and style frames through a machine learning process called neural style transfer, which attempts to identify intricacies in the input video and match textural moments in the style image. Often this experimentation takes multiple attempts to find a good harmony between color, motion, and texture. The result is something short of code-assisted hallucinations.
WHAT MOTIVATES YOU TO CREATE?
A great man once said, "I have something to show, something to say. Before getting into any artistic endeavor, one must first question why does art even exists? Who is it for?"
Visualizza questo post su Instagram
WHAT IS YOUR STUDIO LIKE?
I currently live with my parents as I got kicked out of my studio in the arts district by the owner to tear the building down and build some skyscraper I probably can't afford.
WHAT ARE YOU CURRENTLY WORKING ON?
Currently, I'm working on various experiments with style transfer and projection installations. Hopefully, some more physical shows in the future for people to see digital art on a large scale. I'm about to re-launch Culver Current which is a 10ft tall cylindrical sculpture in the Dale Jones Courtyard of Culver City at City Hall. Culver Current was hand-made with individual LED panels and turns on every night with generative and interactive art based on when people walk by it or tweet at it with the hashtag #CulverCity or #CulverCurrent. I might do a private opening on August 18th but I have to wait for the mask mandate to lighten up for any city-ordained event. Hopefully Culver Current can turn into a meet-up space for digital artists/creators interested in building digital installations for Public Space. Culver Current was very much experimentation and a reflection of the Culver City arts.
Visualizza questo post su Instagram
INFORMATION
Images with courtesy of Nate Mohler