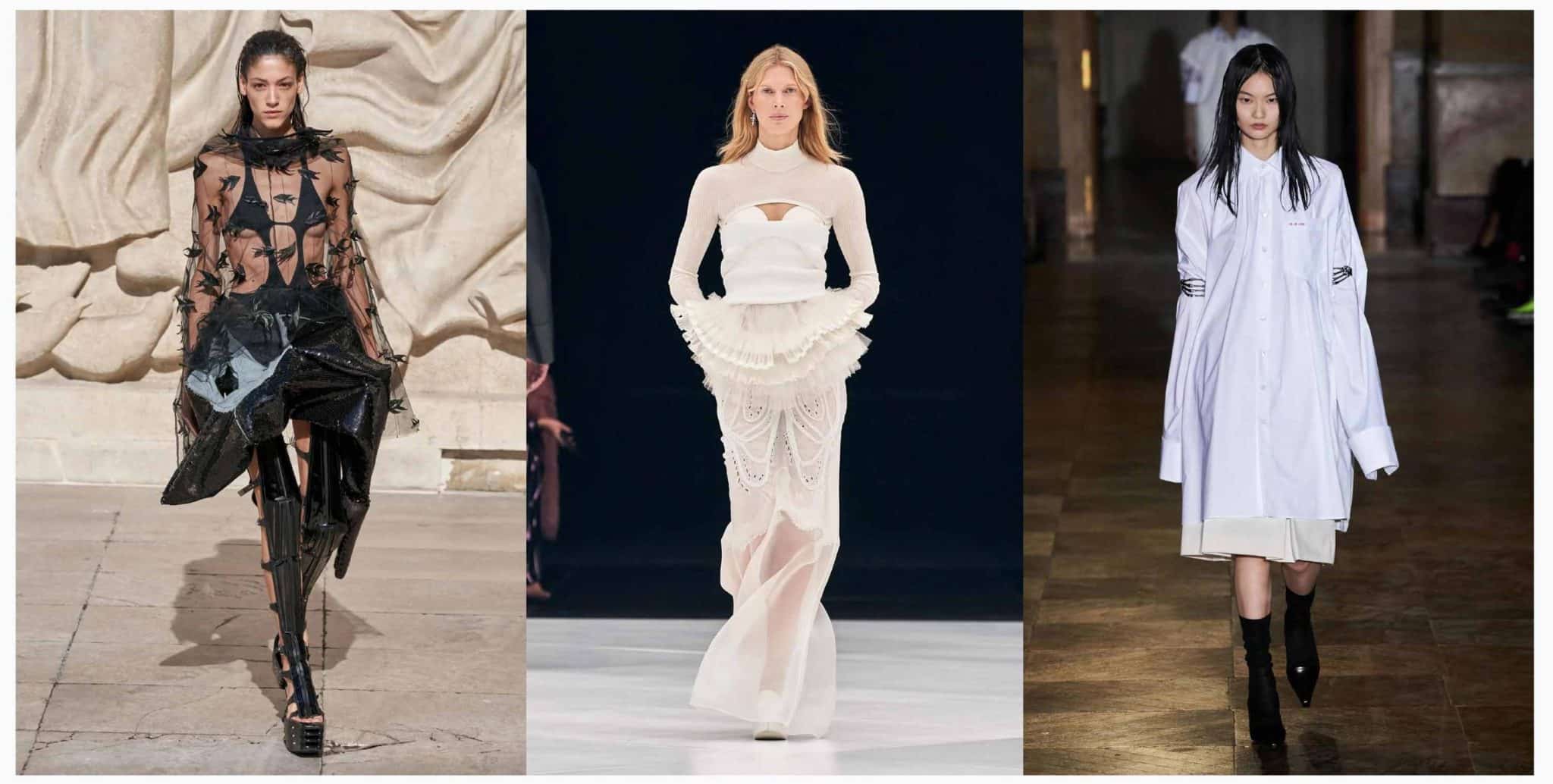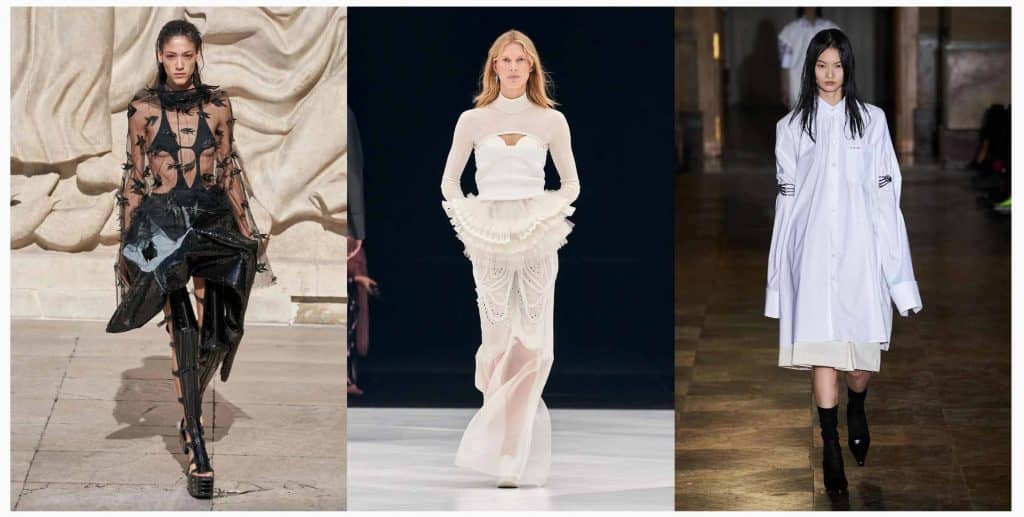 Paying close attention to, and lavishing meticulous scrutiny upon the most memorable, innovative, and originality displaying shows of this season's Spring Summer 2022 Paris presentations, we've agreed on 5 that have exhibited distinctive visions to which we have used personal taste and an in-house algorithm to classify them from most to least desirable.
In this review we will focus on everything from footwear and accessories, to hair and makeup, to styling and set design. We will also grade innovation and originality in its own subdivision. For a total summary, we will likewise present an overall show percentile based on judgments about each individual look from every show. This holistic reading comes from independent reviews that were merged as one where agreeing. We've created this grade scale because nothing like it exists in fashion, and also for it to advance the artform.
LEGEND
OVT: Overall Vanity Total, this metric takes into account all of the peripheral elements of a show, including how outfits were styled, but does not judge the quality of the clothing itself.
---
OI: Originality and Innovation, this takes into account the newness of ideas and the freshness of their designs.
---
Individual Show Looks: This takes into account grades for every individual look from a collection. These are graded by "most desirable", "indifferent/repeated", and "undesirable". Desirability is based on technical proficiency, overall beauty, initial impact, and close-up scrutiny of manufacture and craft. Indifference is based on seeming boring or expected, Repeated is based on being a repeat of another design in the show with only negligible alteration, this usually being material or color based, eg, the same jacket being reused numerous times only changing by material. Undesirable is based on a perceived technical error, examples being: bad color combinations, unsightly silhouettes or proportions, extraneous detracting elements, ugly materials, or upon view it produces a recoiling affect &c,.
Rick Owens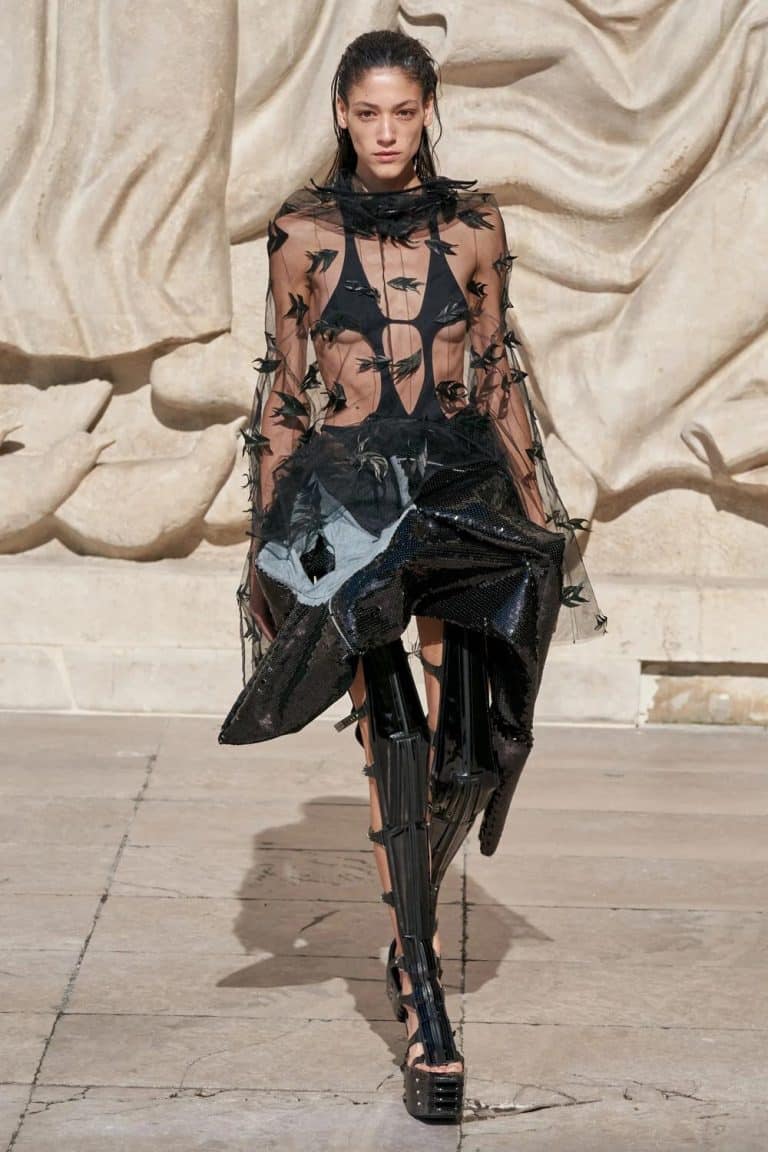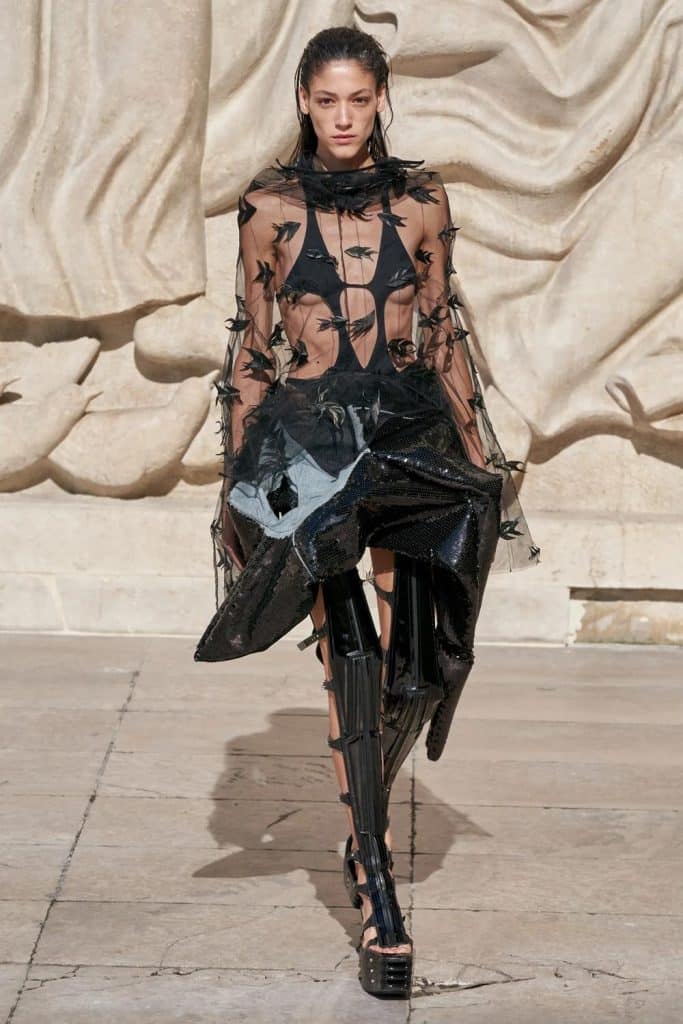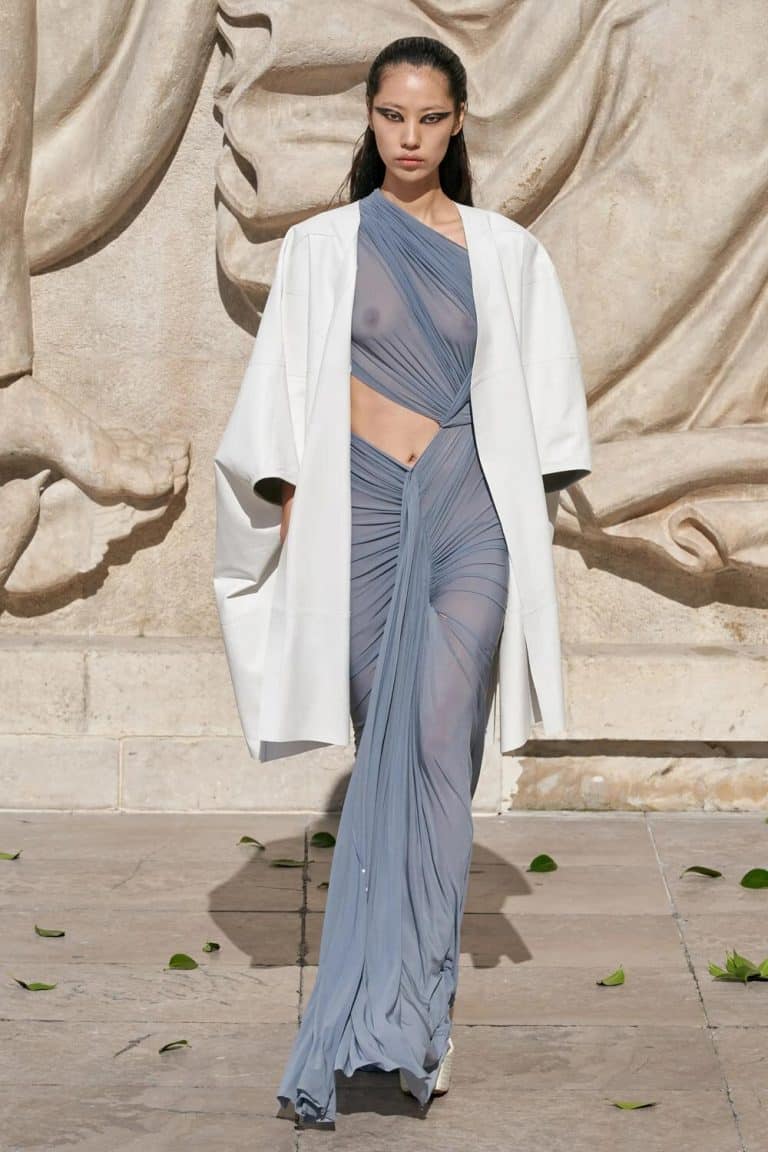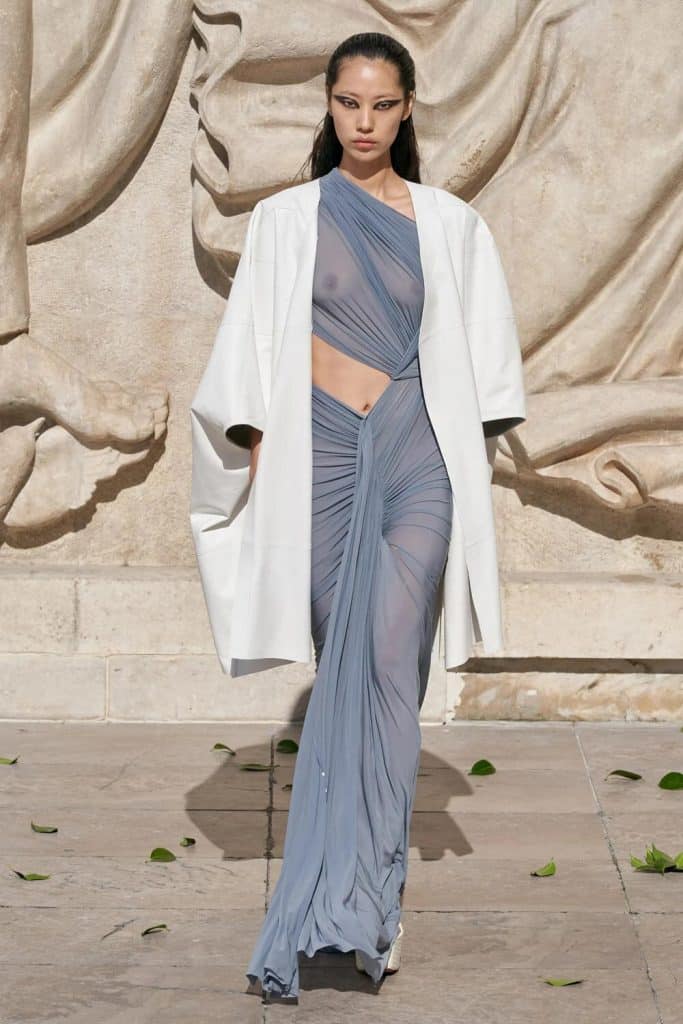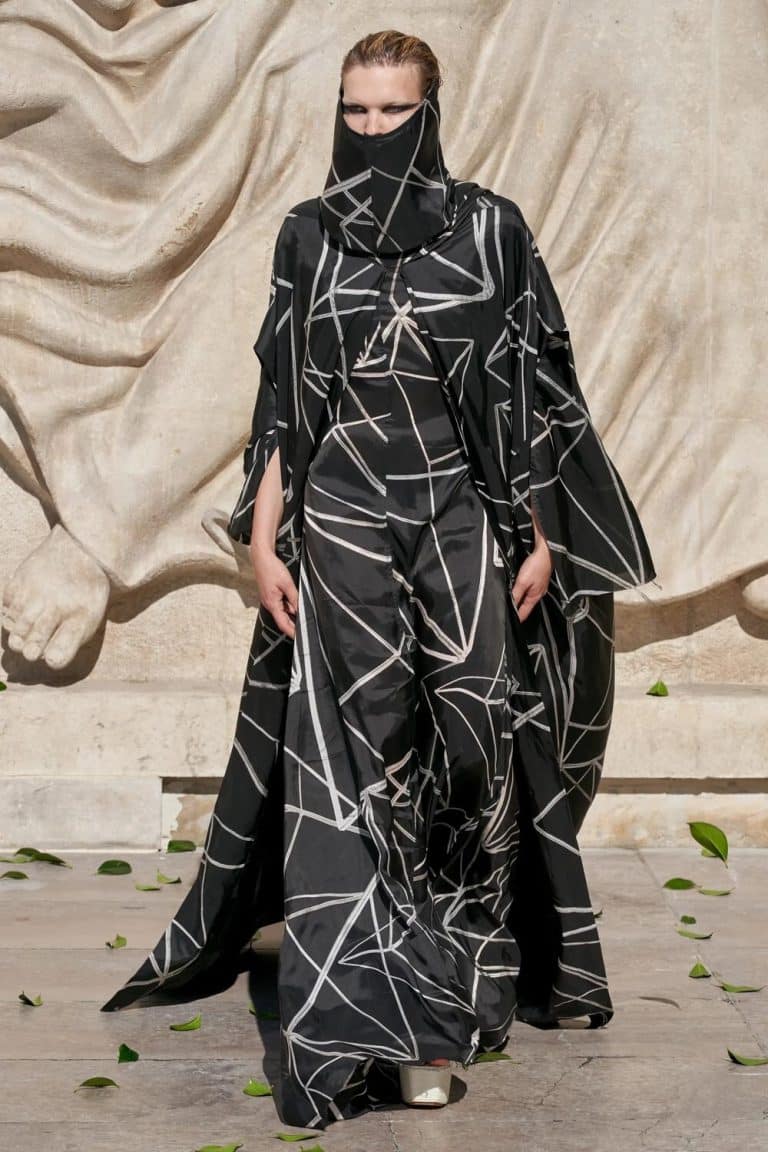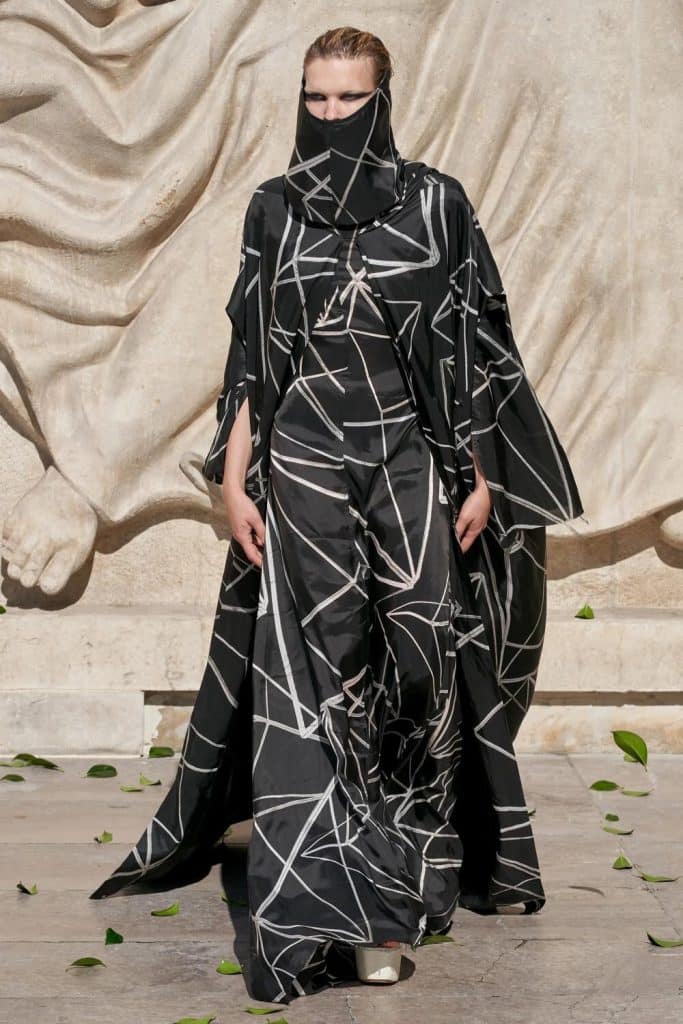 At the Rick Owens display, unique forms of continuity in space showed their Tim Burton meet Kounellisianess through attire becoming art, and this as though unique being. Re-deconstructed leather jackets with kimono sleeves turned bolero with exposed lining, or, impractical but beautifully shaped front facing half drum farthingales (skirts?) from what resembled repurposed coats, which themselves resemble doors of a John Chamberlain crumpled cadallac ready-made, or, the often cited and now expected mention of Madmax costume design merged with the Fall 2016 Saint Laurent ready to wear references, all rested upon the skin tight cut away one piece swimming suits that were near identical to those found in photographs from the 1931 Paris Aquatic Gala. Although, with close scrutiny room for wow diminished once style was separated from substance. Many of the bottoms and shorts left room for much desire, and the provocative thigh high Frank Stella line like H. R. Giger heeled motocross greaves did mix beautifully but could have stolen many of the total outfit's praises. Mentions of chiffon dégradés, trash bag echoes, flowing organdy and the like say little about what has made this collection innovative. What was and is original was Owens' daring, he is one of few contemporary designers who will formulate a white cube exhibition echo of feminine angst, and his taste and references among competitors becomes the tattooed arm breaking protocol when reaching across the table at a recherché Domaine Romanée-Conti and Beaufort D'Ete.
Best look No. 34
Most Innovative No. 14
Worst No. 41, 45
Footwear/Accessories grade: 7.5/10
Hair and Makeup: 6.5/10
Styling: 8/10
Set: 6.5/10
OVT: 28.5/40 (71.25%)
Overall Originality: 7.5/10
Overall Innovation: 6/10
OI: 13.5/20 (67.5%)
Individual Show Looks: 19 undesirable, 17 indifferent/repeated, 11 highly desirable
As A Percentile: 40.43% undesirable, 36.17% indifferent/repeated, 23.4% highly desirable
Givenchy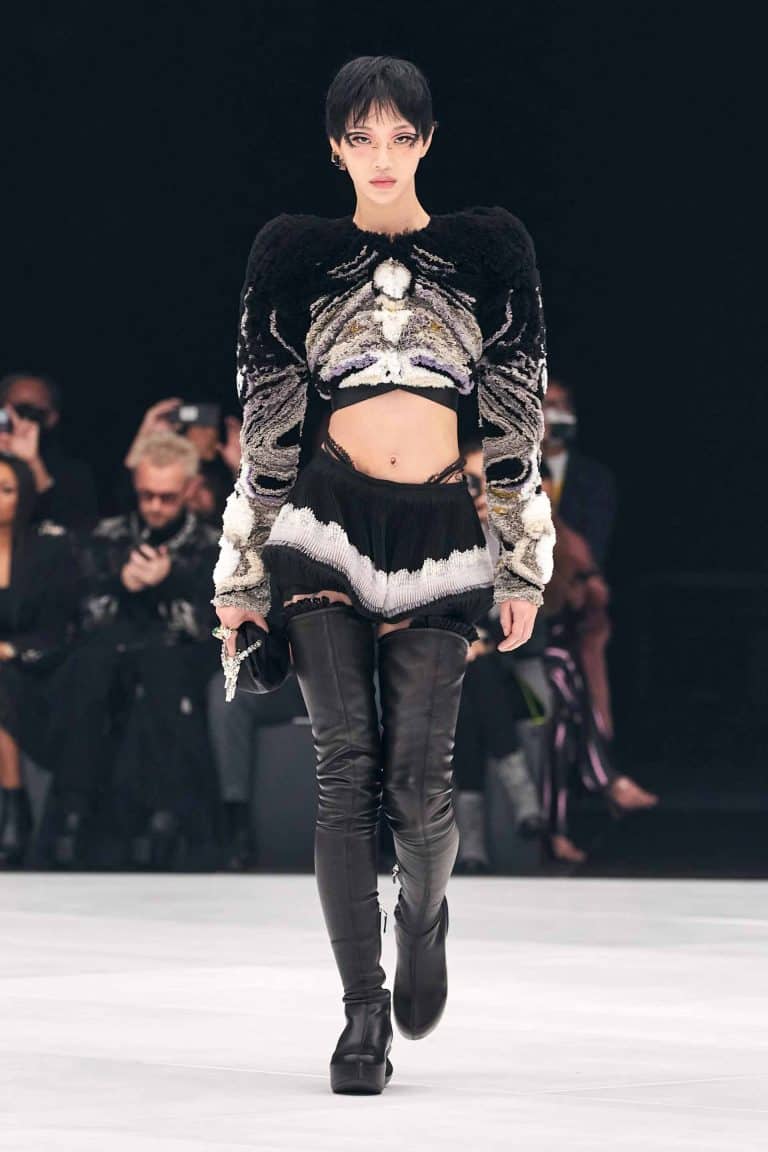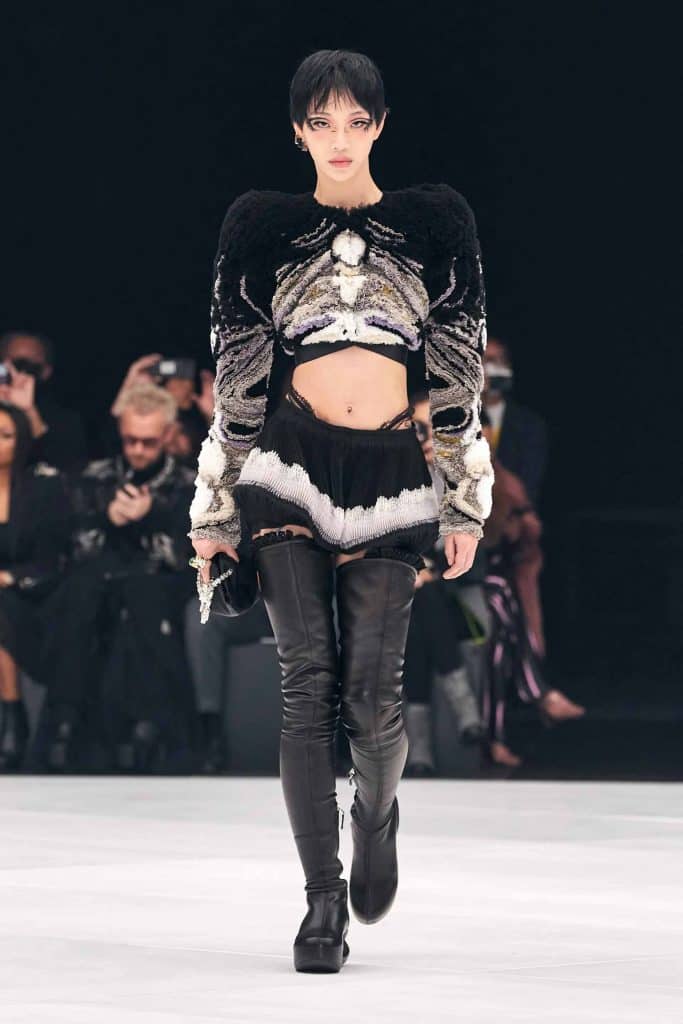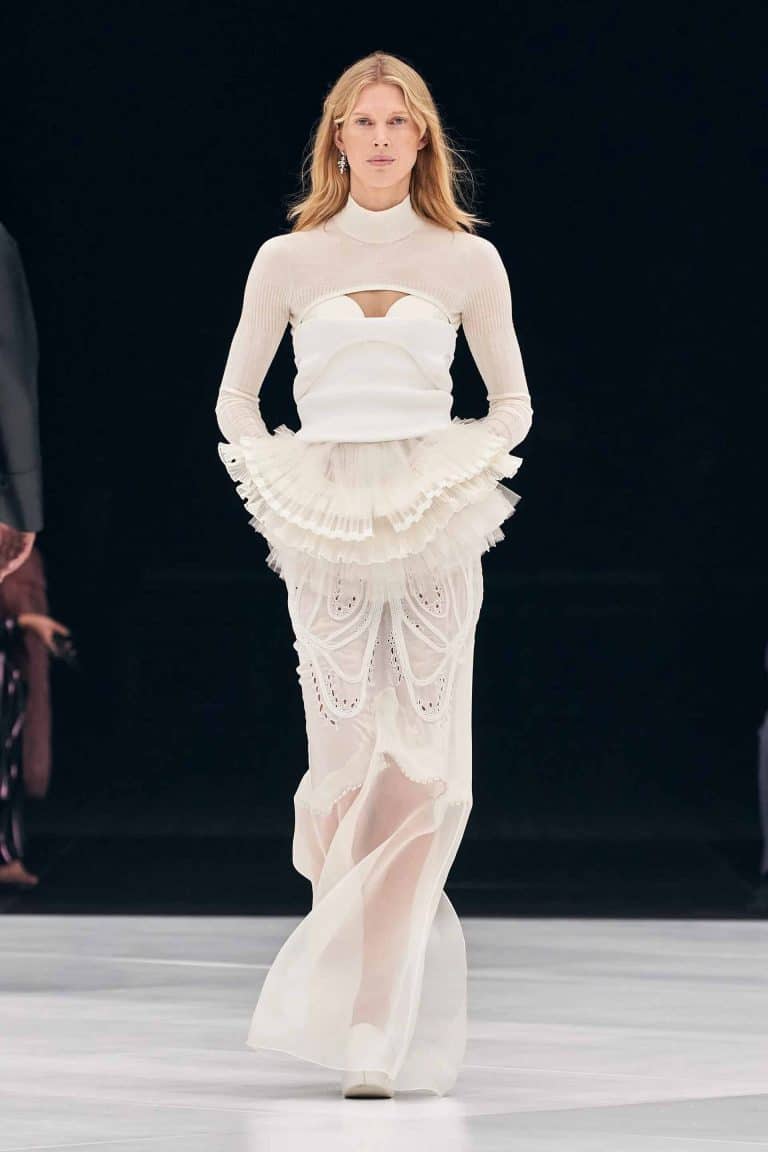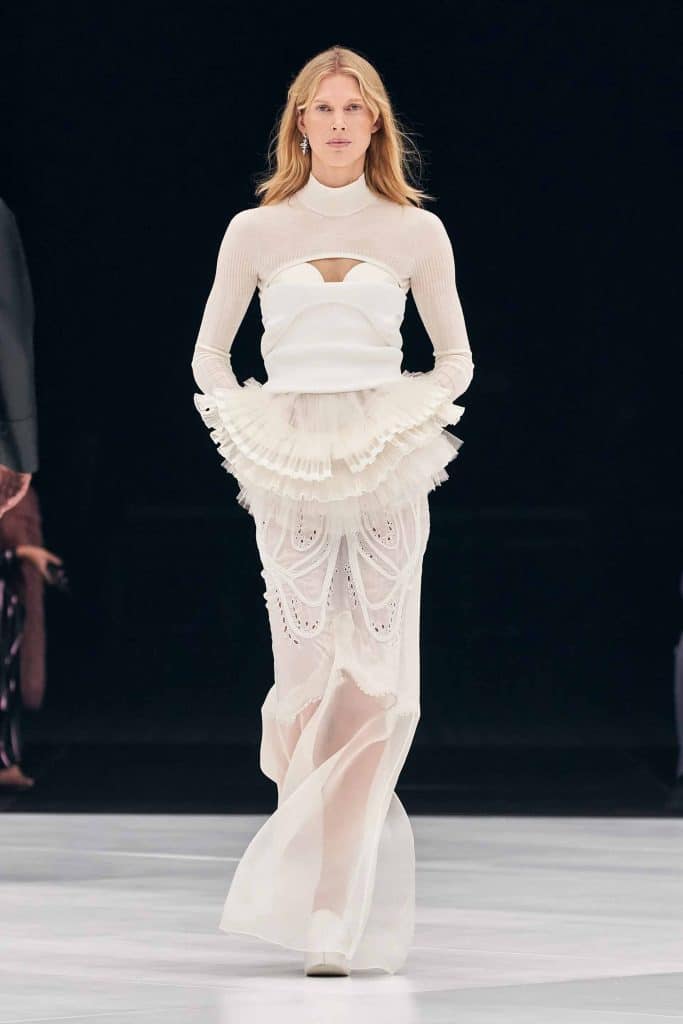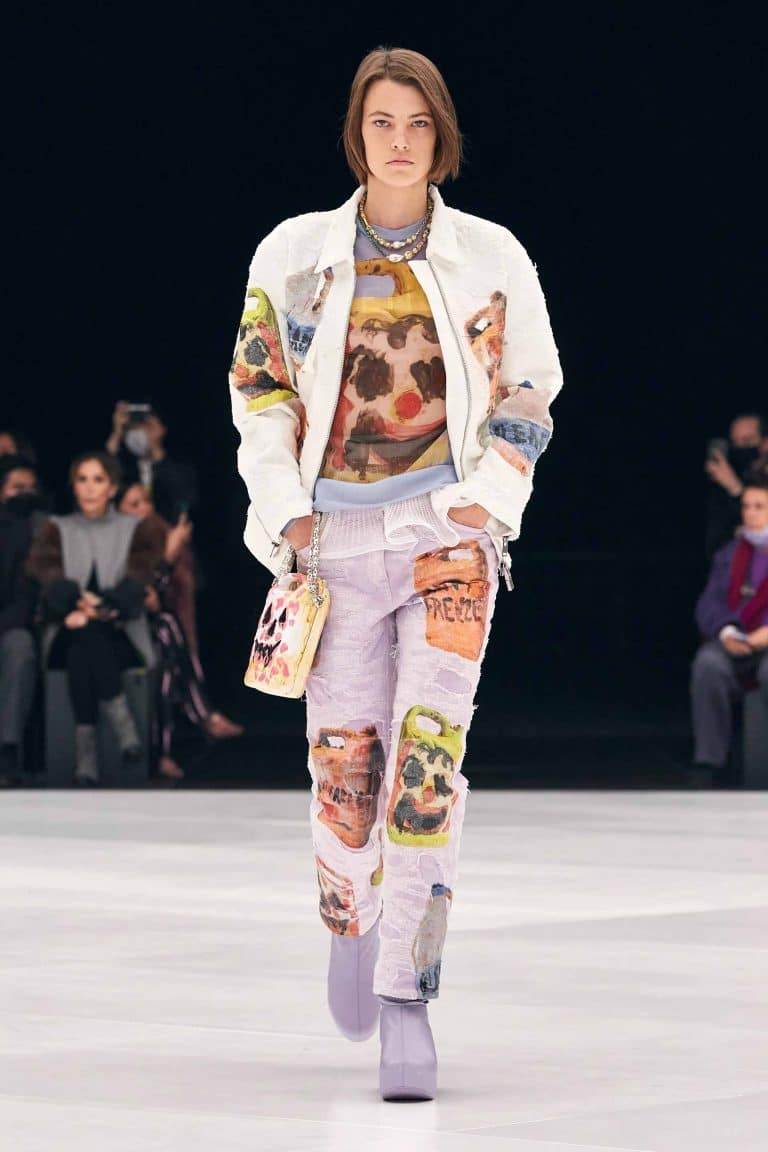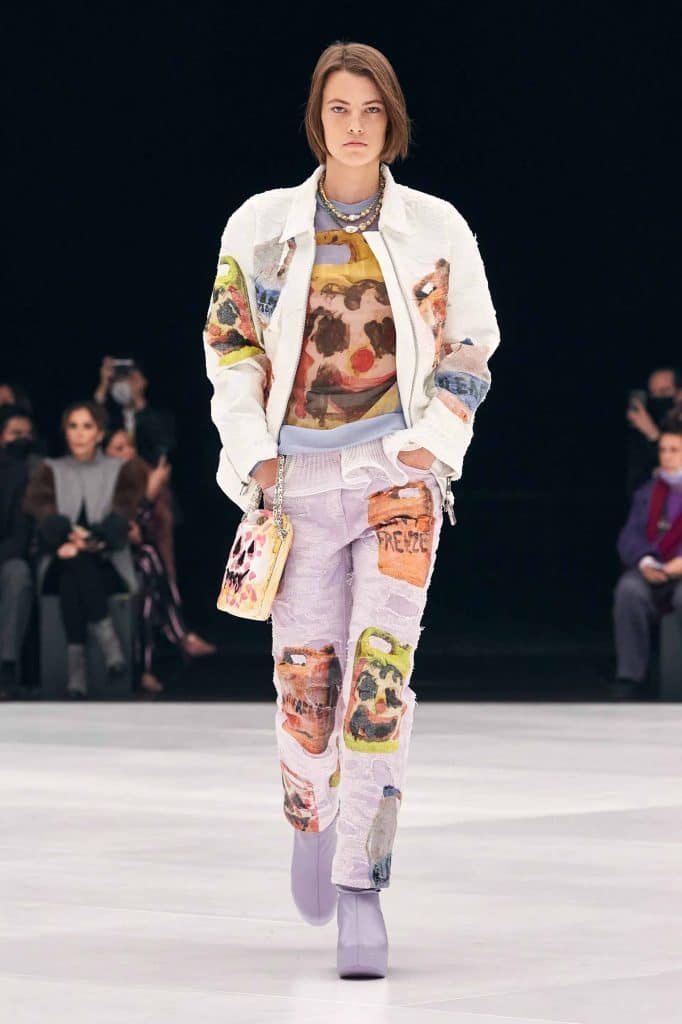 With aims of mute extravagance and claims of discipline, the Givenchy show was a wonderful proof of capability but also one of failed opportunity. A dissertation could be written about how well this house repurposed about 12 unique design elements and produced a collection of 75 looks. Although all designers mix and match pieces in their shows, total looks existed here as alternate colorways or material swaps, these being based on a small set of relatively similar to each other cut patterns, a number of such being parochial, especially in the menswear. Without being mesmerized by the initial high pulsed styling, at closer scrutiny the broderie anglaise rimed flounces seemed as if they were fighting not to tear away from their bonded neoprene or leather bodice-coats at times, which is a concern for real-world demands. Other signs of debatable refinement existed here and there with visual seem lines at moments chopping aesthetic continuity, or unattractive raw edges from birdseye scarecrow brown Frankenstein monster scar like paneling which aggravated more than oohed. Overlooking such limitations, the female silhouettes were youthful and elegant, and where pieces displayed greatness they exhibited a superior order of desirability, showing that these limitations were not an issue of talent but instead of attention. The menswear for its banality did not compete with the women's looks, and the shoes and bags for their diversity, innovation, and physical beauty were rather well-conceived.
Best: No. 65, 72, 75
Most Innovative: No. 11
Worst: No. 38, 45, 57
F/A: 8.5/10
H/M: 7.5/10
S: 8.5/10
Set: 9/10
OVT: 33.5/40 (83.75%)
Originality: 7/10
Innovation: 6.5/10
OI: 13.5/20 (67.5%)
Total Show Looks: 35 undesirable, 28 indifferent/repeated, 12 highly desirable
As Percentile: 46.67% undesirable, 37.33% indifferent/repeated, 12% highly desirable
Junya Watanabe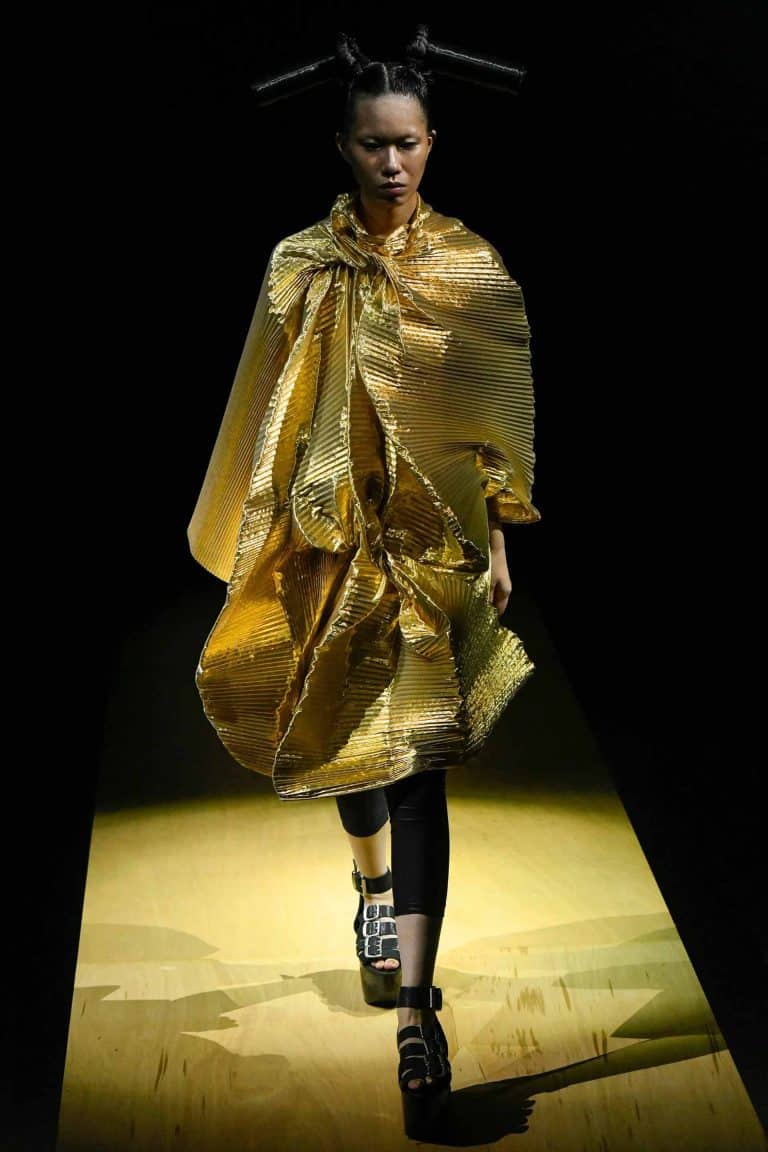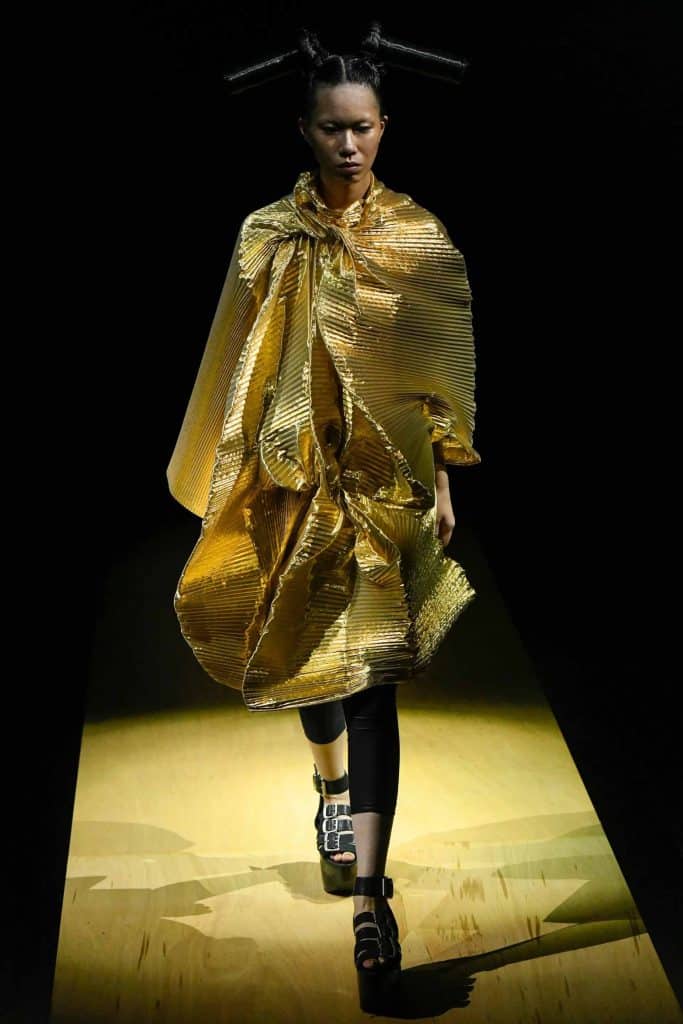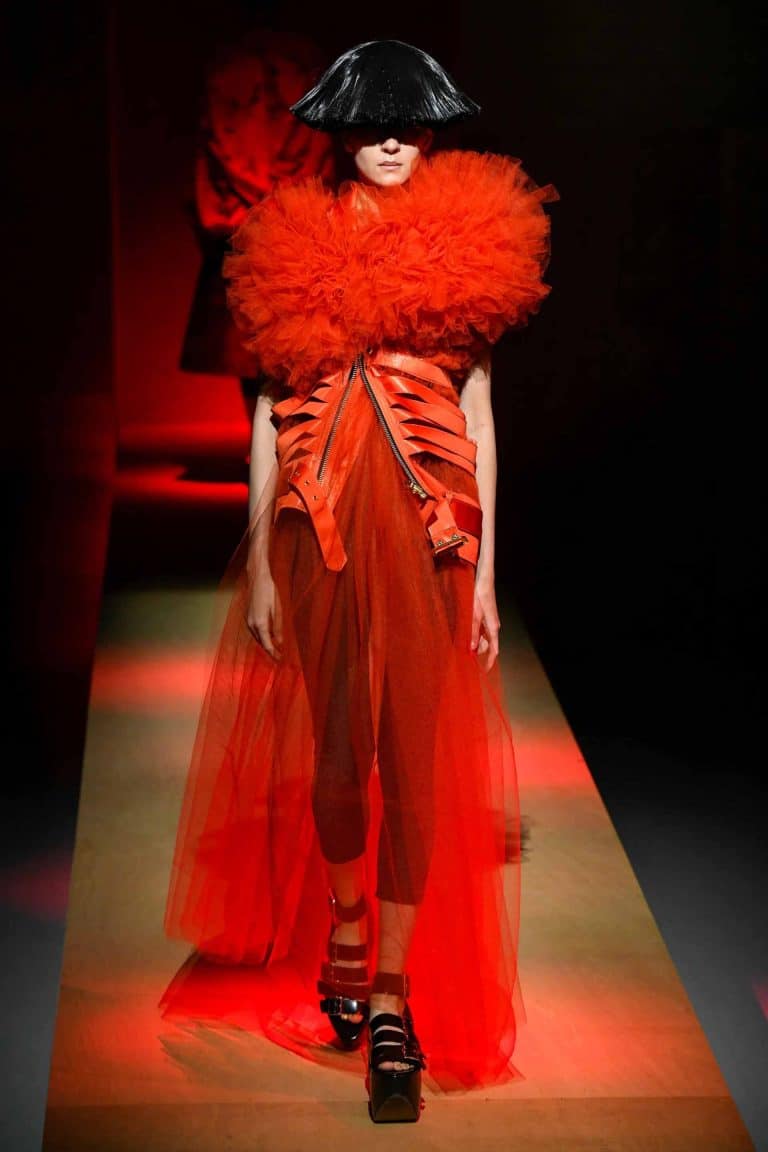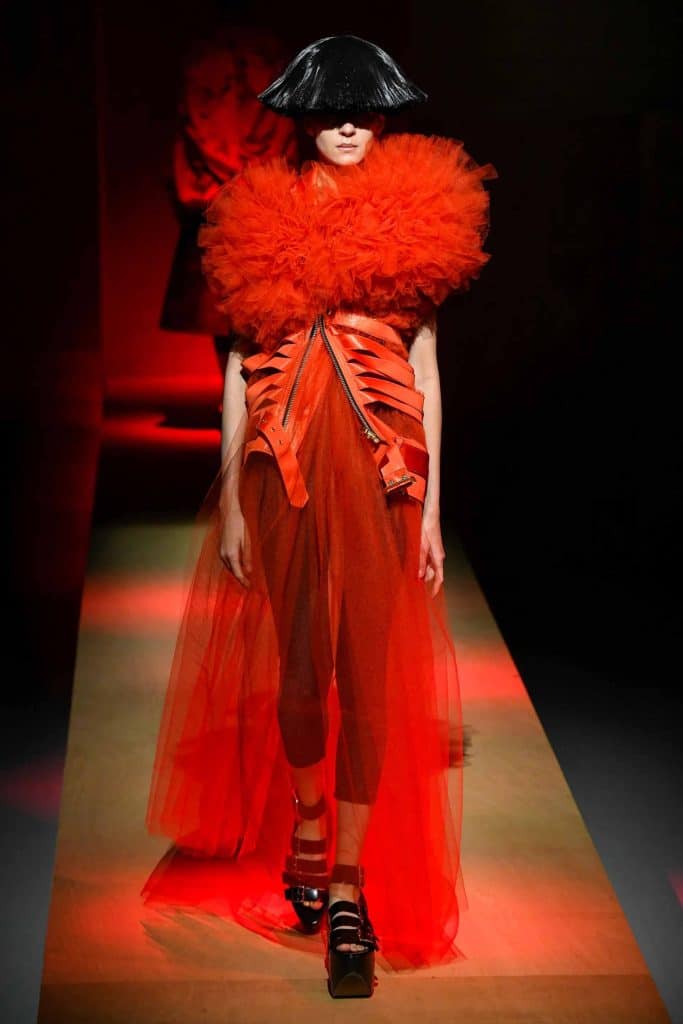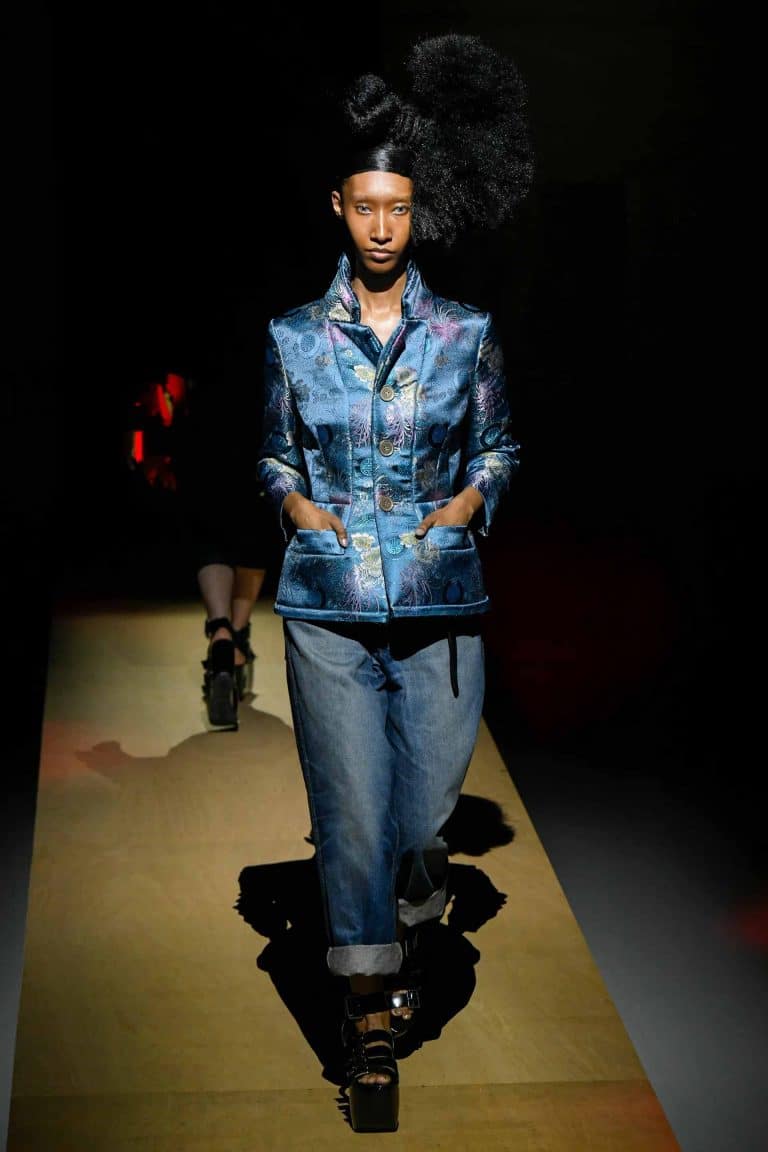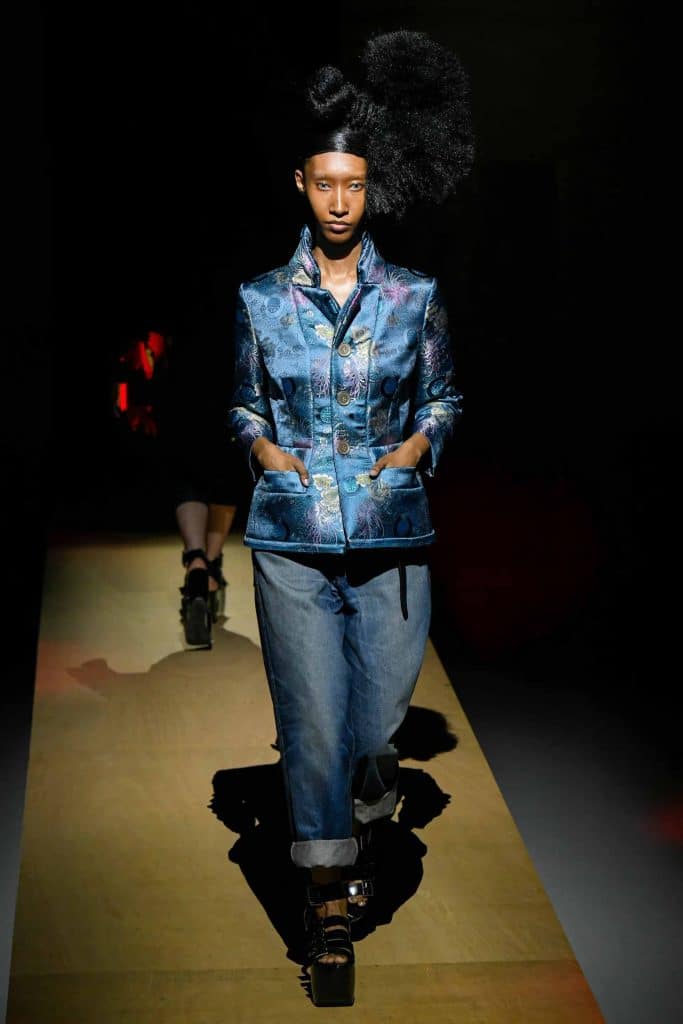 With the largest amount of masterful looks from all shows in our survey, Watanabe showed that distracting extravagances nor smoke and mirrors could ever replace craftsmanship and understanding of theme and tone. Being a cornucopia of artistic collaborative efforts, where Watanabe excelled he did so unquestionably, but where his poetry veered into a literal presentation of Asian history it failed to impress out of being too accurate a reproduction. Garments that blended modernity with the past also failed in places, this partly because of the strange volumes produced, or from the unflattering silhouettes left, or due to one's difficulty in understanding textile combinations that seemed forced if even holding metaphoric measure. Watanabe's innovation was multifaceted, this sometimes being from his use of difficult and time-demanding bocades, or his metallic fabric petal-like origami textured micro pleats, or his gowns with Porphyra bush like tulle ruffles, said gowns being wrapped in rib cage like patent leather jackets that hung on for dear life yet remained secure. Hair styles seemed a nod to Kazuo Ohno of Butoh fame and firewood branches carried upon heads in cultural oharame displays, although conceptual. At other times hair referenced Edo period Kabuto or Samarai helmets as a nod to Japanese classicism. In all, this collection was an authentic offering, its parts being a melody of past, present, and something for tomorrow.
Best: 15, 25, 32, 40
Most Innovative: 46
Worst: 33, 49
F/A: 4.5/10
H/M: 7.5/10
S: 6.5/10
Set: 5/10
OVT: 23.5/40 (58.75%)
Originality: 7/10
Innovation: 5/10
OI: 12/20 (60%)
Show Looks: 23 highly desirable 16 indifferent/repeated, 11 undesirable
As A Percentile: 46% highly desirable, 32% indifferent/repeated, 22% undesirable
Award: The highest % of desirable looks in comparison to undesirable and repeats.
Saint Laurent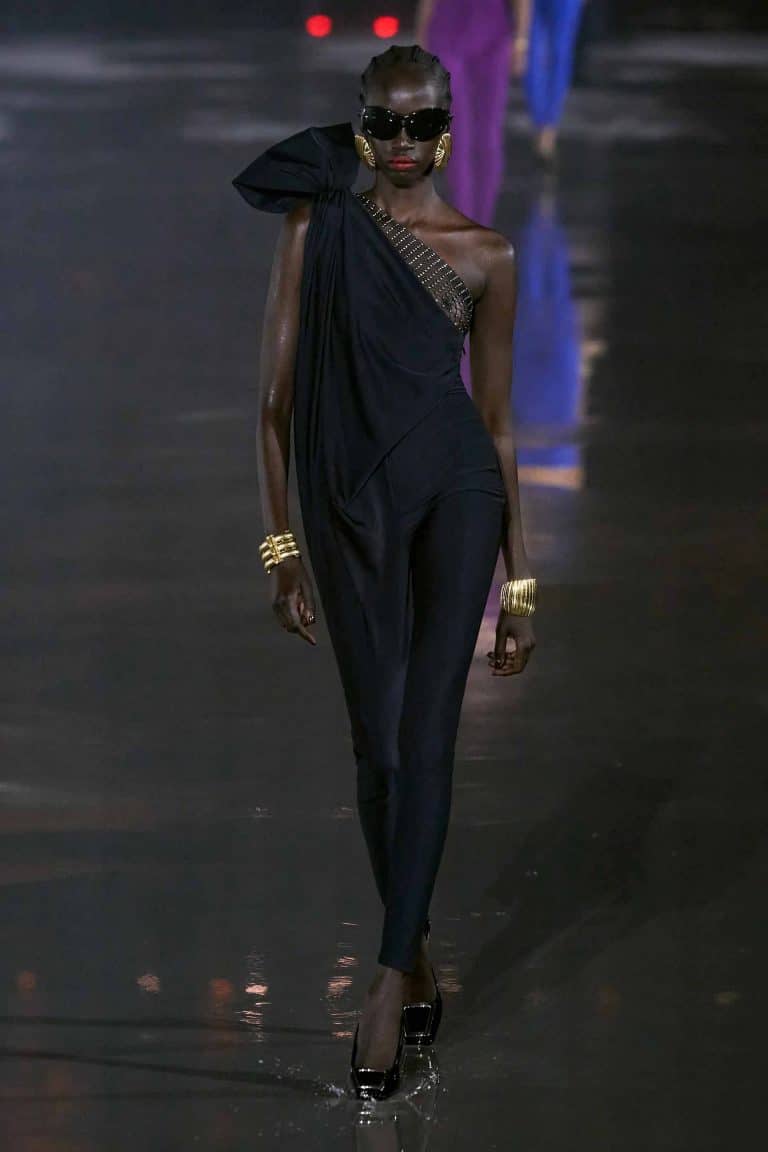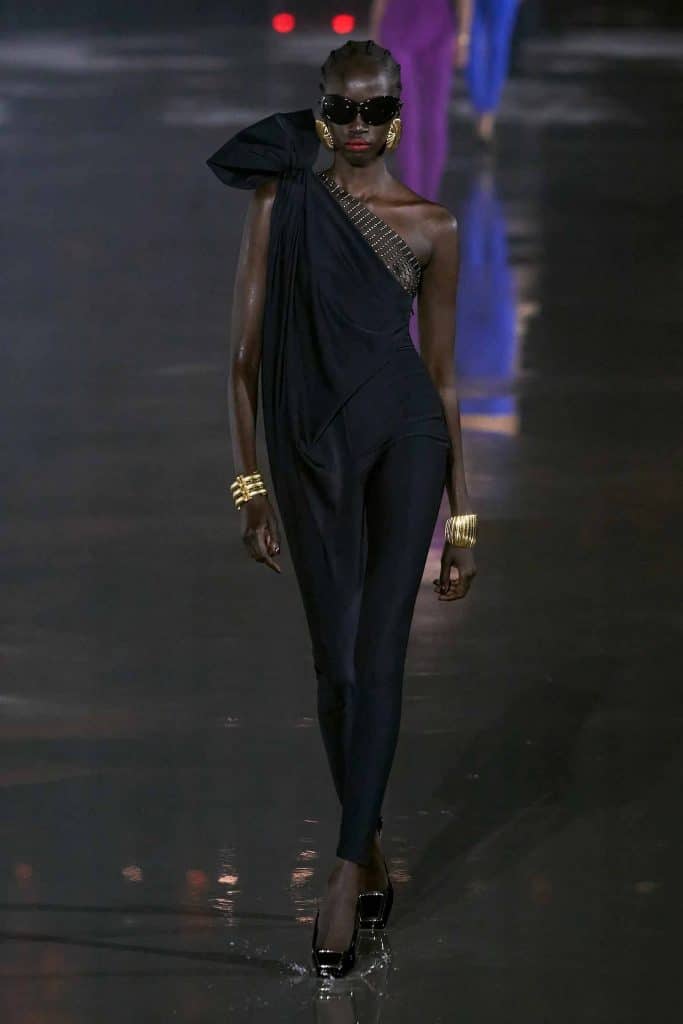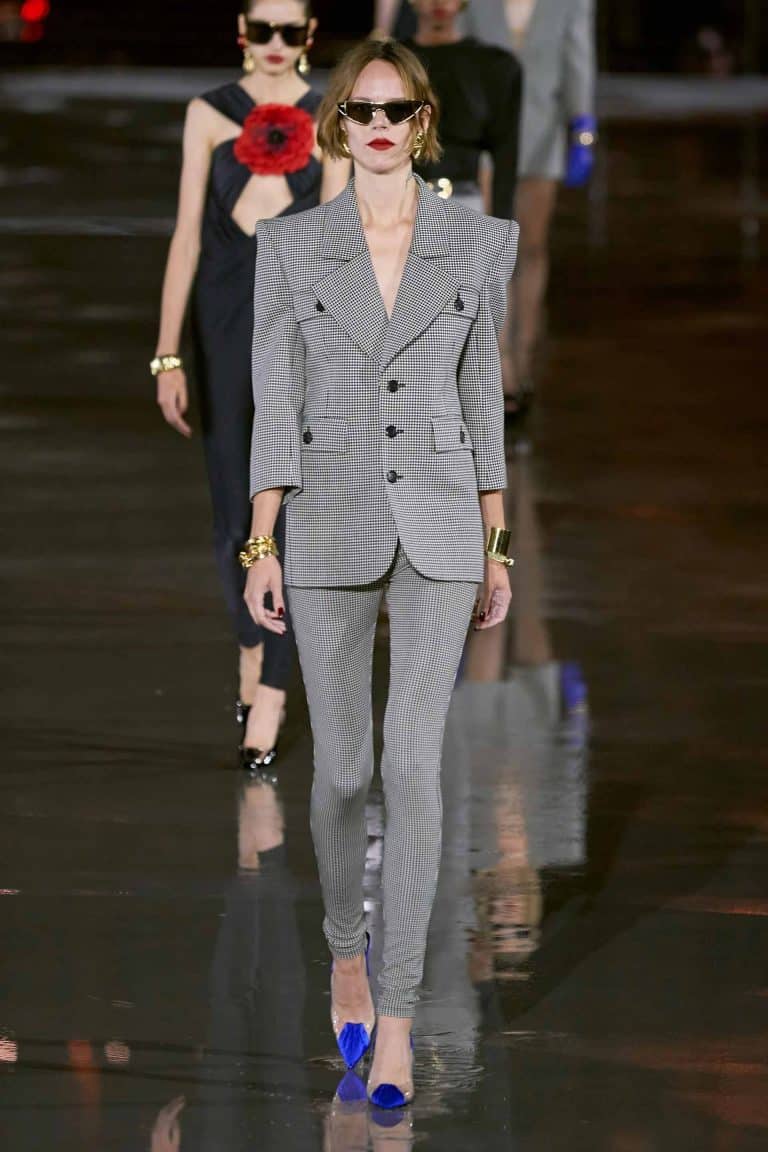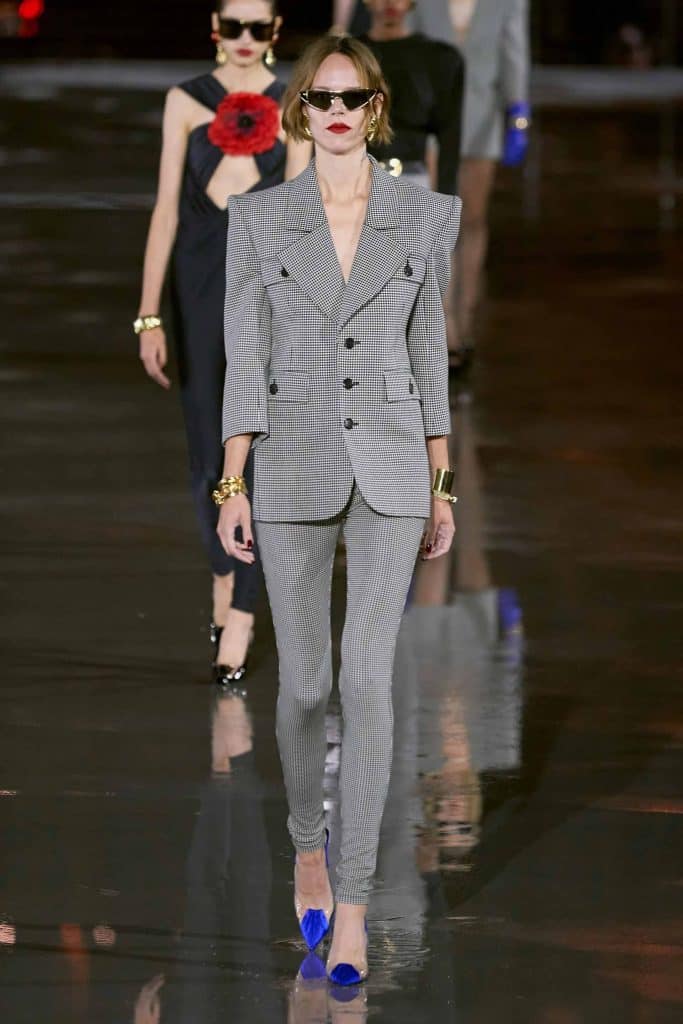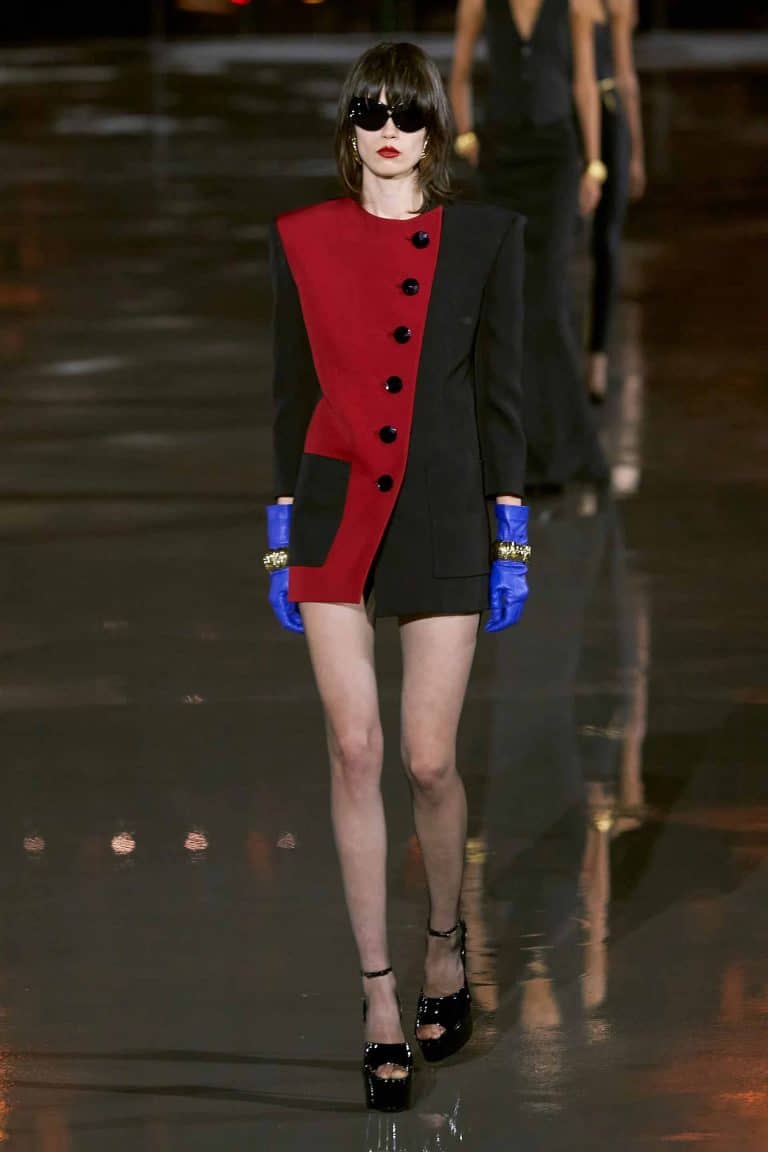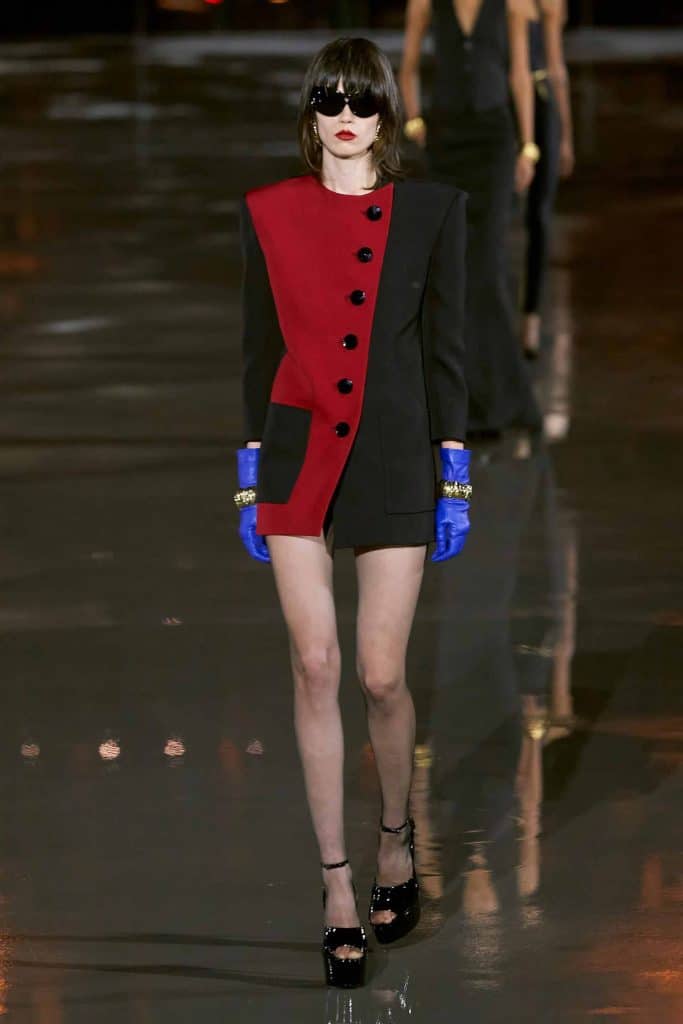 The Eiffel tower as set element has become a favorite of fashion as theater, so neglecting its expected impression is what is going to happen when scrutinizing the clothing. Vaccarello's looks presented a continuum of grandiose but attainable artificialities with a refined delineation of postmodern luxury, but such also being an 80's re-run held expected limitations. A shimmering concern with an ultimately detractive essence was his love affair with the crotch clinging unitard reiterate. When utilized as pants and coupled with distracting layers these became forgiving, but when composing a total look, their tightness which made one feel constricted as a viewer due to their starved-calf like revelations and the model's accompanied forced vacillating gait – the same made all the more obvious from the many protruding and shifting ilic crests – left not a positive impact but a concerned for one. Looks in this collection were markedly clear when undesirable, which is a good sign for showing distinction in capability, but when leaving competitors in the dust it was also monumentally clear. The use of metal netted weave across the décolleté, or the choice of diaphanous fabrics cloaking décolletage heightened overall innovation because details like these were consistent with future reaching and not on the past's reliance. The shoes were also very post modern in a good sense, their sharp lines alluding to abstract avian triangles, and the handbags were sumptuous enough to make the Eiffel tower blush. In all, this show was rather brilliant in its nostalgic simplicity, and if it had done away with its mundane or cheaper elements it could have been a clear winner.
Best: No. 1, 7, 60
Most Innovative: No. 57
Worst: No. 24
F/A: 7/10
H/M: 6/10
S: 7.5/10
Set: 9 /10
OVT: 29.5/40 (73.75%)
Originality: 5/10
Innovation: 6/10
OI: 11/20 (55%)
Show Looks: 33 undesirable, 20 highly desirable, 9 indifferent/repeated
As A Percentile: 55.93% undesirable, 33.9% highly desirable, 15.25% indifferent/repeated
Raf Simons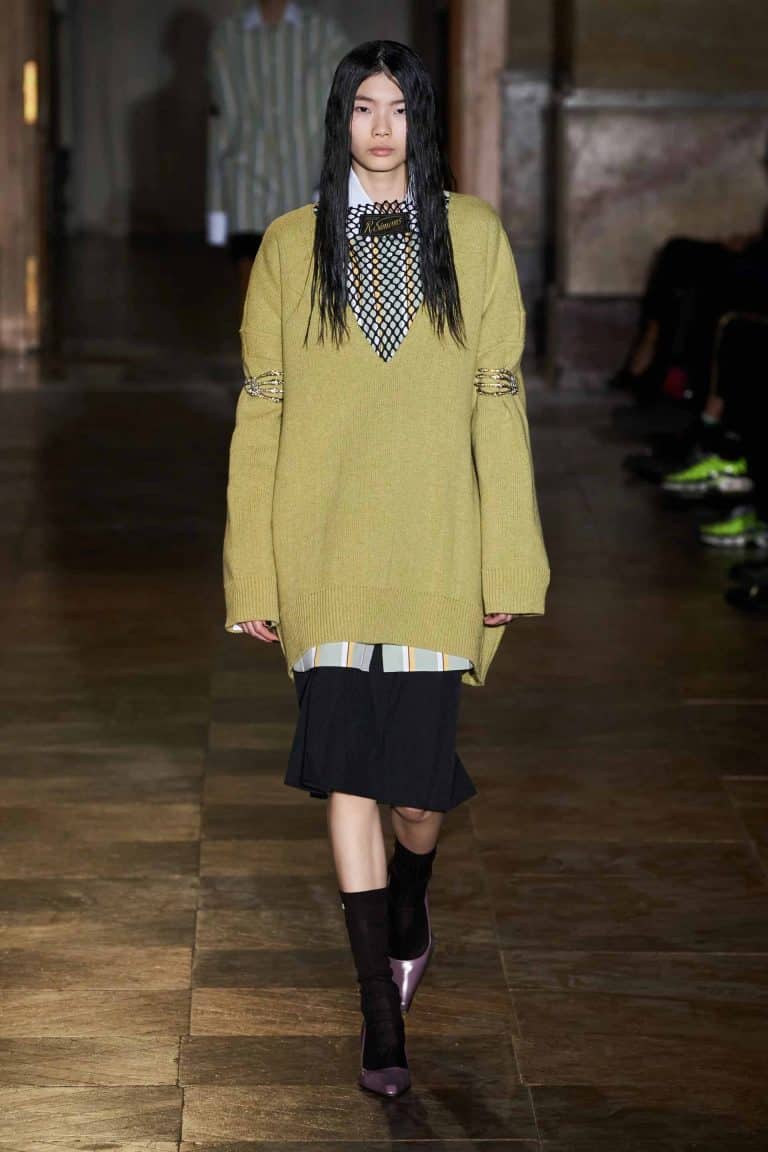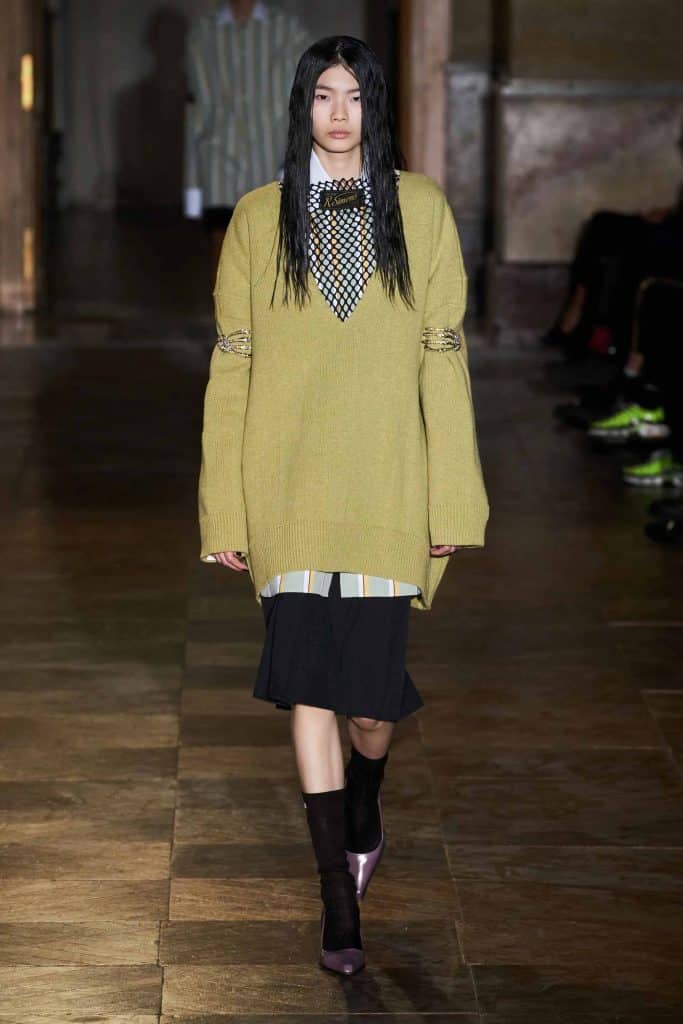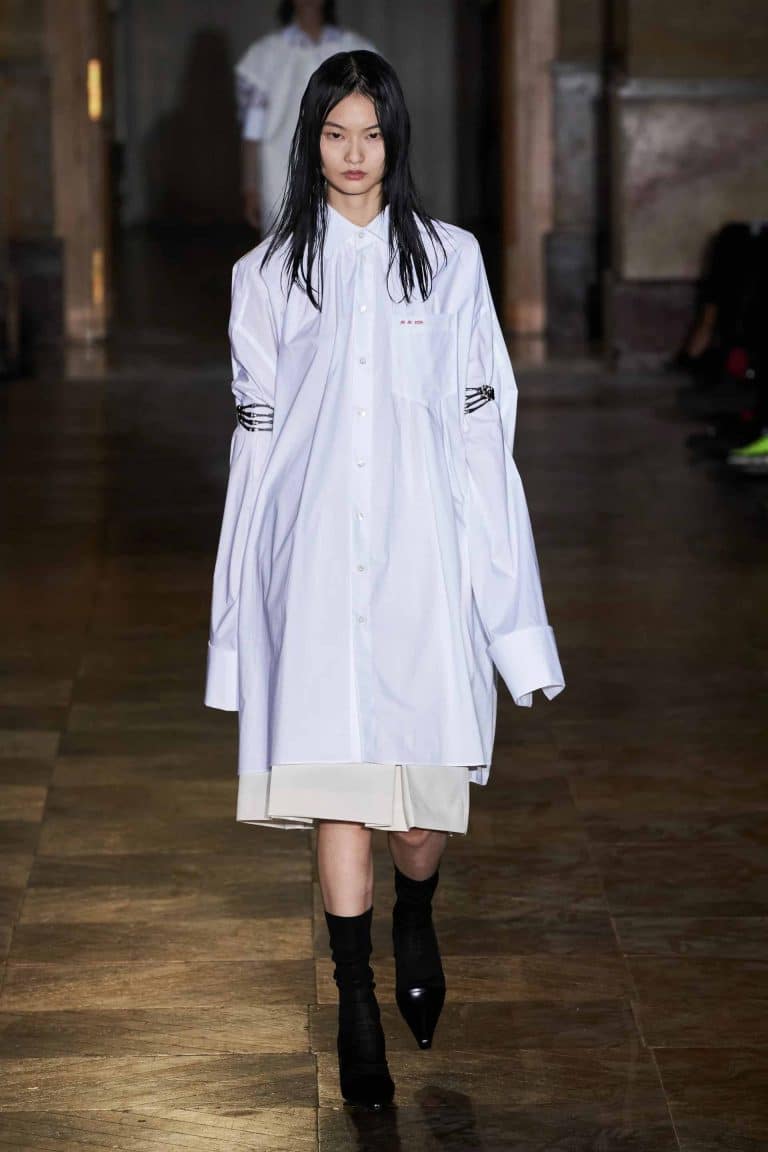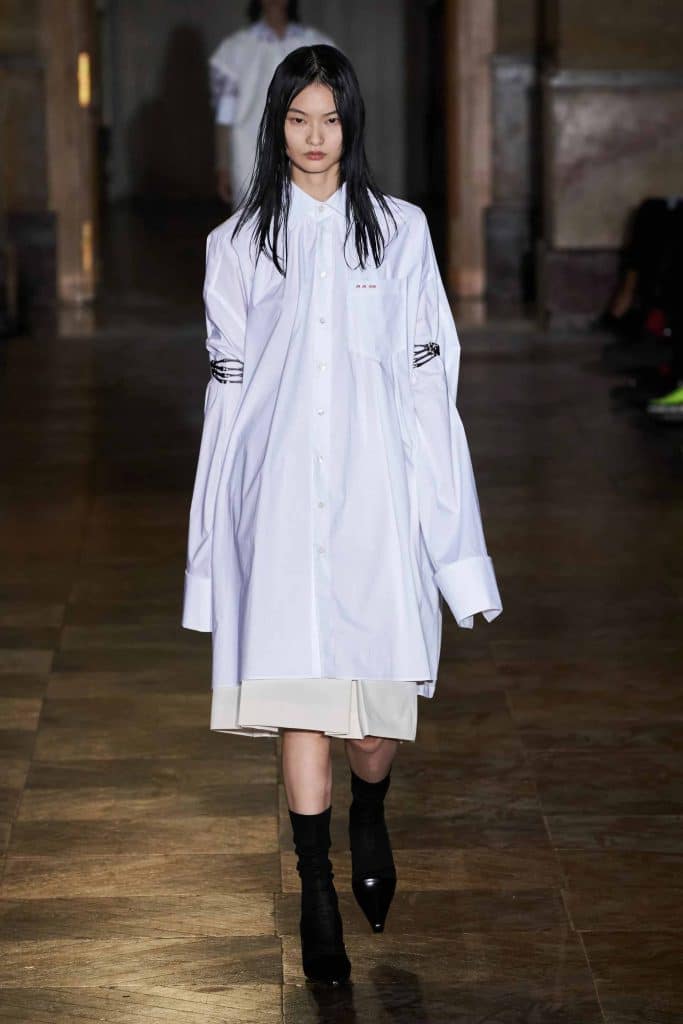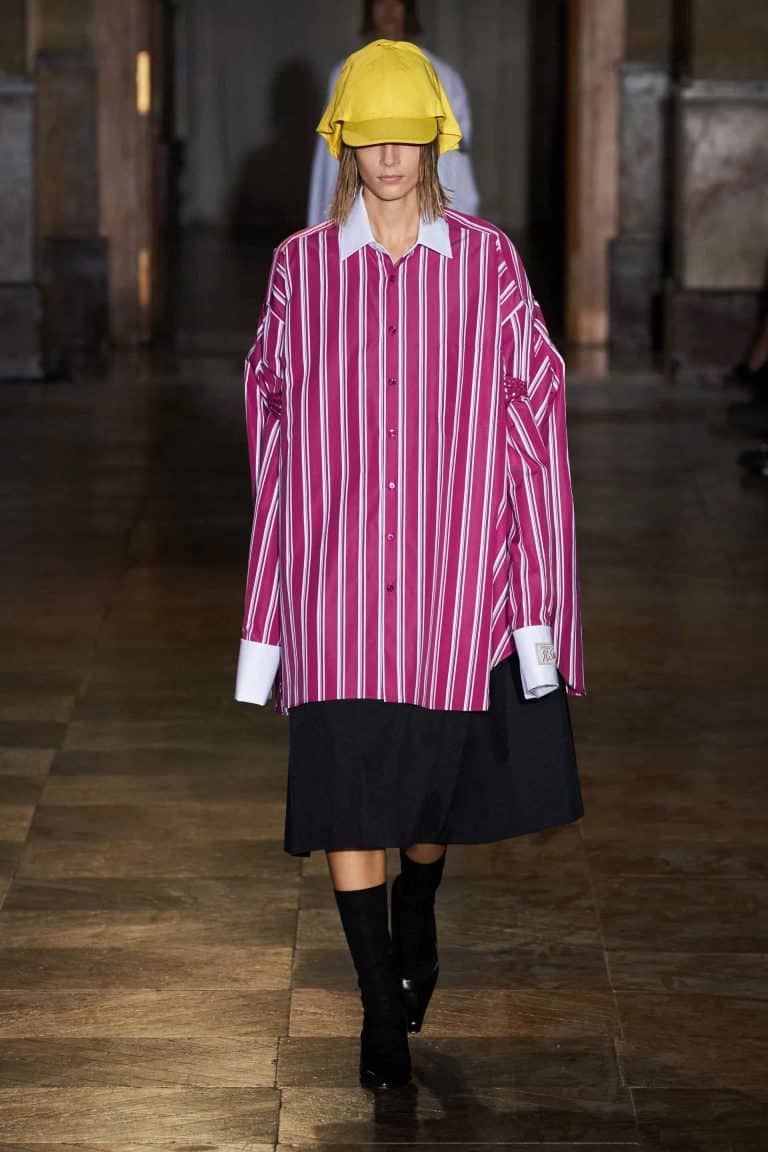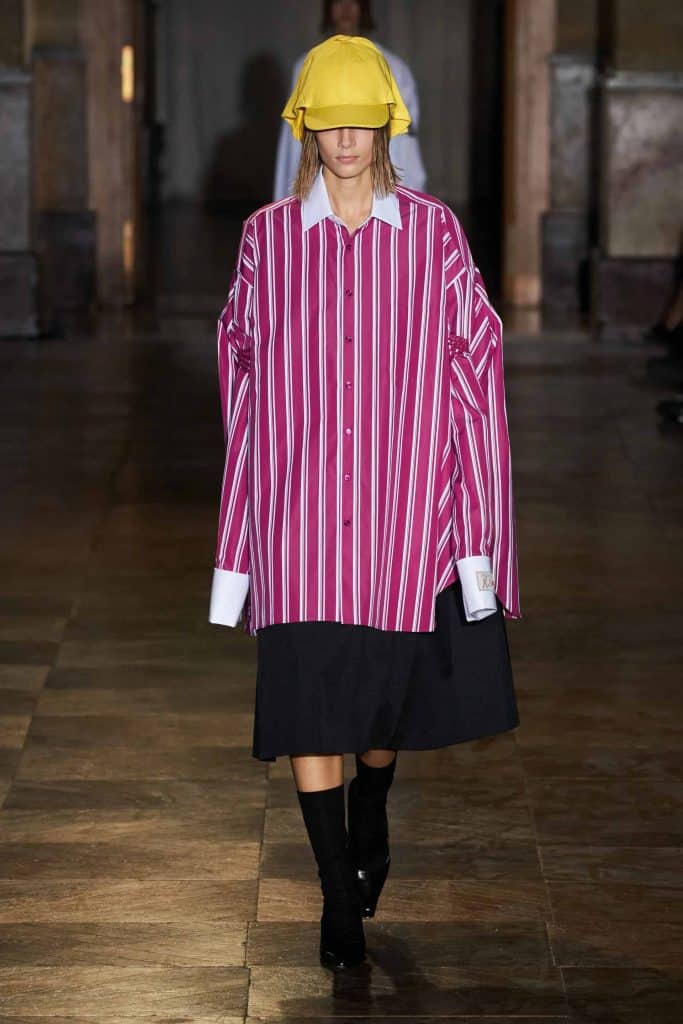 If the palace of Laeken had its own HBGB's, its patrons would be dressed like the art school dissidents portrayed in this collection. Being the most down to earth display of the set, Simons' played with removing 19th century eurocentric gendered oughts from certain clothing types, and he did this not to be rebellious, but to return them to a time before trousers meant male and "gowns" meant not. For centuries, all European peoples wore things resembling what moderns call skirts, but tunics, houppelande and cotehardie of the 14th and 15th centuries look very much like the thobe or kameez of the Muslim and mid eastern countries of today, not to mention the unforgettable early 21st century tall tee phase in American hiphop culture where t-shirt lengths became longer than modern dresses. In his show notes Simons' referenced the Flemish artist Pieter Bruegel the Elder whose paintings of social chaos demonstrated men in similarly long attire, so a point about re-conceiving what is strictly feminine has been removed by Simons' from the popular modern ideological context, and this collection instead becomes a voyage into a future wardrobe with a neo middle age aim: it is intentionally regressive with so-called progressive overtones. This discussion aside, the collection was magnetic for its careful understanding of control and construction. Alluring materials and vision tangible fabrics shone with lush finishes proving their higher qualities, and these dignified materials were then defaced with screen printed neon paints showing his disregard for standardized expectation. Yet, because this show existed as more of an artistic statement and was less about pop consumerist ostentation, its takeaway is discovered in its use of novel volumes and silhouettes but not so much more.
Best: 4, 15, 30
Most Innovative: 30
Worst: 33, 34, 35
F/A: 5/10
H/M: 5/10
S: 8/10
Set: 4.5/10
OVT: 22.5/40 (56.25%)
Overall originality: 6/10
Overall Innovation: 7/10
OI: 13/20 (65%)
Total Show Looks: 29 undesirable, 19 highly desirable, 8 indifferent/repeated
As A Percentile: 51.79% undesirable 33.93% highly desirable, 14.29% indifferent/repeated
Final Totals for Women's Paris SS RTW 22
Overall Vanity Total (OVT)
1st: Givenchy 83.75/100
2nd: Laurent 73.75/100
3rd: Owens 71.25/100
Originality and Innovation (OI)
Tied for 1st: Givenchy 67.5/100
Tied for 1st: Owens 67.5/100
3rd: Simons 65/100
Highest Number of:
Highly Desirable Looks: Watanabi
Indifferent/Repeats: Givenchy
Undesirable: Saint Laurent
Lowest Number of:
Highly Desirable: Givenchy
Indifferent/Repeats: Raf Simons
Undesirable: Watanabi
According to our algorithm, Givenchy wins on the Overall Vanity Total and Ties with Owens for Originality and Innovation, whereas Watanabi wins on overall best collection with clothes themselves considered.