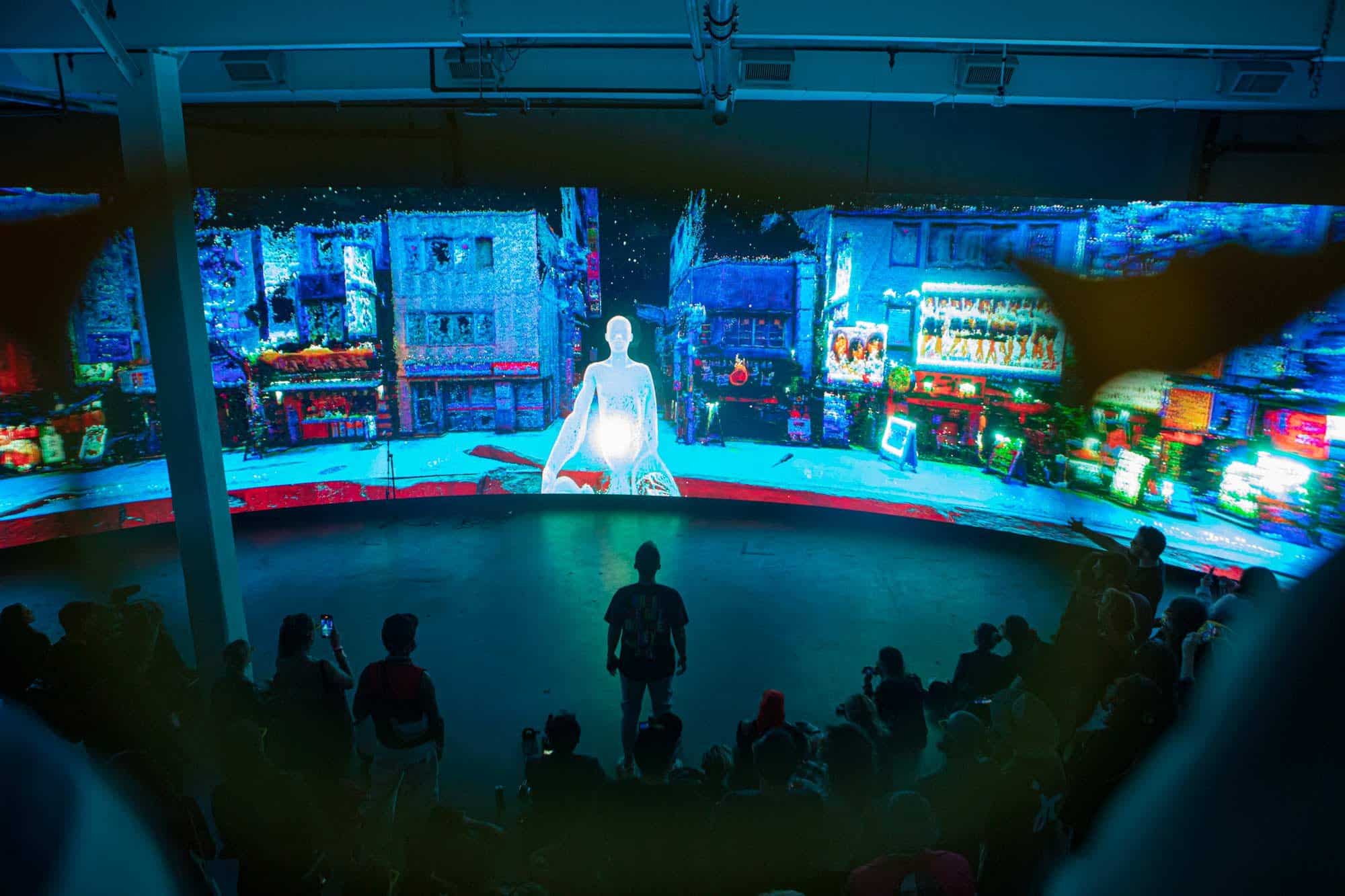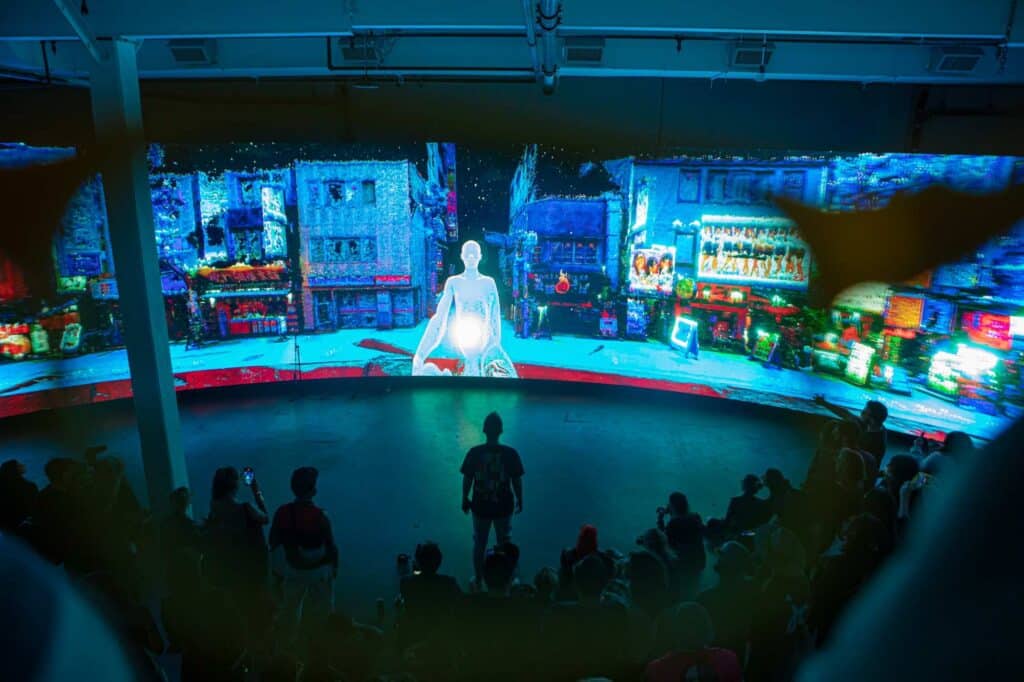 PLEASE INTRODUCE YOURSELF
Hi, I am RubenFro, an Italian-born, Tokyo-based director and VFX artist specializing in point clouds and volumetric captures. I worked with artists like A$AP Ferg, Pussy Riot, and brands like McLaren, Acronym, and Asus. I also enjoy creating NFTs and immersive artworks.
HOW WOULD YOU BEST DESCRIBE YOUR STYLE?
In my artworks, I use raw volumetric captures from the real world instead of crafted 3D models. With the technique I developed, I can scan large urban scenes in a matter of seconds, freezing time and preserving slices of daily life. Then use the scans as building blocks of my animated artworks. I embrace the fuzzy and imprecise nature of raw untreated point cloud data, especially when 3D-capturing people. That aesthetic is closer to how we remember things, fading memories you can almost touch but disintegrate as you get too close. The ability of this technology to document reality, deconstructing it into a series of coordinates is fascinating. I see those 3D points as atoms I can fluidly re-arrange in different combinations. Often the patterns and shapes of the real world interact with the algorithms to create unexpected results. The data can be used to also generate sounds, and I usually integrate audio field recordings to compose the soundscape in my artworks.
HOW DID YOU GET INTO ART?
Yet, I only started to see myself as a full-time artist in the last couple of years. In 2019, I worked with other artists on art installations, Future Cities, in Japan, Taiwan, and New Zealand. Then in January 2020, I released Dissolving Realities, depicting the daily life of Hanoi frozen in time. That series became quite viral, being featured on Vimeo, exhibited in festivals and worldwide events like Mutek, and it gave me the chance to connect with other creatives. Finally, in June 2021, I quit a career in IT and opened a studio to focus on digital art and visual effects.
Visualizza questo post su Instagram
Visualizza questo post su Instagram
WHO OR WHAT ARE SOME OF YOUR MAJOR INFLUENCES?
I try to avoid looking for inspiration in fields too close to mine. Instead, I'm more attracted by traditional art, photography, or music. This helps me think creatively, mix things up, and come up with new ideas. There are artists and friends that I admire though, I'm fascinated by the ethereal aesthetic of Reuben Wu for example, and his dedication in creating his incredible pieces. In general though, what influences me the most is daily life. Being in unexpected situations, looking at different realities. I am an avid traveler (well, at least before the pandemic), and I find unexpected ideas and inspirations organically form when you wander off the beaten track and experience something new. Looking at the vast silent expanses of the Gobi desert, or exchanging words at a food stall in a hectic city in SE Asia. Very different situations, each one evoking specific feelings I treasure and take inspiration from. Science fiction and technology, especially when intersecting with psychology and existential themes, is another big influence. Other times I have taken inspiration from sacred texts (Through Fragmented Memories ).
CAN YOU TELL US ABOUT YOUR WORKING PROCESS?
I write down notes about interesting places I visit all the time. Mostly just a few lines describing the feeling a certain place evokes. Those notes are an important source of inspiration and help me set the mood for new pieces, sometimes choosing specific lighting or particle simulations. I bring 360 cameras and gimbals everywhere, so I'm always ready to record interesting locations and take "snippets of reality". Then with video and audio recordings, I use a videogrammetry process to convert the footage into point clouds. From there, it depends on the piece. But working in a real-time engine gives me a lot of creative freedom to explore new ideas, without wasting time. All my work is rendered by custom shaders I developed, so I'm constantly alternating between creating art and adding new effects and features to my code.
Visualizza questo post su Instagram
Visualizza questo post su Instagram
WHAT MOTIVATES YOU TO CREATE?
Creating immersive pieces people can experience it's my greatest motivation. I'm not necessarily referring to interactive or VR/AR, but any audiovisual artworks that surround you with their atmosphere.
WHAT IS YOUR STUDIO LIKE?
I opened my VFX studio in Tokyo a few months ago. I'm not the most organized person, and it's a bit of a struggle to find the right balance between a minimalist, clean space… and all my gizmos, cables, and random devices. I would say it's a space in continuous evolution, oscillating from a design minimalist office to a very messy lab.
WHAT ARE YOU CURRENTLY WORKING ON?
Currently, I'm working on a couple of music videos, one quite challenging for an artist I've been a fan of for quite some time, so I'm particularly excited about it. After that, I will take a break to resume working on Dissolving Realities. I had to put the series on hold because of the pandemic, but hopefully next year I'll be able to record locations around Asia and South America.
Visualizza questo post su Instagram
Visualizza questo post su Instagram
INFORMATION
With courtesy of RubenFro