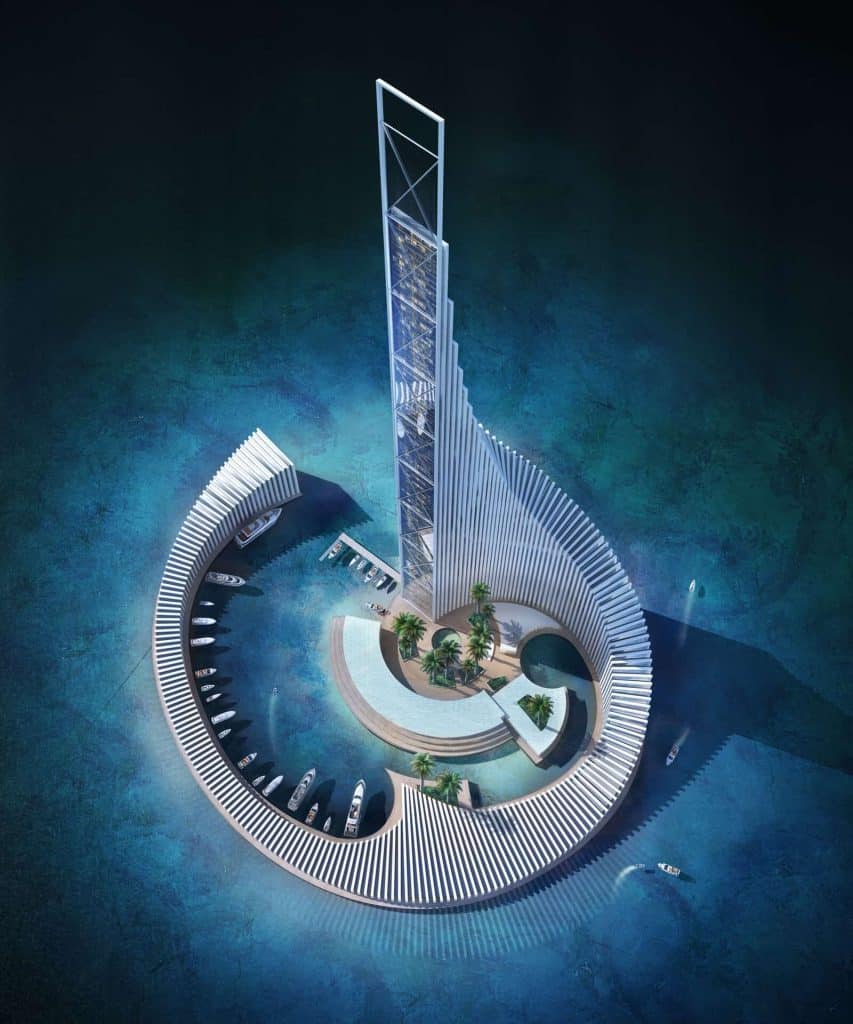 Linked by a high and low bridge structure, the development is planned over three key sites: the Arrivals Plaza, Zanzibar Domino and Island Resort, each with distinct identities and uses that script the guest experience pathway in a seamless curated journey from arrival to destination.
"As a legacy project, its story is as unique for the developer as it is for us," founder and design director of xCassia Jean-Paul Cassia recalls. "First sketched in Paris in 2009 after my late father, two sons and I played a round of dominos, I dreamed of building this project for over a decade. Between its innate mathematical order and geometries found in nature, its pure lines and proportions that evoke growth, progress, and freedom, it had all the bearings of an icon anyone could remember and draw on a paper napkin. All it lacked was the right visionary investor and site to make it come true.
View this post on Instagram
Then in 2019 and 2020, two prominent developers in Vietnam and Saudi Arabia respectively engaged xCassia to prepare studies for the integration of this design into their master plans. "These were stunning opportunities, each with their own localized character and challenges," recalls Jean-Paul Cassia. "Both sites proved inconclusive however due to height, budget, marine and infrastructure constraints, not to speak of the Covid-19 pandemic. The social media response was nonetheless impressive and it was thanks to this medium that we were contacted early in 2021 by AICL Group's Executive Chairman, whose own legacy mindset and national interests promulgated by his eminent father and ex-President Salmin Amour in the 1990s led him on a search for a project icon that symbolized Zanzibar's unique history and rise, as well as emblematic of the current President Dr. Hussein Ali Mwinyi's dynamic new policies of leveraging 'brand Zanzibar' through a fleet of policies to boost tourism, infrastructure investments, FDIs and Public Private Partnership schemes for the country."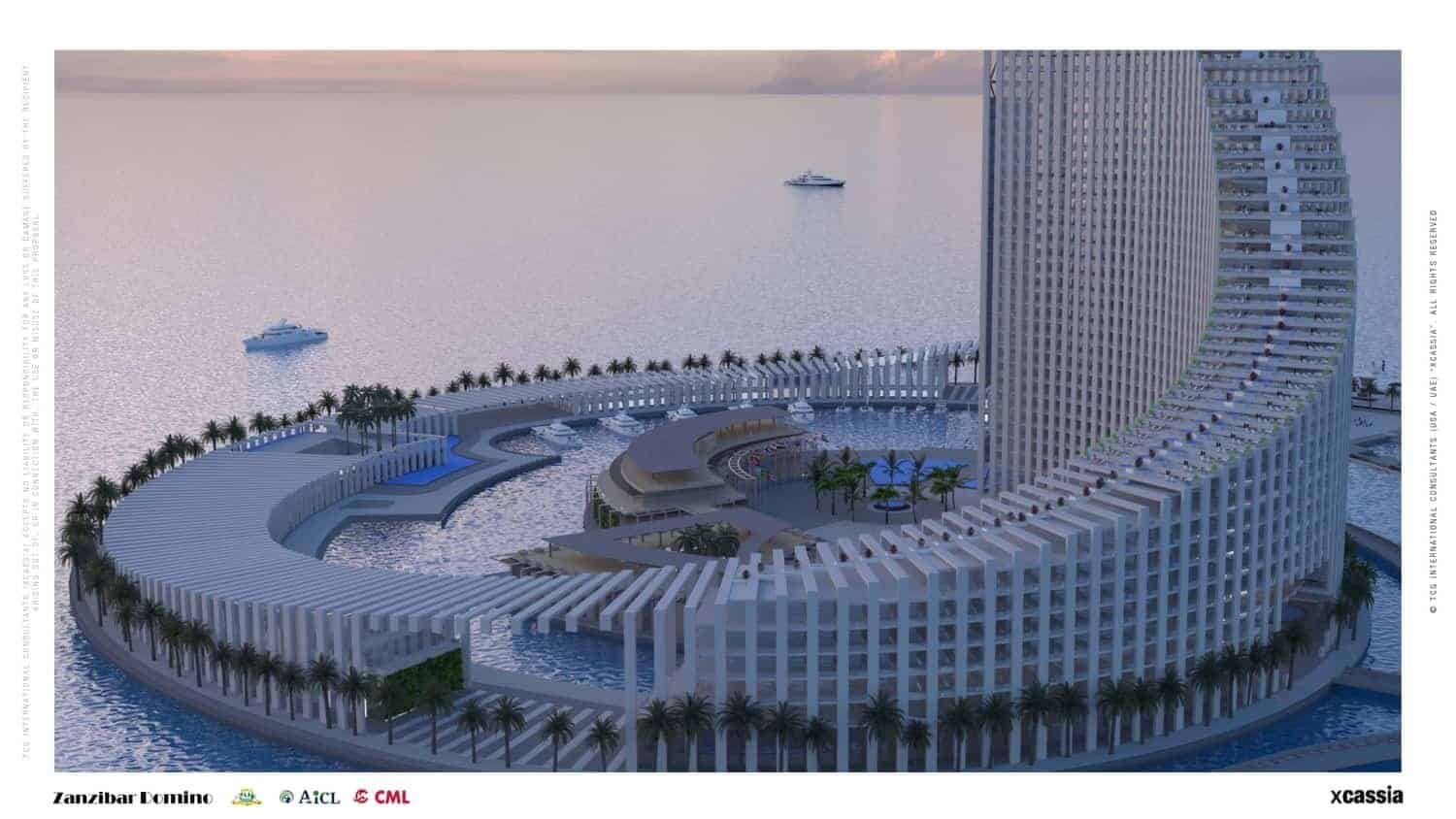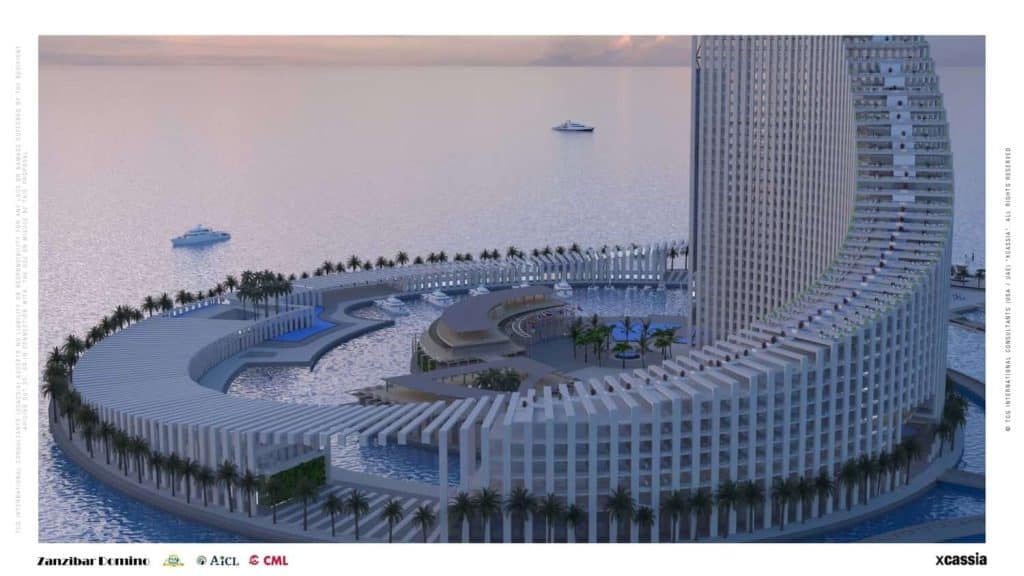 "Positioned as one of Africa's first truly iconic global destinations for tourism, entertainment, culture and conferencing, the Zanzibar Domino will offer visitors, residents and businesses a multi-faceted program designed to create year-round distinctive experiences, professional pathways and investment opportunities. We are thrilled to be working with Jean-Paul Cassia and his exceptional partners and team for the development of this ground-breaking project," comments Youssef S. Amour, Executive Chairman of AICL Group.
"As a private investment management consortium with a key focus in Africa, we focus on creating positive social and economic impact and long-term value for all stakeholders involved. The Zanzibar Domino is a unique project which is exceptionally well-suited to our investment philosophy of providing our investors with superior returns through exceptional schemes as well as strategic socio-economic projects that leverage prosperity, people and planet, "comments Dr. Emmanuel Umoh, Founder and CEO of Crowland Management Ltd.
Poised to hold a special appeal for domestic, regional and international visitors that value integrated leisure, lifestyle, social and cultural destinations within contained, accessible and secure environments, the Zanzibar Domino creates multiple points of revenue designed to engage residents and outside guests alike throughout the year across all key sites of the proposed master plan.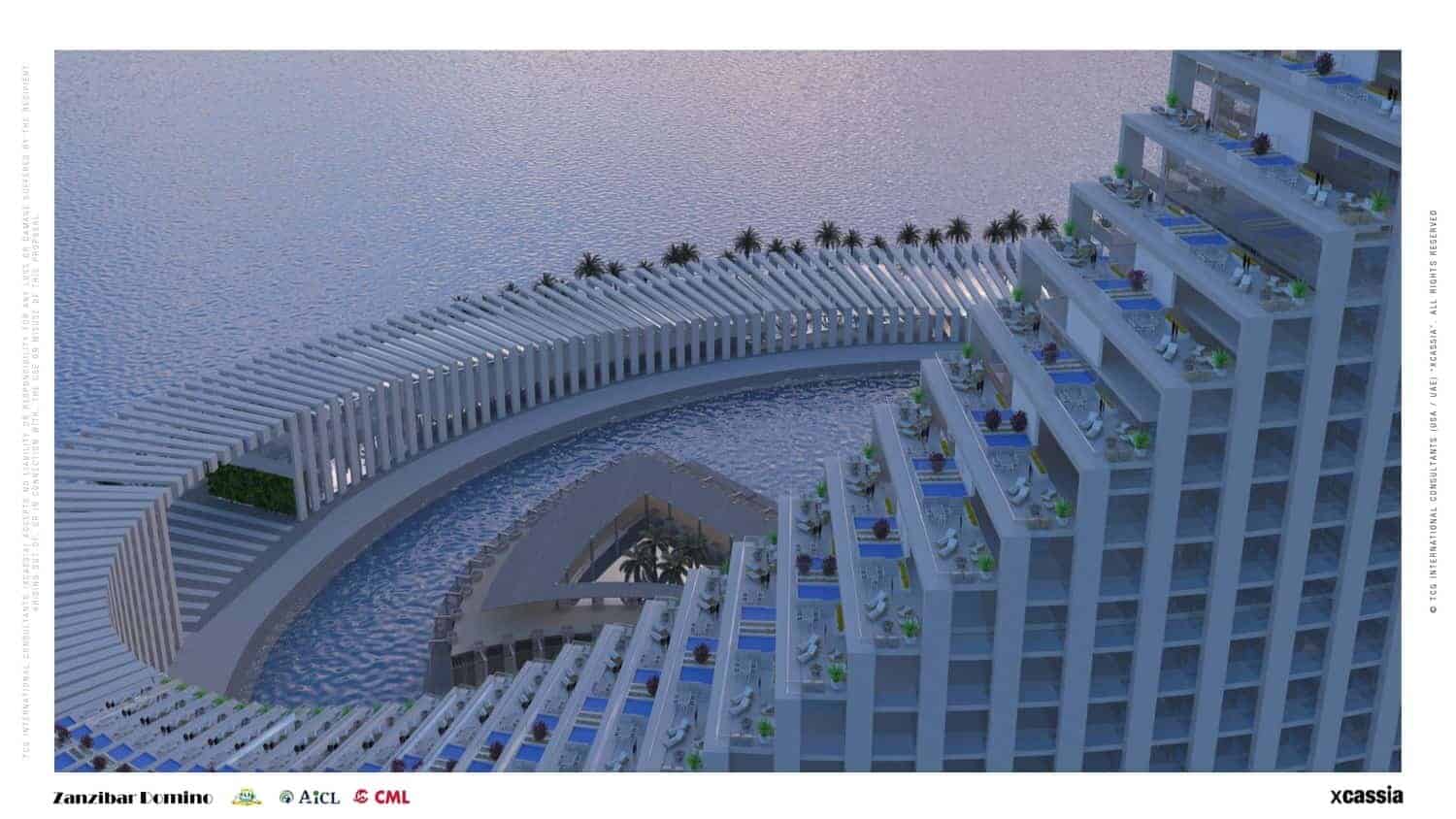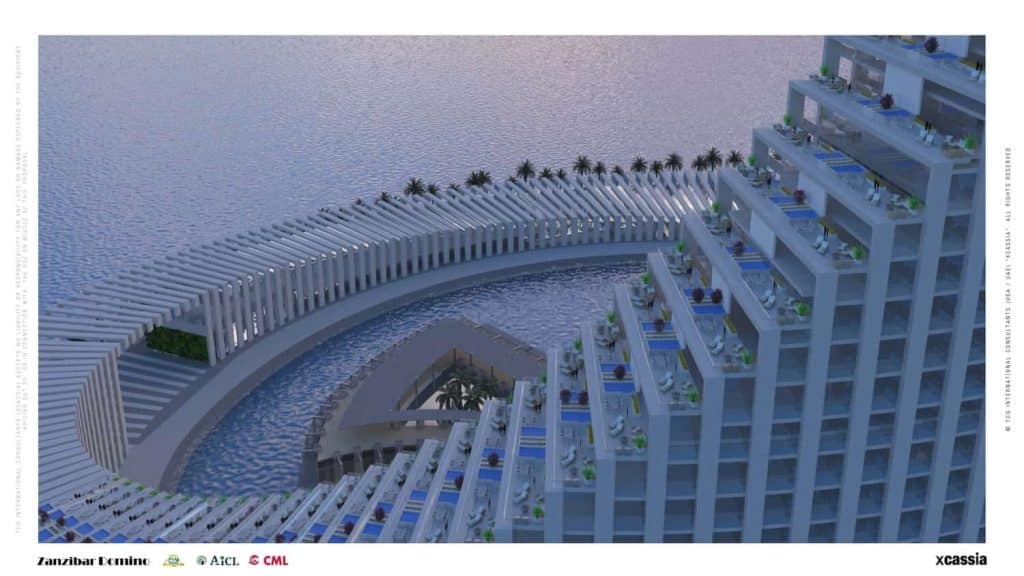 The Arrivals Plaza acts as a stage-set triage point to segregate traffic on and off the island while offering the immediate context with a world-class shopping and dining environment, where a dedicated experience center will welcome prospective global home buyers interested in the unique branded residential opportunities within the project. In full support of new tax and residency investment schemes, the Zanzibar Government promoted in June 2021 in order to boost the Investments Act of 2018, the Arrivals Plaza will be home to unique virtual and VIP boutique office space offering investors with a one-and-only address within an inimitable integrated live-work-play environment.
Designed to fully enhance the experience of reaching the island from the Arrivals Plaza, the Zanzibar Domino Bridge provides the backbone to distribute all transport and key services and serves as a lighting production platform to fully leverage the destination with a bespoke dynamic lighting scheme offering an infinite palette of effects throughout the year.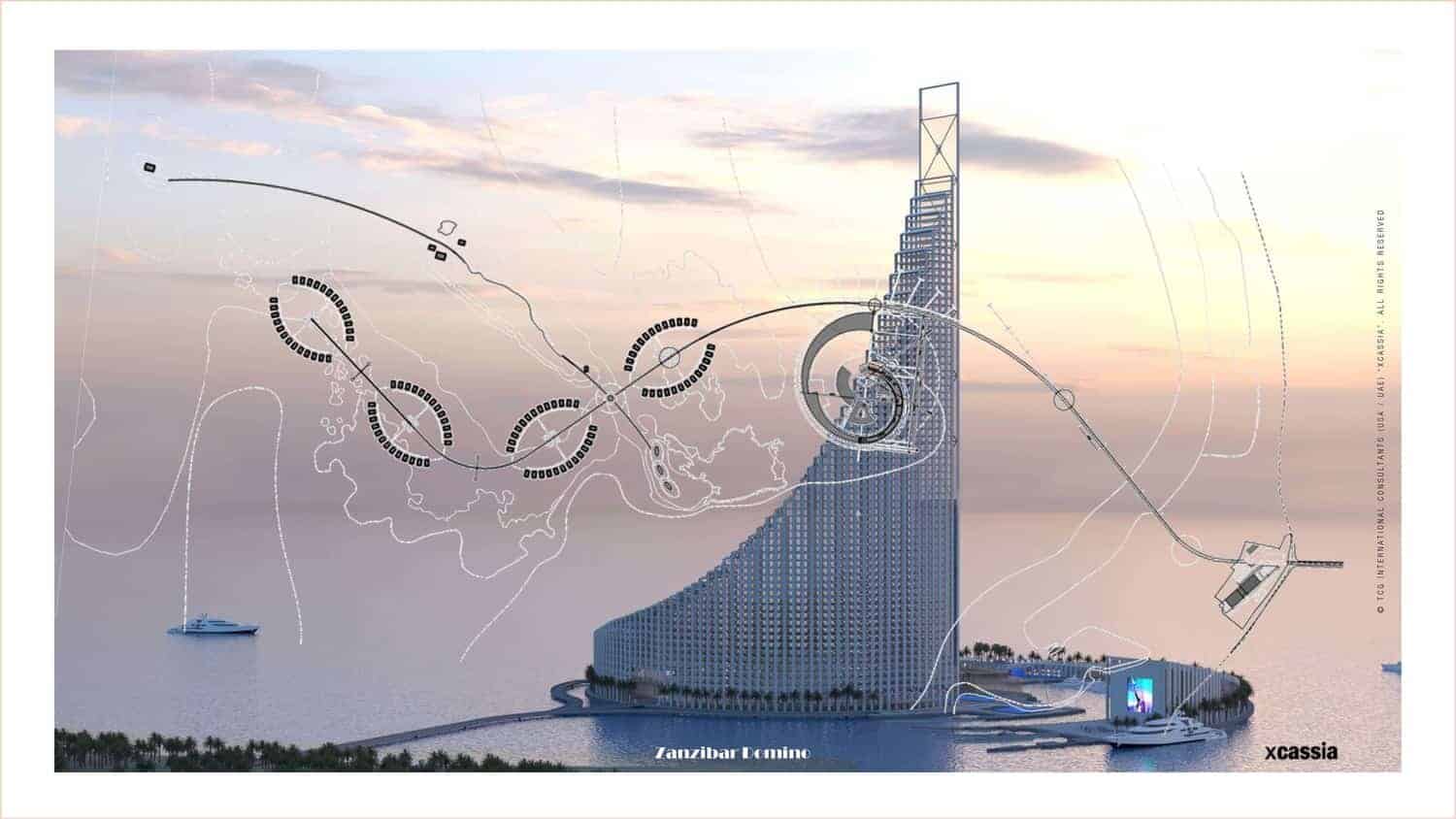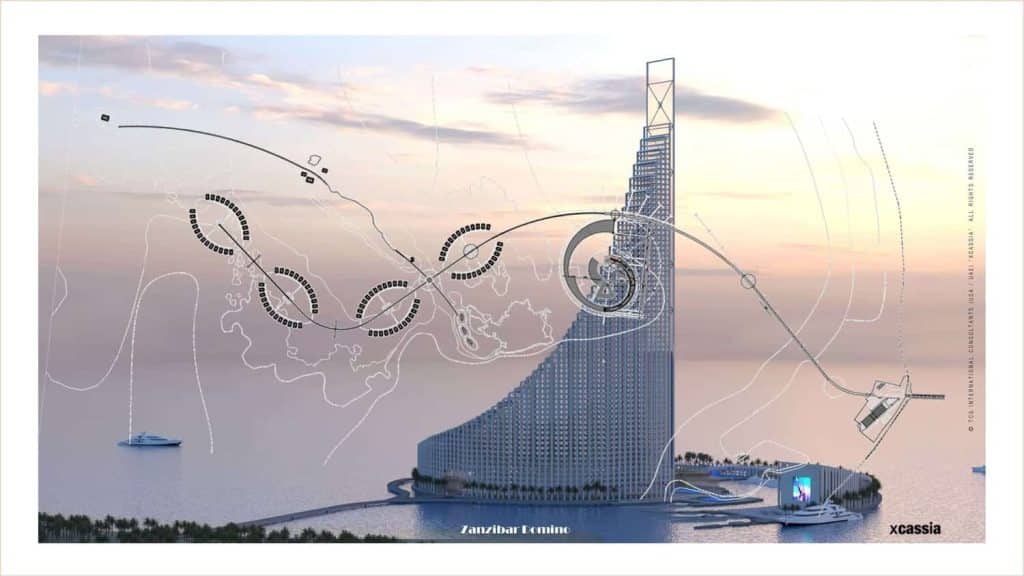 The center of the man-made island is located 1.5km off the main coastal road and radiates out over a 250m radius within which a marina is created to receive incoming yachts and tourism vessels. Starting from the inner marina is a feature Aquarium, Exhibition and Cultural Pavilion as well as an International Conferencing facility for up to 1000 delegates. All non-tower program on the outer spiral contains a mix of retail and food & beverage outlet opportunities, anchor store opportunities, a yacht club and rooftop infinity pool, a marina, as well as a cinema and VIP helipad. Towards the tip of the island is the Zanzibar Domino Eventscape where a unique branded entertainment activation portal called the Electrodom will be positioned; offering a curated mix of music events and shows with giant media screens for live global broadcasts – a concept designed to welcome a large influx of visitors and tourists within a controlled and secured environment. "It's a 'live-work-play-celebrate' approach stresses the project architect Jean-Paul Cassia. "Any project that is made to attract tourism needs to capture the hearts and imagination of people. Culture, art and music play key roles in driving footfall to this incredible destination," says Olivier Lapidus, xCassia's Partner and Interior Design Creative Director, and former Artistic Director of fashion labels TED LAPIDUS and LANVIN.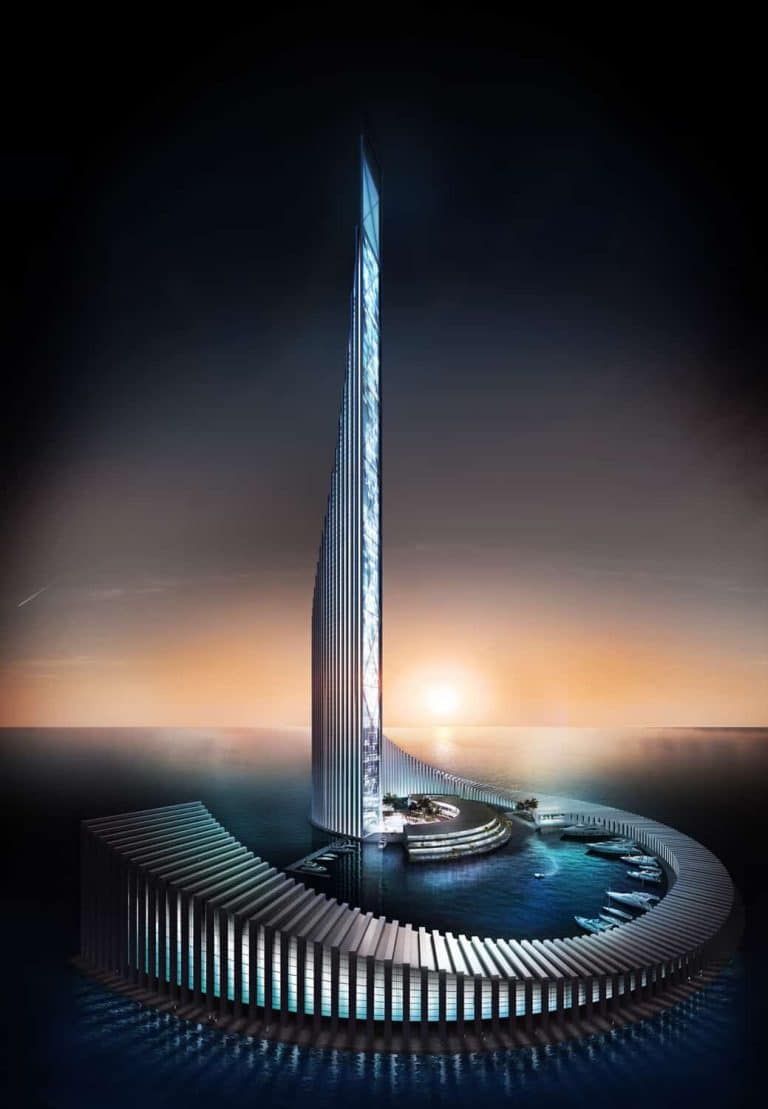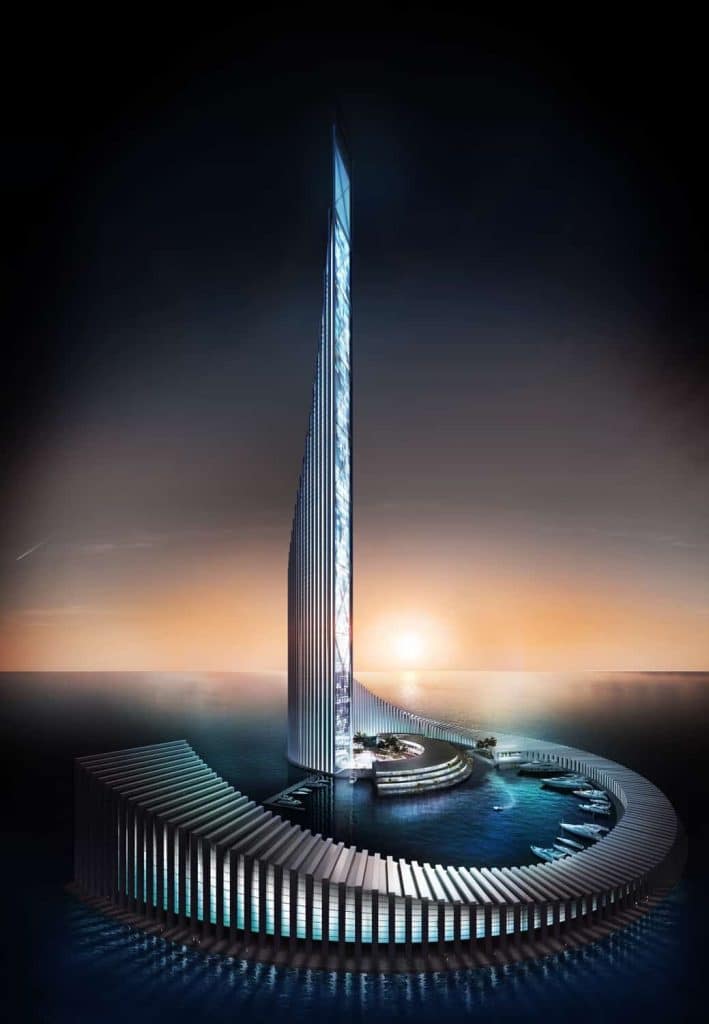 The project's design will seek to incorporate natural materials and color tones from its context to help it blend into its natural habitat, where biophilia principles will integrate in a combination of green and horticultural walls and water features and where exterior spaces will be designed to enhance the pedestrian experience. In a sweeping descent from the top-down, all hotel and branded residential end-units will have spectacular outer terraces oriented south-southwest for stunning views of Stone Town, the coastline and ethereal Zanzibar sunsets.
Privately accessed by either helicopter, boat or by bridge, the Zanzibar Domino Island Resort houses 104 exclusive branded over-water villas ranging in size between 360-500m2 and arranged into 4 distinct clusters, with dedicated concierge kiosks, 4 helipads and berth arrival docks linking the residences to a lighthouse structure that serves as a visual beacon, transport junction and amenities center to the beach and its amenities.
The Island Resort proposes a 3-Par golf course operated by a leading brand along with a clubhouse designed for reception events, F&B and outdoor areas capable of accommodating up to 800 people in spectacular settings. Complimenting this program will be three small pavilions showcasing Zanzibar's endemic butterflies, botanical variety and an orchard where local organic produce will be grown exclusively for the project and residents.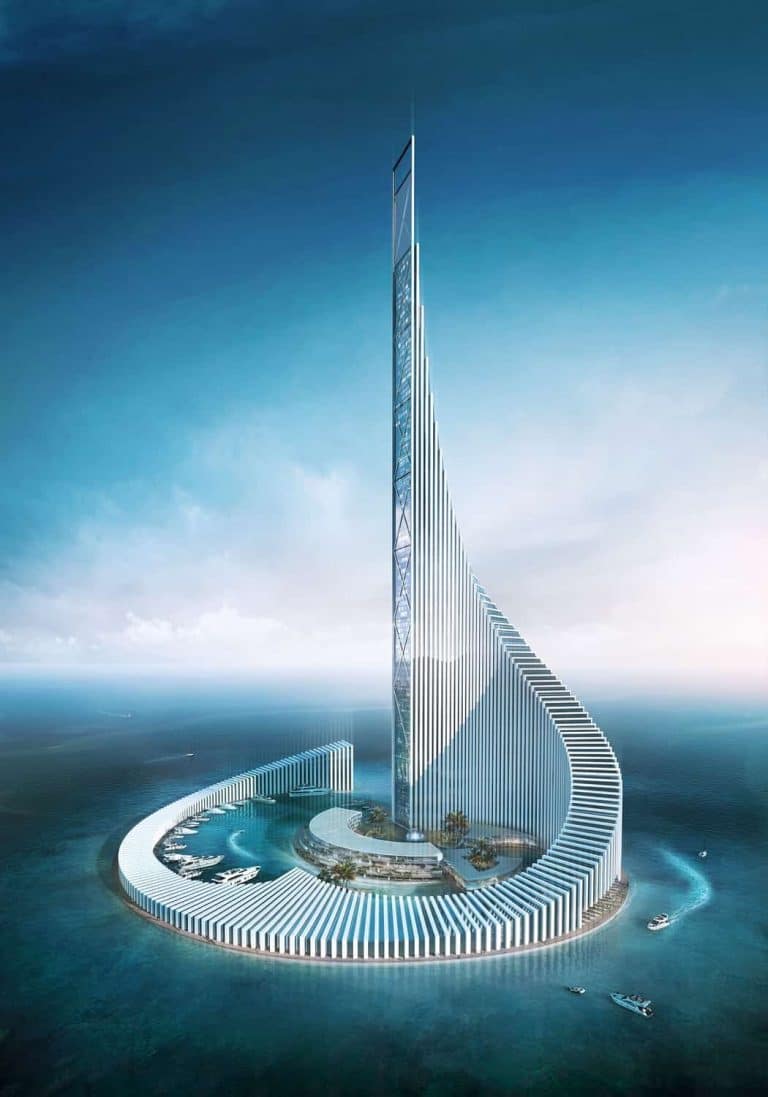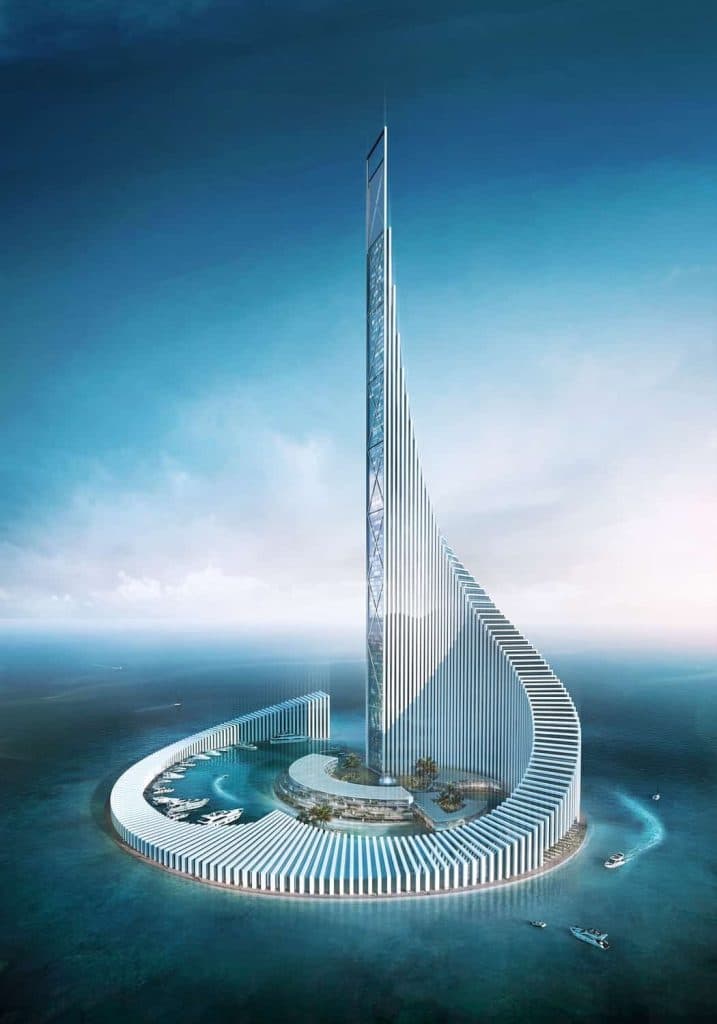 INFORMATION
Client: Zanzibar Government, AICL Group & Crowland Management Ltd.
Branding: Multi-brand strategy
Services: Lead Design Architect, Interiors, Branding & PR
Typology: Mixed-Use Destination Planning
Location: People's Republic of Zanzibar and Pemba
Visuals with courtesy of xCassia