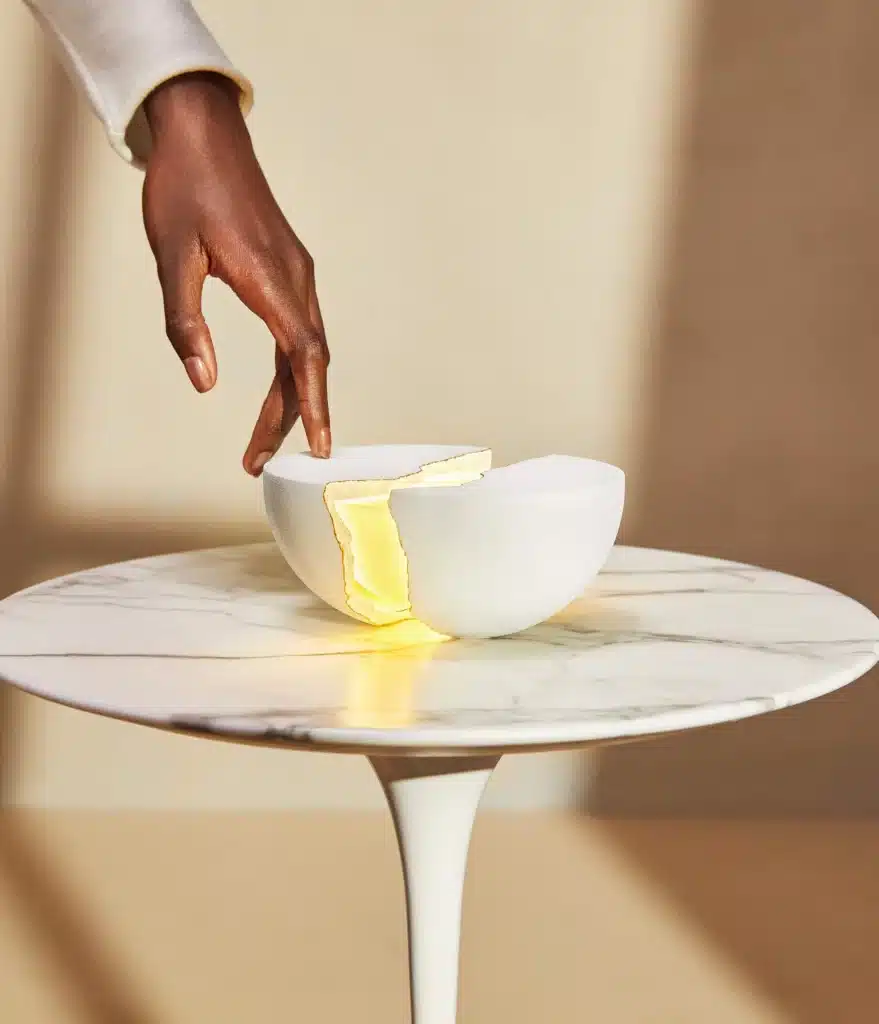 Teno is not just an ordinary speaker and lamp – it's a work of art that brings together high-end audio, modern design, and innovation. Designed for audio enthusiasts and individuals with a keen eye for aesthetic appeal, Teno is an exquisitely crafted sculpture that showcases an alluring kintsugi "scar" that separates its two halves.
But that's not all. Teno magically transforms into a powerful speaker and beautiful lamp when its two halves are pulled apart. This unique multi-functional feature makes it a perfect choice for individuals who value timeless beauty, exceptional audio quality, and state-of-the-art technology.
Teno has garnered worldwide acclaim, winning two prestigious "Best of the Best" Red Dot Awards for Innovative Product and Audio Design. Forbes has hailed it as an "object of wonder," and rightly so. Teno is a masterpiece that combines form and function seamlessly, delivering an unparalleled audio and visual experience.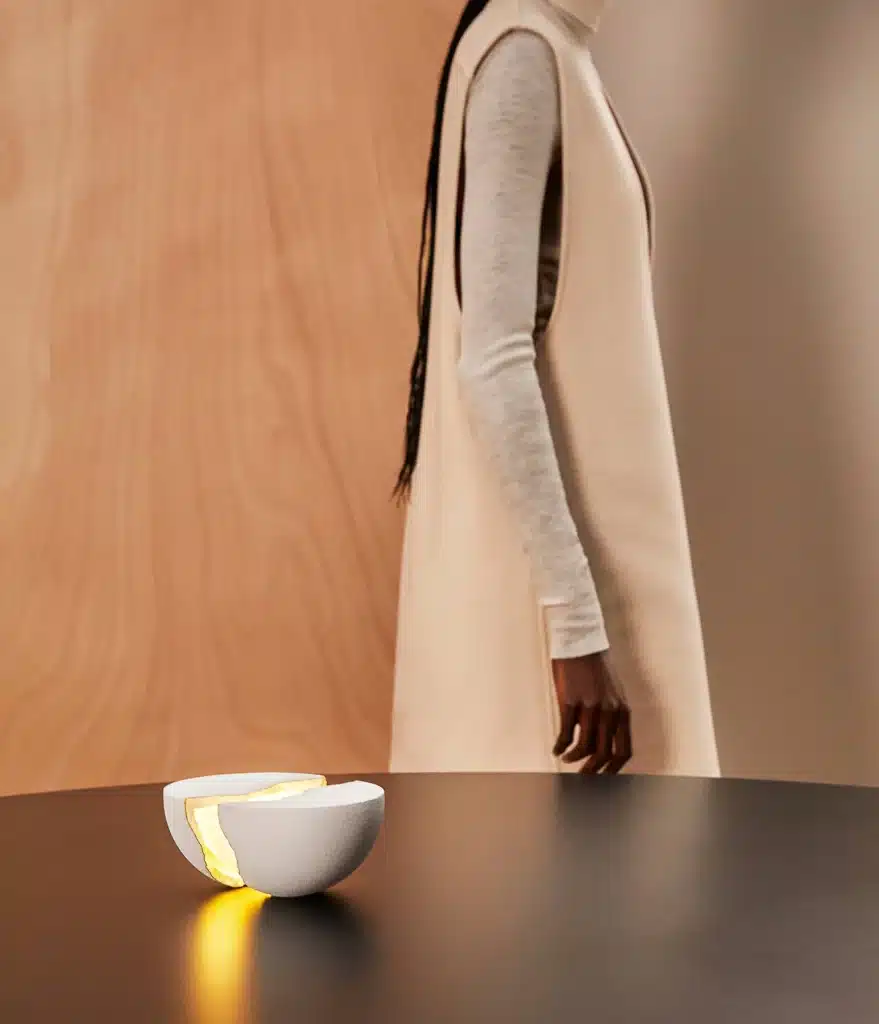 The Power of Immersive Sound – Small in Size, Big on Audio Quality
Teno may be small in size, but its audio capabilities are nothing short of impressive. Equipped with a state-of-the-art Bluetooth 5.0 chip and a 20W class-D amplifier, Teno delivers a powerful and immersive audio experience. With minimal distortions, you can enjoy your music without any compromise on audio quality.
Teno's 45mm full-range driver adds to the exceptional audio experience, delivering deep bass and crystal-clear treble that fills any room. All this from an unseen source, emanating almost magically with the soft glow of this unique bowl sculpture.
Whether you're looking to enjoy your music, watch a movie, or simply set the mood, Teno is the perfect device for all your audio needs. Its compact size and impressive audio quality make it a versatile addition to any room in your home.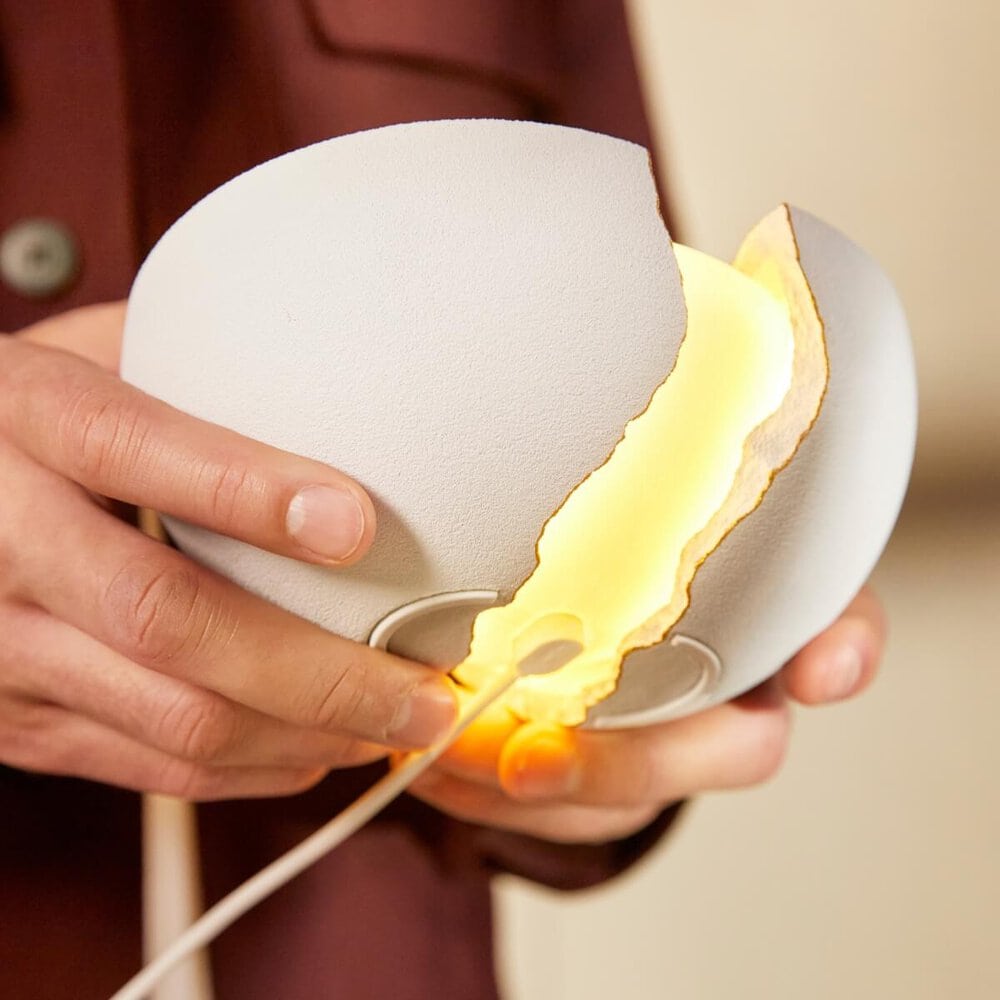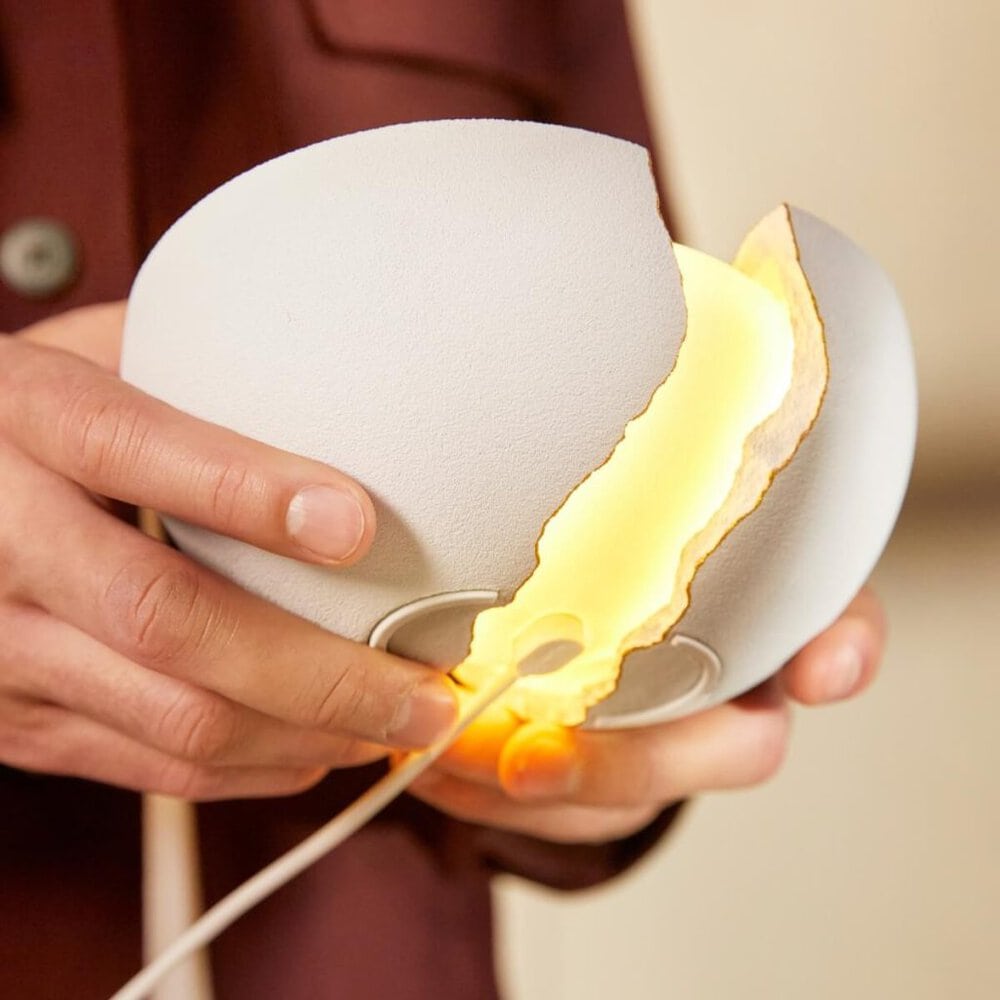 The Magic of Intuitive Controls – Easy-to-Use Gestures for a Seamless User Experience
Teno's intuitive design makes it easy to use and enjoy. Crack it open to turn it on, and it comes alive with the touch of your fingers. With intuitive finger gestures, you can control the volume by sliding your fingers up and down along its side. When you're finished, simply piece it back together to turn it off.
Teno's thoughtful design is all about providing a seamless user experience, making it feel a little like magic. Its easy-to-use gestures allow you to enjoy your music without any complicated controls or settings.
Whether you're a tech-savvy user or a beginner, Teno's intuitive controls make it easy for anyone to use. Experience the magic of Teno's intuitive design and take your audio experience to the next level.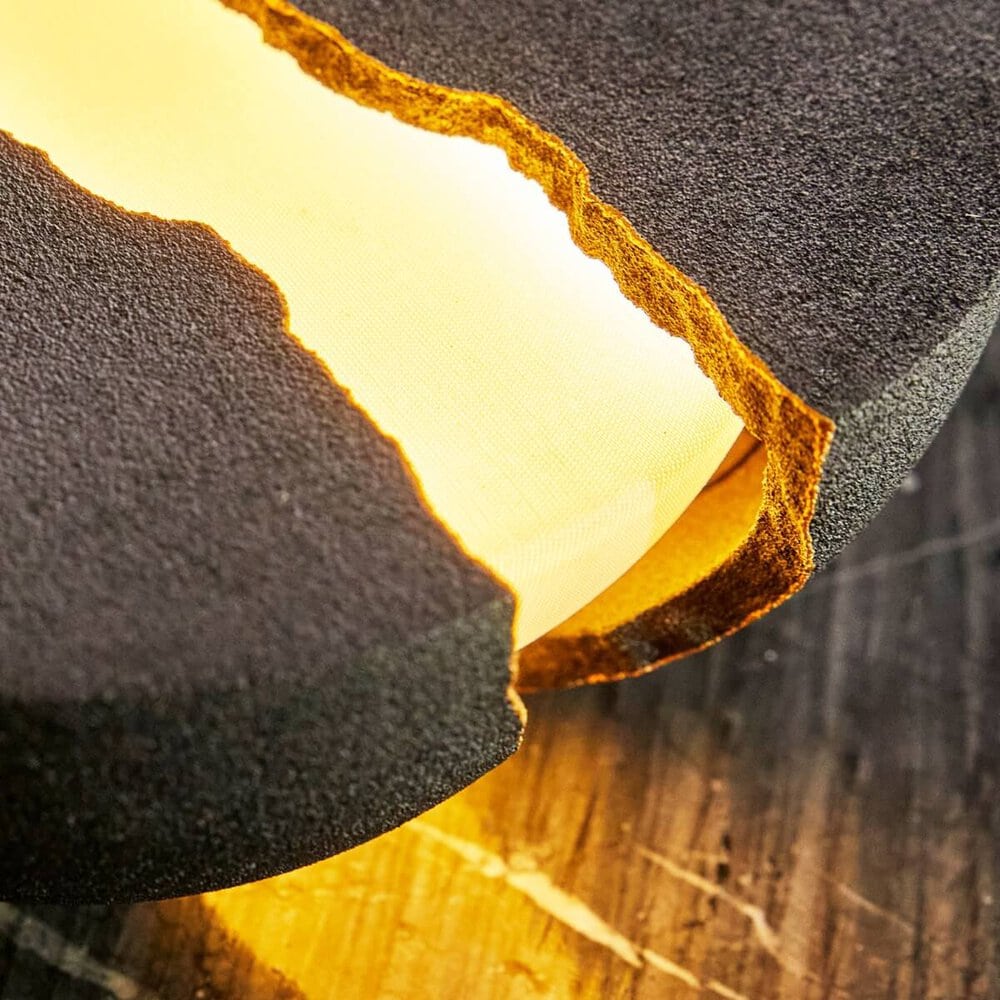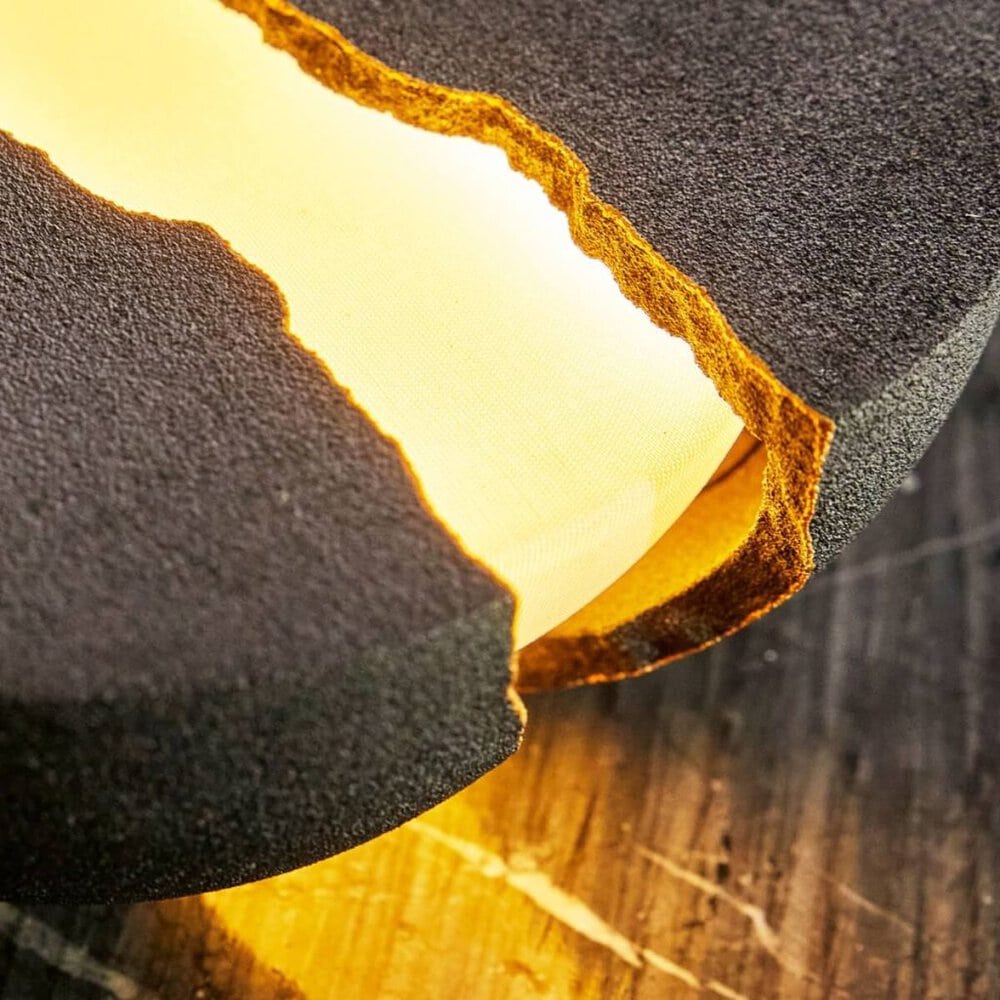 Perfect Automatic TWS Connection – Ideal for Indoor and Outdoor Use
Looking to take your audio experience to the next level? Open two Teno devices, and they will automatically connect, providing you with a perfect stereo sound experience for your next movie night, whether indoors or outdoors.
Teno's Automatic TWS (True Wireless Stereo) connection ensures that you can enjoy a seamless audio experience without any complex setup or configurations. With Teno, you can easily immerse yourself in your favorite music or movie, feeling like you're right in the middle of the action.
Whether you're hosting a party or simply relaxing at home, Teno's TWS connection provides you with the perfect audio solution for all your needs. So why wait? Experience perfect stereo sound with Teno's Automatic TWS Connection and elevate your audio experience to new heights.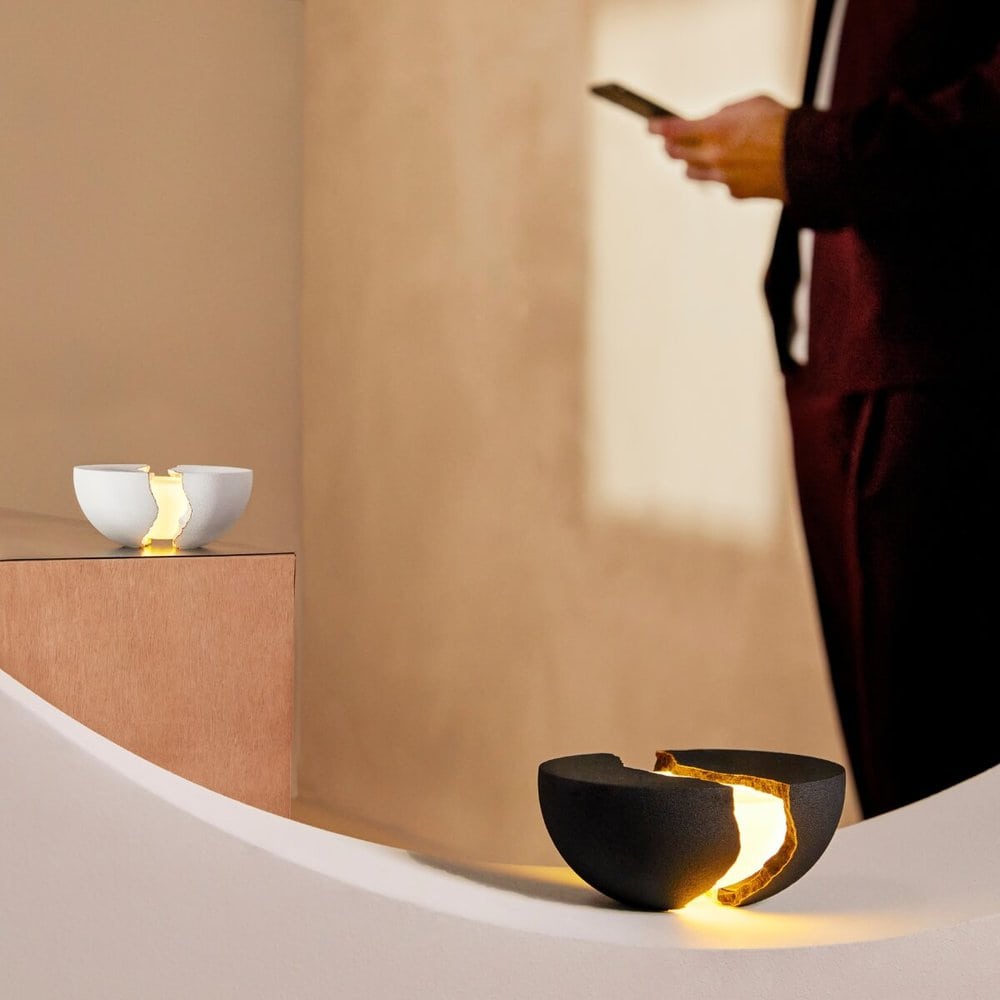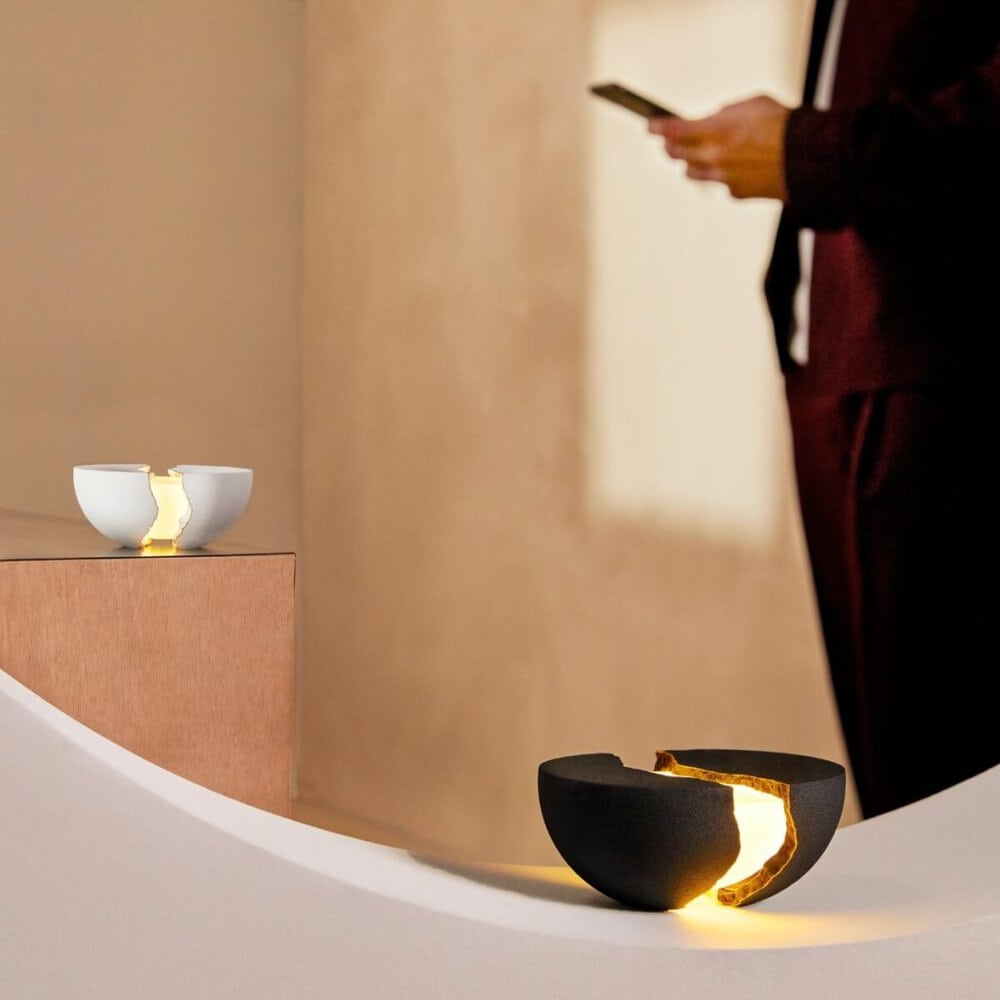 Adjustable Light Settings – Create a Warm, Calming Atmosphere with a Simple Tap of Your Finger
Teno's unique design not only delivers exceptional audio quality, but it also creates a warm and inviting atmosphere with its radiant light. With Teno, you control the vibe and can adjust the light settings to suit your needs with a simple tap of your finger.
Whether you're looking to relax after a long day at work or set the mood for a romantic evening, Teno's adjustable light settings provide you with the perfect ambiance. Its warm, calming light creates a cozy atmosphere that enhances your overall audio experience.
With Teno, you can enjoy your music or movie in the perfect setting, with just the right lighting to set the mood. So why wait? Experience the perfect blend of light and sound with Teno and take your audio experience to the next level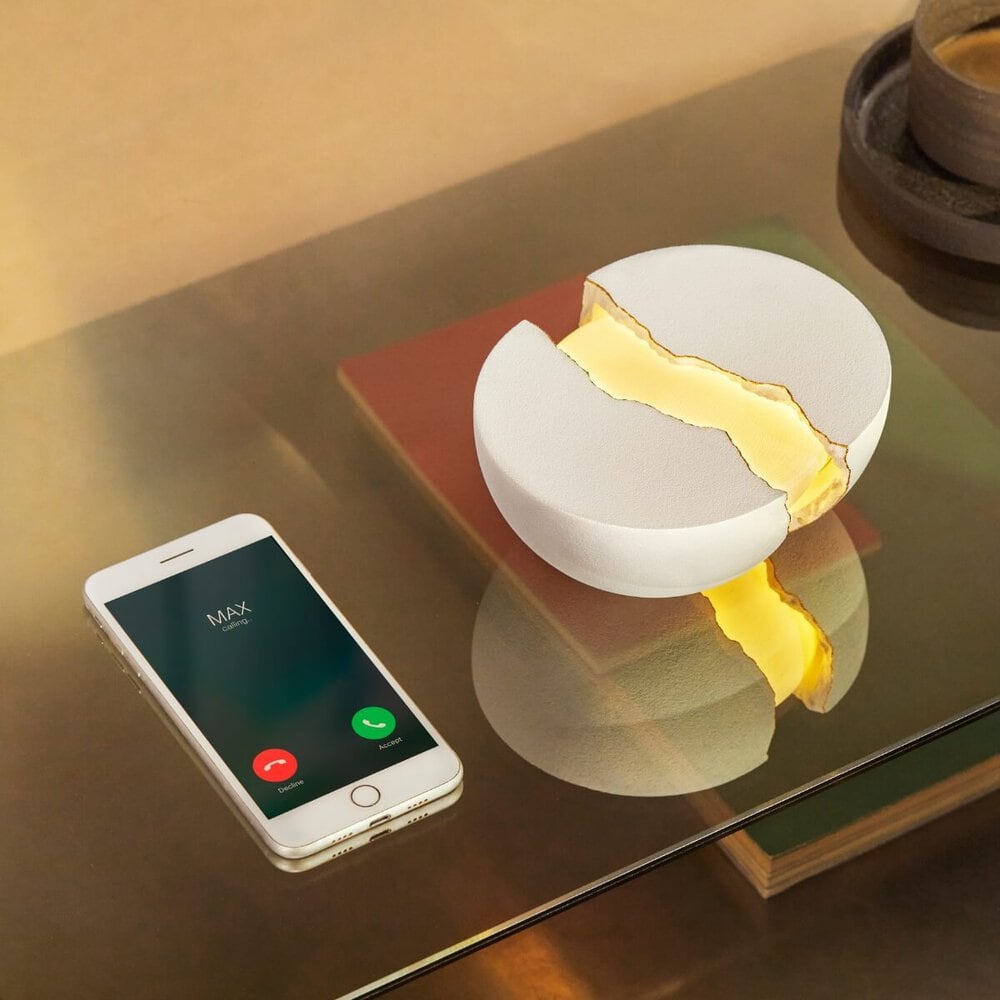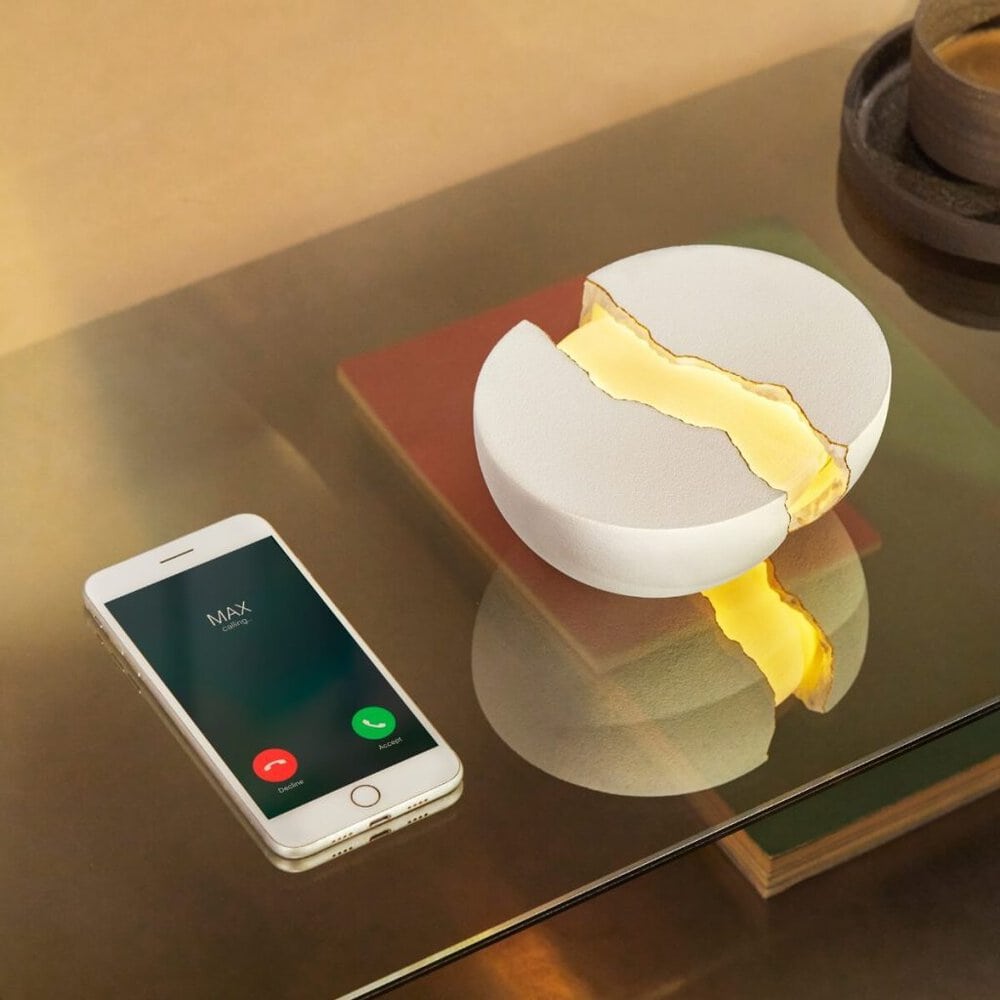 Stay Connected on the Go with Seamless Speakerphone – Never Miss a Call Again
With Teno's seamless speakerphone, you can stay connected on the go without ever missing an important call. Teno automatically pauses your music when a call comes in, allowing you to answer your phone with ease, even when your hands are full.
Whether you're cooking, cleaning, or just enjoying some downtime, Teno's hands-free feature ensures that you never miss an urgent work call or important message. Its intuitive design makes it easy to switch back and forth between calls and music, so you can stay connected without any interruption.
Teno's seamless speakerphone is the perfect solution for anyone who is always on the go and needs to stay connected. So why wait? Experience the convenience of Teno's seamless speakerphone and never miss a call again.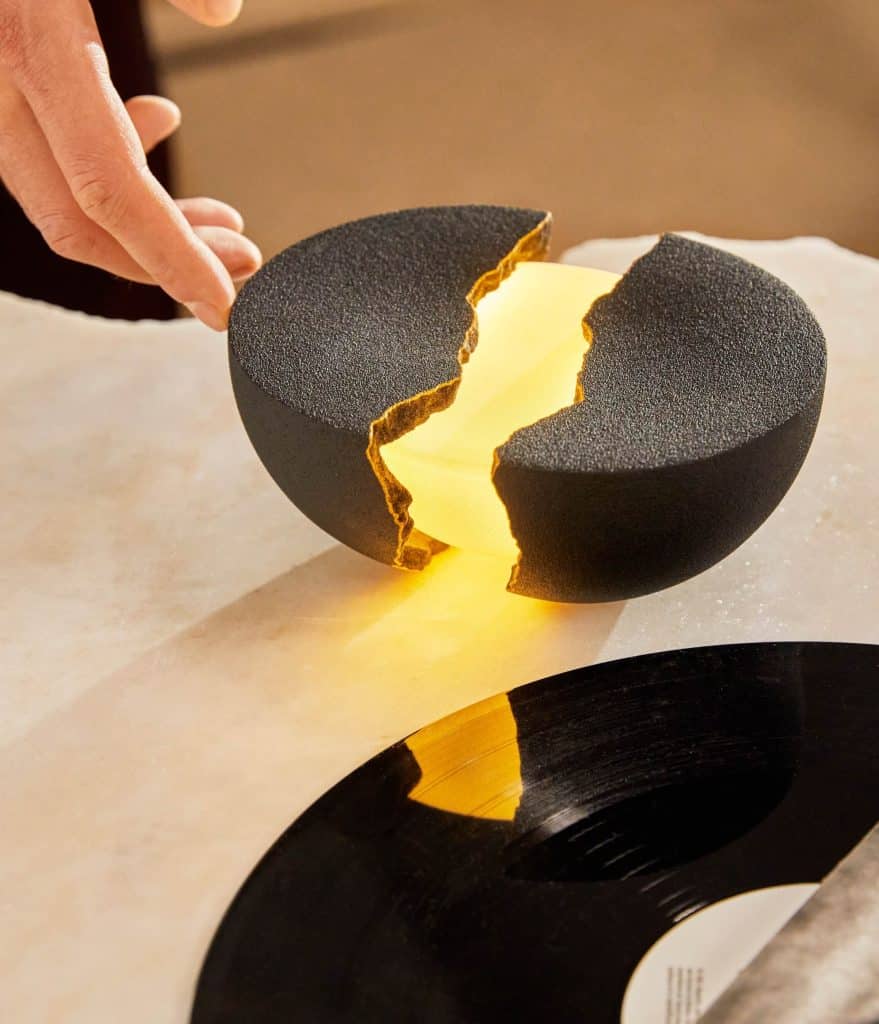 Built to Last – Timeless Design and Quality Materials Ensure Durability and Sustainability
Unlike most tech products that are designed to be obsolete soon after their release, Teno is built to last. Its natural textured sand material not only gives it a unique and timeless look, but it also ensures its durability and sustainability.
Teno's quality materials and thoughtful design mean that it will only get more beautiful over time, developing a natural patina that adds to its charm and character. Unlike many other products that end up in landfills, Teno is built to last and can be enjoyed for years to come.
At Teno, we are committed to creating products that are not only functional and innovative but also environmentally responsible. With Teno, you can enjoy the best of both worlds – a product that is both durable and sustainable.
So why wait? Invest in a product that will stand the test of time and make a positive impact on the environment. Choose Teno and experience the beauty and durability of a product built to last.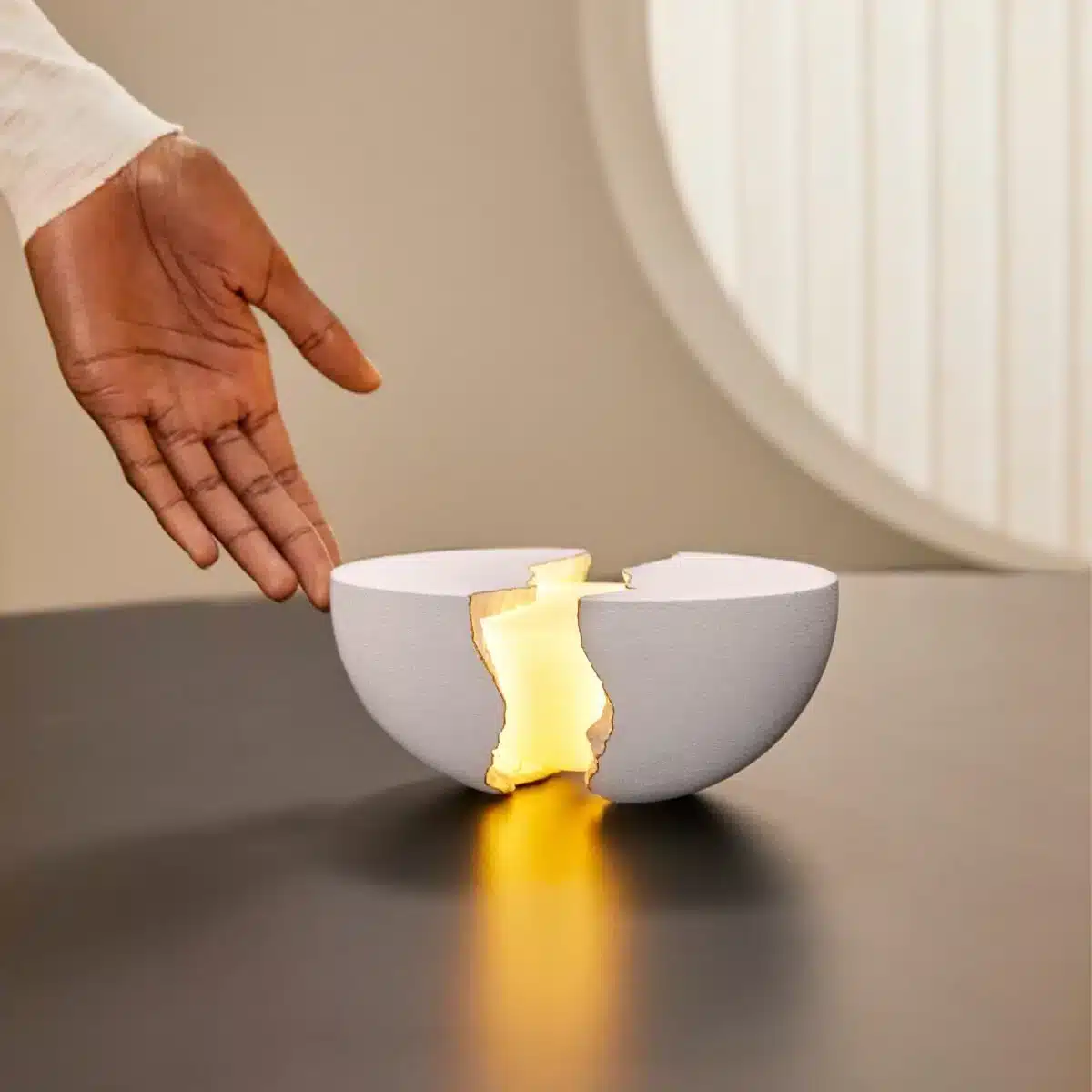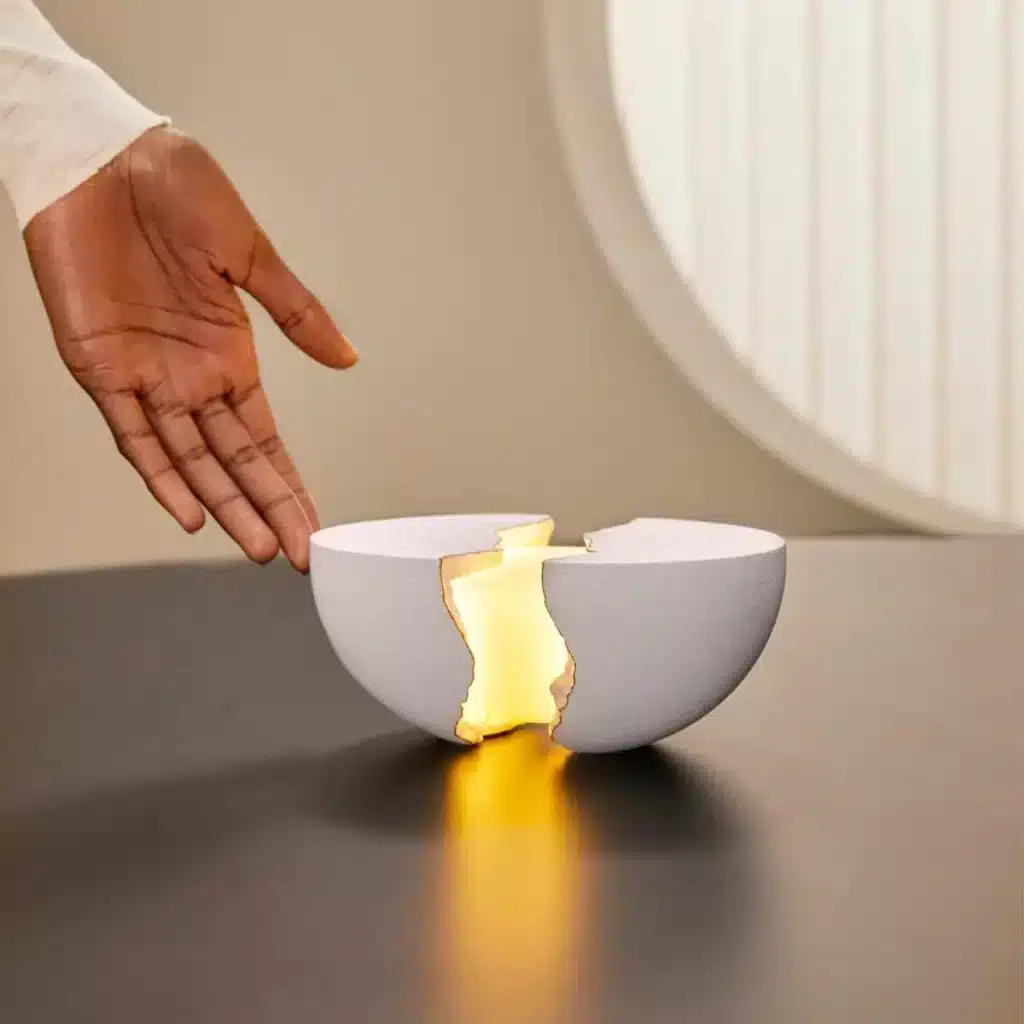 Effortless Charging Custom USB-C Cable – Enjoy up to 8 Hours of Uninterrupted Audio
Teno's discreet design includes a custom USB-C charging cable that seamlessly blends into its aesthetic. With its long-lasting battery, Teno can deliver up to 8 hours of uninterrupted audio on a single charge, ensuring that your music or movie night doesn't get interrupted.
The USB-C charging cable is easy to use and ensures a fast and efficient charge, so you can spend less time waiting for your device to charge and more time enjoying your audio experience.
With Teno's USB-C charging, you can say goodbye to the hassle of searching for compatible cables or dealing with tangled cords. Its custom cable is designed to provide a seamless and effortless charging experience, so you can keep the music going without any interruptions.
So why wait? Experience the convenience of Teno's USB-C charging and enjoy up to 8 hours of uninterrupted audio on a single charge.