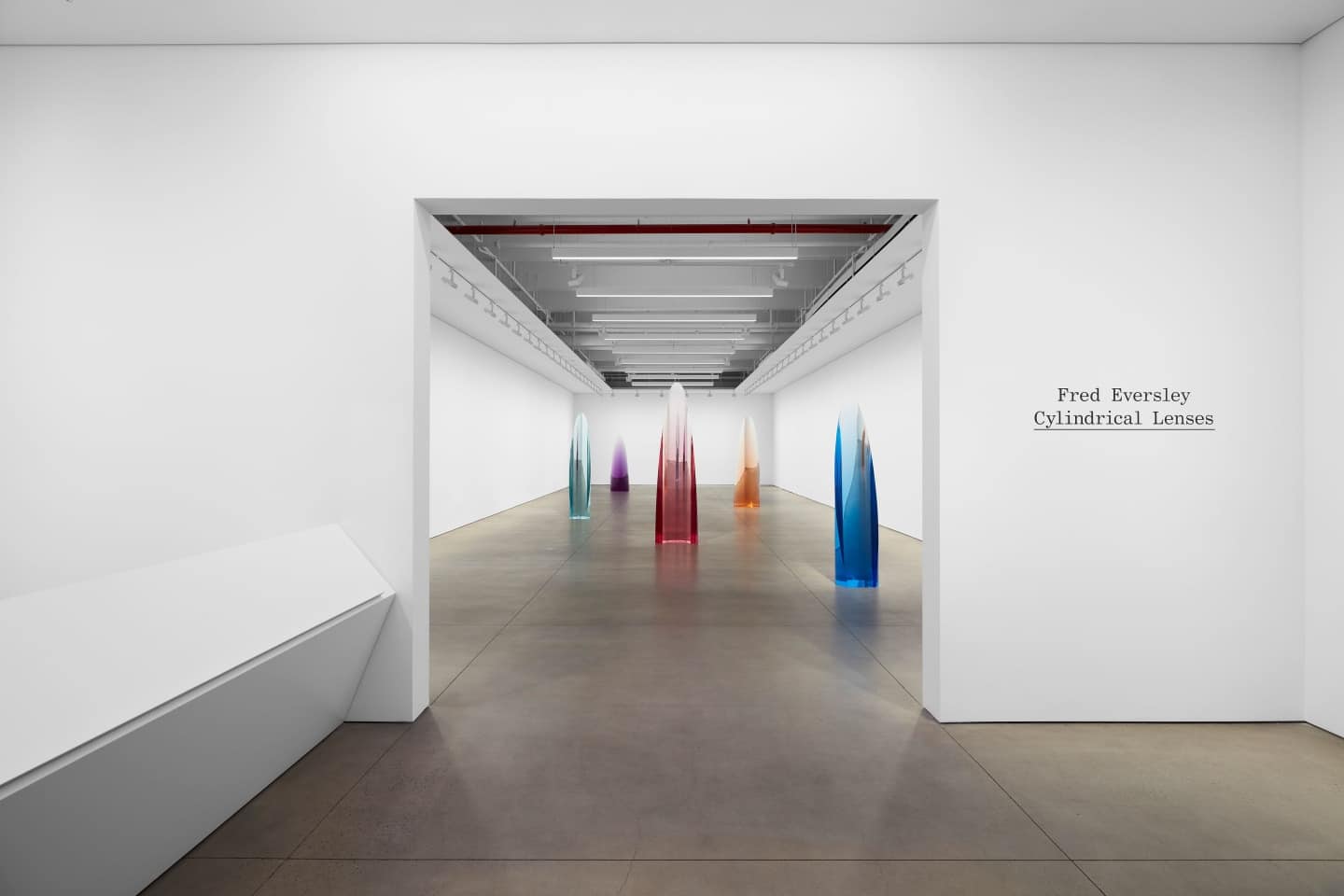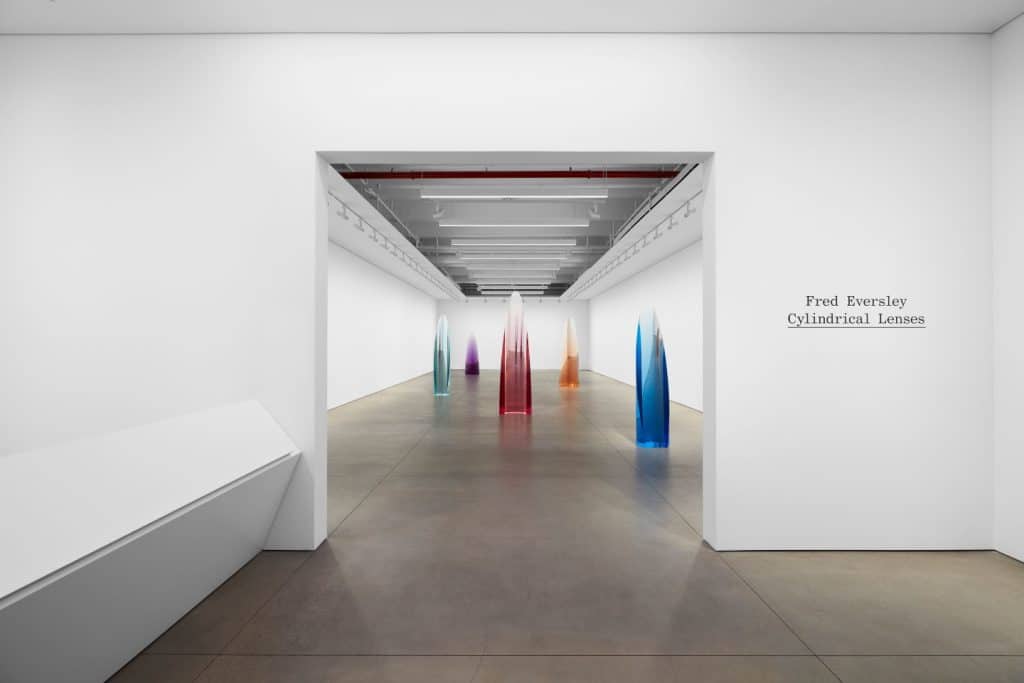 David Kordansky Gallery is delighted to present "Cylindrical Lenses" an exhibition showcasing new sculptures by renowned artist Fred Eversley. The exhibition is being held at 520 W. 20th Street in New York from May 6 to June 10, 2023. The opening reception took place on Friday, May 5, from 5 to 7 PM.
"Cylindrical Lenses" represents a significant milestone in Fred Eversley's six-decade career as a pioneering artist associated with the Light and Space movement. This exhibition marks his first solo gallery show in New York since 1976 and serves as an artistic homecoming. After spending over fifty years in Los Angeles, Eversley returned to his birthplace and childhood city in 2019.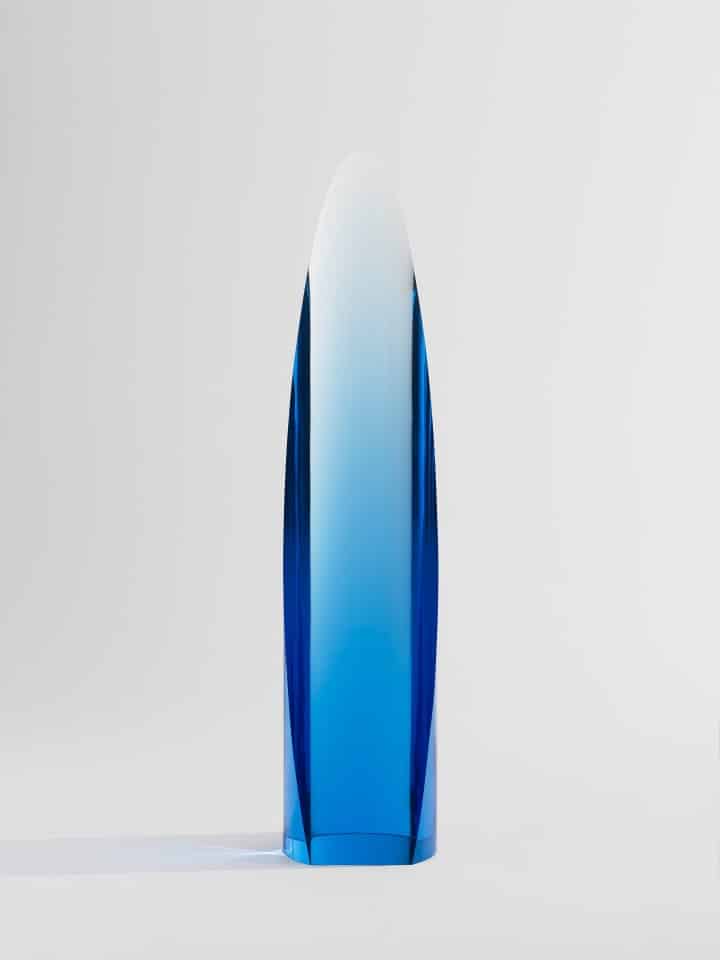 The exhibition introduces Eversley's latest major body of work, the large-scale "Cylindrical Lenses." Consisting of six monumental sculptures made of tinted resin, these free-standing objects range in height from seven to nine feet. They embody both the future and the past of the artist's vision, establishing significant connections to his earliest creations. The installation forms a sextet in a vibrant palette of violet, rose, coral, blue, cyan, and turquoise. The sculptures are strategically positioned to allow viewers to perceive each one individually and also experience them through one another, creating a multi-layered field of colors and visual entry points.
The concept of the "Cylindrical Lenses" finds its roots in Eversley's "cylindrical section sculptures," which were showcased in his first solo exhibition at the Whitney Museum of American Art in the spring of 1970. During this period, Eversley had recently transitioned from a career as an electrical engineer and developed his innovative technique of spinning liquid resin in concentric layers, using centrifugal forces within circular molds attached to a rotating lathe or turntable. The resulting casts were then cut and polished into various truncated shapes, gradually increasing in scale from a small diameter to heights of 6 to 10 feet. Although Eversley's focus eventually shifted to his well-known Parabolic Lens sculptures, it is only now, after more than five decades, that he has revisited the vision he described in 1970, bringing to life the "Cylindrical Lenses". This new body of work represents his first series of larger-than-human-scale, free-standing, floor-based resin sculptures.
By presenting the "Cylindrical Lenses" directly on the floor, Eversley establishes a direct relationship between his artwork and the viewer's body, intensifying the immersive visual effects characteristic of his Parabolic Lenses. Eversley's background in science, particularly his interest in the parabola as a shape that focuses all forms of energy on a single focal point, has long informed his artistic endeavors. He states, "My work is all about energy," and his exploration and pushing of the boundaries of the parabola have remained central to his artistic practice. In the "Cylindrical Lenses" he employs plano-convex lenses within cylindrical tapered sections, focusing light to a single line. The silhouettes of the sliced, angled planes create parabolic arcs, grounding the viewer's bodily experience while directing the gaze upward. The geometry of the sculptures also influences the experience of their monochromatic hue, which transitions gradually from rich saturation at the base, where each object meets the floor, to colorless transparency at the top.
The simplicity and sophistication of the geometrical mass of the "Cylindrical Lenses" allow them to function as perfect optical instruments