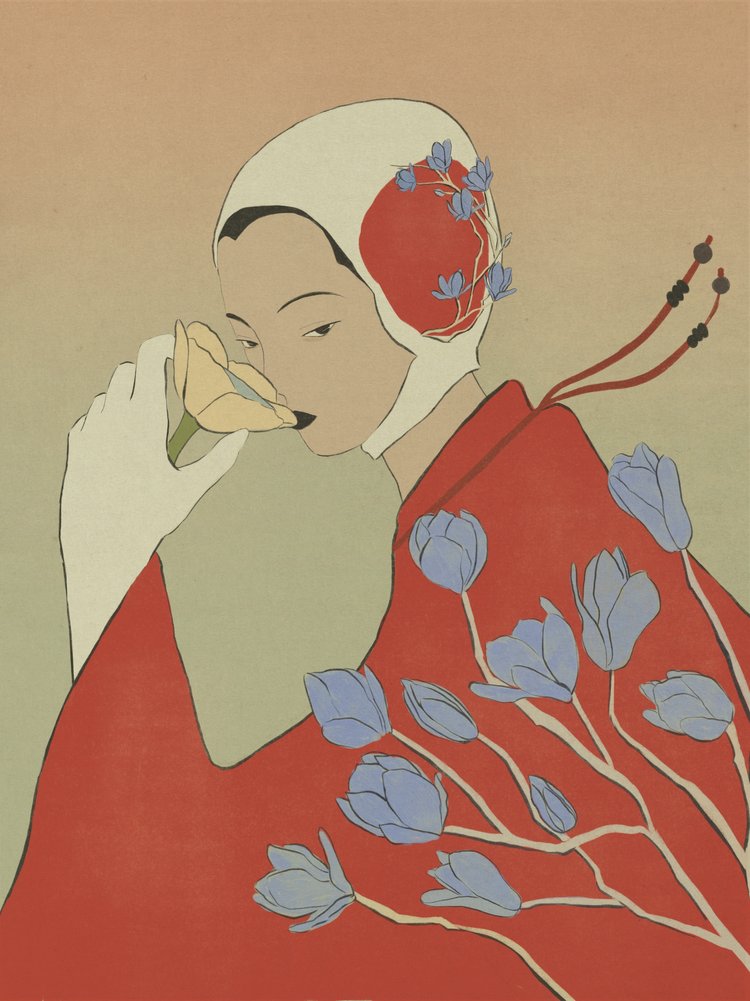 Please introduce yourself
Hello, I am Lea Woo, a Shanghai-based illustrator who graduated from Edinburgh College of Art. Most of my works focus on illustrating stylish oriental woman figures in vintage and elegant way. I also draw nature and flowers, could say that woman and nature would be the major topic in my works. I enjoy using a gray-toned palette with lower color saturation and adding paper texture to create a vintage, subtle and poetic atmosphere which can bring the viewers a sense of calmness, tranquility, and peace.
How did you get into art, and what motivates you to create?
I realized I was interested in drawing and visual art at a very young age probably when I was in kindergarten, I remembered I watched a Disney cartoon called PepperAnn and tried to draw the main characters myself this was the very first time I practiced art that I can recall although I didn't have many skills and even drew things ridiculously, I found great pleasure and healing power from drawing because when you focused on it you nearly forgot all the other life bothering. A lot of motivations come from many kind messages I received from people who followed me on social media and other artists whom I admire a lot. More importantly, I received great support from my partner who always trust in me and appreciate my work I gain a lot of confidence from those people.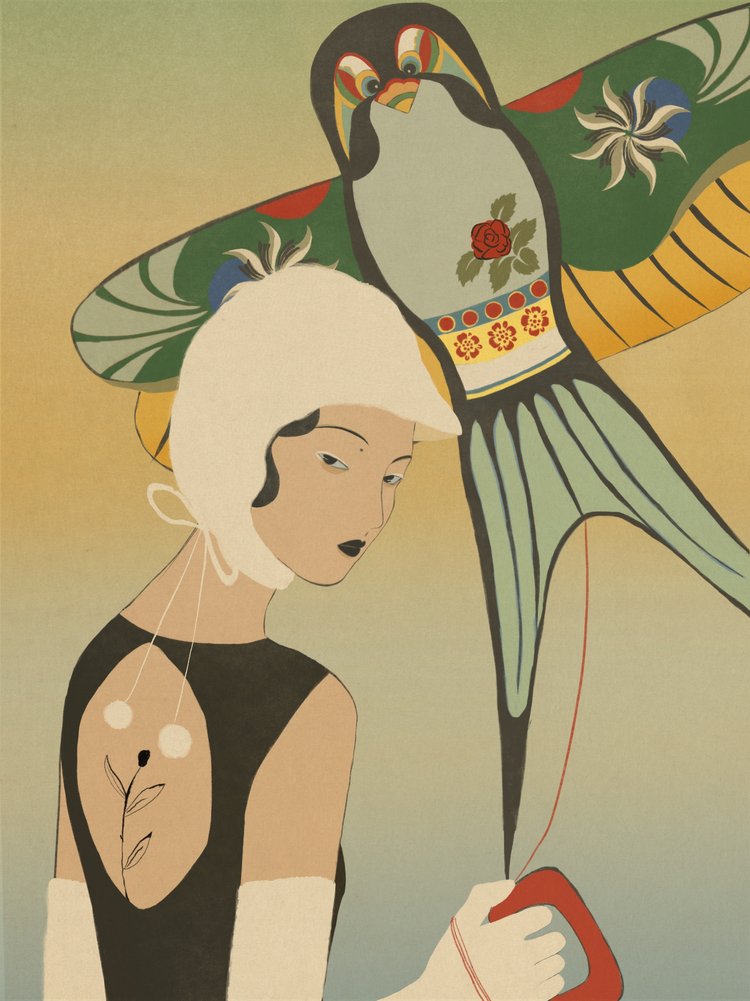 What memory do you recall most vividly from childhood about your creative talent?
I do remember when I was in primary school, I sometimes helped my classmates to finish their homework for the art classes and they gave me some snacks or money in exchange for the good grades they received and I just had a vague feeling that I might take on something related to art.
How would you best describe your style, and who/what are some of your major influences?
Just to name a few of them, I am influenced by artists like Matisse, Milton Avery, Sanyu, Pierre Boncompain, and Will Barnet I was impressed by their unique perspectives of depicting women, nature, and other normal things in life. Simple but moody and deep in thought, I guess this is also what I want to achieve in my works. I am also obsessed with art deco and vintage fashion style, that is why I add retro mood to my works.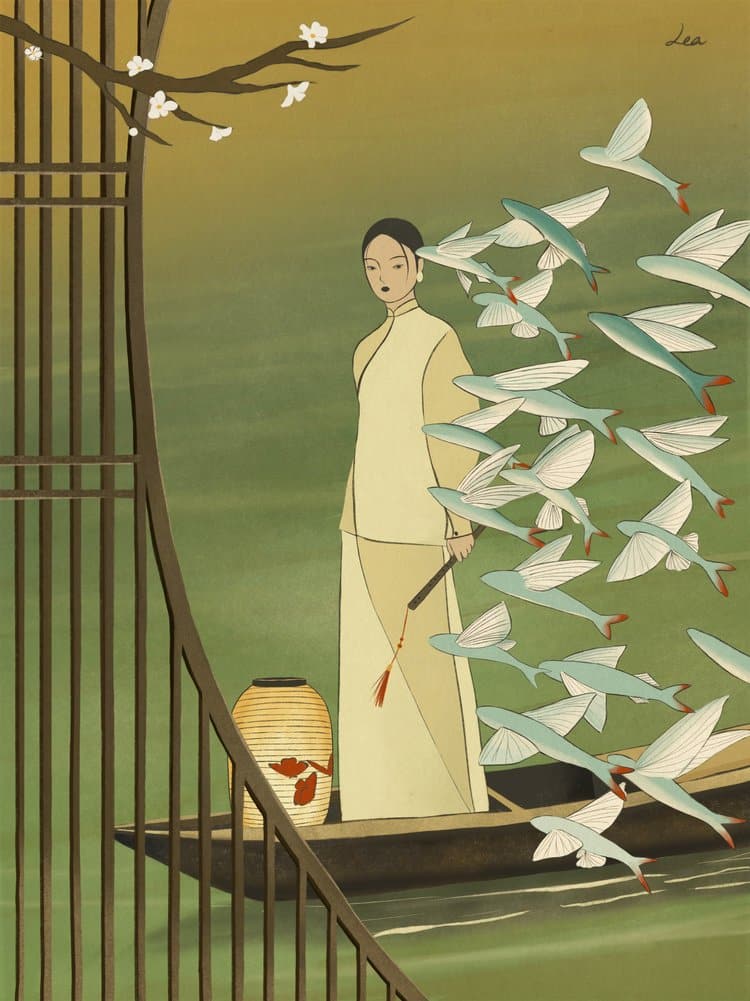 What part of the creative process would you rather avoid and the part you can't get enough of?
There is barely any creative process that I really want to avoid I am actually quite open to different creating methods but if I have to choose one I am not very used to drawing fixed sketches and strictly stick to that sketch during the drawing process. I love unexpected happy accidents and drawing like doing a collage. For example, I tend to collect some beautiful or interesting elements I met in life or online and try to draw them down in case there is any chance that I can apply them to my future works, and I mix different things together to see if they match well and it is very fun.
How do commercial pressure and the business of art affect, shape, or guide your creative decisions?
I am now working on a commercial project for a fashion brand it is very stressful indeed because unlike doing your own project you have full freedom to experiment as much as you wish and there is no one to judge your work during the process but if you are working for someone, other than making the works pleasant to the eye you have to also take many other things into consideration, for example, the things you illustrate need to convey the brand spirit or look good on their product, so you have less freedom on choosing colors or topics and you need to be extremely careful in every detail and sometimes your personal style need to yield to brand preference. It is not easy to adjust to that but I am learning to find a balance between them.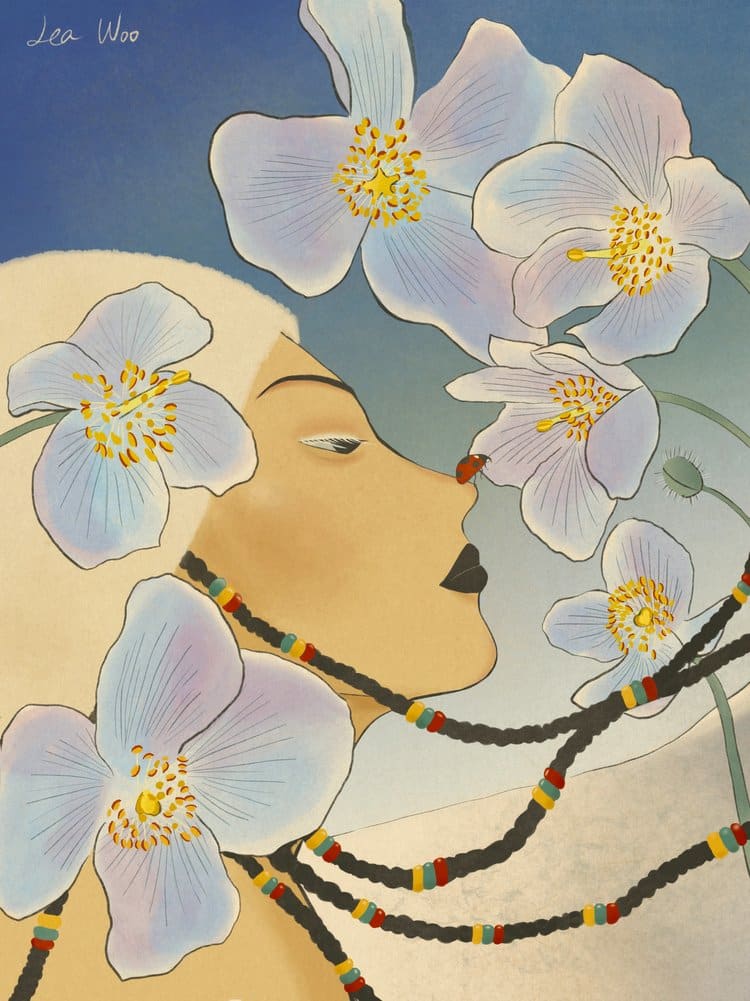 Your favorite book, song, or film.
I am not quite a reading person but I enjoyed reading Ryunosuke Akutagawa the letters Van Gogh wrote to his brother Theo I also love reading comics and essays from Chinese writer Fong Tse KA. I listened to many different music from Hip Hop to R&B and sometimes classic music and one of my favorite music band is Hyukoh and I love their music and style. 'Friends' is my all time favorite TV series and I also love animations from Kon Satoshi.
Send a message to your future self.
I don't know if you have achieved what you want now but I believe you have grown a lot as an artist. Please keep in mind that things not always move on smoothly as they are planned to be and there is sure to be more struggles or even pain on the road. But I think you can overcome them now just as you did in the past. This is how you absorb your nutrients and what makes you better. I am happy that you made it and please always believe in yourself and send love and spread positive vibes to those who love you. I am pretty sure when you look back there is nothing to regret about.