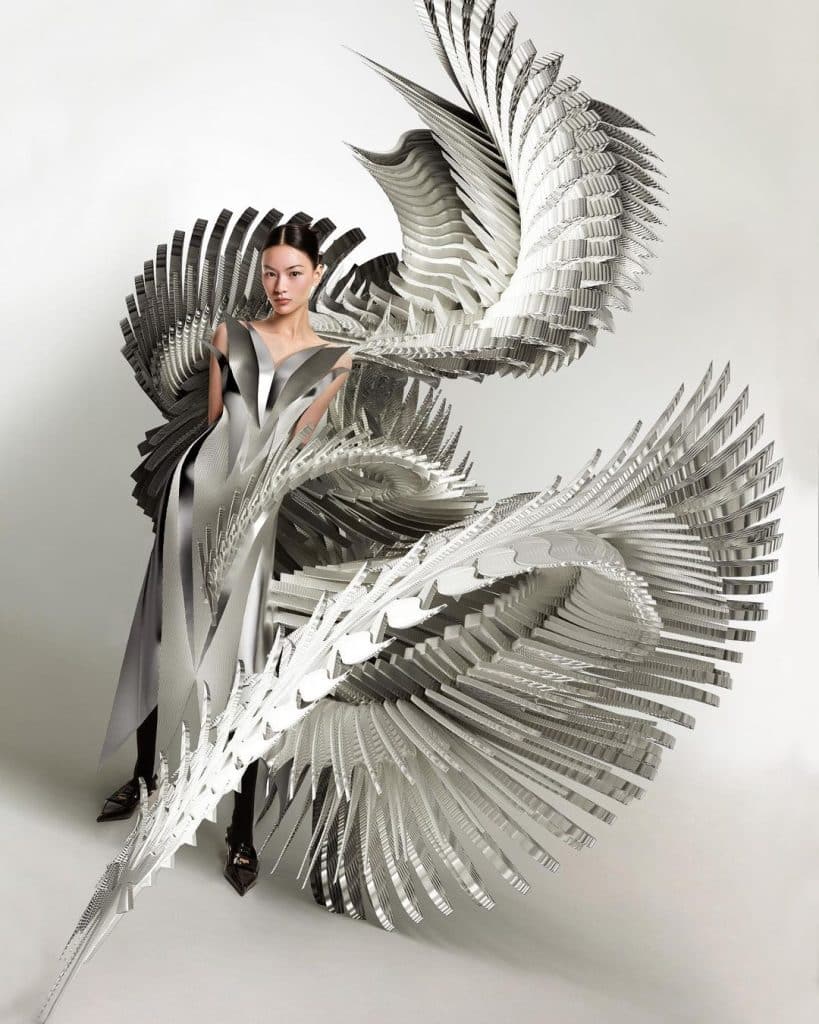 In your own words can you please explain your design DNA?
"Parametric Nature" is the core of my aesthetic research, the organic integration and unity of opposable things, the balance between straightness and curves, hardness and softness, flamboyance and elegance, order and disorder are the main creative styles of YIMENG YU. My works are often use artificially editing way to recreate the naturally growing forms: the folds of fish tails, the fluff of birds, the breath of clouds, the mimicry of metals…You can see the symbiosis between artificial and nature, the combination of mechanical and biological, and the collision between rationality and sensibility in my works.
I am obsessed with creating "disorder" with "order", designing a "design machine" through algorithm-assisted generation to iterate endless possibilities of form, and combining bottom-up driven generation with top-down aesthetic control to output unpredictable but controllable designs. The balance is what I am seeking for, maybe it has something to do with the fact that I grew up in China, which values the golden mean and the balance of Yin and Yang.
What do you seek to add to the world through your creations?
Currently my core research is digital fashion, in this context, I would seek to experiment innovative artistic language, in the meanwhile, find a way to connect digital fabrication. Using digital tool to design and produce is a way can totally free my imagination, new shapes, silhouettes and materials beyond the physical world can be created endlessly.
On the other hand, the design, production and application of digital fashion are more waste free and sustainable. Digital fashion can share some of the human needs that traditional fashion industry needs to meet in the virtual world. For example, the establishment of people's online identity can be achieved through virtual wearing. This is also what I want to achieve through my creation.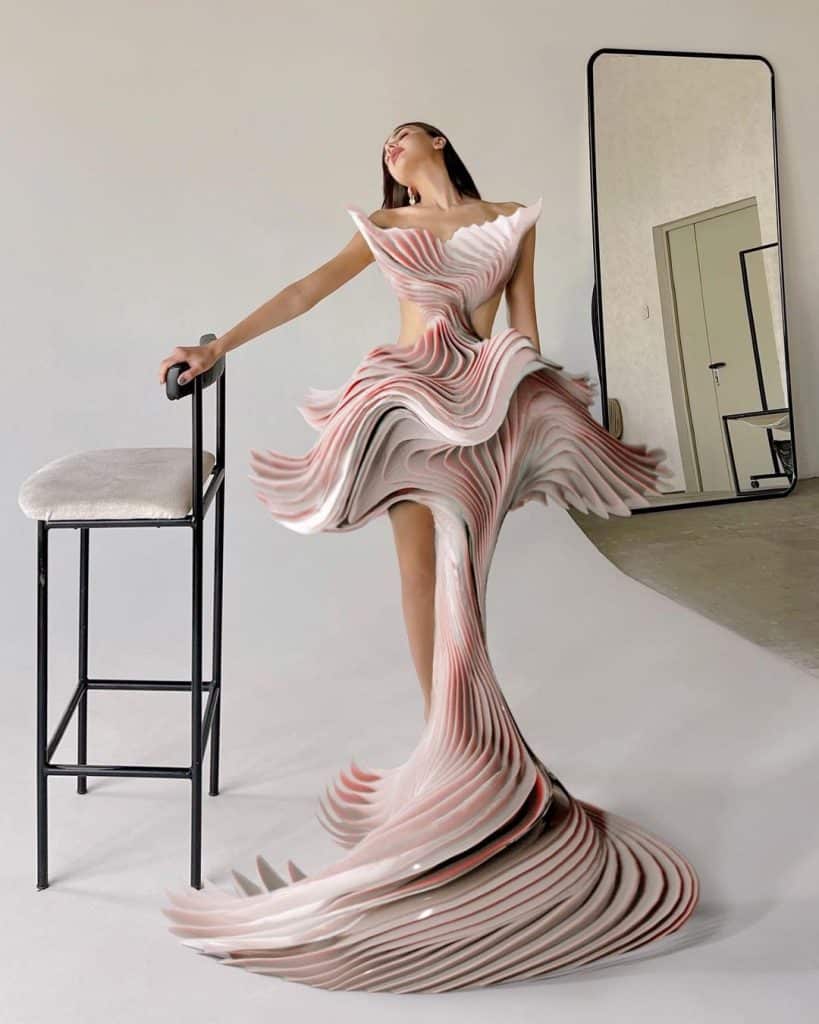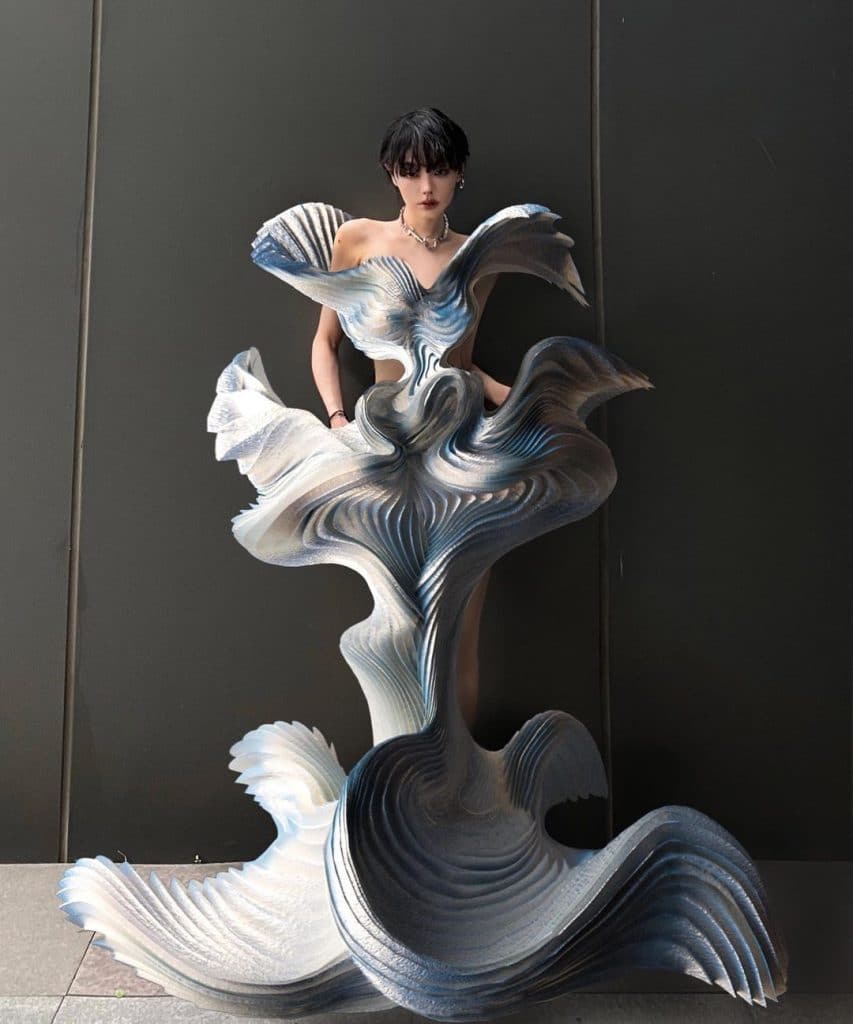 What are your feelings about fashion's role and responsibility in shaping culture?
Fashion is closely related to the spiritual culture and material life of human beings, and it is also a huge industry in society. Therefore, fashion plays an important role in both human life and society operation, and the influences also become the core factors shaping culture.
Fashion is an important way of shaping people's identity, fashion can be a material medium to carry specific symbols, convey specific meanings, and set off new cultures and trends. In the meanwhile, the development of fashion also affects the people's lifestyle. For example, the development of sustainable fashion is also quietly changing people's life and thoughts, which is a two-way process, but it is also the responsibility of fashion.
Do you think the fashion establishment helps or hinders creative progress? Where can the system improve?
I think the pace of fashion is getting faster and faster, and it has to do with seasons but it also has to do with business operations. On the one hand, the current fashion establishment ensures the rhythm of creative production and promotes the prosperity of fashion industry, but on the other hand, the seasonal collection release limits the possibility of systematic innovation to some extent, and the arduous development task will also dry up the creativity.
It is essential to optimize, upgrade and transform the fashion system by analyzing current human needs and future industry trends. The research and development of new business models, the optimization of supply chain processes, and the intervention of new technologies and productivity all bring the possibility of the innovation of fashion system.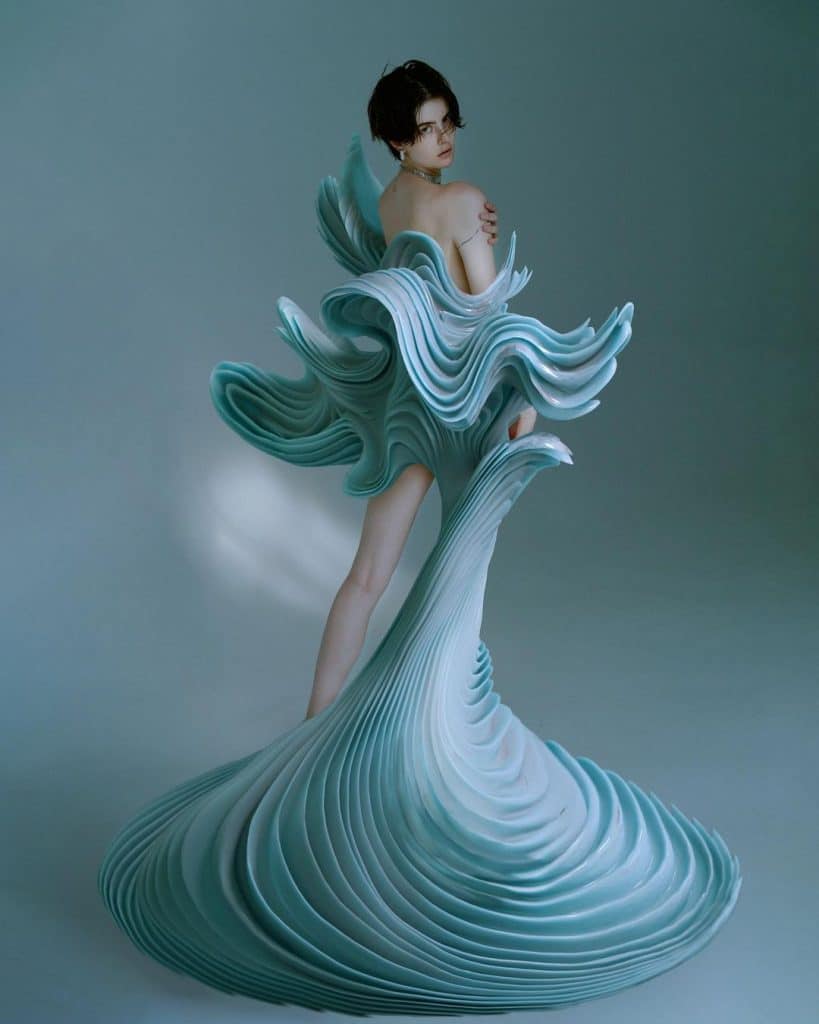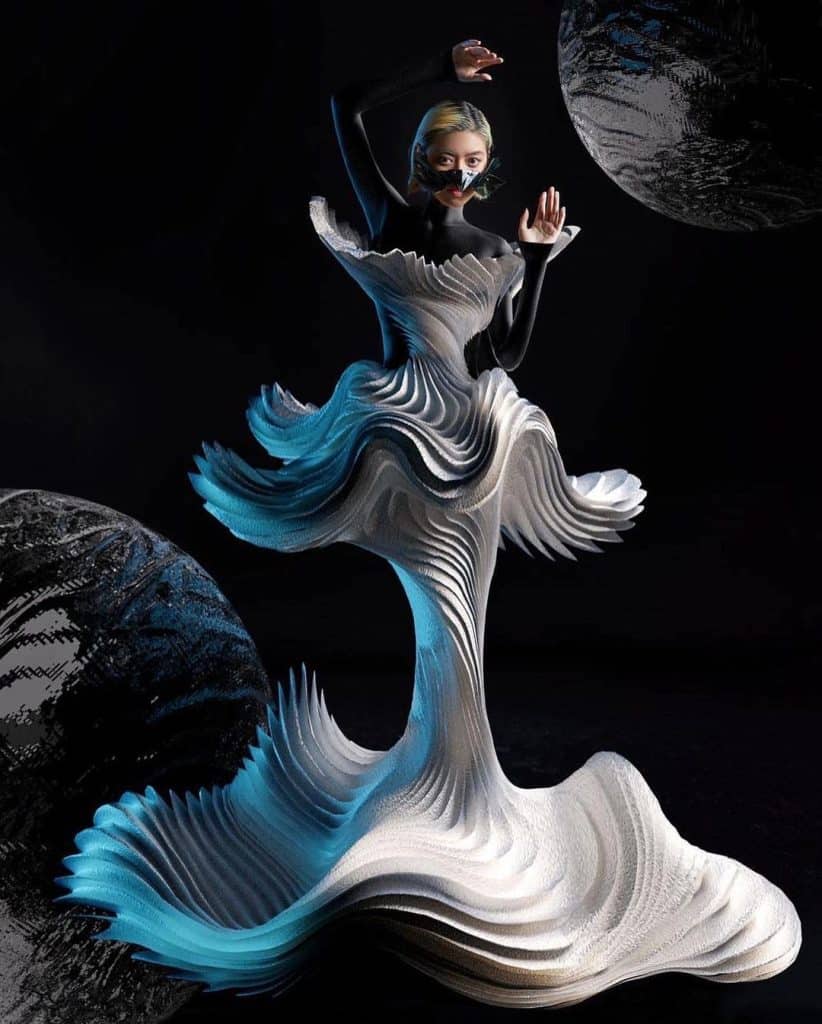 What has been the most surprising part of your job that you didn't expect when you first began?
The endless possibilities of algorithm-assisted generation in fashion designing. When I use digital tools to assist my design generation, I will find it completely releases my imagination and my hands, as well as greatly improves my efficiency. I can complete very fancy works just sitting in front of the computer, which enables me to create and iterate my design quickly.
At the same time, Algorithm-generated design can calculate endless possibilities through the rules setting by human, which is very powerful, I believe that better collaboration between designers and machines can greatly expand the boundaries of design and creation.
How do you imagine the future of fashion?
I would like to talk about this in the context of digital age. I think the future of fashion is decentralized, mass customizable, and mixed reality. There will also be more diversity in the way fashion is created and experienced. This is becoming possible as digital technology matures, an immersing and personalized experience world is coming.
Every technological change will bring the change to the fashion industry, and I also look forward to new technologies and new applications to bring more imaginative space.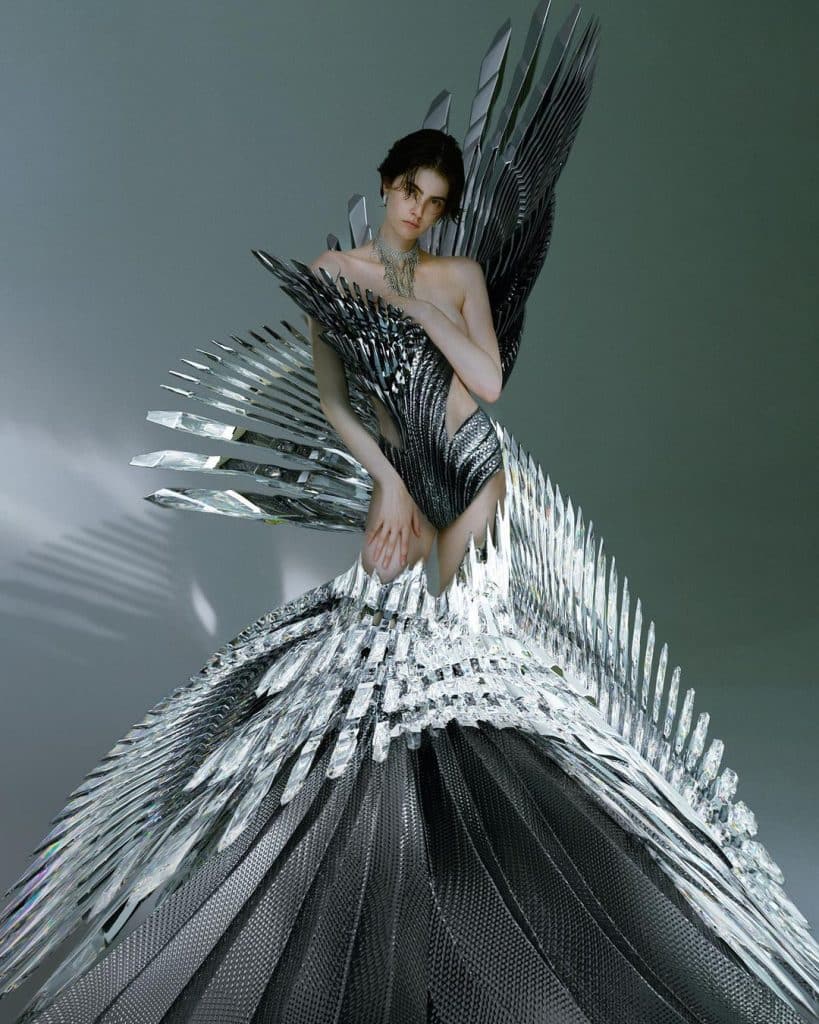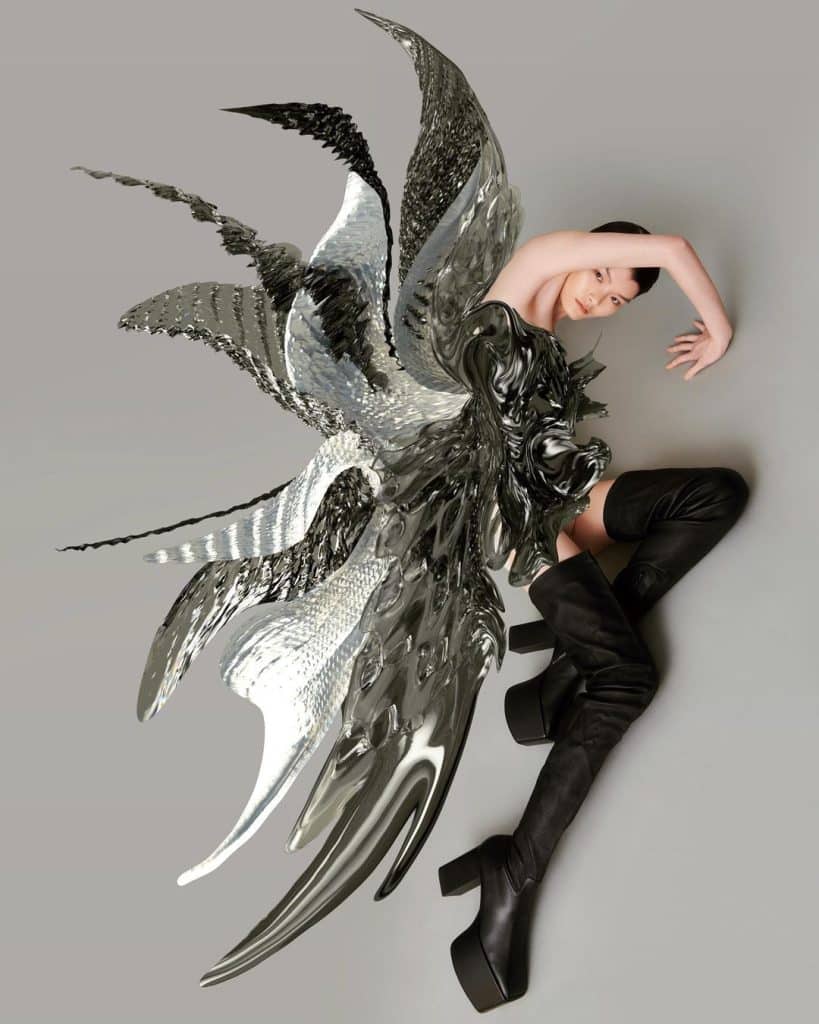 Can you tell us about your personal style and how you choose to dress yourself?
My own dress style is dark black with a little sweet.
Send a message to your future self.
Keep your original intention and keep innovating.