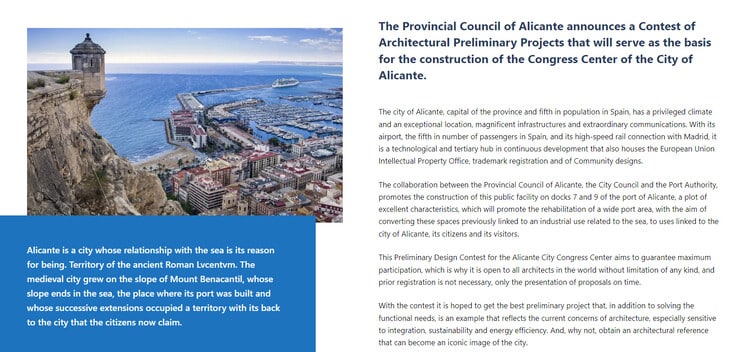 The collaboration between the Provincial Council of Alicante, the City Council and the Port Authority, favors the construction of this public facility in docks 7 and 9 of the Port of Alicante, a plot of excellent characteristics, which will favor the rehabilitation of a large port area, with the aim of converting these spaces previously linked to an industrial use connection to the sea, into uses connection to the city of Alicante, its citizens and its tourist.
This competition project for the Conference Center of the City of Alicante aims to guarantee maximum participation, which is why it is open to all architects in the world without limitation of any kind, and prior registration is not not necessary, only the submission of proposals on time.
With the competition, it is expected to obtain the best preliminary design which, in addition to solving functional needs, is an example that reflects the current concerns of architecture, particularly sensitive to integration, durability and energetic efficiency. Carry an architectural reference that can become an iconic image of the city.
Organizers
Diputación Provincial de Alicante
Submission Deadline
July 19, 2023 11:59 PM