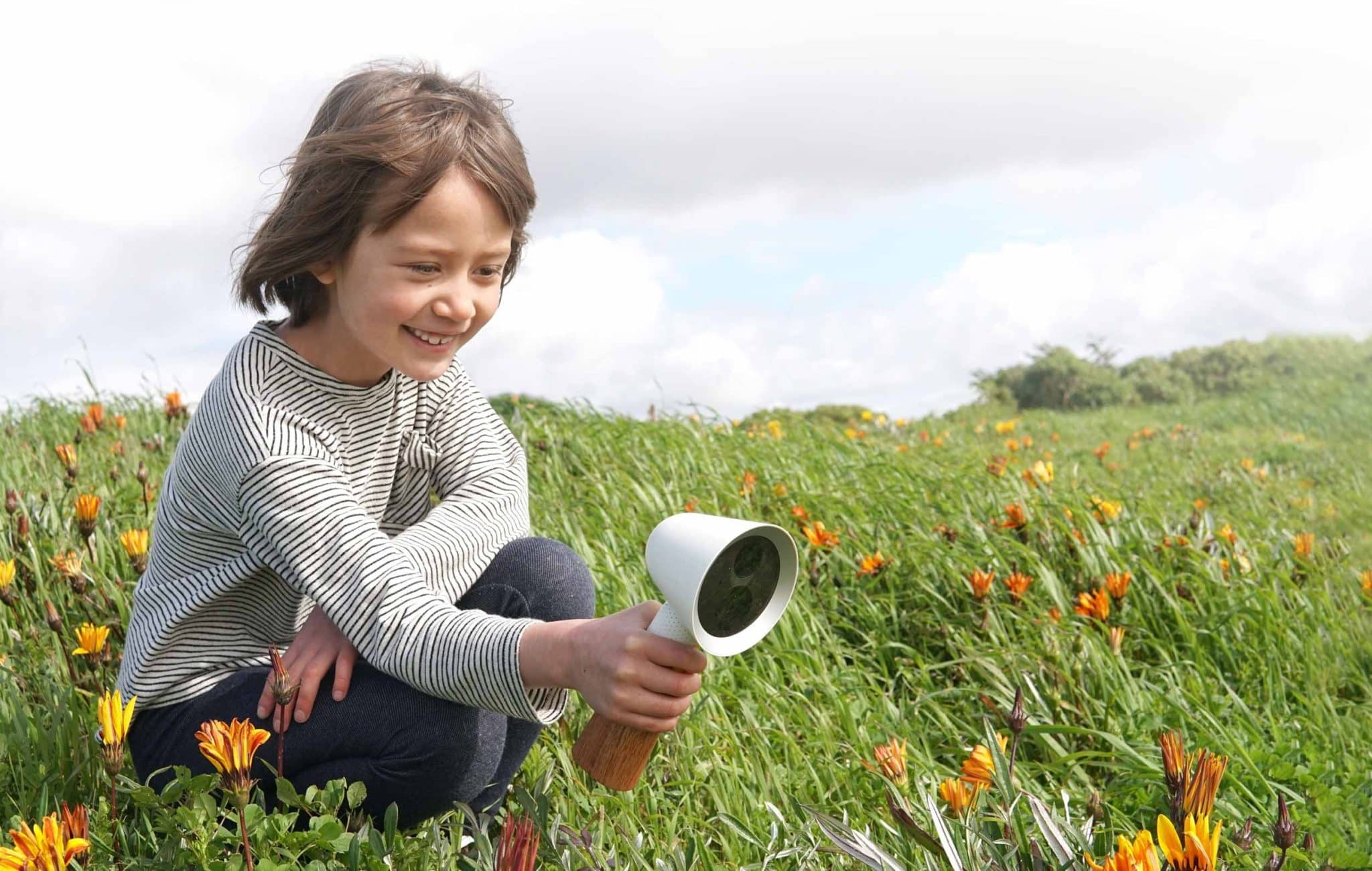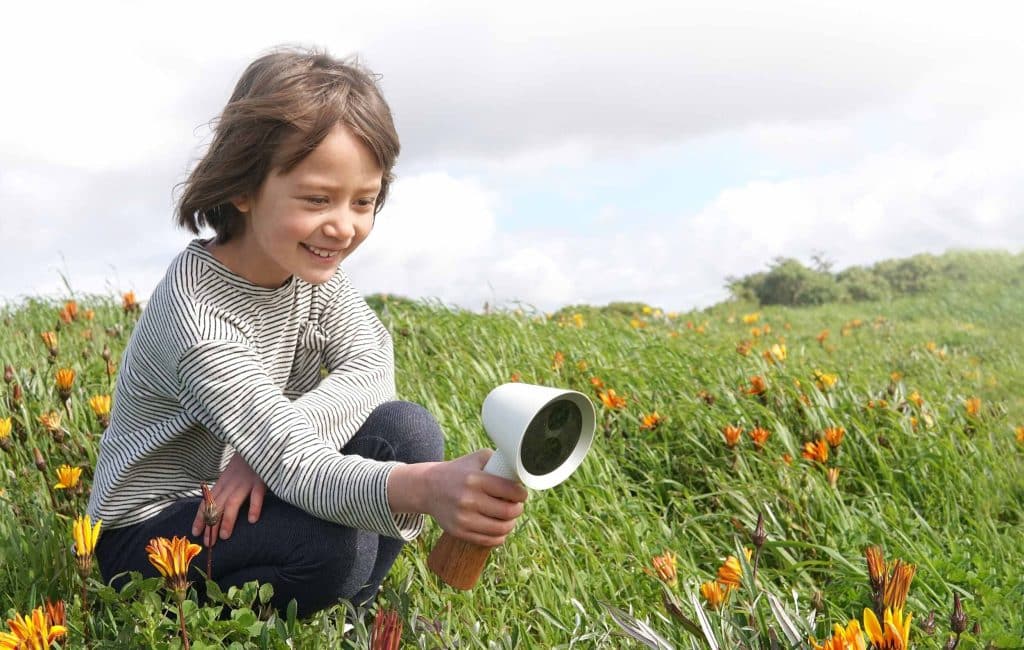 Spot is a concept project conceived by the award-winning San Francisco agency, NewDealDesign. Spot explores the various ways that machine learning could be used to create a positive learning experience for kids.
Spot is a tool for children's discovery combining digital technology and educational tools. Designed to integrate optics, object recognition and machine learning, Spot is a camera and pico projector with a platform to create personal stories from children's explorations. Intended for children ages 5-9, Spot is a companion AI to assist 'learning-by-doing'.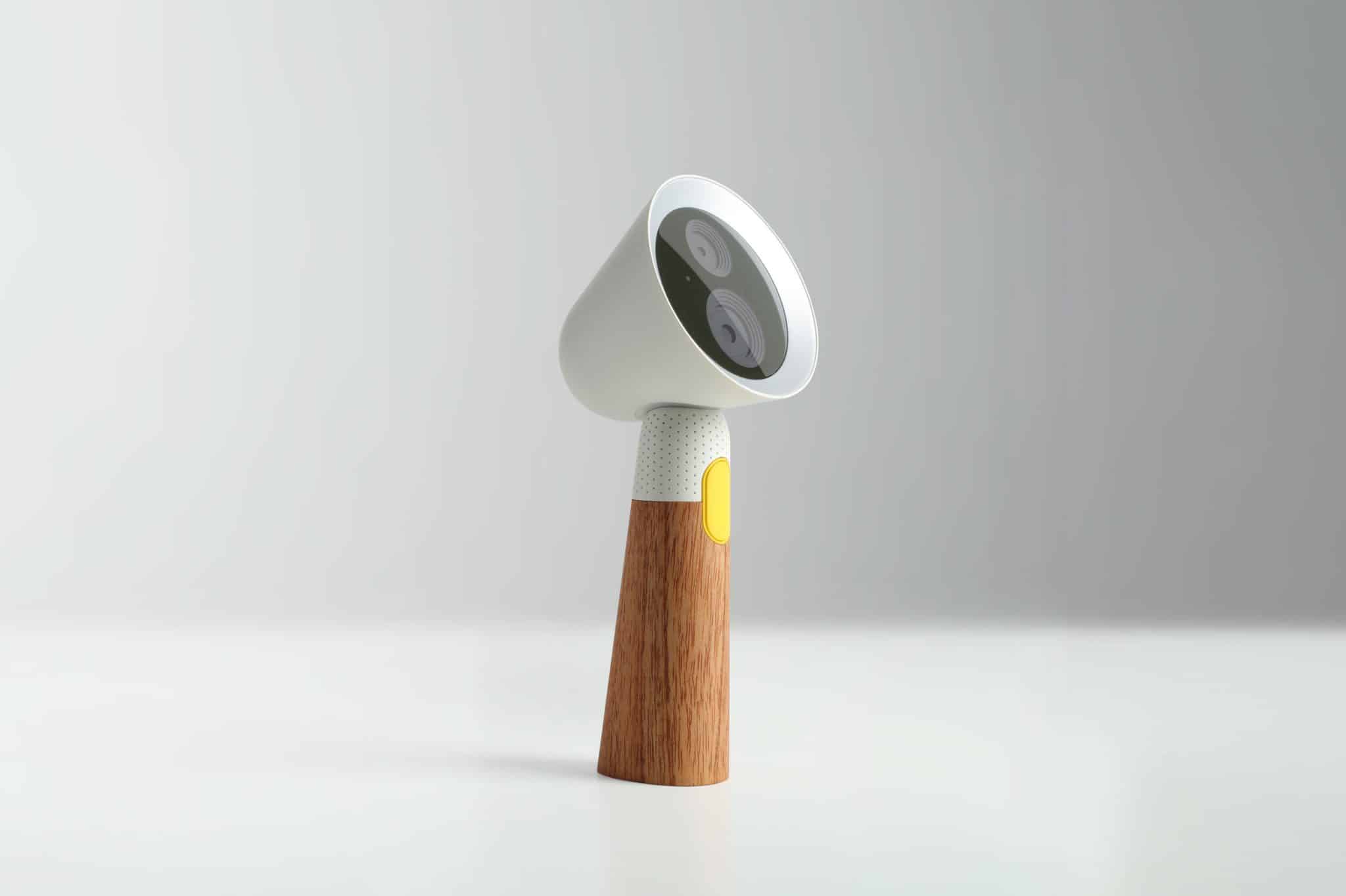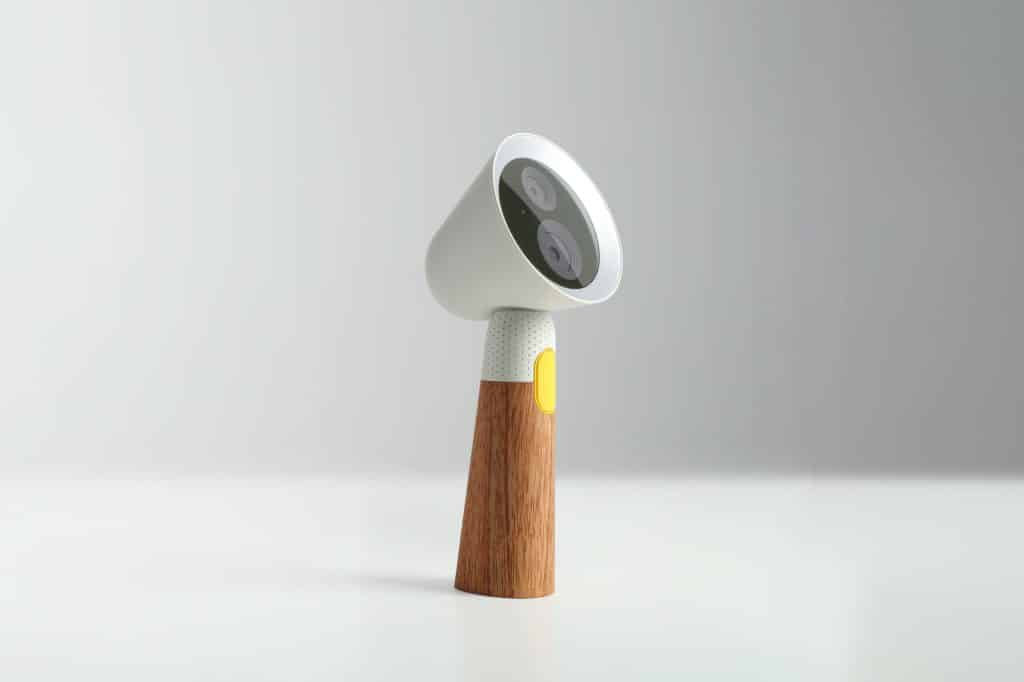 In a world overloaded with screens and non-participatory experiences, designing meaningful resources that nurture children's abilities to engage with their natural surroundings is crucial. Much of the technology created for children is at odds with their developmental needs. Studies show that more and more children are suffering from lower attention spans. Spot battles the over-saturated screen-life by using technology to help slow down the pace. Digitally native kids are nurtured to get active and off screens through adventures with their AI companion.
Spot encourages focus and stimulates a natural pace of experiencing by teaching "Delayed Gratification". By encouraging focus skills, Spot can battle the 'Distraction Economy' at a crucial stage of development. Being 'present' and 'in-the-moment' is a skill that can be taught, and studies find that it nurtures a sense of 'mindfulness' that incites self-confidence and self-awareness. Technology can help children develop capabilities to navigate the world in a way suitable to the pace and context of their own lives.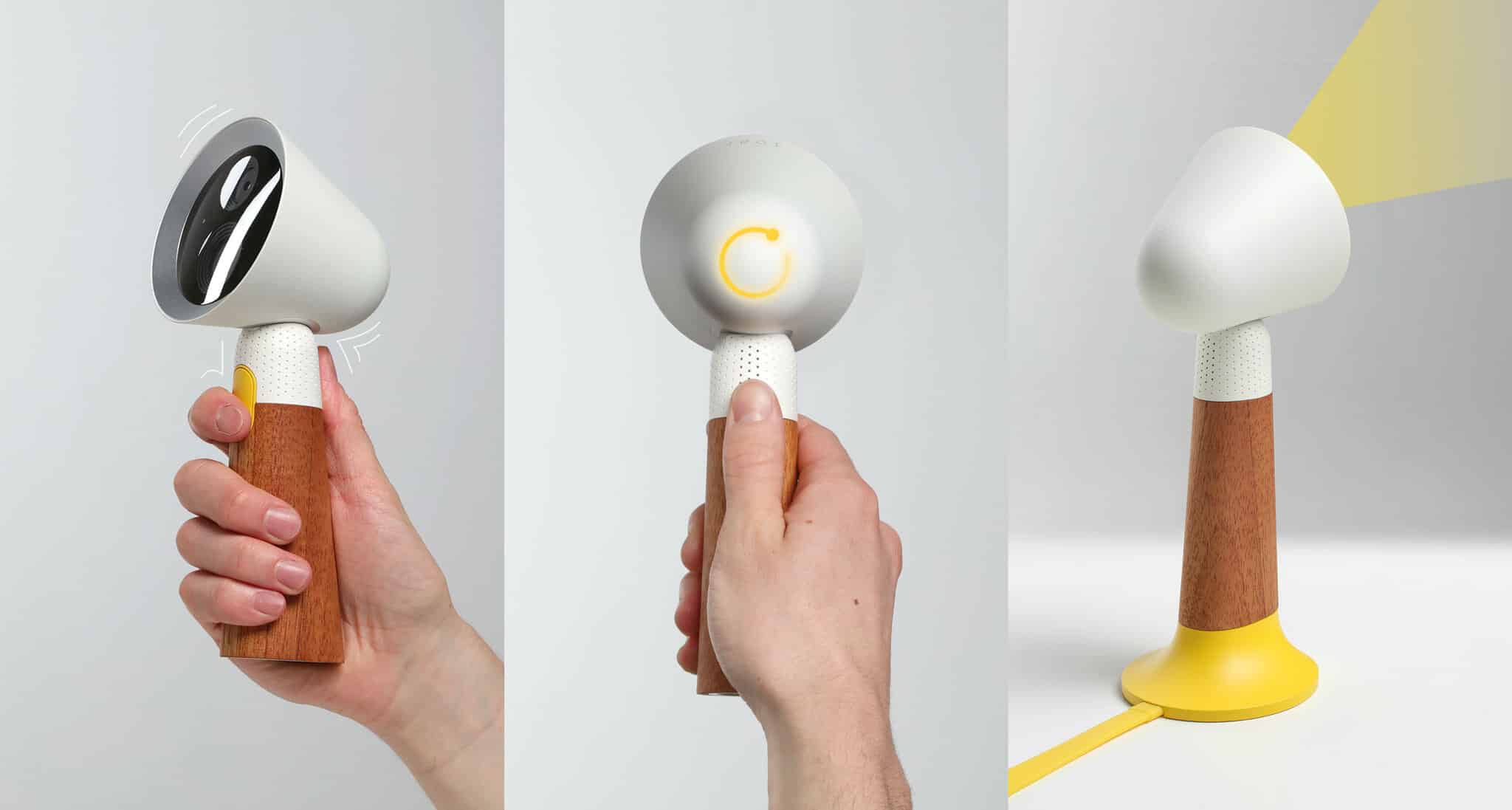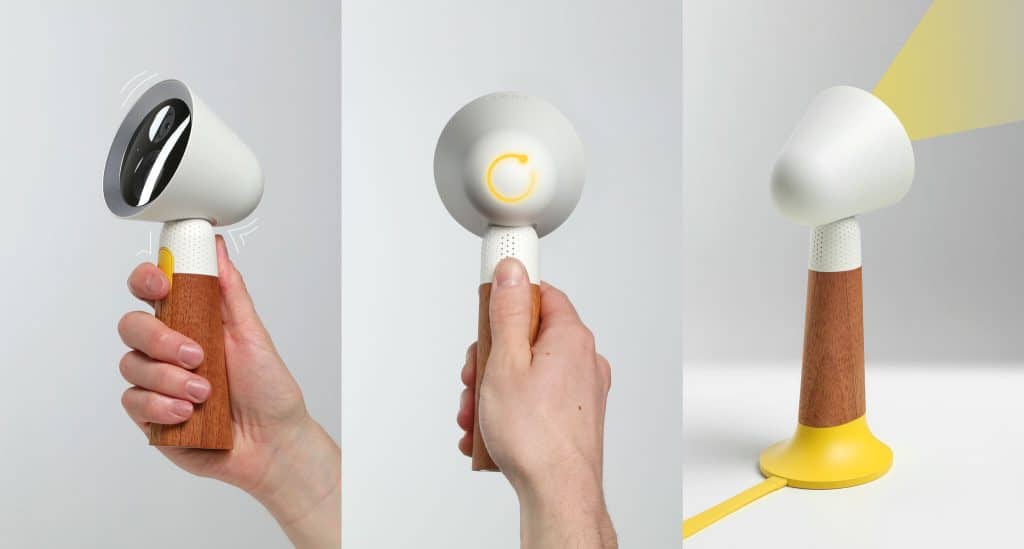 To nurture the 'Wisdom of the Hand' is a great opportunity to move digital interactions towards the 'doing' rather than purely 'observing'. Spot places gesture recognition, LEDs, and haptics in the hand to accompany the child's experience. When pointing at an object, Spot will blink and vibrate to indicate it has locked on. After identifying the object, Spot's voice weaves a personal response from the object.
Later, Spot transforms the collection of objects into a personalized narrative supported by a built-in projector when placed onto its charging dock. The complexity of the stories will grow and change as the child progresses through childhood.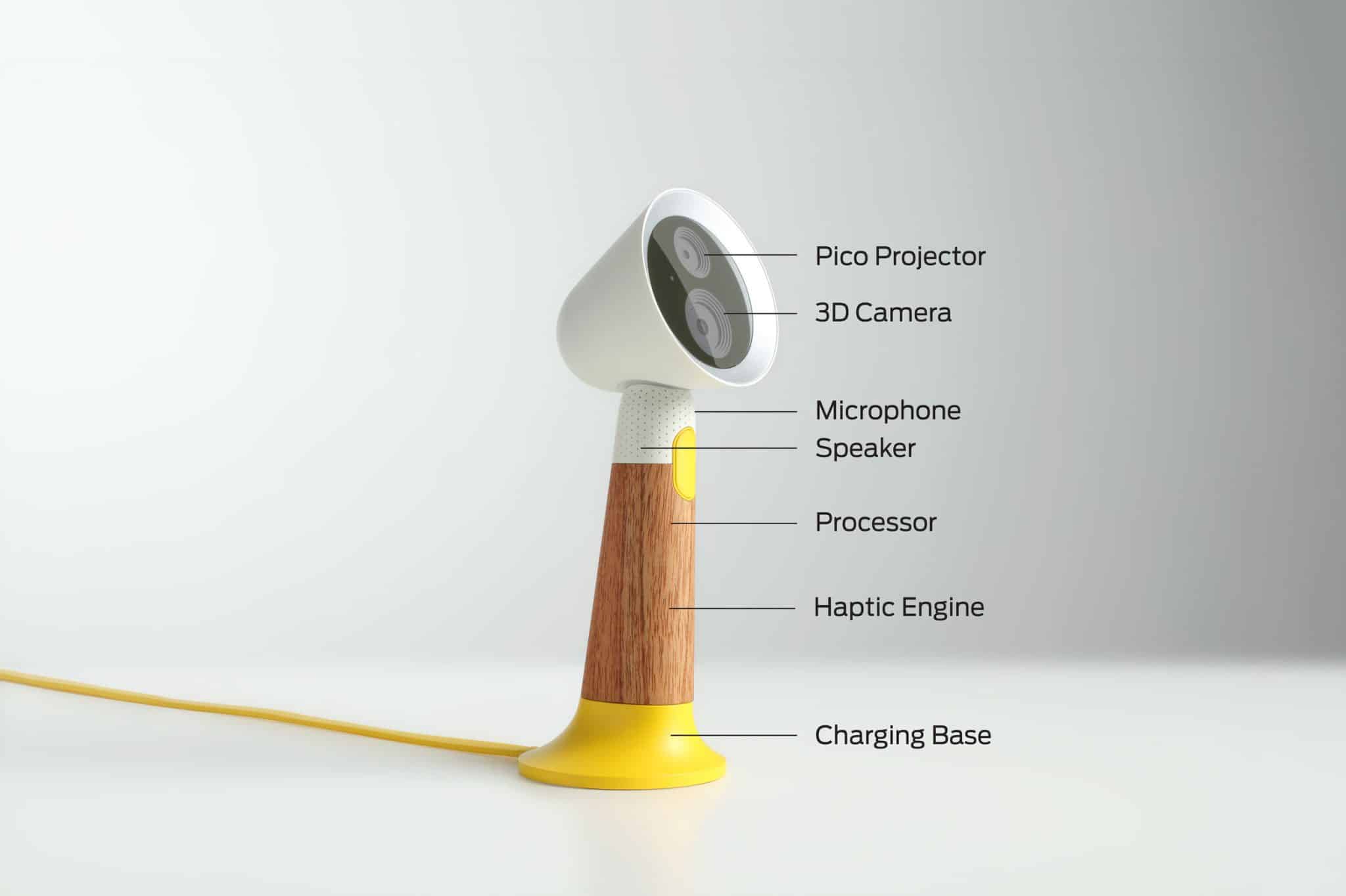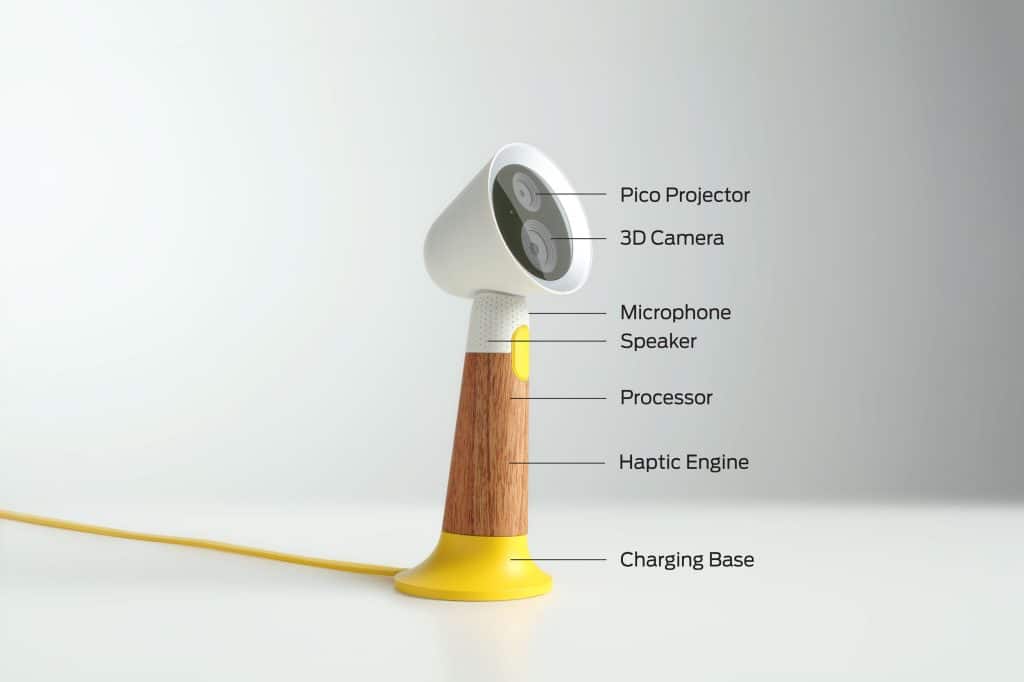 Spot sits with its head tilted eagerly – a willing companion ready to explore. Materials are rooted in traditional wooden children's blocks complemented by gender-neutral color pops of primary yellow. A gimbal-like stabilization mechanism within the neck keeps Spot locked in place on its subject and for story time. Spot's base provides a stable platform for charging and projecting the day's findings.
Spot's physical form — friendly, robust, and durable — sits comfortably in hand and holds up to bumps and bruises. Housed in the head are the camera and pico projector. Integrated into the top of the handle are small perforations for the microphone and speaker. The recessed face sits behind hardened, scratch resistant glass within the head.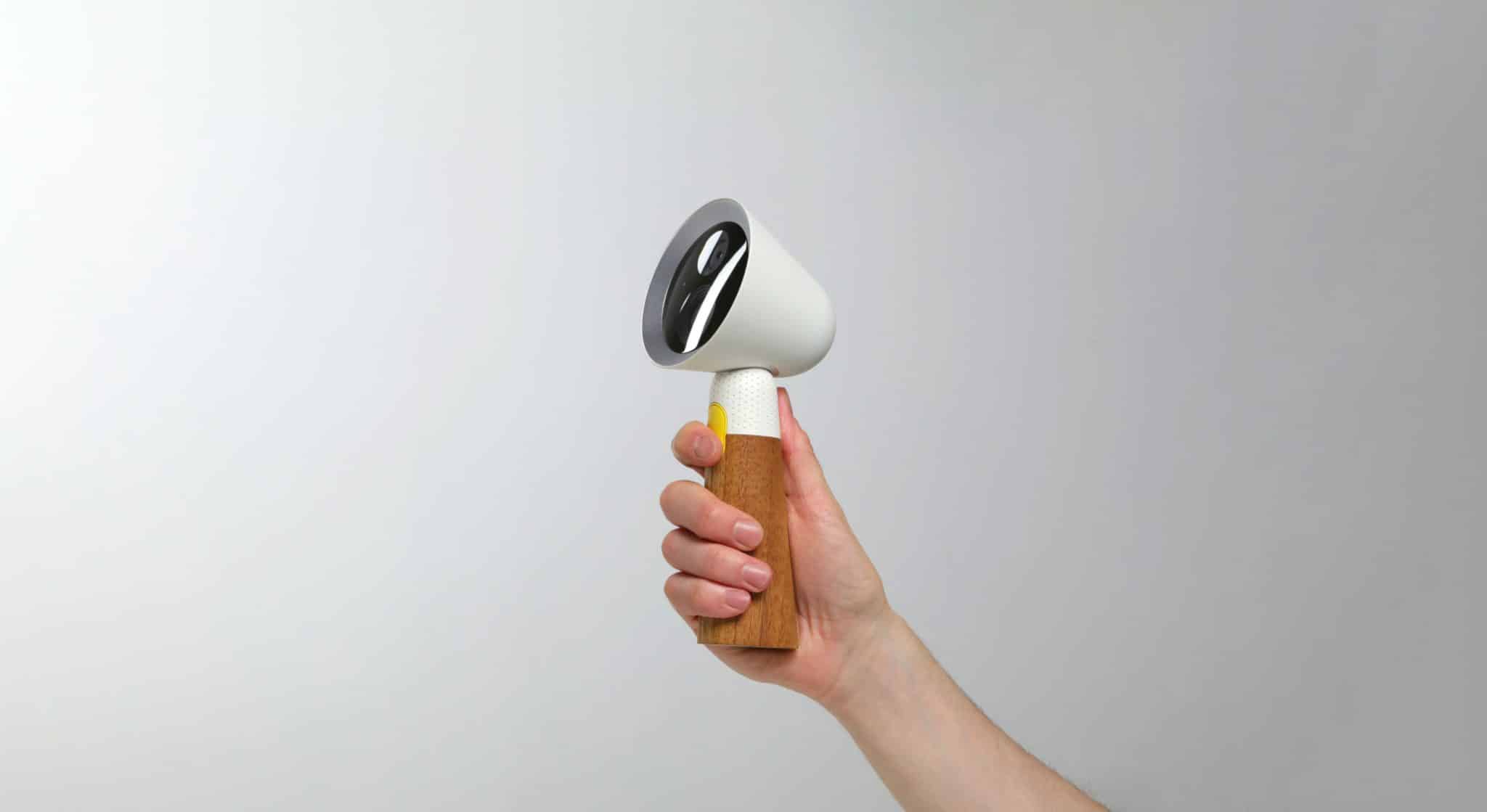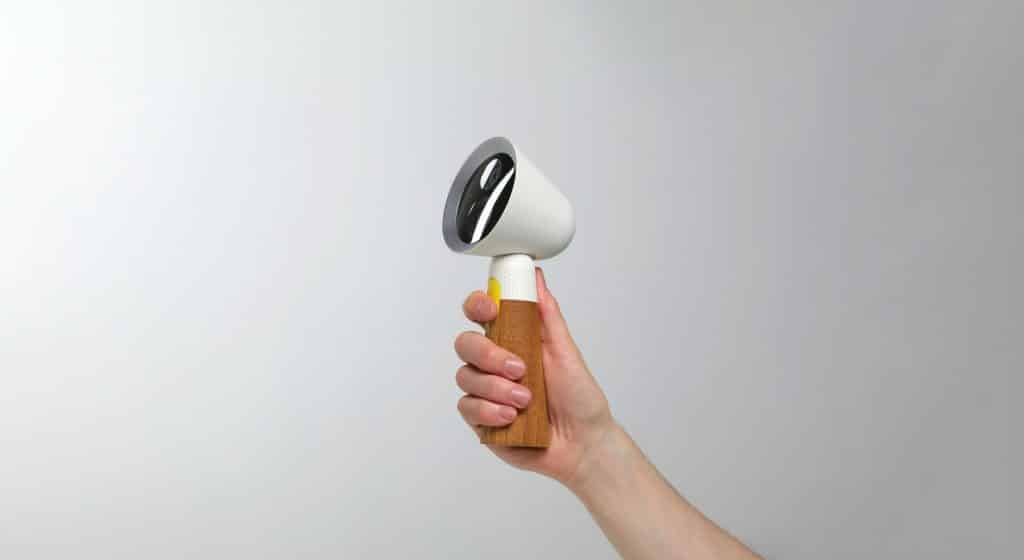 As the child explores, they can point the camera at objects to 'ask' what the object knows. By creating an overlay of dialogue the child can 'learn from the horse's mouth', so to speak, while Machine Learning Assisted object detection, responds with useful and (to the child) interesting bits of information. The child can then review what they discovered by watching and listening to a generated story unfold where they are the central character. Experiencing the story with family and friends also encourages confidence and allows the events to sink deeper into their consciousness, creating more meaningful knowledge.
"Once upon a time there was a little girl name Max who met a little robin. One day, Max asked the Robin…". Stories and day summaries are key for healthy development by teaching language and context and helping children wind down. Contextualizing the world to their life supports self-confidence and self- awareness. Day summaries in particular assist better sleep.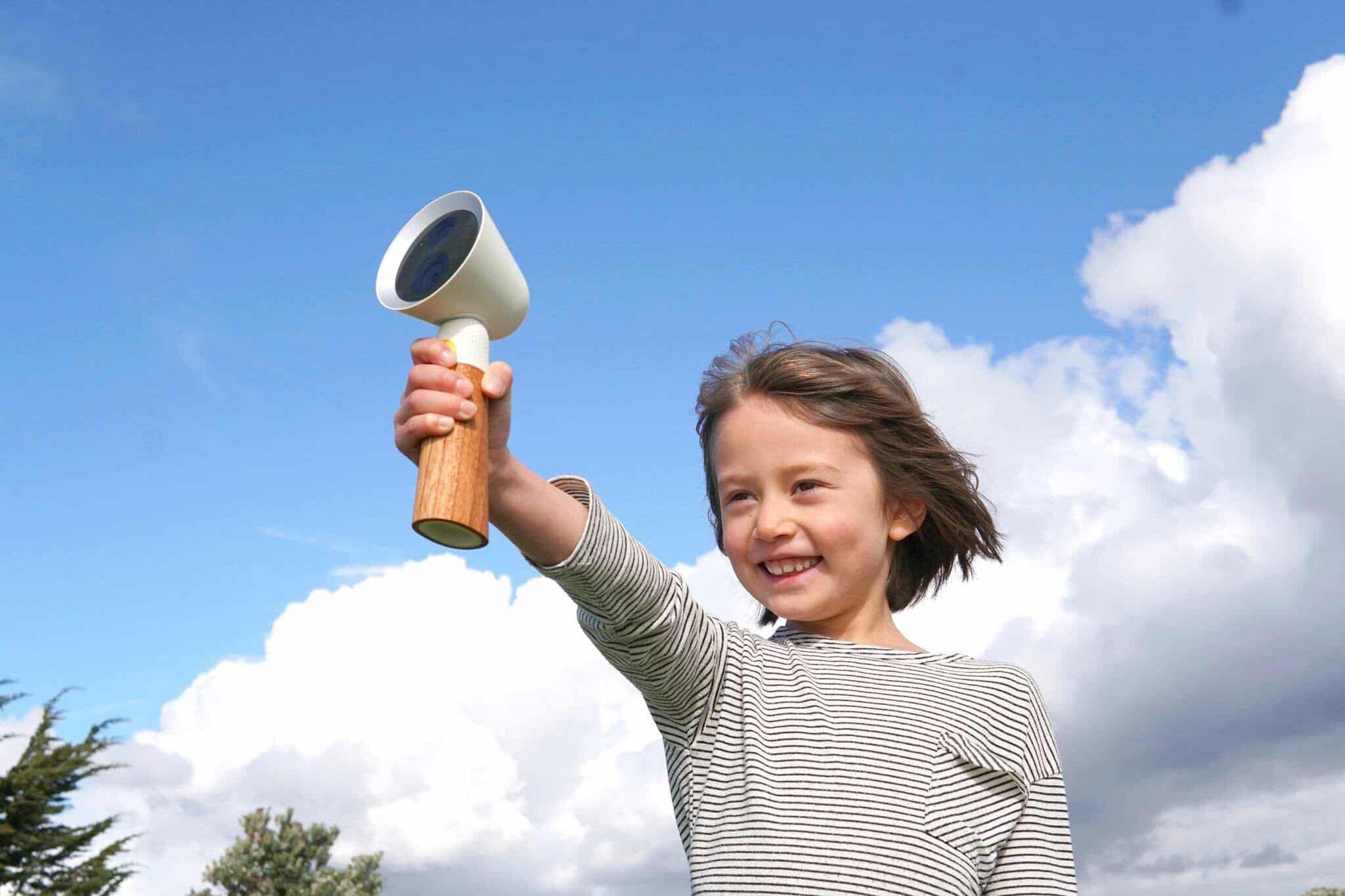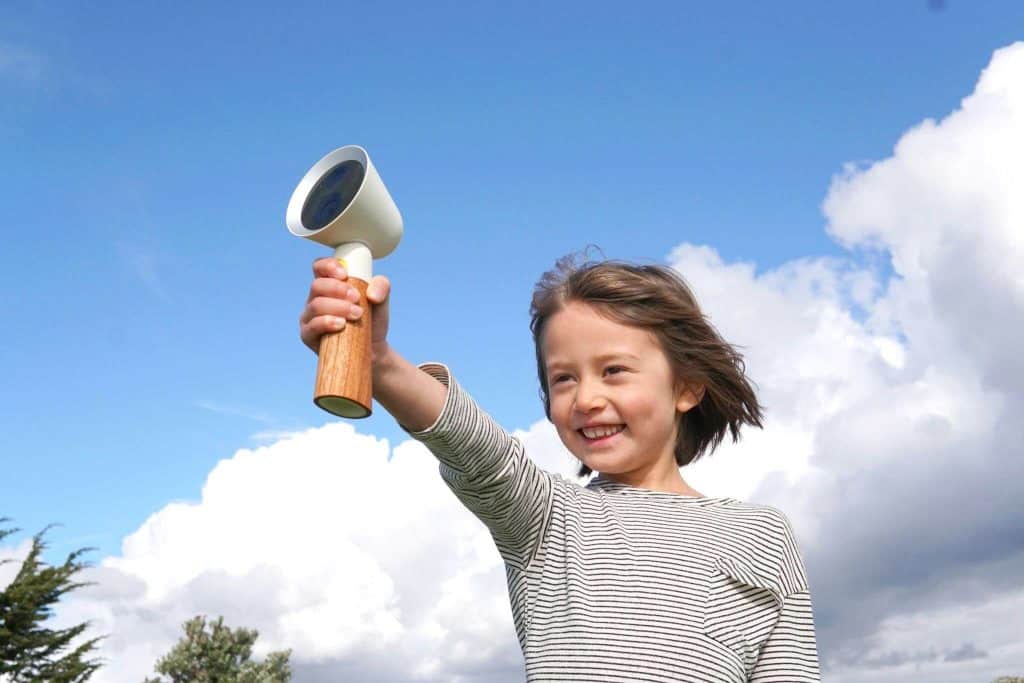 With continued use, Spot's system learns about the child's interests and pace. Categories of interest will emerge, educating the system to encourage new paths, generate new age-appropriate story archetypes, and treasure hunts that can be done with other family members.
Treasure hunts encourage collaboration and enrich crucial problem solving skills. In addition to 'following the child's' gaze' Spot can also pay attention to other developmental cues like balance, skipping or jumping — all educating the system to build more meaningful stories. Spot is ready to learn in order to help children grow at their own pace.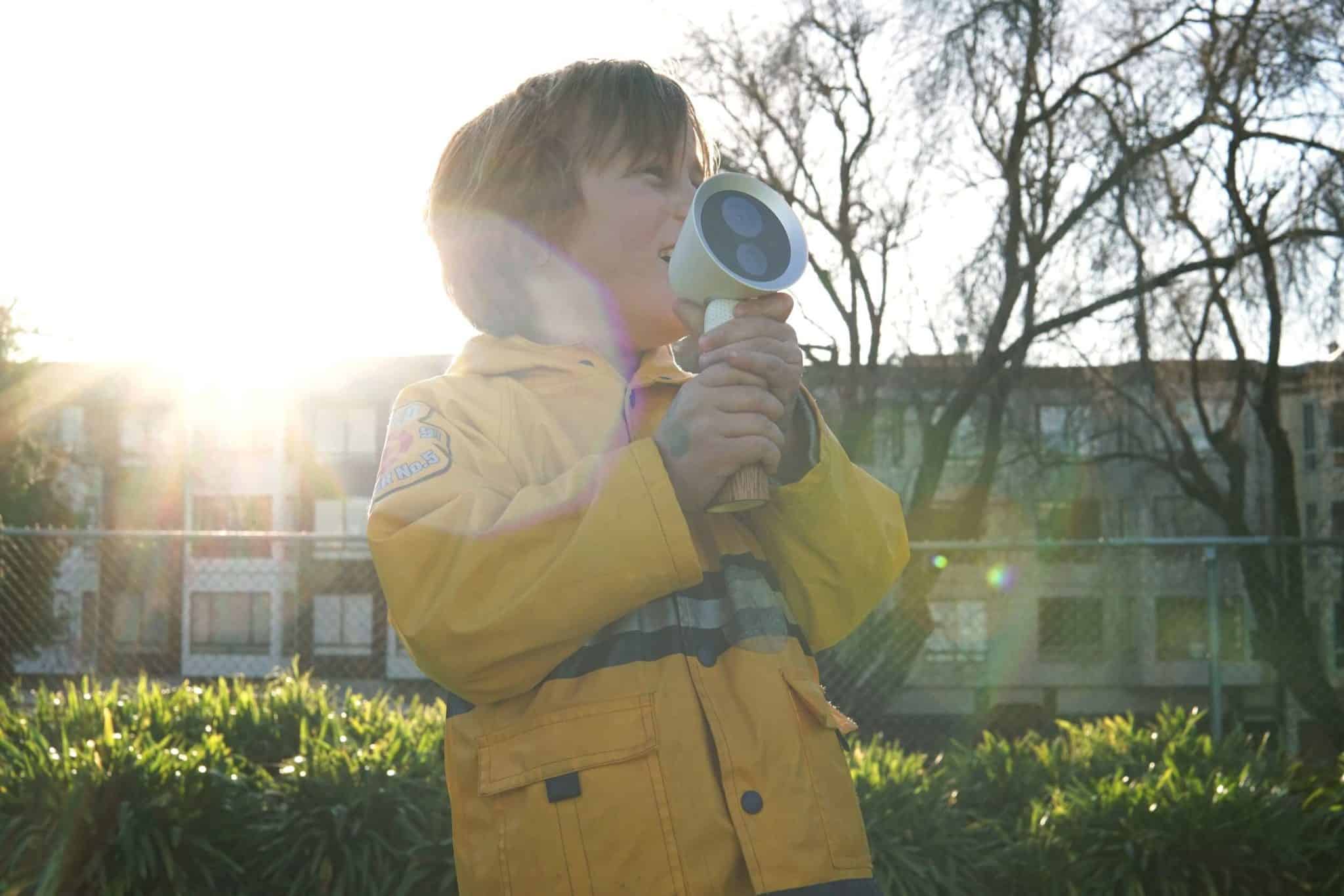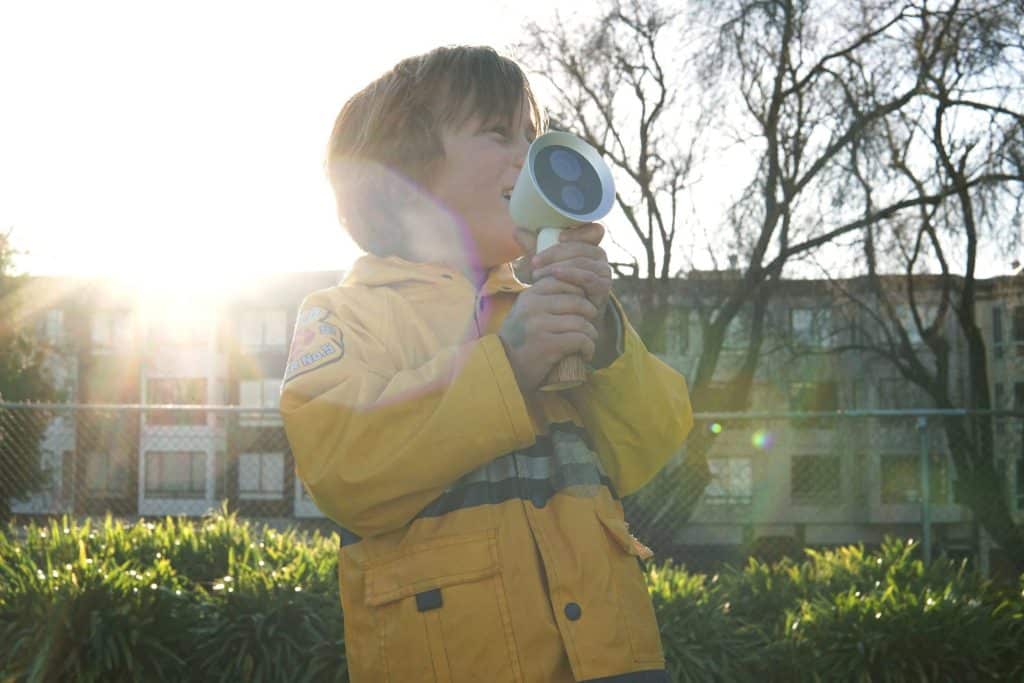 INFORMATION
All images with courtesy of NewDealDesign
https://newdealdesign.com/