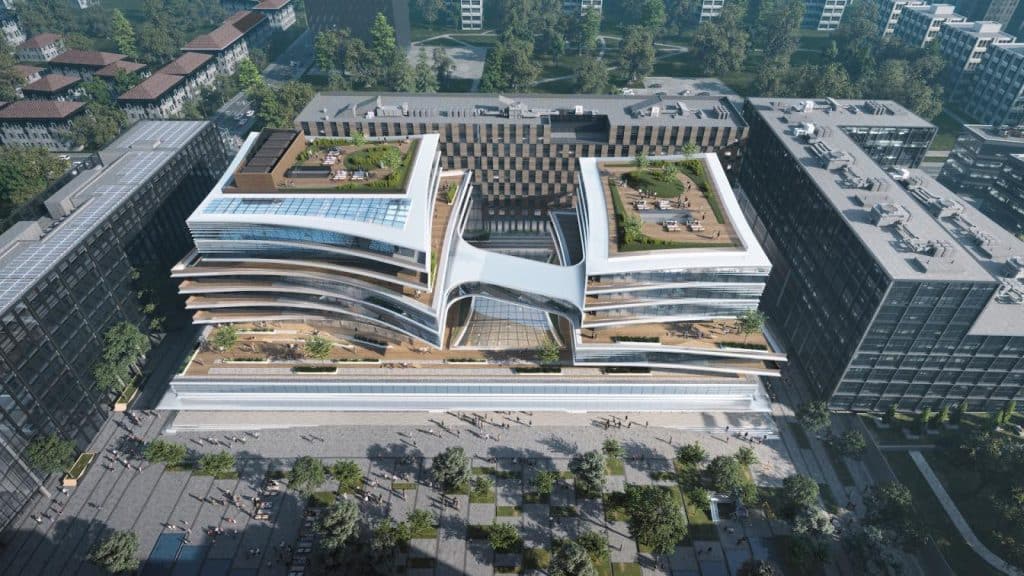 Vilnius, Lithuania – The City of Vilnius has granted the building permit for Business Stadium Central, a visionary project designed by Zaha Hadid Architects (ZHA). Situated within the Vilnius City Plan and adjacent to a popular public square, Business Stadium Central will serve as a vibrant gathering place for the city's residents and visitors alike.
Comprising two interconnected low-rise towers of 8 and 9 storeys, with a courtyard atrium and two floors dedicated to public amenities at street level, the complex spans an impressive 24,000 square meters. An iconic skybridge at level five connects the towers, while the building's curved facades and cantilevered balconies face the historic Gediminas Castle Tower, adding to the project's significance in the heart of Vilnius.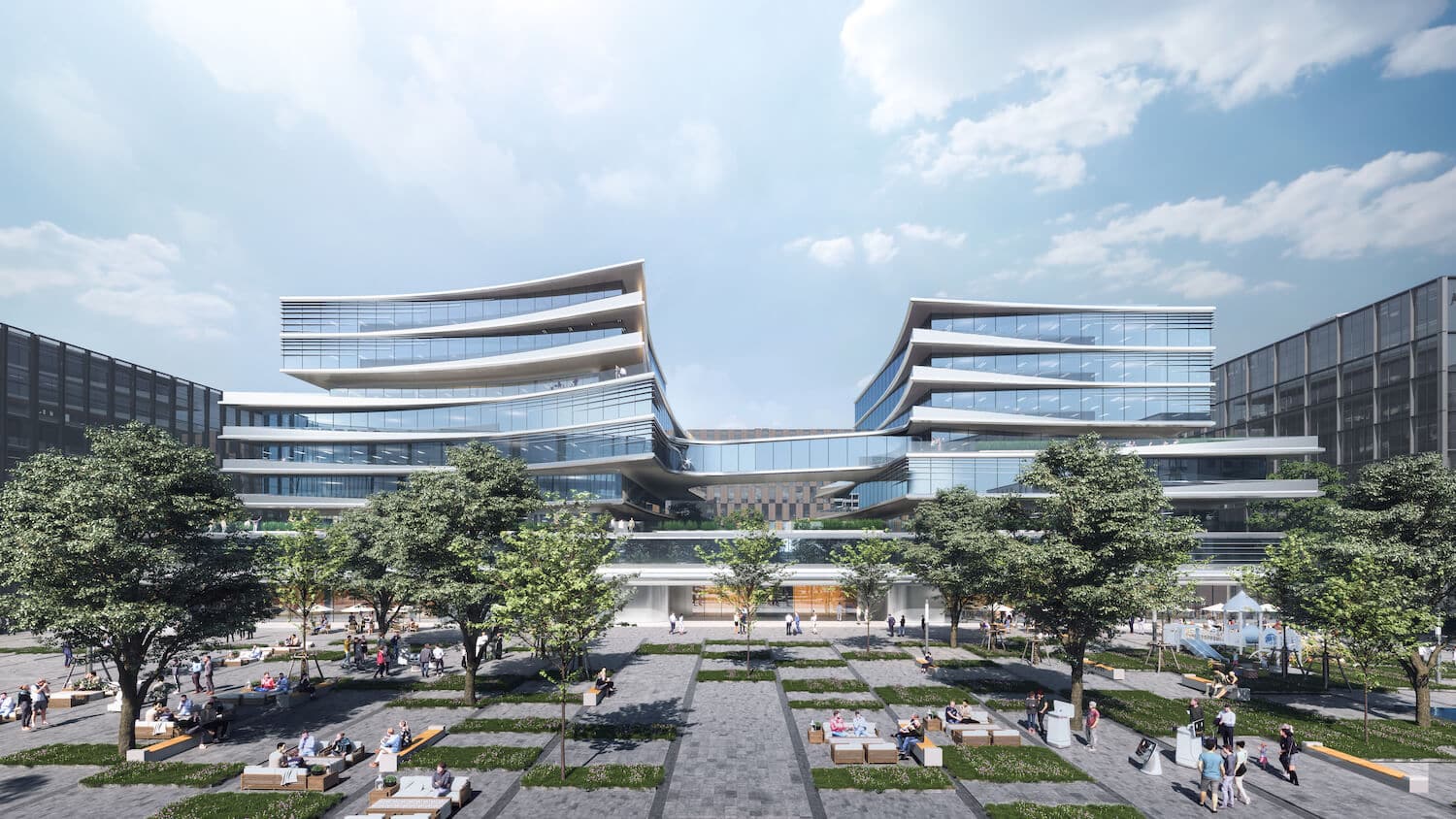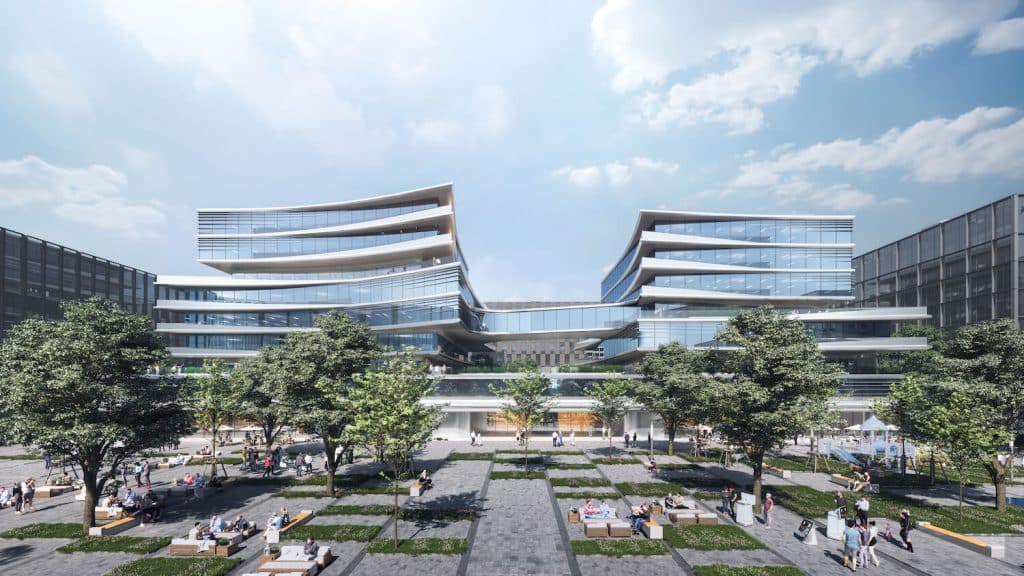 Drawing inspiration from the dynamic geometries of the surrounding civic architecture, Business Stadium Central incorporates extensive landscaped terraces, roof gardens, and plazas spanning 11,750 square meters. These outdoor spaces open directly onto the public square, designed by Martha Schwartz, and feature an array of cafes, restaurants, and shops.
The atrium courtyard serves as a hub for local residents, office workers, and visitors, while elevators provide access to the top floors, boasting panoramic views of Vilnius' historic Old Town. Here, two public swimming pools, saunas, steam rooms, and sun decks offer a relaxing escape.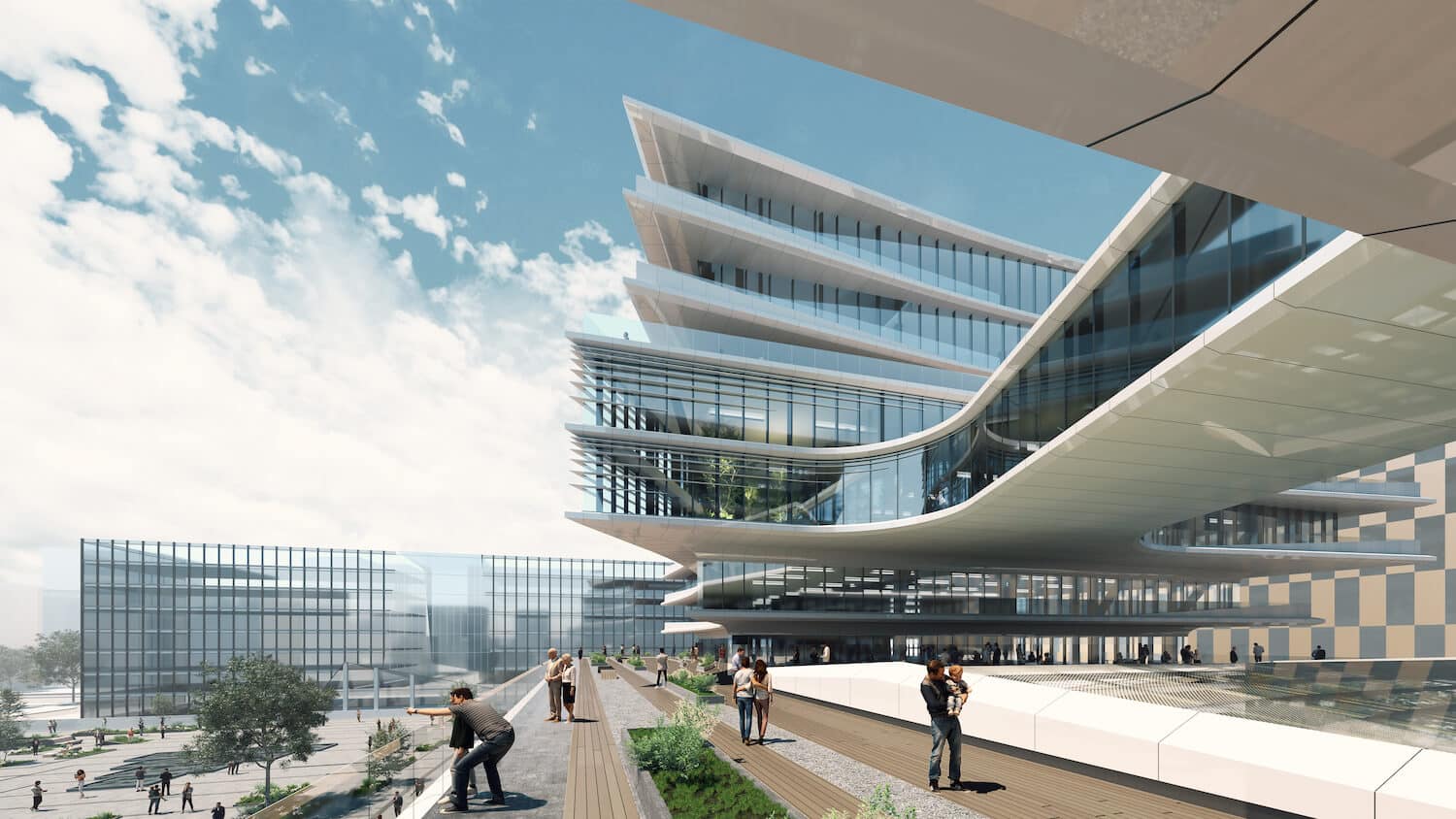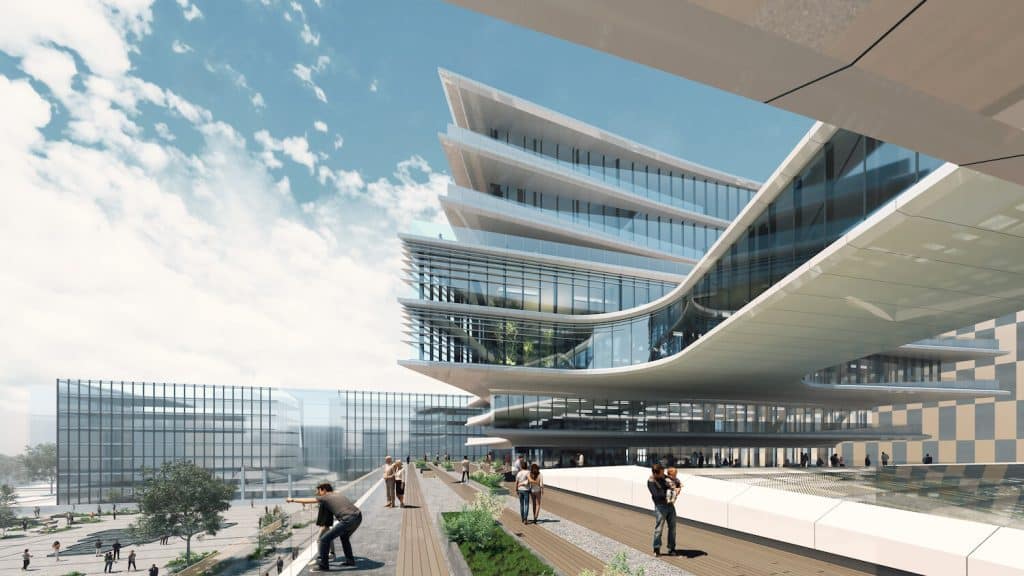 The flexible office spaces situated within the central floors of each tower are designed with adaptability in mind, ensuring the longevity of the development. Varying in size and layout, these spaces cater to a wide range of companies, from fledgling start-ups to established international corporations. Connected to landscaped roof gardens and terraces, the offices offer stunning views of the surrounding city.
The glazed facades of Business Stadium Central transition seamlessly into warm timber-based interiors, creating a harmonious and inviting atmosphere. Hanner, a Lithuanian developer, commissioned Zaha Hadid Architects for this groundbreaking project. Arvydas Avulis, Chairman of Hanner, expresses his vision for the development, stating, "Our goal is to create the best and most attractive business centre in the country.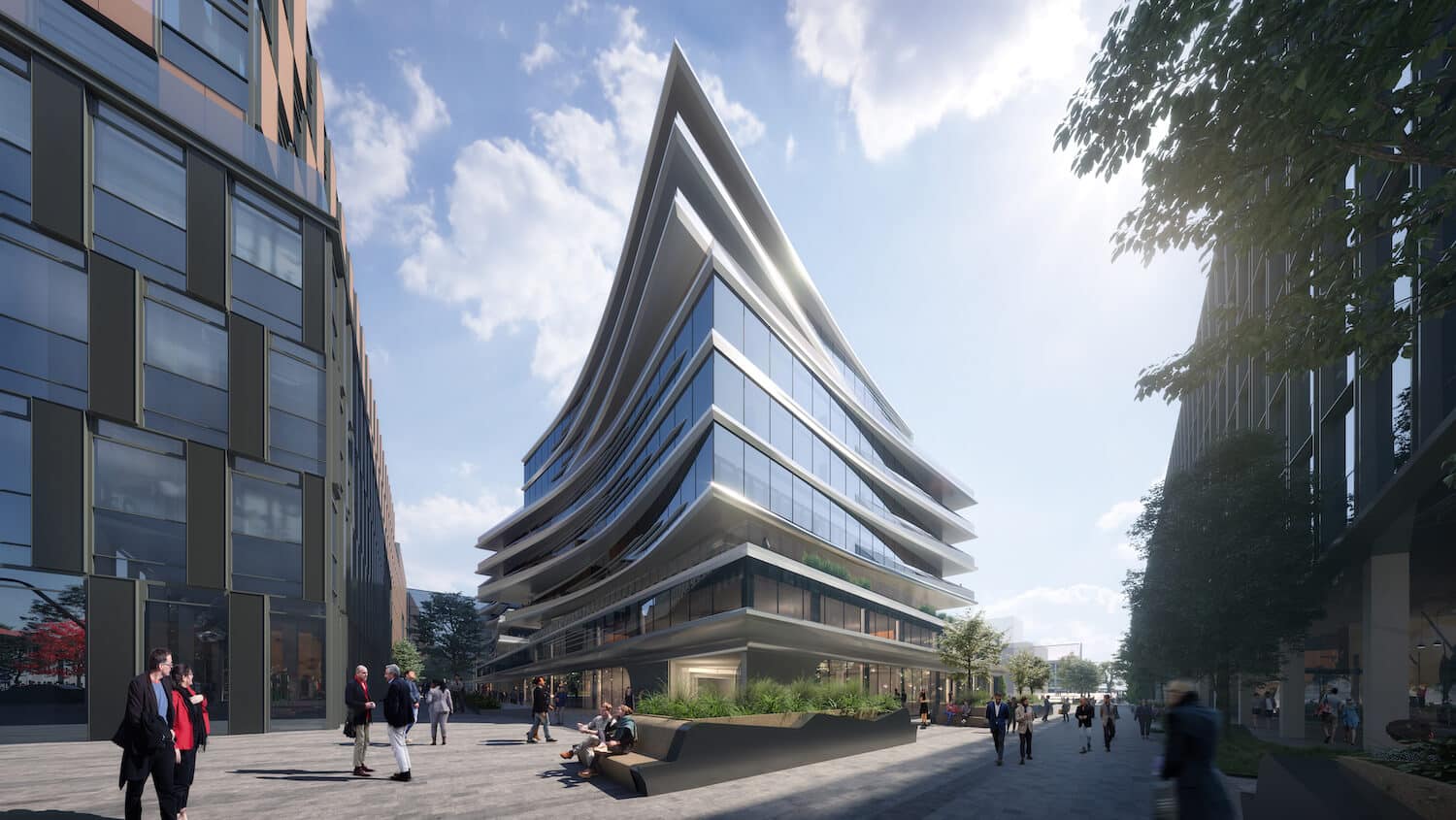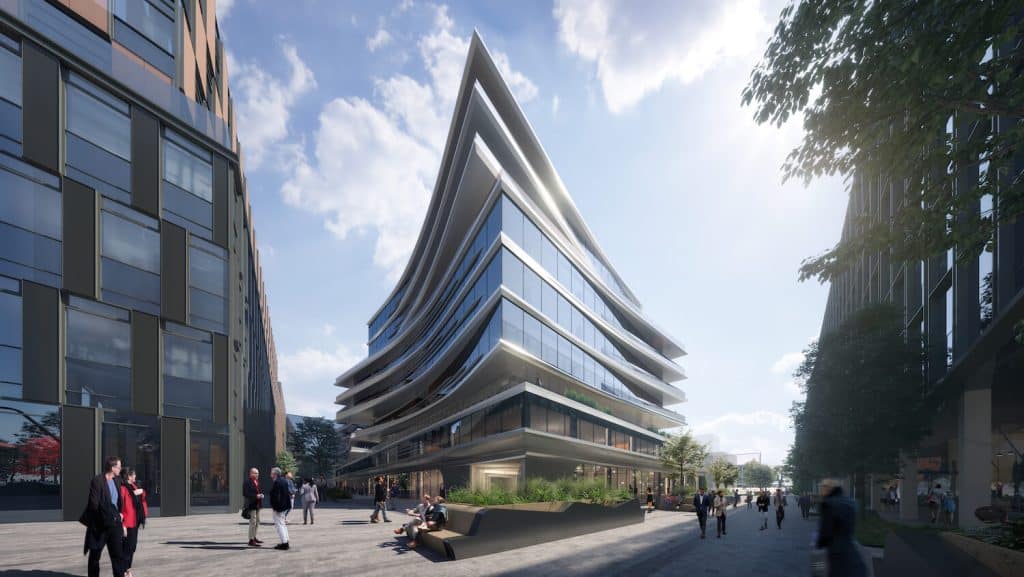 This project will become an architectural highlight of Vilnius, demonstrating the city's uniqueness and ambition. Businesses will enjoy extremely high-quality office spaces together with sports, leisure, and event venues that will enrich the life of the community. Taking into account Vilnius' humid continental climate, the design of Business Stadium Central incorporates an annual solar analysis to determine the optimal composition of the facade's louvers and balconies.
These features minimize direct exposure to the summer sun while maximizing solar heat gain during colder periods. Sustainability is a key focus, with the building systems designed to reduce both embodied carbon during construction and energy consumption during operation. The project employs digital optimization processes to minimize material usage and embraces procurement systems that prioritize recycled content.
The interiors feature timber sourced from certified local suppliers, contributing to reduced delivery distances. Moreover, all materials used are carefully selected for their potential for disassembly and reuse at the end of the building's operational life.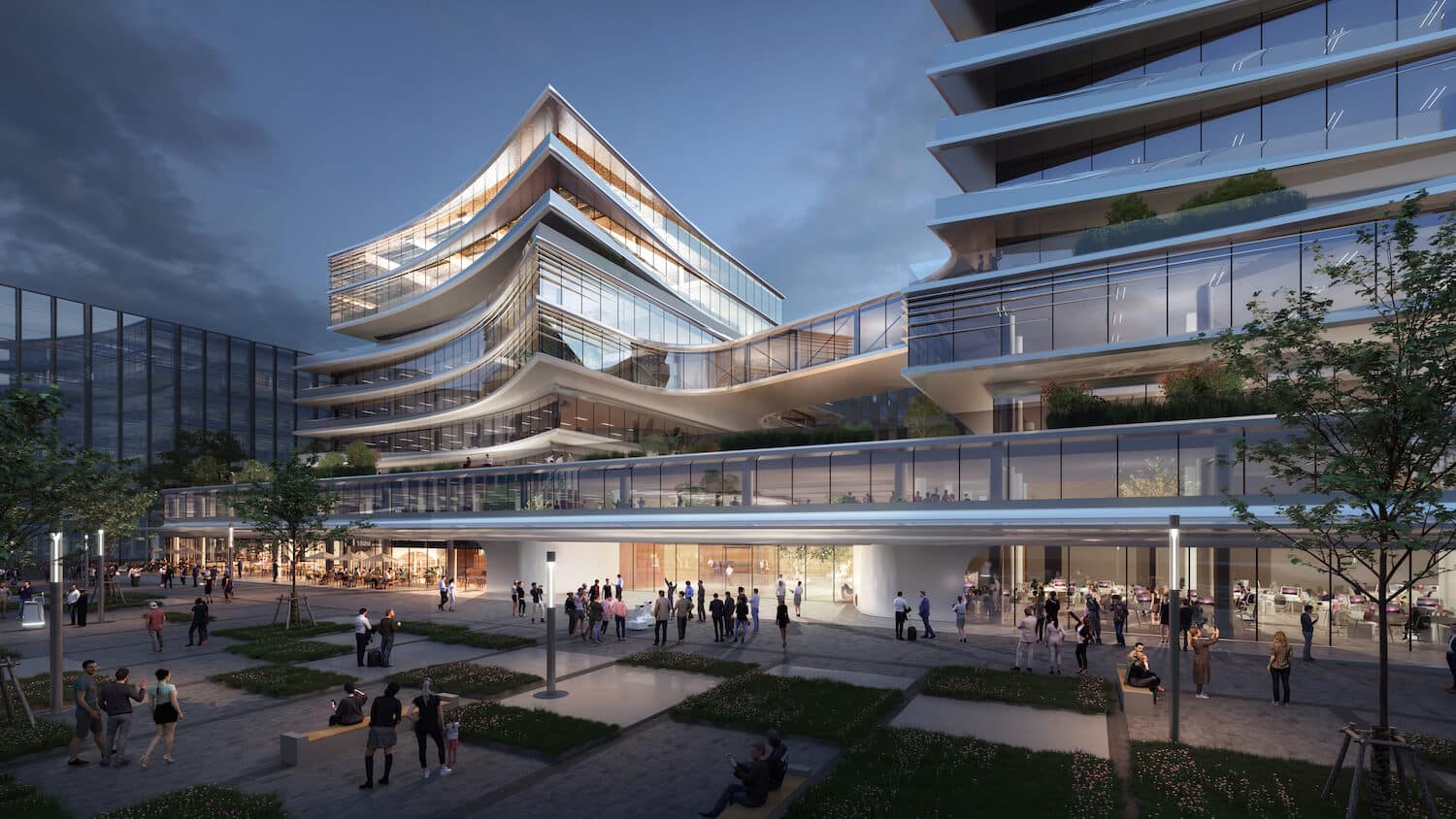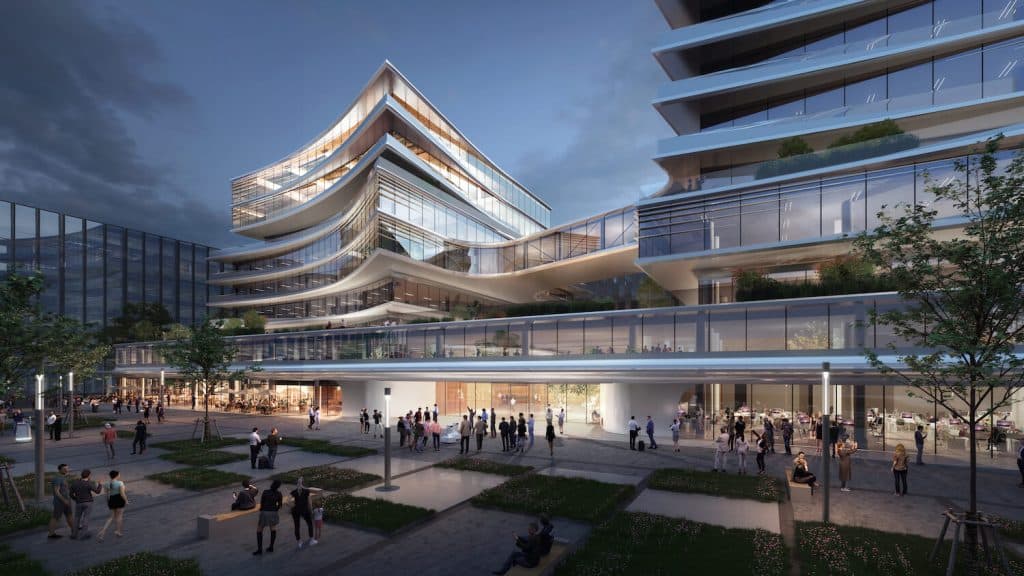 The building's design promotes natural hybrid ventilation for the majority of the year, supplemented by high-efficiency heat exchange and recovery systems to minimize energy consumption. Double-insulated low-emissivity (low-E) glazing floods all public spaces and workplaces with abundant natural light, creating an inviting environment.
Business Stadium Central by Zaha Hadid Architects introduces a range of new public spaces and amenities to Vilnius. The design fosters collaboration and interaction within flexible workplaces, while also prioritizing the well-being and health of the city's residents.