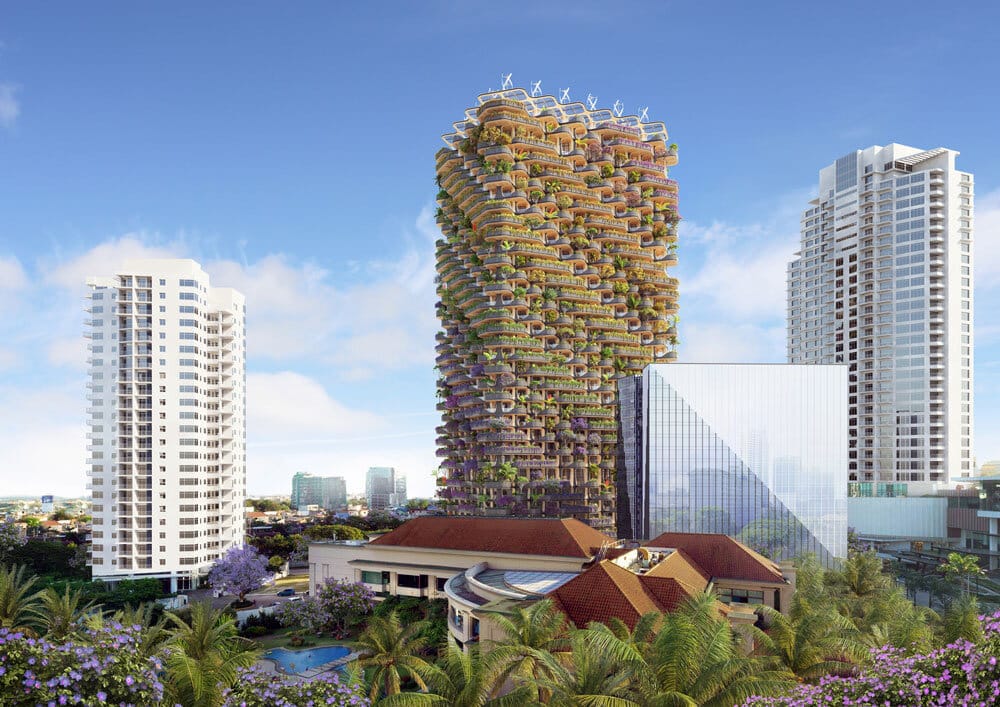 The architecture of the Philippines is both a dynamic combination of multiple influences and a reflection of the country's historical and cultural heritage.
This heritage is based on a mixture of Austronesian, Chinese, Malaysian, American (Art Deco), and Spanish (Baroque) influences. The objective is to construct a residential building with double environmental certification (LEED + BERDE) which offers the perfect balance between mixed cultural heritage and natural heritage of unparalleled splendor.
"The Rainbow Tree" tower by Vincent Callebaut is adorned with the most beautiful plant essences from the neighboring tropical forests. This luxuriant dress of more than 30,000 plants, shrubs, and tropical trees draws a flourishing spiral in the colors of the rainbow and brings a breath of freshness to the heart of Cebu Business Park which is mainly built of concrete and steel.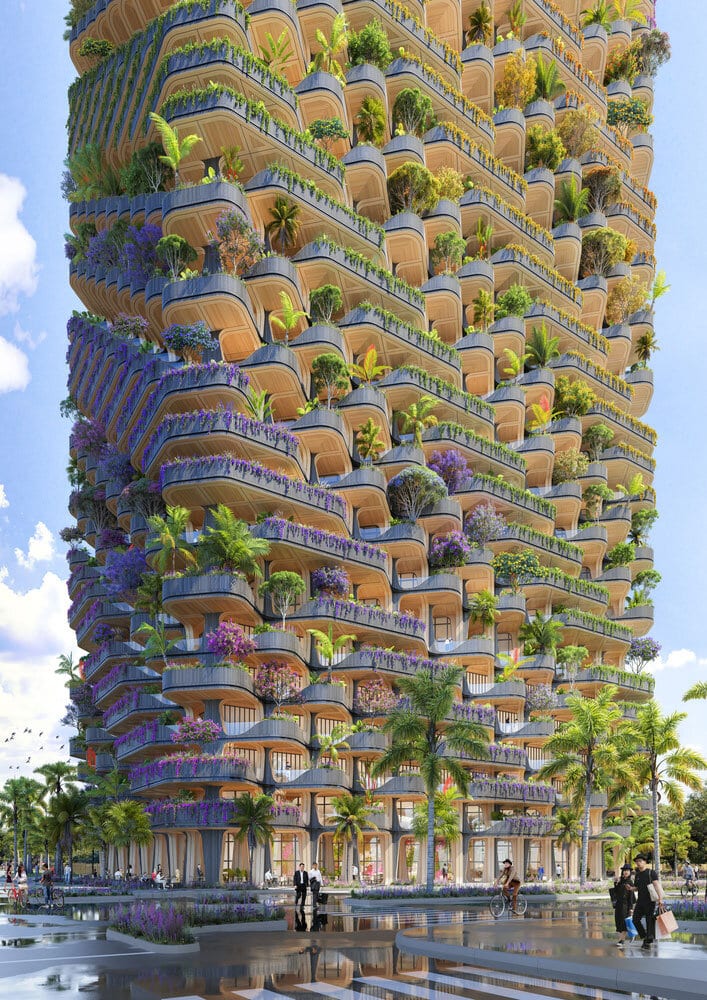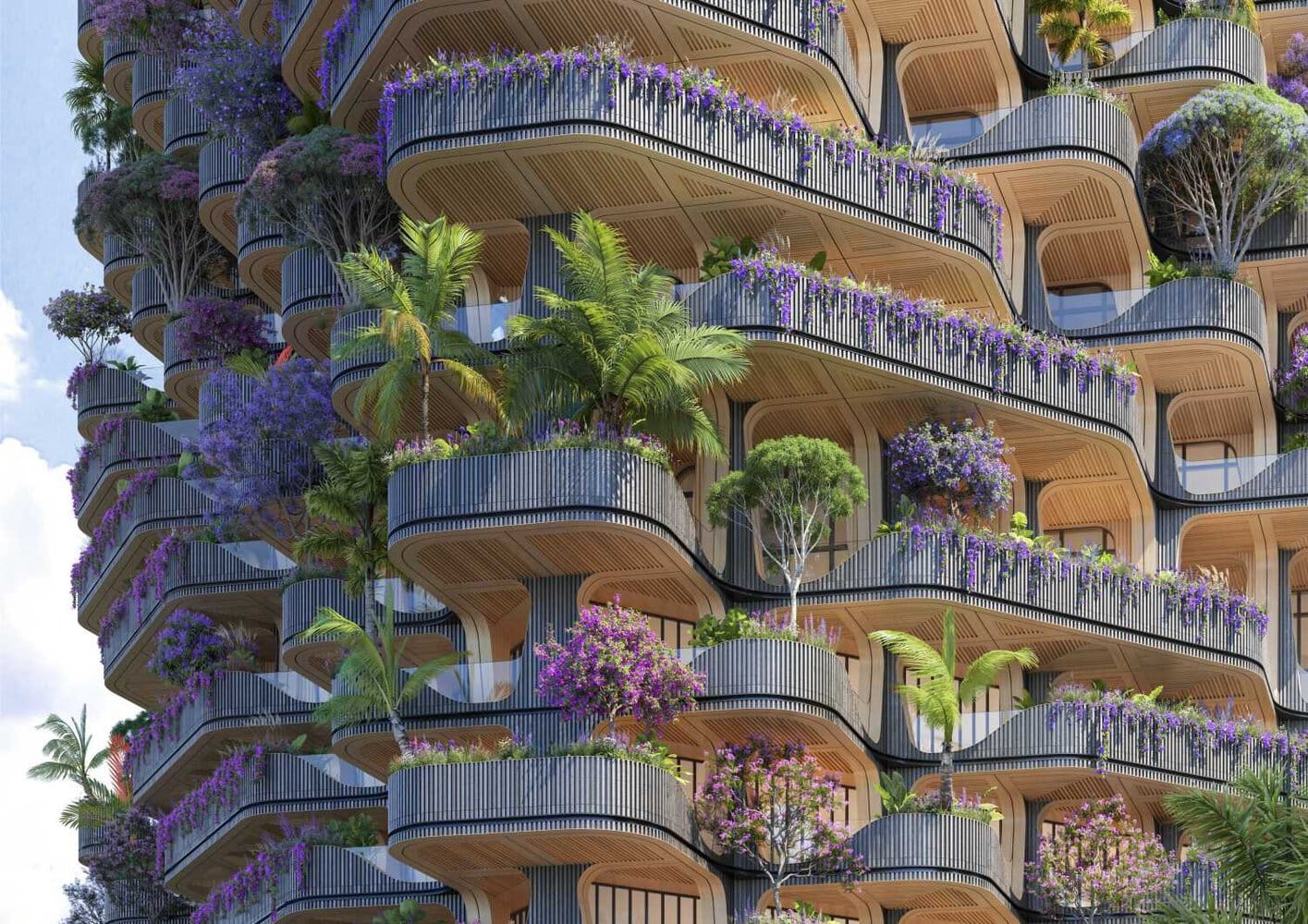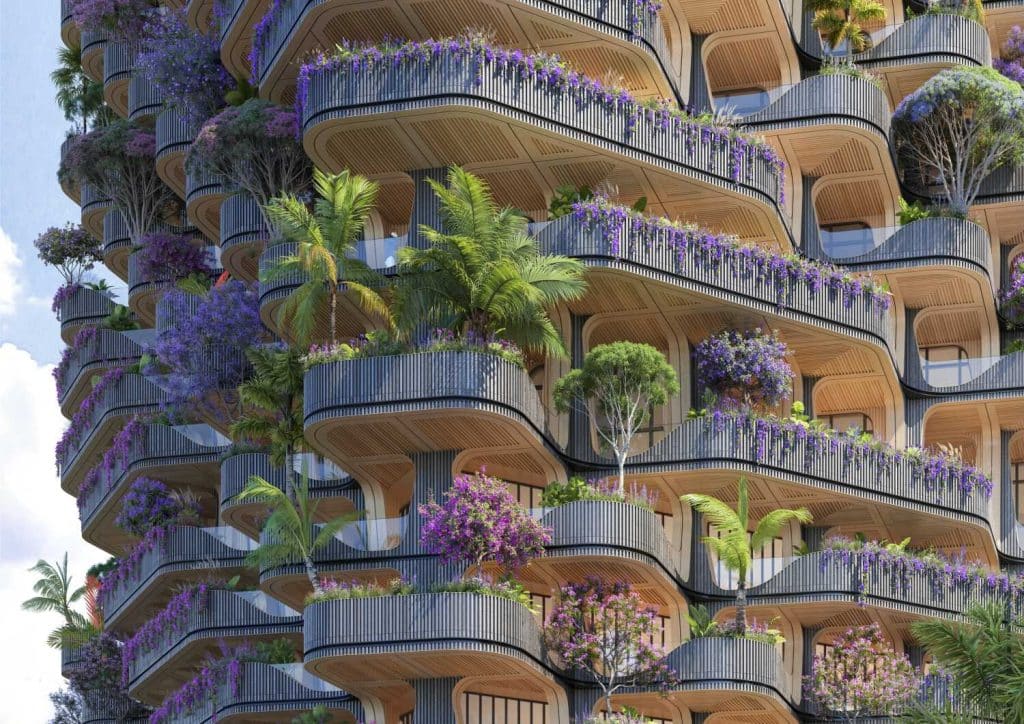 The Rainbow Tree is a staggered geometric stack of 1,200 modules, each with sides measuring 4 meters sides and a height varying between 3.2 to 4.8 meters. All these mass timber modules are prefabricated and standardized in a factory with a very high degree of precision. They are directly inspired by the "Bahay Kubo" (literally, cubic houses, also known as "Nipa Huts").
These bio-based "Bahay Kubo" breathe! They are in symbiosis with nature. Their architectural identity reveals that they are based on ventilation, large open interior spaces, and terrace networks adapted to the tropical climate. These three foundations are the basis of our architectural concept for building a CLT (Cross Laminated Timber) tower.
Invented in the 1990s in Austria and Germany, this construction technique consists of superimposing perpendicularly wooden slats and connecting them together using structural, now-organic adhesives such as tannins, lignin, cellulose, or even starch.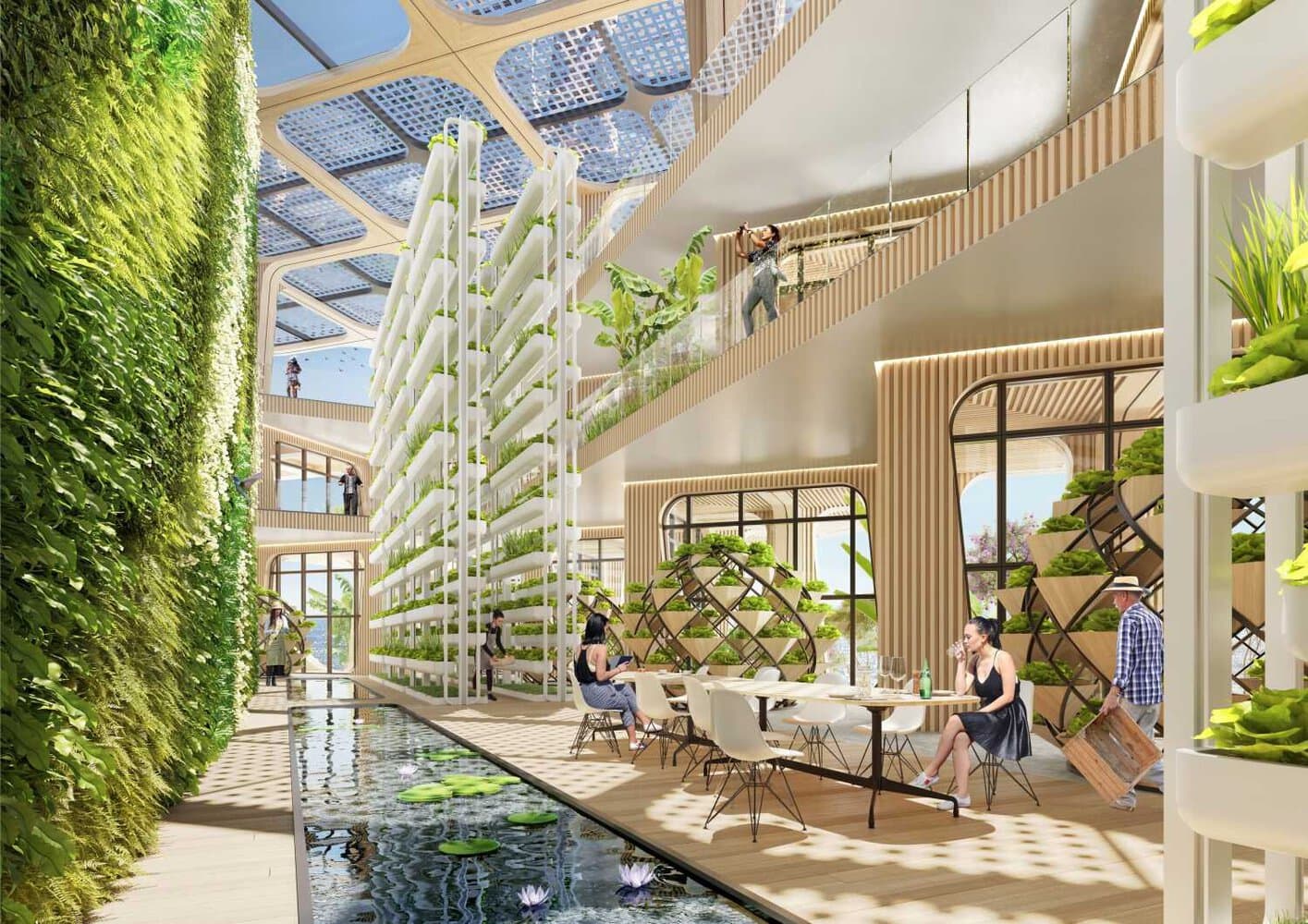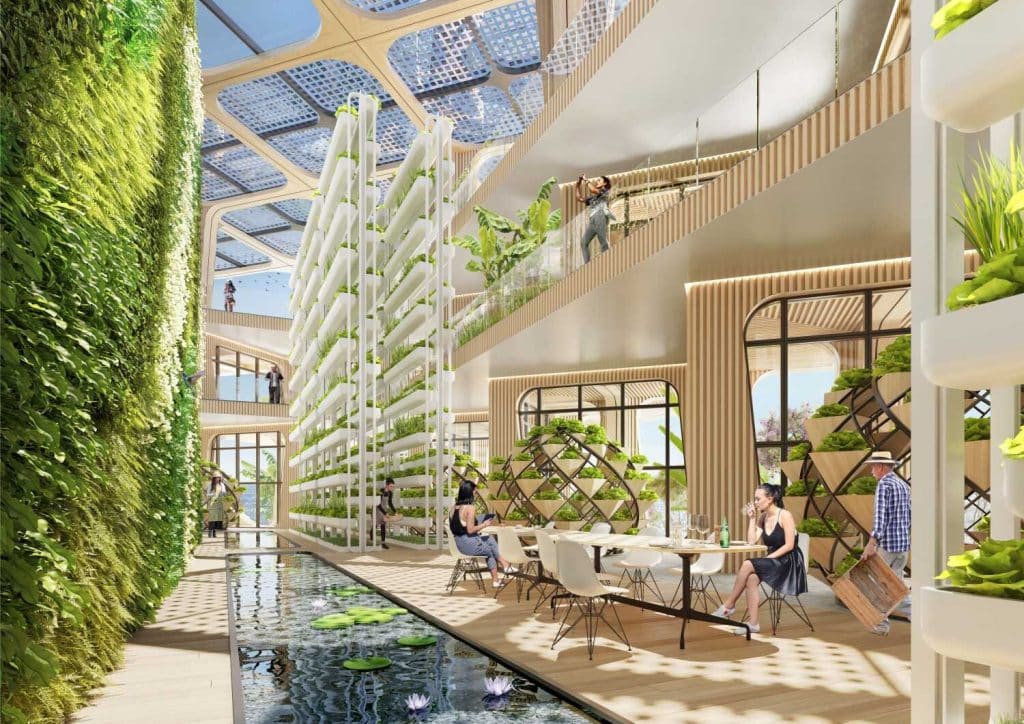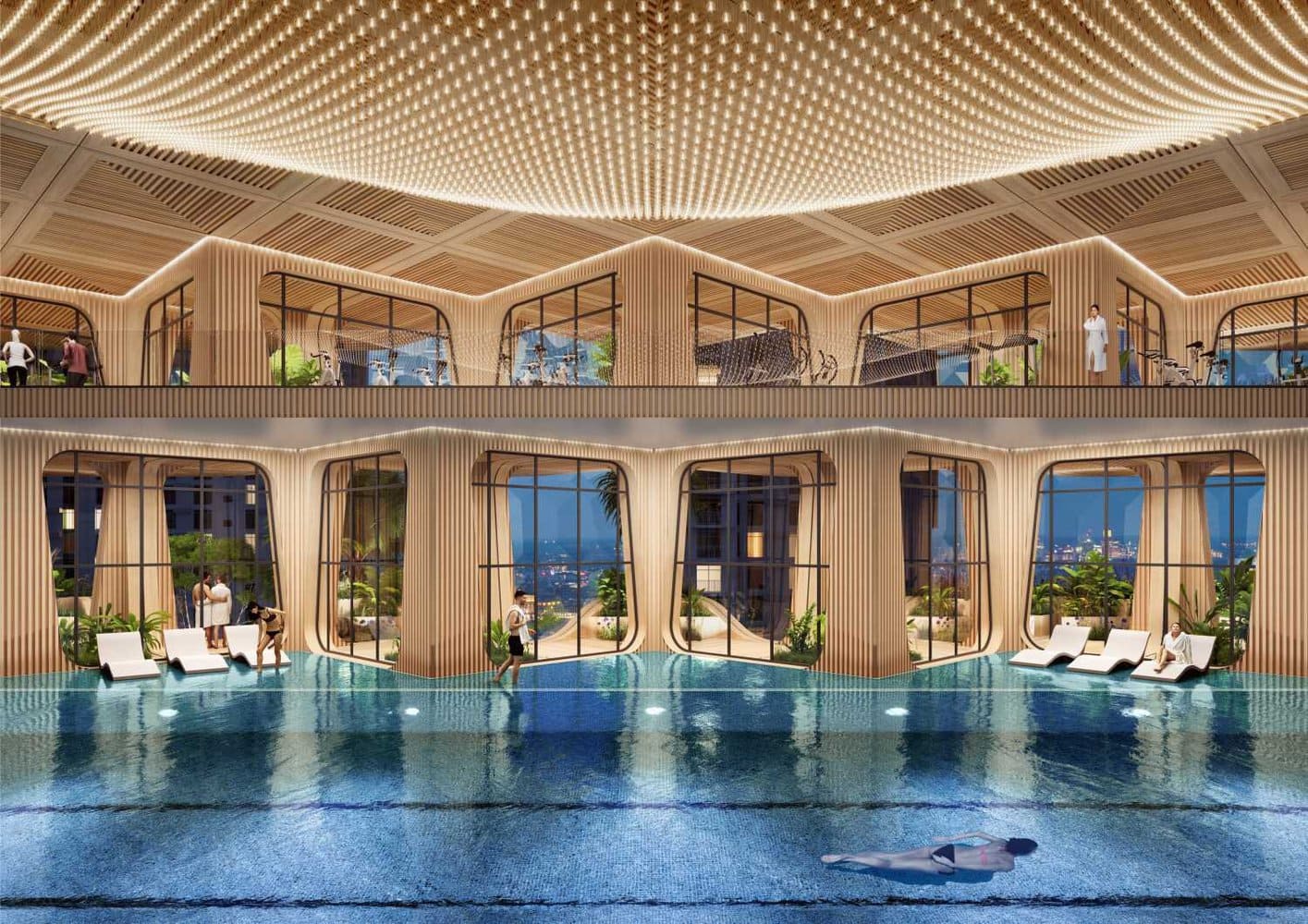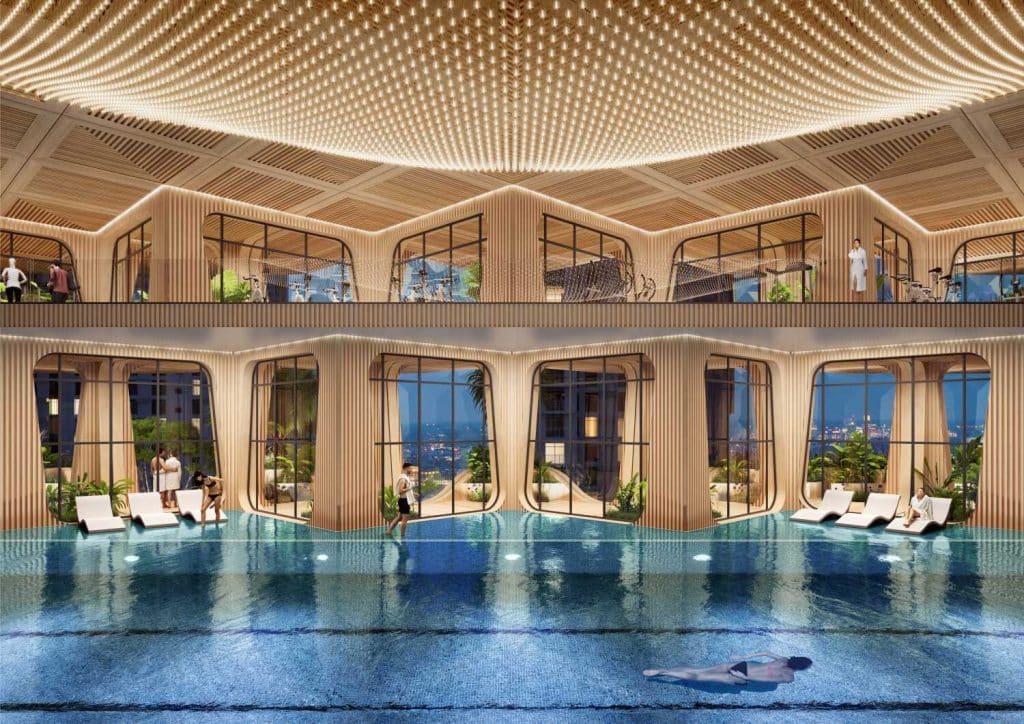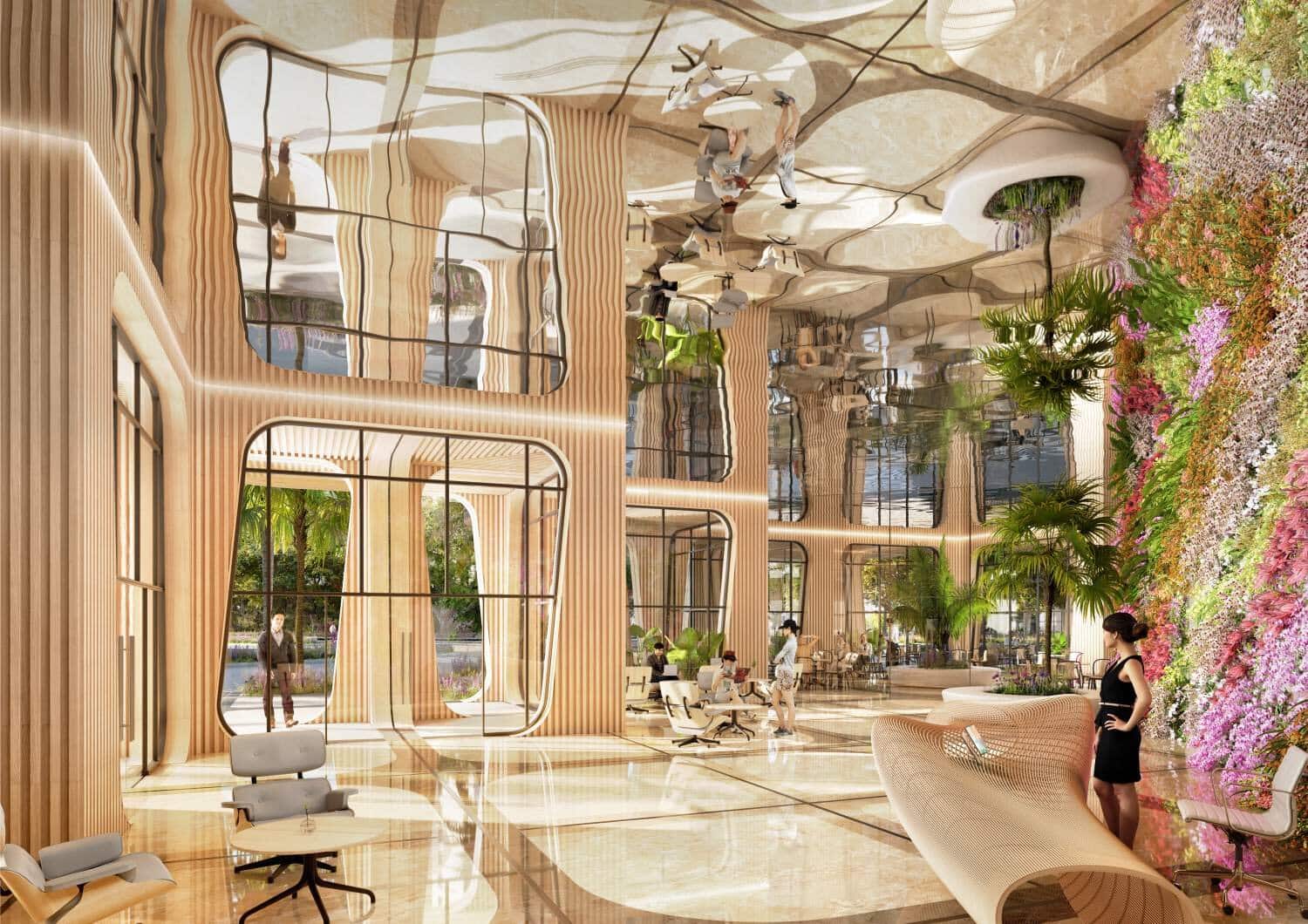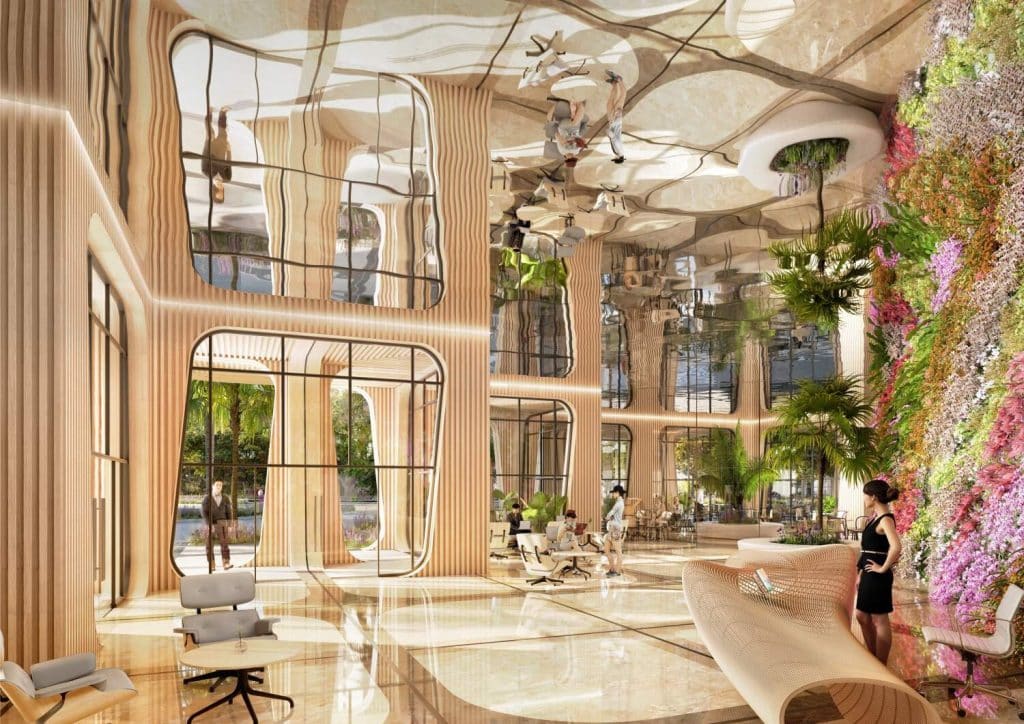 The Cross Laminated Timber manufacturing process requires much less energy than concrete or steel, and moreover it does not generate greenhouse gases. As a reminder, producing 1 ton of concrete generates 2.42 tons of CO2 and producing 1 ton of steel generates 0.938 tons of CO2.
In terms of fire resistance, remember that wood burns slowly does not release toxic fumes, and transmits heat 250 times slower than melting steel and 10 times slower than concrete which cracks under the effects of the flames.
Being built from trees cut and harvested in short circuits in the archipelago in the heart of eco-responsible forests – where a cut tree is equal to a replanted tree – means that the Rainbow Tree is a real carbon sequestration well.
In fact, during the growth of trees through natural photosynthesis, the stored carbon is found "trapped" in solid wood and is therefore not released into the atmosphere. For 1 ton of wood produced, about 0.9 tonnes of carbon is confined. This means we are talking about a building with a negative carbon footprint!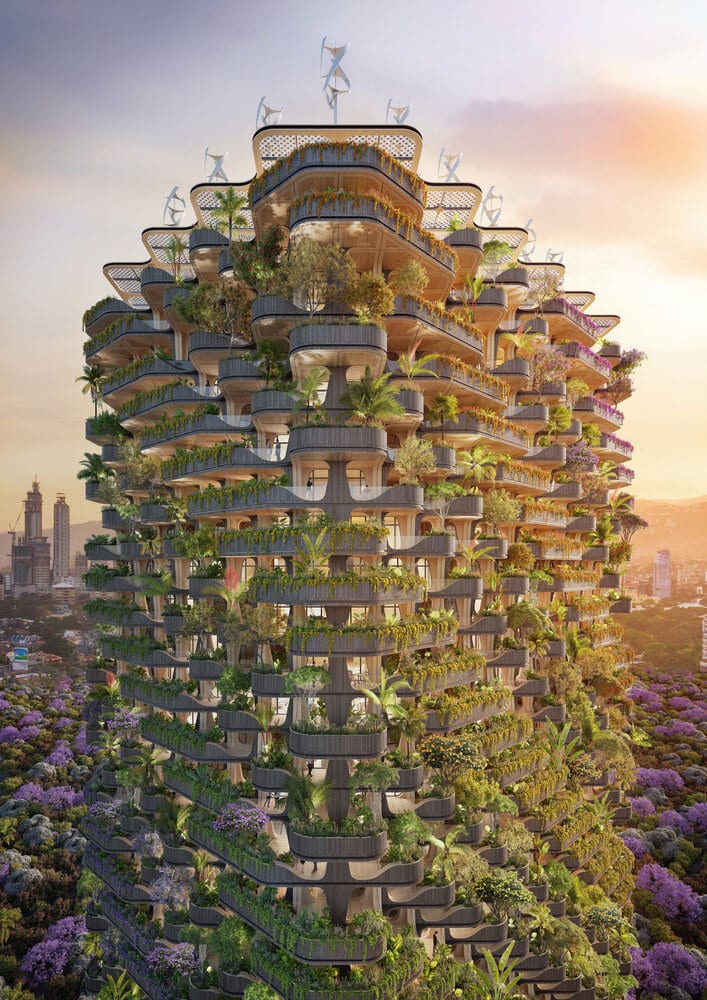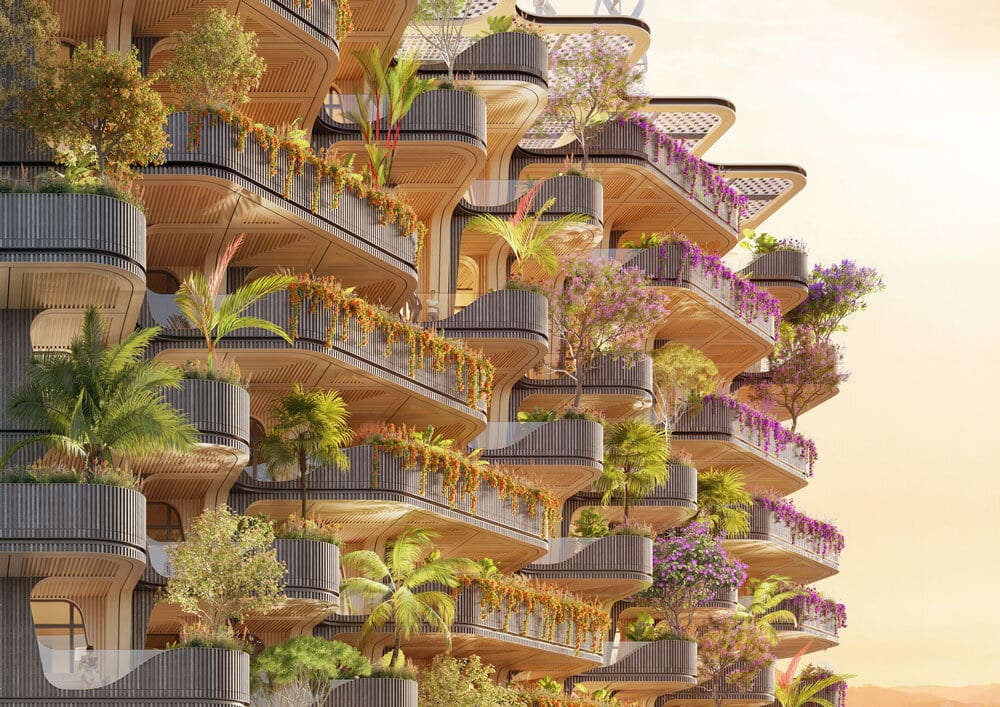 The CLT structure consists of a central core, also made of mass timber, and an "exoskeleton" facade completely freeing the accommodation and amenities of any load-bearing wall, intermediate column, and sheath in the center of the plates.
This design frees up space to allow each resident to personalize their apartment. In the sense of eco-sustainability, being able to transform interior spaces as desired over time is the best guarantee of sustainable development.
Wooden balconies cover the 115 meter high Rainbow Tree. They are basket-designed with structural consoles in facades allowing the loads of the planters to descend naturally to the trunk of the tower like the branches of a tree. Esthetically, the tower is thus dressed in a scaled dress with a silver patina and bluish reflections.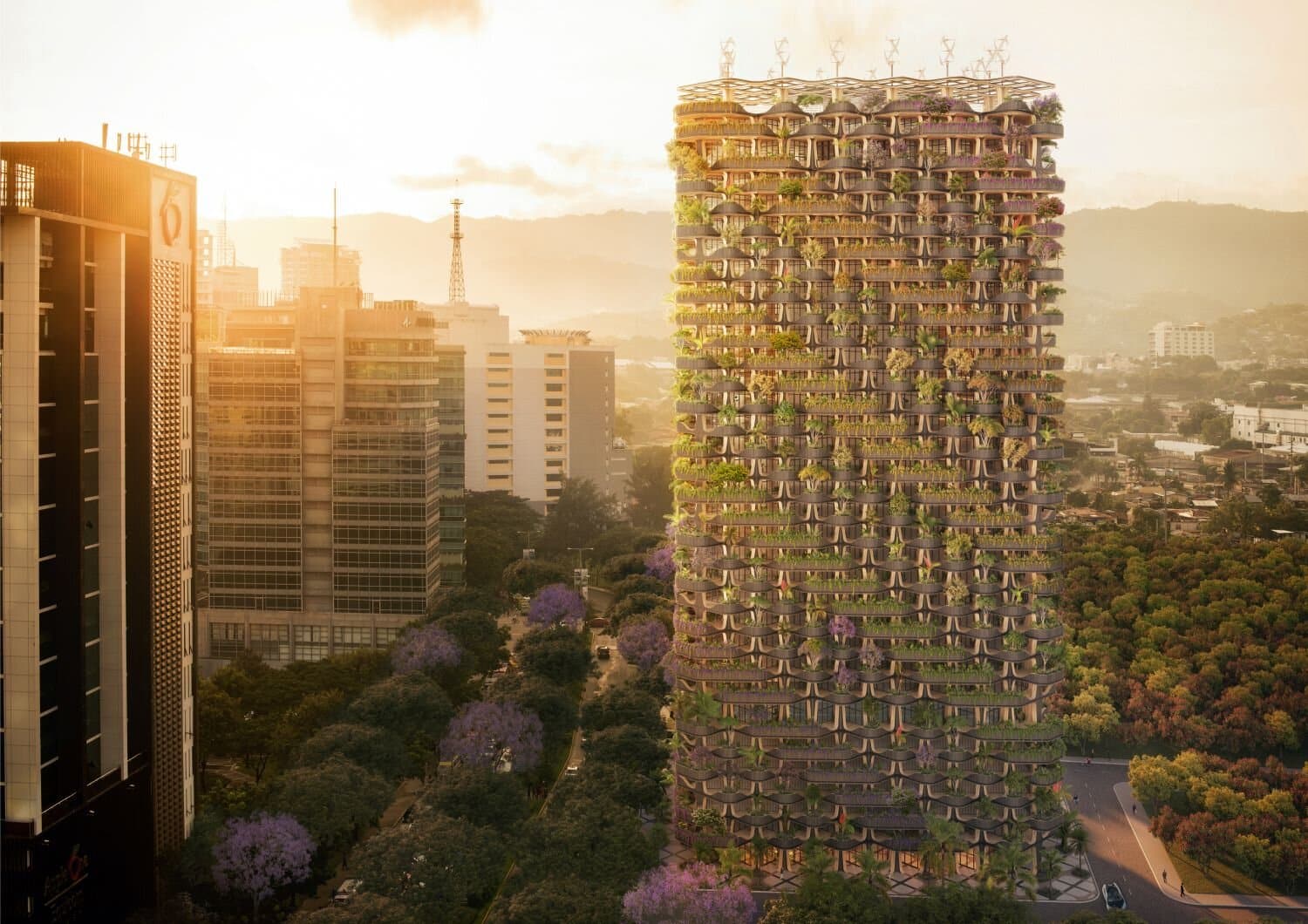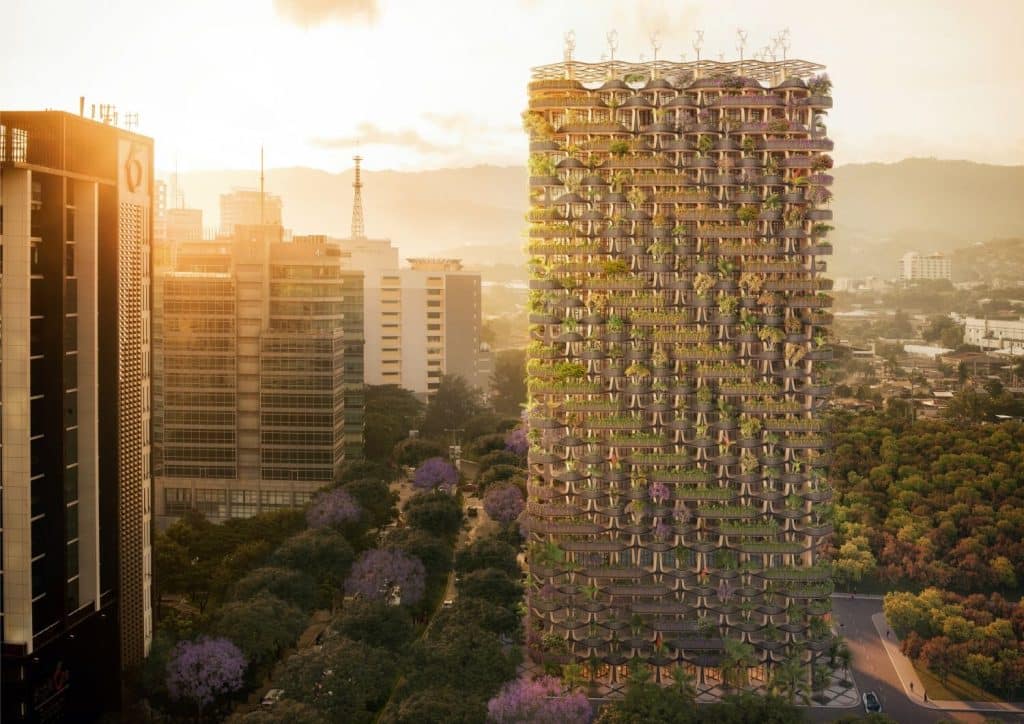 INFORMATION
All images with courtesy of Vincent Callebaut