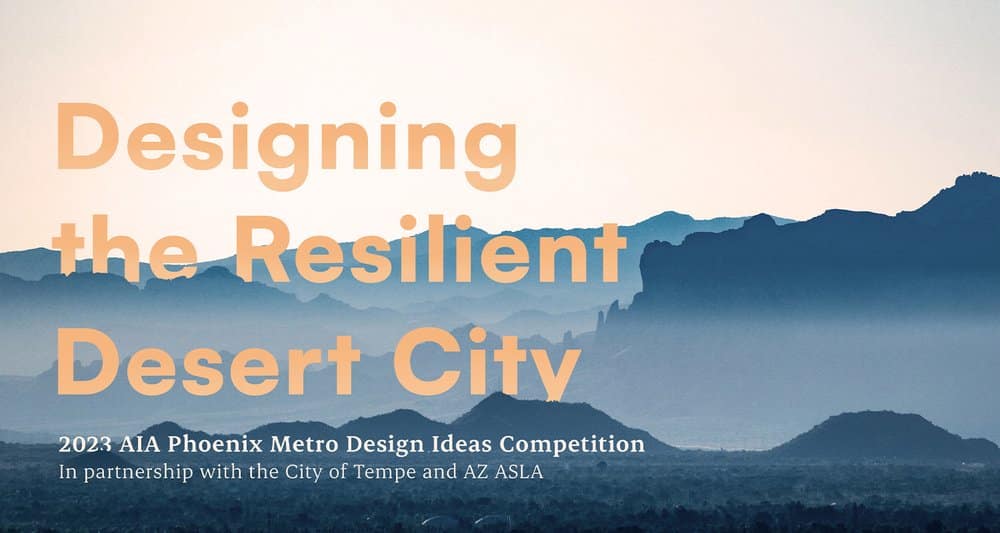 Competition Details
Through the Design Idea contest 2023 in partnership with AIA Phoenix Metro and ASLA Arizona, the City of Tempe. Visualize sustainable and resilient development in the urban wilderness for the City of Tempe, its people, and the world using the strategies and goals outlined in the City of Tempe CAP.
Show the possibilities of transforming the CIP through physical interventions of architecture, landscape architecture and urban planning, ensuring that the City and its residents have a better understanding of the potential impact of the CIP.
Inform future policy and development within Tempe and city pilot projects through a vision that responds to our climate reality with optimism, action, and focus on the local community.
Changing how we look at the design of our cities by seeing the built environment as an opportunity to create resilient and human-centered places, to face the effects of climate change with inspiring solutions instead of despair and to create a fairer society thanks to our architecture .
Awards and Recognition
Winning entrance and honorable mentions will be selected by the contest jury and will be confessed as described below.
Professional category award and cash prize
$4,000 Winning Entry
Honorable mentions $1,000 each
Student Category Award and Cash Prize
$1000 Winning Entry
Honorable mentions $500 each
Publication of applications for the competition
All entries will be displayed digitally at the Contest Awards Ceremony on August 17, 2023. Contest panels of winning entries will be printed, mounted and displayed at the Contest Awards Ceremony at no cost to entrants. AIA Phoenix Metro and ASLA Arizona may select any or all entries for public display at their discretion. This may include posting entries on the AIA Phoenix Metro Competition website, AIA newsletters and ASLA email newsletters. The City of Tempe, AIA Phoenix Metro, and ASLA Arizona may also seek publicity for contest winners through online and print media and retain the right to reproduce project images at their discretion. Entrants retain all copyright to their work and will be properly cited in any posting. The City of Tempe reserves the right to use any or all entries for general climate action plan marketing and to inform future developments proposed by the City of Tempe.
To Know More Details Click Here