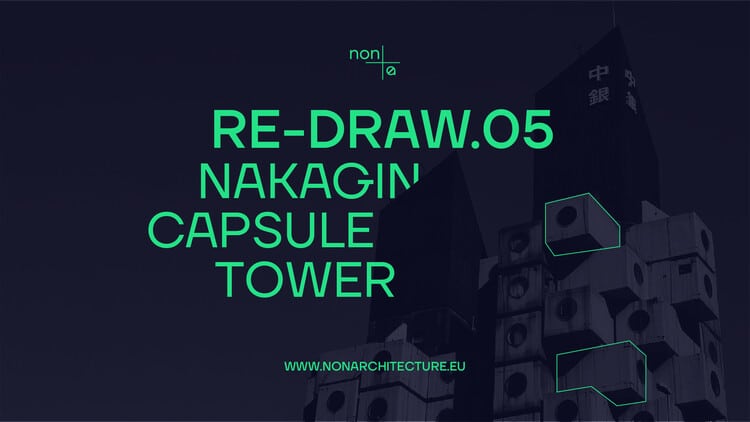 The contest is back! In its fifth edition, the building you'll have to digest to create an all-new work of art is The Nakagin Capsule Tower, a metabolism building icon built in the 70s by Kisho Kurokawa. How would you represent this emblematic building?
SUMMARY
The objective of the "Re-Draw" competition is to develop a design to "represent" an iconic piece of architecture. Participants are invited to draft an image, with absolute freedom of scale, technique and level of abstraction.
We encourage creativity, criticality and innovation. The drawing can highlight the functional aspects of the building, showing a thorough understanding of one or more aspects of the design. It can focus on aesthetic qualities, experimenting and mastering a drawing technique with hyper-realistic results, or it can be optical distortion, a caricatural interpretation, a distant abstraction of built architecture.
The drawing can reinforce a conventional interpretation of architecture, or explore a new angle, a new point of view, intellectual and/or physical. The Nakagin Capsule Tower can be represented as a whole, a part or a collage of disconnected moments. The entry is completely flexible and adaptable to the interpretation of the participant.
ELIGIBILITY
Architecture competitions are open to all human beings, of all ages and cultural backgrounds, working in groups or individually. Registration fees are paid per team, regardless of the number of members that compose it. Personal information of all team members can be uploaded during the final drawing submission process.
PRIZE
WINNER (1 PRIZE)
€1,000*
Publication in books and website of non-architectural competitions
Reviews in digital magazines and several architecture blogs
HONORABLE MENTIONS (7 awards)
Publication in the book and website Non Architecture Competitions.
Reviews in digital magazines and several architecture blogs
EDITORIAL CHOICE EXCLUDING ARCHITECTURE (UP TO 6 PRIZES)
Publication in books and website of non-architectural competitions
FINALISTS (up to 36 prizes)
Publication in the journal Non Architecture