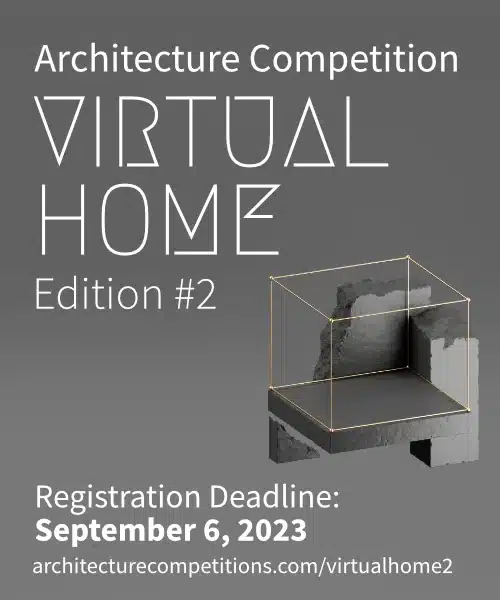 As society continues to integrate technology into all aspects of daily life, exploring digital reality is becoming increasingly relevant. Virtual and augmented reality platforms offer new ways to connect, work, learn and play, revolutionizing the way we interact with the world around us. In this rapidly changing landscape, architecture plays a crucial role in shaping our experiences within these digital spaces, adapting to our changing needs and expectations, while preserving the essence of human connection and well-being.
The Virtual Home / Edition #2 competition is part of the Buildner Virtual Architecture series, which focuses on exploring architecture in digital reality. As virtual and augmented reality technologies advance rapidly, architects and designers are challenged to conceptualize virtual homes that consider comfort, functionality and familiarity in a digital environment.
With a focus on living room and workspace design as essential components of a virtual home, participants are encouraged to introduce additional features to create an immersive and comfortable living experience. The competition asks designers to consider important factors and constraints that contribute to the familiarity and comfort of a virtual home, as well as the context of the virtual world in relation to the design.
PRICE
3 winning entries, 1 special award recipient and 6 honorable mentions will be selected. Buildner will award a total of €6,000 in prizes to the contest winners as follows:
1st Prize – €3,000
2nd prize – €1,500
3rd Prize – €500
+ 6 honorable mentions
Buildner Student Award – 1000€ + 50€ gift card at ARCHHIVE BOOKS
COMPETITION CALENDAR
Early bird registration: MARCH 1 – MAY 2
Pre-registration: MAY 3 – JULY 4
Last minute registration: JULY 5 – SEPTEMBER 6
Registration deadline: SEPTEMBER 6, 2023
Submission deadline: 9 OCTOBER 2023 (11:59 p.m. LONDON TIME)
Announcement of winners: NOVEMBER 23, 2023
Cash prize: $6,350.00