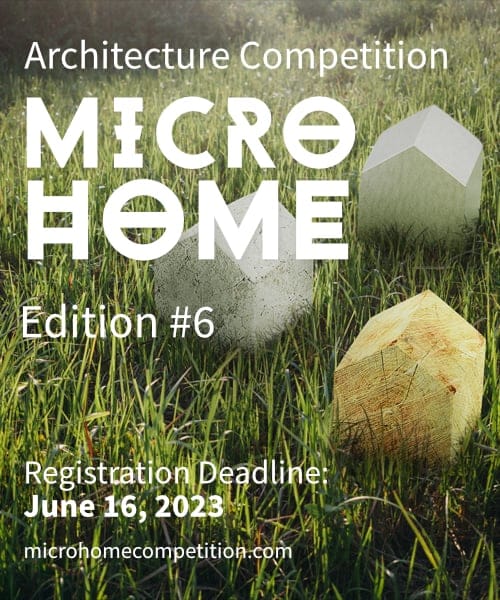 COMPETITION DETAILS
The sixth annual MICRO HOME Architecture Competition is part of Buildner's small-scale architecture appreciation movement, which hopes to highlight the fact that bigger is not always better.
For the MICRO HOUSE / Issue # In the 6th architecture competition, candidates are invited to submit their designs for a micro house: an isolated modular structure that would house a hypothetical couple of young professionals. The only requirement is that the total constructed area of the structure does not exceed 25 m2; beyond that, participants are encouraged to be as creative as possible.
Participants are encouraged to rethink spatial organization and incorporate unique aesthetics, new technologies, and innovative materials that will make the microhouse a completely new form of architecture.
AWARDS
3 winning proposals, 2 special winners and 6 honorable mentions will be selected. Buildner (formerly Bee Breeders) will award a total of €7,000 in prizes to contest winners as follows:
1st Prize – €3,000
2nd Prize – €1,500
3rd Prize – €1,000
+ 6 honorable mentions
Buildner student prize: €1000 + €50 gift card at ARCHIVE BOOKS
Buildner Sustainability Award – €500
COMPETITION SCHEDULE
Early registration: DECEMBER 15 – FEBRUARY 16
Early registration: FEBRUARY 17 – APRIL 18
Late registration: APRIL 19 – JUNE 16
Final registration period: JUNE 16, 2023
Submission deadline: JULY 17, 2023 (23:59 LONDON TIME)
Winners announced: SEPTEMBER 12, 2023

PRIZES: $7,415.00 USD