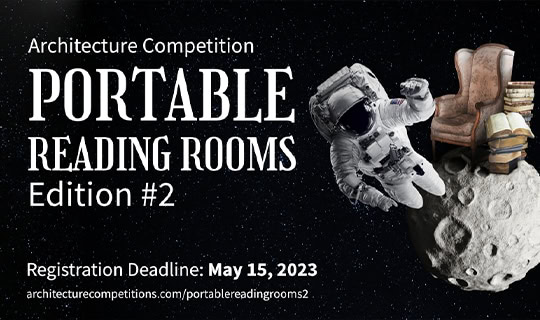 The 2nd Annual Portable Reading Room Architecture Competition seeks designs for a small structure that can be integrated into existing public spaces in multiple locations around the world.
Reading rooms should function as an intimate meditation space where people can read and exchange books. The structure itself would have to be highly versatile in order to be able to be placed in various locations and function in any climate and season.
Although their functionality could change throughout the year, serving as a simple book exchange box during the colder months and a more immersive and interactive reading experience during milder weather, reading rooms should have the potential to enrich the community in which they are located.
Candidates have fully creative freedom when it comes to fashion in the mind the design and operation of the reading rooms, in fact, it does not even need to be a physical room. As long as they are a welcoming and nurturing environment that encourages reading, reading rooms can be as open or closed as you like.
AWARDS
3 winning proposals, 2 special winners and 6 honorable mentions will be selected. Buildner (formerly Bee Breeders) will award a total of €7,000 in prizes to contest winners as follows:
1st Prize – €3,000
2nd Prize – €1,500
3rd Prize – €1,000
+ 6 honorable mentions
MARCH VALENCIA. ARCHITECTURE AND DESIGN SCHOLARSHIP €2,000
Buildner Student Award: €1000 + €50 gift card at ARCHIVE BOOKS
Buildner Sustainability Award – €500
COMPETITION SCHEDULE
Early registration: from January 10 to February 13
Early registration: from February 14 to March 23
Late Registration: March 24 – May 15
Final registration period: May 15, 2023
Submission deadline: June 15, 2023 (11:59pm London time)
Winners Announced: July 26, 2023
Awards: $9,660.00 USD